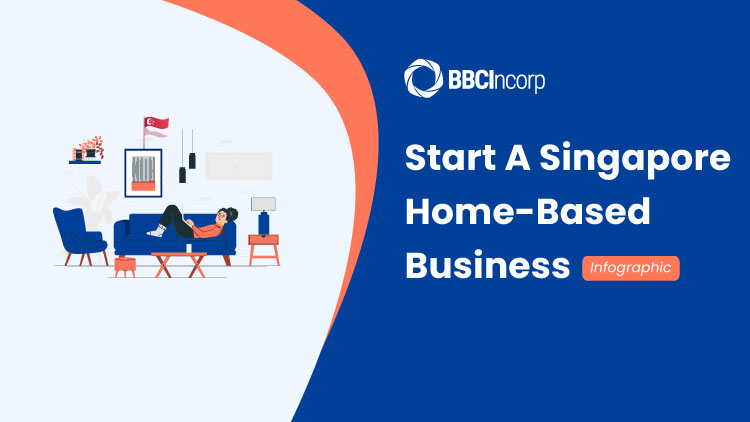 From crafting exquisite handmade goods to offering specialized services, home-based enterprises showcase the fusion of passion and technology. Embracing these new eras can transform the way businesses work.
Particularly in high-tech nations like Singapore, choosing a home-based setup proves to be a wise decision for startups. Through our dedicated article, you shall understand how to establish your Singapore home-based business from start to finish. Let's begin!
Looking into the Singapore home-based business
Setting up your Singapore business from home holds essential fundamental aspects that shape this entrepreneurial approach. Let's delve into these features below!

Elaborating on the process of business registration
"How do I start a business from home?"
The registration procedures for a home-based business involve several main steps to ensure compliance and legitimacy of your business. Here's a more detailed explanation of each stage:
Step 1: Choose a business structure and address
Let's start by refining your business idea and deciding on the most suitable business structure.
For many home-based business owners, starting as Singapore sole proprietors or partnerships is common. Although, as your enterprise grows, you might consider transitioning to a company or a Limited Liability Partnership (LLP).
After verifying the usage requirements as outlined above and confirming the eligibility of your residence, proceed to designate your registered business address. In case you want to keep your real location private, consider getting a virtual office.
Step 2: Decide on the brand name and reserve it
The right business name is crucial as it plays a significant role in shaping your brand identity, market presence, and customer perception.
In Singapore, business name registration is overseen by the Accounting and Corporate Regulatory Authority (ACRA). The process involves conducting a Singapore company name check to make sure the chosen name is unique and available.
To secure the desired company name, simply initiate a name reservation application via ACRA's BizFile+ portal and pay the mandatory SGD 15 fee.
Notably, formal business registration is not required if you use your or your partner's exact full name, as stated in the NRIC, as the business name. However, adding descriptive words to the brand name will require it to be registered.
Step 3: Register your business
Even though you only run a small shop, to start a business in Singapore, you must register it with the Accounting and Corporate Regulatory Authority (ACRA) unless eligible for exemption.
Upon submission, the application will undergo a thorough review by ACRA. Once all necessary criteria are met, a certificate of incorporation will be granted to your business.
Start a Singapore company easily!
If you're having trouble with incorporation procedures, look no further. Our Singapore company formation package provides the essential tools and support you need to establish your home-based business in Singapore. Contact us for more information!
Step 4: Apply for the relevant licenses and permits
Apart from registration, before you can begin selling services and products, your home-based enterprise must also obtain relevant licenses depending on the industry's nature.
Businesses under the Home-Based Business Scheme, fortunately, do not require a license for offering their expertise. However, certain additional permits may still be necessary to ensure the quality of your products and legal compliance.
For example, a home-based food business (e.g. home-based bakery) in Singapore is encouraged to attend the Basic Food Hygiene Course or WSG Food Safety Course level 1. For knowledge-based companies, you should file patent applications to safeguard inventions and protect intellectual property rights.
Once you've made sure that everything is in place, it's time to kickstart your Singapore home-based business and strive for success.
Tips to run a successful home-based business
Running a successful business requires careful planning, dedication, and the ability to adapt to changing circumstances. With that being said, below are some tips that you might find helpful:
Effective marketing
For your business, cost-effective and targeted marketing strategies are typically more suitable, considering the limited resources and focus on specific markets:
Utilize digital marketing channels (e.g. social media, email marketing, SEO)
Encourage satisfied customers to refer your business to their friends and family by offering incentives or discounts
List your items on popular online marketplaces like Amazon or eBay.
Compliance with accounting & tax filing requirements
Many home-based businesses underestimate the significance of accounting and tax filing. This is due to the limited resources and lack of knowledge on the compliance subject.
Most home-based businesses are small and generate modest profits, so the task of maintaining financial records and calculating taxes may seem daunting or unnecessary.
No matter how small your business is, the accounting and tax regulations may still apply, and failure to comply with the requirements may result in hefty fines or even jail time. Furthermore, non-compliance can lead to an unexpected loss of business and license revocation.
Leave your annual accounting and filing to us
Networking & collaboration
It's common for home-based entrepreneurs to feel isolated from the broader business community. Even so, building and nurturing professional relationships with peers can be beneficial.
Take part in joint ventures, marketing campaigns, and cross-promotions if possible. Additionally, try joining industry-specific online forums and webinars if you are not well-prepared for in-person meetings.
Networking and seeking collaboration opportunities will allow your company to grow and prosper in such a competitive environment.
By focusing on these methods, you can reach your target audience, build brand awareness, drive customer engagement, and maintain legal compliance, all while optimizing your budget and resources.
To wrap up
The benefits and features of a home-based business in Singapore make it an appealing and viable option. By eliminating the burden of high overhead costs, you can allocate resources more strategically, fostering business growth and development.
These advantages can lead to a rewarding journey, where you can achieve success while enjoying the comforts of operating from home. Then what are you waiting for?
For more assistance on Singapore company corporation, please leave a message at service@bbcincorp.com, and our team will get back to you shortly.
Disclaimer: While BBCIncorp strives to make the information on this website as timely and accurate as possible, the information itself is for reference purposes only. You should not substitute the information provided in this article for competent legal advice. Feel free to contact BBCIncorp's customer services for advice on your specific cases.
Share this article
Get helpful tips and info from our newsletter!
Stay in the know and be empowered with our strategic how-tos, resources, and guidelines.