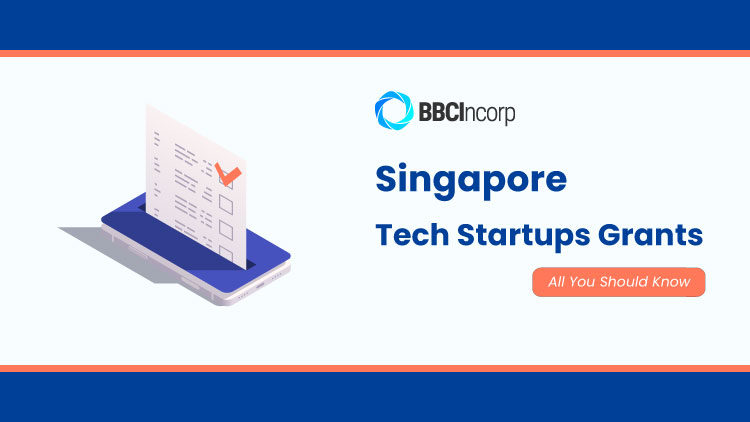 It appears to be the case that 99% of the companies in Singapore are small and medium-sized enterprises (SMEs), which make up 47% of the GDP. The reason why the city-state has attracted a significant amount of both local and foreign investment for such a long time is due to its pro-growth and pro-business environment.
And due to the surprisingly fast development in the technology section backed by government policies enforcing the growth of technology and innovation industry as its core competencies, more and more tech startups seem to be rapidly established every single year in Singapore since there are a large number of grants in the city-state which can finance ideas from startups as well as support them to grow faster.
Knowing the situation, we decided to write this blog to help tech startups to know more about what grants are available for you to register. Let's go through some of the most common and useful grants in Singapore for tech startups with us!
What activities can be covered by grants?
There are many different grants that cover many stages of development that a business has to go through. However, to make it easy to follow, we break down the developing process into crucial stages with different suggestions for common grants: Proof of concept and proof of value, getting investment, hiring, business development, doing research, going overseas, and growing capital.
How can grants affect your business? As a startup founder, you need to get finance for your proof-of-concept (POC) and proof-of-value (POV) since it can be considered the beginning of one's journey to success.
Let's assume you have a great idea for a new device. A grant can sponsor a technical viability study of this idea (POC) that will show if there is existing technology that would help your product, and what features can be included. If you already ensured the viability of the project, you can apply for a grant to finance a working prototype, to assess its commercial value (POV) by comparing the cost of production and the price people are ready to pay for it.
Moreover, the more you develop your business, the more you need these grants since the resources of your business are limited as a new enterprise. For instance, expenses when expanding your company abroad can be considered covered with grants or when you want to hire citizens with support funding.
Some of the most common grants for Tech Startups
As mentioned above, we will suggest to founders some of the most common and useful grants according to the stages as follows:
Proof of Concept and Proof of Value
FSTI Proof of Concept Grant
It provides funding support for the experimentation, development, and dissemination of nascent innovative technologies (POC).
Authority: Monetary Authority of Singapore (MAS)
Target: A technology or solution provider with at least one financial institution regulated by MAS
Benefit: Support up to 70% qualifying costs, capped at $200,000 for an Investigative project or Tech equivalence trial
How to apply: Download and submit the application form and proposal to fintech_office@mas.gov.sg
Startup SG Tech
Startup SG Tech supports POC and POV for the commercialization of innovative technologies. Companies may apply for POC or POV grants depending on the stage of development of the technology/concept.
Authority: Enterprise Singapore (ESG)
Target: Startup companies who wish to receive early-stage funding for the commercialization of proprietary technology and meet certain conditions regarding years in business, percent of local shareholding, and place of core activities, among others.
Benefit: Maximum $250,000 for POC and $500,000 for POV
How to apply: The application process comprises 3 stages: registration of interest, application, and evaluation, and final panel evaluation
For more information on eligibility and how to apply, follow the links below
Getting investment or financing
Start-up SG Equity
The government will co-invest with independent, qualified 3rd party investors into eligible startups.
Authority: SEEDS Capital Pte Ltd (an investment arm of Enterprise Singapore) and SGInnovate + independent qualified 3rd party investors
Target: Eligible general tech and deep tech startups
Benefit: Investment capped at $2mil for general tech and $4mil for deep tech
How to apply: Submit a two-page executive summary and the following supporting documents for first-level assessment: business plan, financial statements or management accounts, business ACRA, and background of potential co-investor.
For more information on eligibility and how to apply, follow the below links
Startup SG Founder
Startup SG Founder provides mentorship and startup capital grant of S$30,000 to first-time entrepreneurs
Authority: Enterprise Singapore through Accredited Mentor Partners (AMPs)
Target: First-time entrepreneurs (Singapore Citizens or PRs only) with innovative business ideas that can qualify for pre-set criteria.
Benefit: Mentorship and startup capital grant of S$30,000
How to apply: Apply to Enterprise Singapore by working with AMPs.
For more information on eligibility and how to apply, click the links below
Hiring
Tech@SG under Start-up SG Talent
Tech@SG aims to help fast-growing companies access the critical talent they need to grow and scale their business in Singapore and the region.
Authority: Singapore Economic Development Board (EDB) and Enterprise Singapore
Target: Digital or technology companies received funding from a program-recognized investment firm and secured more than US$10 mil in the past 36 months
Benefit: Up to 10 new Employment Passes over 2 years with coverage for first renewal for the company's core team hiring
How to apply: the process generally includes applying for Tech@SG endorsement and applying for individual EPs for your employees 
Career Support Programme (CSP)
CSP encourages employers to hire eligible Singapore Citizens Professionals, Managers, Executives, and Technicians. CSP is valid from 1 April 2019 to 31 March 2021
Authority: Workforce Singapore (WSG) and the Employment and Employability Institute
Target: Companies legally registered or incorporated in Singapore, with a Unique Entity Number (UEN) registered with ACRA
Benefit: Up to $42,000 salary support for hiring eligible Singapore Citizens
How to apply: Submit the "CSP Notification Form" with the necessary documents through WSG Feedback Portal using Organization Login
Business development
Enterprise Development Grant (EDG)
EDG supports projects that help you upgrade your business, innovate or venture overseas, under three pillars:
(1) Core capabilities: covering business strategy development, financial management, human capital development, service excellence, strategic brand, and marketing development.
(2) Innovation and productivity: covering automation, process redesign, and product development.
(3) Market access: covering mergers and acquisitions, overseas marketing presence, pilot projects, test-bedding, and standards adoption.
Authority: Enterprise Singapore
Target: Eligible companies who wish to grow further and satisfy conditions on the percent of local shareholding and financial viability to carry out the project.
Benefit: Up to 70% of qualifying project costs namely third-party consultancy fees, software and equipment, and internal manpower cost.
How to apply: Submit the required documents through Business Grants Portal with your CorpPass.
For more information on eligibility and how to apply, click here
Productivity Solution Grant (PSG)
PSG supports companies in the adoption of pre-scoped IT solutions and equipment that enhance productivity.
Authority: These solutions have been pre-scoped by various government agencies such as Enterprise Singapore (ESG), National Environment Agency (NEA), and Singapore Tourism Board (STB).
Target: SMEs registered in Singapore that are going to adopt the pre-scoped IT solutions for use in Singapore.
Benefit: Up to 70% funding support for readily adaptable solutions found on Tech Depot
How to apply: Accessing the list of supportable solutions, getting a quotation from a vendor, and submitting an application on Business Grant Portal.
Doing research
Industry-wide Technological Infrastructure or Utility
This is under The Financial Sector Technology and Innovation scheme, which is valid till March 2020. The Industry-wide Projects track seeks to build industry-wide technological/ utility infrastructure and/or improve efficiency and boost productivity.
Authority: Monetary Authority of Singapore (MAS)
Target: Singapore-based financial institutions (FIs), market or professional organizations or associations, industry consortiums, and non-FI solution providers or companies
Benefit: Up to 70% of the level of funding support for qualifying expenses
How to apply: Contact directly at fsdf@mas.gov.sg 
For more information on eligibility and how to apply, click here
Going overseas
Market Readiness Assistance (MRA) Grant
MRA grant will boost SMEs to take their businesses overseas
Authority: Enterprise Singapore
Target: Eligible SMEs registered in Singapore meeting conditions regarding minimum local shareholding and size (number of employees)
Benefit: Up to 70% of eligible costs (until March 2020), capped at 20k for 2 applications per fiscal year, limited to one activity (market entry, trade fair,…) per one application
How to apply: Submit the required documents through Business Grants Portal with your CorpPass.
LEAD International Fairs & Mission
This helps Singapore companies to reach out to global customers, obtain feedback on products and services, and explore opportunities in overseas markets.
Authority: Enterprise Singapore
Target: Trade Associations and Chambers in Singapore and SMEs registered in Singapore with qualified core business activities
Benefit: Support of up to 50% or 70% of eligible expenses, depending on the number of times your company has participated in the event
Growing capital
Listing Grant under Grant for Equity Market Singapore Scheme
Listing Grant, under Grant for Equity Market Singapore Scheme which is valid for 3 years from 14 Feb 2019, encourages potential issuers to list on the Singapore Exchange (SGX) by co-funding part of the eligible expenses.
Authority: Monetary Authority of Singapore (MAS)
Target: Issuers with an Initial Public Offering, excluding Real Estate Investment Trusts and Business Trusts, on SGX
Benefit: 70/20/20% co-funding for eligible expenses, capped at 1mil/500k/200k SGD for New Technology Sectors/High Growth Sectors/All other sectors.
For more information on eligibility and how to apply, click here
Conclusion
Above are some of the most common grants that a Tech Startup can have access to.
If you have the intention to establish a tech company in Singapore to greatly benefit from these grants, we offer you top-notch company formation services to make your dream become a reality. Contact us via service@bbcincorp.com now!
Disclaimer: While BBCIncorp strives to make the information on this website as timely and accurate as possible, the information itself is for reference purposes only. You should not substitute the information provided in this article for competent legal advice. Feel free to contact BBCIncorp's customer services for advice on your specific cases.
Share this article
Get helpful tips and info from our newsletter!
Stay in the know and be empowered with our strategic how-tos, resources, and guidelines.