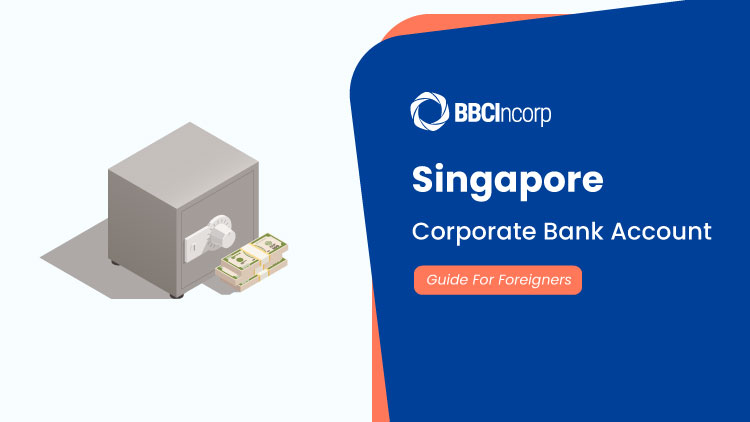 You should think of a business bank account as the ID of your company, therefore it is advisable to open a business bank account in Singapore well before you start to deal with dollars and cents.
But given the large number of banks and the somewhat complex procedure, getting one can be a daunting task at times, especially for entrepreneurs first coming to Singapore. This article will help you out with everything you need to know about opening a business bank account in Singapore.
Why open a business account in Singapore?
Unavoidable need
It is obvious that your company is likely to be unable to make any transactions without a bank account. So, it is important to open a corporate bank account once you set up a company in Singapore. 
If your personal transactions and your business transactions get tangled up in one personal account, chances are you may run into the risk of being exposed to identity fraud or fraudulent schemes. A separate business bank account would help you mitigate all sorts of liability risks.
Reputation
The finance and banking system in Lion City is very highly rated by experts over the world. So, getting a corporate bank account in Singapore can be an effective way to enhance your company's image and trustworthiness. As a result, partners and clients will be more willing to do business with or buy more of your services/products.
Over the years, Singapore's banking system has witnessed a great degree of stability, when compared to that of other offshore jurisdictions. It may bring you some peace of mind when obtaining a business account in the city-state.
Topnotch service provision
The banking system in Singapore is certainly capable of providing all kinds of services for both individuals and companies, may it be a basic service like opening a deposit account, or a current account, or all kinds of credits or advanced services such as asset management and investment consulting.
Key considerations when choosing a Singapore bank for corporate accounts
Reputation
It goes without saying that you should first and foremost shortlist your options of banks on the basis of their reputation and credibility. Therefore, you should first vet those prominent banks that were above-mentioned to see if their services and offers fit your business structure and your current financial viability.
It is also advisable to insulate yourself from their sugar-coated value propositions and reach out to people in the know such as your peers or experts in the industry to get more in-depth information about a particular bank.
Pricing and fees
As your company is in its embryonic stage, your seed capital may be tied up. Therefore to stay on top of things and ensure your business continuity, you may need to phase out banks that require exorbitant costs and fees. Or else the company shall die on the wine as a matter of course.
Most banks charge a wide array of fees, which could get complex at times. Some costs you need to pay close attention to are:
Account opening fees, which vary sharply from one type of account to another, or

Foreign remittance if you ever need to send money back home or to other overseas parties, and 

Telegraphic transfer or interbank fund transfer as most businesses would resort to them at some points. 
Initial deposit and minimum balance
The initial deposit is a stipulation to get your account opened and could vary sharply depending on the services and banks you opt for. In Singapore, it can range anywhere from SGD500 to a whopping USD100,000. 
For example, OCBC and DBS – 2 among the most trusted and prominent banks and also among our partners, require initial deposits of SGD1,000 to SGD30,000
You also need to take a long and hard look at the minimum balance. Typically, you are required to maintain and not fall below a minimum balance, or else you may be slapped with an additional fee (referred to as a fall-below fee). Half the time some banks even go so far as to waive the maintenance requirement for a few initial months of subscription.
But at the end of the day, it is not just about reducing costs. You should attach great importance to what values the bank account and its provider could create for your business and whether their services meet your needs.
Services and facilities
Rest assured that most banks in Singapore can manage to guarantee you top-notch services. 
On the flip side, each bank somewhat differs in the scope of facilities, support, and technologies that they offer. Many of them have niche expertise in some particular industries and could only afford to best serve some particular markets and clients. Therefore, you should first identify all of your needs and opt for a bank that could cater well to those needs.
Some standard and essential services to ask for are integrated accounts, foreign currency accounts, foreign exchange, interest rate risk management products, and wealth management services, to name a few.
Thanks to the advent of disruptive innovation of late, every financial institution is now armed with cutting-edge technologies to improve its customer experience. At the bare minimum, you should expect your bank to provide state-of-the-art services such as business internet banking, business mobile banking, business debit card, e-alert, and e-invoice.
Furthermore, one key question you need to pose to the bank's reps when asking about their services is "Do I get around-the-clock access to you and your service?". That is to say, whether the bank is able to give you support whenever you need it, either through 24/7 customer service support or e-statement/e-advice services.
Your choice of banks should also depend on their network of branches and ATMs. This would come in handy when you need to reach out to the bank for petty cash or in-person interaction.
Type of business bank account
With an aim to encourage investments and satisfy clients' needs, most banks in Singapore allow for the opening of multi-currency accounts, aside from foreign accounts. You should study your needs and your company's structure to decide which type of account to choose.
There are typically 3 types of bank accounts in terms of currencies in Singapore:
Singapore dollar account limits the payment and receipt to SGD

A foreign currency business account is suitable for companies frequently handling international transactions with a few foreign countries. Each account allows you to hold and transact one single type of currency. Also, each bank differs in the range of currency types they support. 

A multi-currency account is comparatively inclusive. It allows you to handle receipts and payments in both Singapore dollars and multiple other foreign currencies in only one account.
Recommendations for top banks in Singapore
Singapore houses more than 150 banks, including both local and international. Most of them can provide a wide range of services, all are first-rate, and offer several incentives and benefits to compete for clients, in turn making Singapore one of the premier financial centers in the world. 
That being said, entrepreneurs who first embark on their business in Singapore can easily get confused with so many candidates presented before them. 
The quickest route to take is to consider social proof – that is, banks that most people choose. The top 6 banks in Singapore are DBS, UOB, and OCBC (for local choices); or Standard Chartered Bank, HSBC, CitiBank, and ABN AMRO (in case you prefer foreign banks).
Requirements to open a corporate bank account in Singapore
Different banks may have different sets of required documents to open a business account in Singapore. However, it is expected they are not significantly different from one another. Generally, a standard file of the application will comprise the following documents:
Corporate Account Opening Form must be filled out and signed by the authorized signatories

Board of Director resolution, which is to authorize the opening of and the signatories to the account

Certificate of Incorporation, which is proof of the incorporation of your company

Company's Business Profile issued from the Company Registrar 

Company's Memorandum and Articles of Association sometimes referred to as Articles of Incorporation 

Passport (or Singapore IC) and Residential Address Proof of the Directors, Signatories, and Ultimate Beneficial Owners are required as well.

Certificate of Incumbency (For Offshore Accounts Only)

Certificate of Good Standing (For Offshore Accounts Only)

Trading proofs: invoices, contracts, agreements, pay slips, lading bills, etc. of the existing companies or any related ones.
How to open a business bank account in Singapore
Business owners and entrepreneurs usually look for assistance from a professional service provider to help them open a corporate account in Singapore. 
With a good service, all you need to do is supply the required documents mentioned above. The service provider will collect the documents, send the application on your behalf and arrange an interview with the bank for you.
The majority of banks in Singapore require all signatories to travel and have a direct meeting with the banks to open a business account. However, due to Covid-19, some banks have already allowed their customers to open an account remotely. You can consult us for further information.
Opening an account for a company is always a concern for many business owners. The reason is that different banks have different criteria to approve an application. With that being said, a good service provider may help you to increase your chance of application approval.
Free ebook
Get your Singapore business started with key matters covered in our all-in-one guideline
Incorporation procedure
Annual compliance requirements
Tax structures
Employment landscape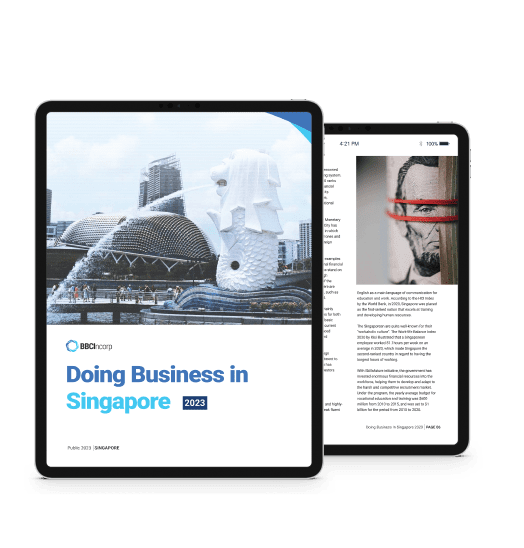 Wise business account – a new banking solution
Many entrepreneurs find it difficult to open a traditional bank account for their business. The paperwork is complicated and the application process can get very hassle at times. Not to mention the fees for services are sometimes expensive. These are only parts of why many entrepreneurs turn to Wise, a leading fintech company based in London.
More than 10 million global customers, including both individuals and businesses, have trusted and used Wise services, ever since 2011. Every month, more than 5 billion dollars are moved across the world.
With a Wise business account, you can:
Pay invoices to more than 70 countries in more than 50 different currencies;
Maintain your account without paying monthly subscriptions or fees (only pay when you convert money);
Get everything you need to bank abroad (including a sort code, IBAN, and routing number);
Make online payments, pay for bills or sales tax abroad via Wise debit card;
Integrate easily with accounting tools (including Xero, Quickbooks, and Freeagent);
Pay in batch easily (up to 1,000 payments in just one click);
Enjoy a mid-market exchange rate with low fees; and
Enjoy discounted fees for high-value transactions.
Registration can be done completely online and with ease. Once you open your Singapore company, simply go to Wise's website, hit the button "Register" on the top right corner, sign up for an account, and then start the application process according to the instructions. The process can be generally described as follows:
Step 1: Provide business name, registration, and register address
Step 2: Provide the business trading address
Step 3: Provide additional information regarding business activity
Step 4: Provide business owner details
Step 5: Set up 2-step login
When you incorporate Singapore companies with BBCIncorp, we will offer free support with opening a Singapore bank account in different packages.
Should you have any questions about opening corporate bank accounts in Singapore, do not hesitate to contact us via service@bbcincorp.com
Disclaimer: While BBCIncorp strives to make the information on this website as timely and accurate as possible, the information itself is for reference purposes only. You should not substitute the information provided in this article for competent legal advice. Feel free to contact BBCIncorp's customer services for advice on your specific cases.
Share this article
Get helpful tips and info from our newsletter!
Stay in the know and be empowered with our strategic how-tos, resources, and guidelines.