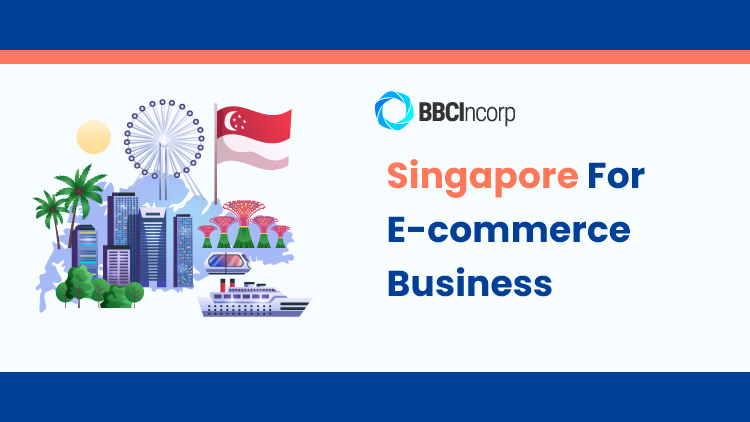 Revenue in the Singapore e-commerce business market is expected to earn US$8.23bn in 2023 (Statista), and the great potential this country holds is not the sole evidence of the non-stop rising popularity among entrepreneurs.
Below you will find more about specific reasons why this city-state is a match made in heaven to start and grow an online business.
Owing to a pro-business environment, supportive government policies, and a thriving digital ecosystem, Singapore offers everything a business needs to succeed in the new digital age.
Prime location in an ideal business-friendly environment
Singapore's location in the central area of Asia makes it the ultimate base to target growing markets. The Singapore e-commerce market in 2021 was valued at US 5.9 billion and is predicted that this figure will reach a staggering US 10 billion by 2026. This growth is set to be driven by the growing trend of digitalization, which saw more than 90 percent of Singaporeans owning a smartphone or tablet. As such, businesses can capitalize on this shift and take advantage of the e-commerce landscape in Singapore.
In addition, the city-state has successfully developed a superb infrastructure system with numerous logistics and transportation enterprises, guaranteeing to support your Singapore-based e-commerce business.
New guide
Start reading to grow your Singapore E-commerce with minimal effort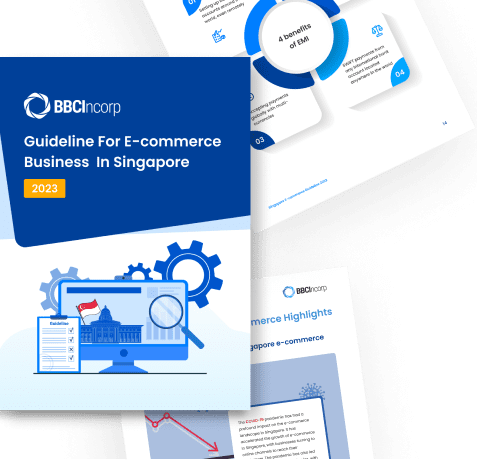 The leading international transportation hub
In connection with 600 ports in more than 120 countries, Singapore is ranked among the easiest places to do business internationally. Even after the pandemic, Singapore holds its place as the exquisite destination for enterprises' operations in 2022.
Read more on Singapore's Trading Outlook For 2023
There are various fulfillment centers in the city-state, namely Allsome, WhiteBox, uParcel, opening great doors of opportunity for business players to reach full service to end consumers.
You can see how this tendency affects the industry as major global logistics agencies (e.g. FedEx, UPS, and DHL) are situated in Singapore as well.
RANKING IN BUSINESS
Singapore is ranked highly in the World Bank's "Ease of Doing Business" index and recognized as the most competitive economy by the IMD World Competitiveness Yearbook.
Governmental supportive e-commerce business incentives
Your Singapore e-commerce business is eligible to benefit from the Singapore government's startup tax exemption scheme, which is a 75% tax exemption on the first $100K of chargeable income and a 50% exemption on the next $100K.
Singapore also provides funding and grants to help businesses get started and grow by working closely with industry players.
The country's e-commerce booster package is one of the most outstanding policies. The package aims to help brick-and-mortar retailers to get on board. Eligible individuals or organizations are able to receive one-time support for 90% of eligible costs (up to S$9K) for up to 6 months.
Singapore Startup schemes and SMEs Go Digital are government initiatives to assist entrepreneurs in Singapore. The schemes provide a range of support, including mentorship, funding, and resources.
TIPS
New entrepreneurs from particular industries such as. women's clothing, baby products, beauty products, etc.) might want to start with a dropshipping model since it's considerably simple to set up and manage, and doesn't require a large up-front investment
Singapore is a certified digital-friendly nation
By July 2022, Singapore had distinguished itself as having the second-highest rate of online usage in Southeast Asia, according to Statista. There are over 4.5 million individuals who use the internet in Singapore. Singaporeans are also early adopters of new technology.
The government is also investing in initiatives to further develop the digital landscape in Singapore, making it an even more attractive location for e-commerce businesses. Launching Digital Economy Framework was a typical example of the government's vision.
Singapore has a reputable telecommunications infrastructure and top-notch digital connectivity thanks to the image of the fastest Internet connections around the globe.
The Lion City won the fastest home internet speeds at 239 Mbps on average, in terms of median fixed broadband speeds.
The good news is that 5G is planned to be rolled out nationally in Singapore by 2025. And if the city makes it successful, Singapore is going to be one of the first countries in the world to do so.
Note
The COVID-19 pandemic has had a profound impact on the e-commerce landscape in Singapore. It accelerated the growth of e-commerce in Singapore, thus leading to a change in consumer behavior.
A significant increase in the frequency and volume of consumers shopping online for essential items is witnessed clearly throughout the years.
Conclusion
When it comes to launching an e-commerce business, Singapore offers a promising launching base owing to a preferable business environment, a stable political-wise government, plus beneficial tax incentives, high mobile penetration, and usage rates.
With its diverse strengths and competitive advantages, Singapore is ideally a key home base for businesses looking to start or expand their e-commerce operating platforms.
If you are having in mind a future plan for operating your own business in Singapore, feel free to contact us directly through the chatbox or leave a message at service@bbcincorp.com. We look forward to helping you!
Disclaimer: While BBCIncorp strives to make the information on this website as timely and accurate as possible, the information itself is for reference purposes only. You should not substitute the information provided in this article for competent legal advice. Feel free to contact BBCIncorp's customer services for advice on your specific cases.
Share this article
Get helpful tips and info from our newsletter!
Stay in the know and be empowered with our strategic how-tos, resources, and guidelines.