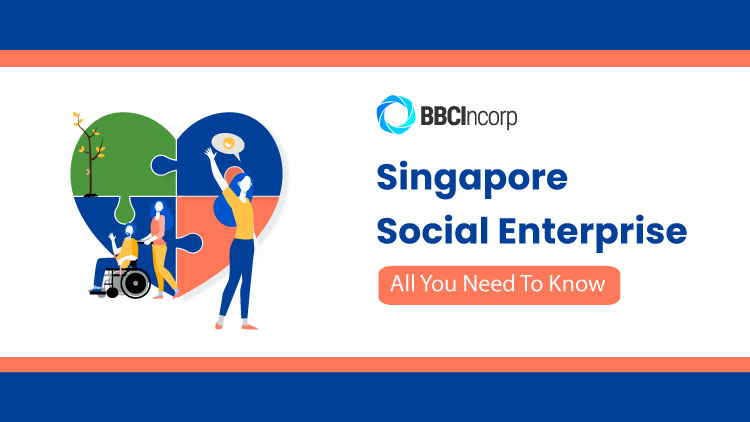 Over the last few decades, social entrepreneurship has gained popularity as a means of driving significant social change. Combining elements of traditional business entrepreneurship with government intervention, social enterprises can tackle issues that might be too limited to warrant legislative attention or private investment.
In order to succeed, entrepreneurs need to know all related issues when choosing and setting up this type of business, which will be discussed in this article.
What is a social enterprise in Singapore?
As mentioned earlier, the rise of social enterprise in Singapore has been gaining momentum over the years, from $210 million in 2021 to $179 million in 2020 in sector size according to raiSE, as the government and various organizations have been actively promoting the growth and sustainability of these social institutions.
In order to unveil the reason behind such a significant rise, let's take a closer look at the social enterprise's meaning.
Definition
Social enterprise is a revenue-generating business with a social mission, aiming to improve society and bring benefits to the community and environment.
Unlike traditional businesses, earning profits is not the primary motivation behind social enterprise, but only a way to fund social programs and reinvest into creating positive social changes.
Most social enterprises in Singapore make their mission public and communicate how their profits are used to benefit society. By doing so, they can raise awareness about their vision, and objectives, and promote their core values to the community.
The way social enterprises operate may vary based on local context and cultural nuances. For instance, social enterprises in Singapore are regulated to direct 50% of their profit to accomplish social missions. While in the US, there are no specific requirements to be considered as one.
Types of social enterprises
Social enterprises in Singapore can be categorized into 3 main types, including:
Give-back social enterprises
This type of social enterprise donates a portion of its profits to social or environmental causes.
It typically has a solid social or environmental mission and is committed to making a positive impact on the world through the use of resources.
For instance, a coffee business can be considered a give-back social enterprise if it donates a portion of the profits from every cup of coffee sold to support the community, such as youth development programs and job training for young people.
Innovation social enterprise
Innovative social enterprises focus on creating new and radical solutions to social or environmental problems through the use of technology and other technical methods.
These enterprises often operate in sectors such as healthcare, education, and environmental sustainability.
For instance, a business categorized as an innovation type can use advanced technology to turn imperfect fruits and vegetables into healthy snacks instead of throwing them away because of their unappealing look.
Employment-related social enterprises
This type of enterprise provides job opportunities to marginalized communities, such as individuals with disabilities or ex-offenders. Apart from that it prioritizes job creation and provides training to help employees develop new skills and improve their chances of success.
In reality, many social enterprises teach the unfortunate to acquire cooking skills, providing them with an opportunity to generate income through culinary pursuits.
Considerations before setting up a social enterprise
Identify and understand the social issue
Establishing a social enterprise requires determining the social issue that you want to tackle and the approach you will take.
You can pick out the most relevant issue to your value and resource, or common global issues such as poverty, healthcare, education, or the environment.
It's also crucial to identify the specific actions that you can take to address the issue. For instance, if your goal is to reduce global poverty, you may start a social enterprise providing job training and employment opportunities for people with low incomes.
By determining a specific action, your social enterprise can develop a well-defined vision and a plan of action to achieve its social mission.
Choose your business model
The business model defines how the social enterprise will generate revenue, manage expenses, and allocate resources to achieve its social objectives.
There are quite a few business models suitable for your social enterprise, such as
give-back model;
innovation model;
employment-related model; and
hybrid model, which combines all the characteristics of the other model to suit your needs and resources.
After choosing your model, consider your hero product/service to generate profit and support tour operations. You should conduct thorough market research to determine what to sell, who your target market is, and the level of competition in the industry.
From there, you decide what to do with the profit, whether to reinvent or to donate. But make sure you have enough money to pay your bills such as taxes, electricity, rental, and other fees to ensure smooth operation.
Guide to setting up a social enterprise
Below are key steps to setting up a social enterprise in Singapore:
Step 1: Choose an entity structure
In Singapore, most social enterprises can be structured as private limited companies, limited liability partnerships (LLPs), or charities.
Private limited companies and LLPs
These structures are flexible, easy to control, and suitable for social enterprises aiming to generate profit while fulfilling their social mission.
A charity is normally subject to tax benefits and is more suitable for those that rely on donations and grants to support their social causes.
Step 2: Register your enterprise
After deciding on your structure, you can register your business with the relevant authorities. The registration will involve the submission of your reserved business name, details of the company director, registered address, and corporate secretary.
For a complete guide to the incorporation process, explore the details in our article about how to start a business in Singapore.
Step 3: Stay compliant with the law
Once a social enterprise is established and operational, it is critical to stay compliant with relevant regulations and requirements to maintain its legal and ethical standing.
This involves staying up-to-date with tax obligations, accounting procedures, and licensing requirements, among others.
Failure to comply with compliance requirements can lead to legal and financial penalties, reputational damage, and, in severe cases, the closure of the social enterprise.
Step 4: Funding your enterprise
After completing the incorporation and certification process, social enterprises can access various funding opportunities to ensure financial sustainability.
In Singapore, generating revenue as a social enterprise is facilitated by robust governmental support that aims to foster growth in the sector. The creation of raiSE, a dedicated Centre for Social Enterprise in Singapore, underscores the government's commitment to promoting social entrepreneurship.
Incentives and Support for Social Enterprise
As maximizing profit is not the primary purpose of social enterprise, these organizations need much help from any source they can get.
Government grants and incentives
There are several incentives and grants available for Singapore companies, including:
Productivity Solutions Grant (PSG)
This grant is most suitable for SMEs and social enterprises looking for opportunities to upgrade or adopt technology to increase productivity.
For example, if your social enterprise needs financial support to implement new technology or utilize specialized equipment such as X-ray machines to increase efficiency, you can be eligible for up to 70% of funding from the PSG.
Enterprise Development Grant (EDG)
The EDG grant can financially help SMEs and social enterprises expand their business.
If your social business plans to expand overseas, you are having the opportunity to get funded with up to 50% support for EDG.
SkillsFuture Enterprise Credit (SFEC)
A social enterprise can gain support up to SGD10,000 credit from SFEC if it invests in employee training and development.
You can find out more information about these grants in this article about SME Grants In Singapore .
Venture For Good (VFG) Seed Grant
Social enterprises in Singapore that are in the early stages of development can apply for this VFG fund. If you pass the pitch, your social enterprise is able to get up to SGD300,000 in funding.
Membership support for social enterprises
In addition to the government grants and incentives, membership support from various organizations is also available.
These organizations are typically communities or networks that offer specific resources or services to a targeted group of individuals or businesses.
They often require registration and validation to ensure that their members meet specific criteria.
Once validated, members can access benefits such as networking opportunities, training and development programs, access to funding and resources, and other services that can support their growth and success.
raiSE is a non-profit organization in Singapore that supports the growth of social enterprises in the country.
They offer training, advisory services, networking opportunities, and access to funding and resources for social enterprises.
The organization also advocates for social enterprises and promotes their work through various channels to encourage their growth and sustainability.
SG Enable is a government agency in Singapore that aims to promote social inclusion and employment for persons with disabilities.
They offer job-matching, training and development programs, funding support, consultation, and advisory services, and accessibility support to social enterprises and employers looking to employ persons with disabilities.
A social enterprise is a type of business that aims to achieve social or environmental goals while still generating revenue.
The three types of social enterprises are give-back, innovation, and employment-related social enterprises.
Incorporating a social enterprise in Singapore can be done in 4 steps: choosing the business structure, registering your enterprise, making sure your organization is aligned with the law, and funding for a better financial scenario.
Singapore provides a perfect environment for social enterprises with government grants and incentives (e.g., PSG, EDG, and more), and membership support from raiSE, SG Enable to help the growing social enterprise community.
Conclusion
Starting up a social enterprise in Singapore can be a challenging yet rewarding experience. But with the right knowledge, you can navigate through the procedure smoothly and take advantage of the many resources and support available to turn your vision into reality, even when you have to start from scratch.
If you are an entrepreneur looking to incorporate a social enterprise in Singapore, don't hesitate to check out BBCIncorp Singapore's incorporation package. Our Singapore incorporation package offers a hassle-free process for your future social enterprise, complete with consultation and support services to help you navigate the legal and regulatory landscape in Lion City.
Frequently Asked Questions
How to start a social enterprise?
The procedure for starting a social enterprise can be divided into simple steps: 
Firstly, it involves determining the purpose of the organization. 
Next, choosing a business model and deciding on the product or service for profit-making. 
The third stage is choosing the business structure and incorporating it while ensuring compliance with the law. Finally, obtaining funding is essential for a better financial scenario.
What is considered a social enterprise?
A social enterprise is a business that has a primary objective to achieve a social or environmental mission. 
Rather than being solely focused on generating profits for shareholders, a social enterprise aims to create a positive impact on society or the environment through its operations. 
The profits earned by a social enterprise are typically reinvested into the business to further its social or environmental goals.
What is the meaning of social entrepreneurship?
Social entrepreneurship refers to the practice of applying innovative, market-based strategies to address social or environmental issues. 
Social entrepreneurs aim to create sustainable, positive change in society by using their entrepreneurial skills and creativity to develop innovative solutions to social problems. 
They often focus on creating businesses or organizations that have a social or environmental mission at their core, rather than solely seeking financial profit.
What are the main objectives of a social enterprise?
The main objectives of a social enterprise are to address social and/or environmental issues, create positive change in society, and generate revenue for sustainability. 
These objectives are prioritized over profit maximization, with the ultimate goal of achieving a balance between financial success and social impact.
How do social enterprises make money?
Social enterprises generate revenue through the sale of goods or services, just like any other business. However, unlike traditional businesses, social enterprises prioritize social and environmental impact over maximizing profits. 
The revenue generated is often reinvested into the business to further the social or environmental mission, rather than distributed as dividends to shareholders. Some social enterprises may also receive funding or grants from government or private organizations to support their operations.
Disclaimer: While BBCIncorp strives to make the information on this website as timely and accurate as possible, the information itself is for reference purposes only. You should not substitute the information provided in this article for competent legal advice. Feel free to contact BBCIncorp's customer services for advice on your specific cases.
Share this article
Get helpful tips and info from our newsletter!
Stay in the know and be empowered with our strategic how-tos, resources, and guidelines.