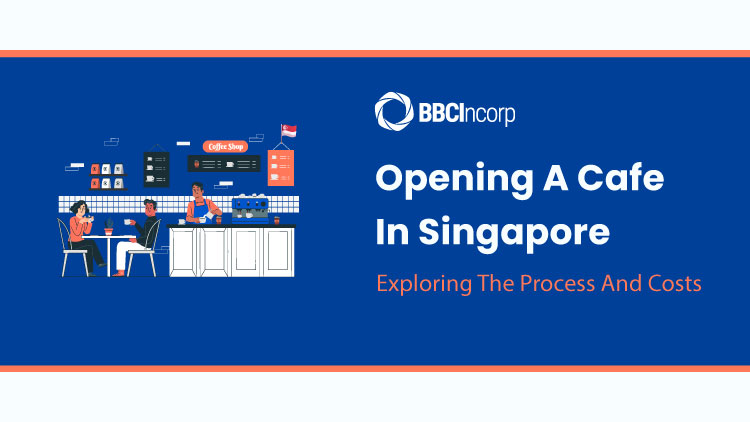 Opening a cafe in Singapore is a tremendous opportunity to enter this dynamic business landscape. Especially for cafe entrepreneurs, Singapore offers a diverse market of discerning coffee enthusiasts.
Our comprehensive article is a must-read if you've ever dreamt of owning a cafe and immersing yourself in this bustling city. Packed with valuable insights and practical tips, our article will equip you with the knowledge necessary for your entrepreneurship.
What to keep in mind when opening a cafe in Singapore
Before delving into setting up a cafe in Singapore, you must take into consideration some essential factors for a successful venture. Below is a throughout illustration for you to navigate better.

The process of incorporating your Singapore cafe business
Once you have carefully examined all the factors and cafe opening costs, it is now time to incorporate your business. Let's explore how to start a cafe in Singapore through the outlined process below!
Step 1: Choose a business structure
When it comes to registering a food and beverage business in Singapore, the two primary options are private limited companies (Pte Ltd) and sole proprietorships (SP).
The sole proprietorship is more accessible to Singapore citizens, permanent residents, and EntrePass holders. Meanwhile, foreigners opting for an SP must appoint a local director with residency status.
Given the potential challenges in finding a suitable local representative, many businesses choose to register as Pte Ltd. This decision not only provides liability protection but also grants access to special tax incentives and government funding.
Step 2: Choose your company name and register your business
After deciding on the business structure, your next step is to register the company with the Accounting and Corporate Regulatory Authority (ACRA). This phase shall include:
Deciding on the name
Conducting a thorough company name check
Reserving the name with the ACRA
Registering your F&B business with the name
Once your application is approved, ACRA will issue the necessary business registration documents, including your own Certificate of Incorporation.
Setting up your Singapore business becoming a challenge?
Step 3: Apply for required licenses and permits
After incorporation, the next step is to obtain the necessary types of license for a coffee shop. These licenses typically include the food shop license, liquor license (if applicable), and other relevant permits specific to your cafe's operations.
Applying for licenses and permits in Singapore is relatively straightforward: you simply gather and submit the required documents through the respective online portals.
Within a few business days, please expect to receive feedback on your application, either in the form of approval or denial.
If your application is denied, the application cost is non-refundable, and you will need to pay another fee for the reapplication process.
Step 4: Hire employees and get the business going
Employing Singaporeans, whether citizens or permanent residents, typically poses no challenges. However, if you plan to hire foreign employees, you must adhere to the guidelines set by the Ministry of Manpower (MOM).
At a minimum, your business must obtain work permits for each foreign worker. Moreover, you can only employ foreigners after your company holds a Food Shop License.
Once you have collected a team of skilled and dedicated employees, you can now launch your Singapore cafe business!
To wrap up
While pursuing the journey of opening a cafe in Singapore, you are stepping into a vibrant market full of opportunities. With dedication, you can create a place where people gather to savor moments of respite and indulge in the art of conversation.
Embrace the journey ahead, stay adaptable to changing trends, and enjoy the rewarding experience of bringing your business vision to life.
For more assistance on Singapore company corporation, please leave a message at service@bbcincorp.com, and we will get back to you as soon as possible.
Disclaimer: While BBCIncorp strives to make the information on this website as timely and accurate as possible, the information itself is for reference purposes only. You should not substitute the information provided in this article for competent legal advice. Feel free to contact BBCIncorp's customer services for advice on your specific cases.
Share this article
Get helpful tips and info from our newsletter!
Stay in the know and be empowered with our strategic how-tos, resources, and guidelines.