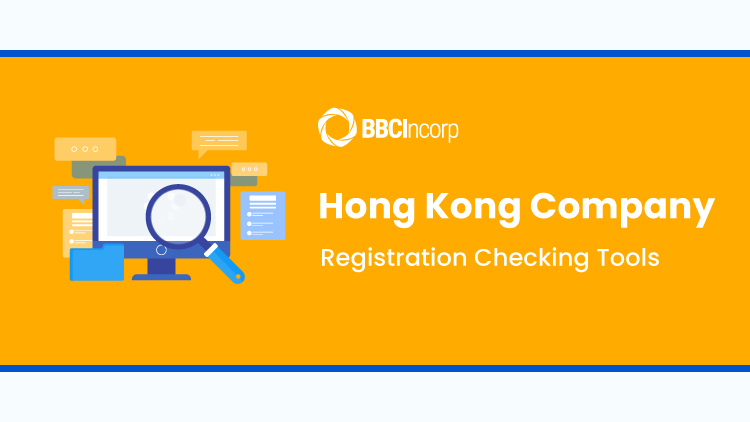 Examining your proposed company name or what licenses you should obtain will help your Hong Kong company registration to move smoothly. The good news is that Hong Kong does provide available checking tools where applicants can explore such things.
In this article, BBCIncorp will walk you through some useful tools to check your Hong Kong company registration.
Business License Information Tool: How to check your company's business license and permit
Business licenses and permits allow your company to legally operate in Hong Kong. Some certain business activities in Hong Kong shall be required to have the respective business license or permit to comply with the local laws. Therefore, before doing business in Hong Kong, you should know what sort of license you should apply for.
How to check your company's business license and permit in Hong Kong? Alongside seeking assistance from a trusted corporate service provider, you can also self-check your needed business license or permit information by using the tool provided by Hong Kong's Support and Consultation Centre for SMEs (SUCCESS).
Below are three simple steps to check on what you need: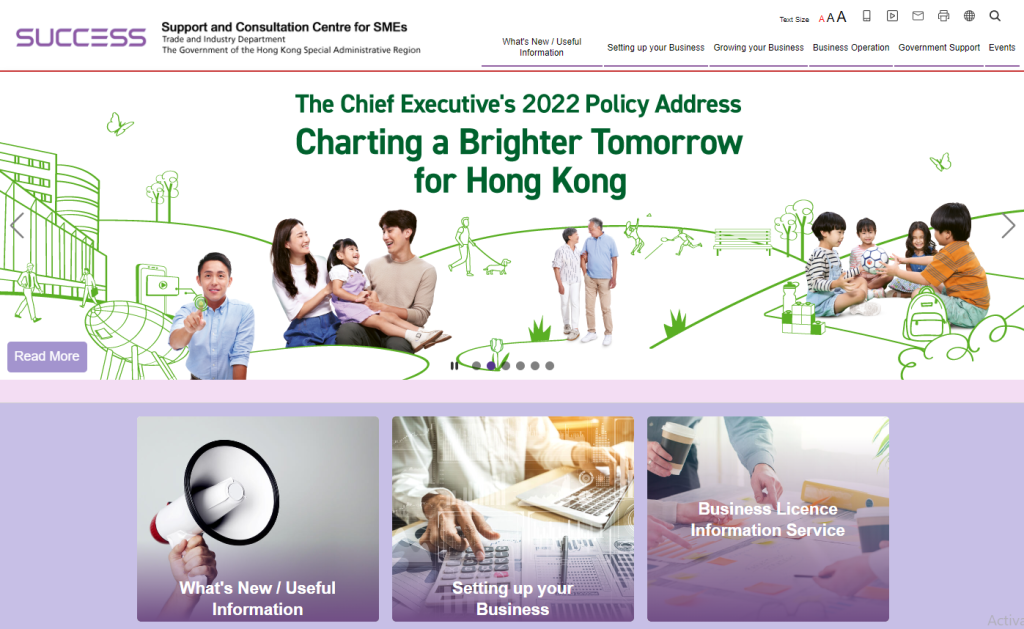 Enter your intended business activity in the search box, or click on products/ services in the given list that your Hong Kong company is about to engage in.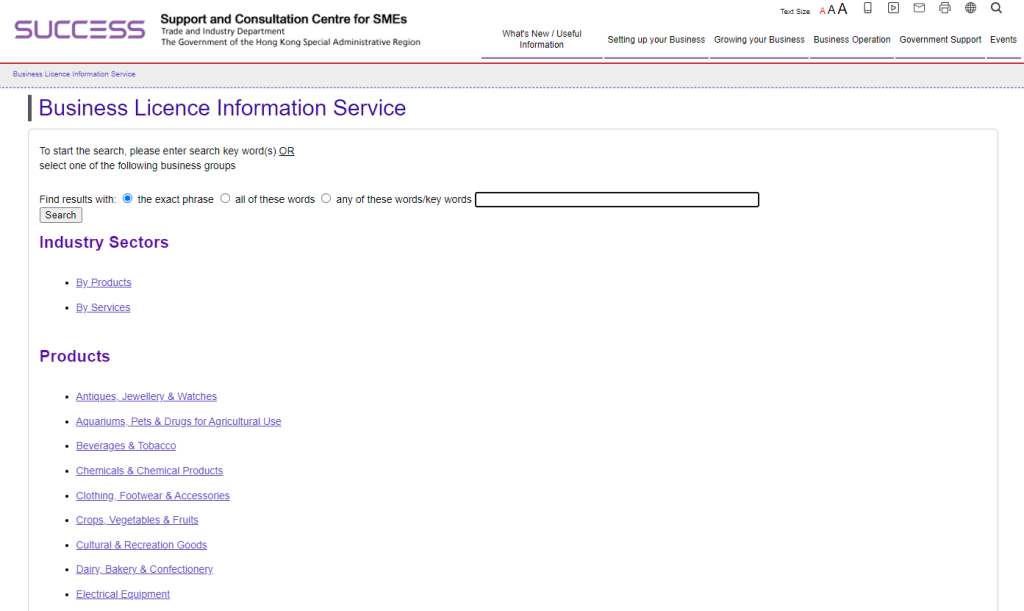 Assume your company is planning to carry on Clothing and Footwear business. After you type this keyword in the search box (or choose from the Products session below), the tool will then lead you to the next page on which there appears a list of related business types for Clothing and Footwear to be available in Hong Kong.
Click the most relevant business type to your previous answer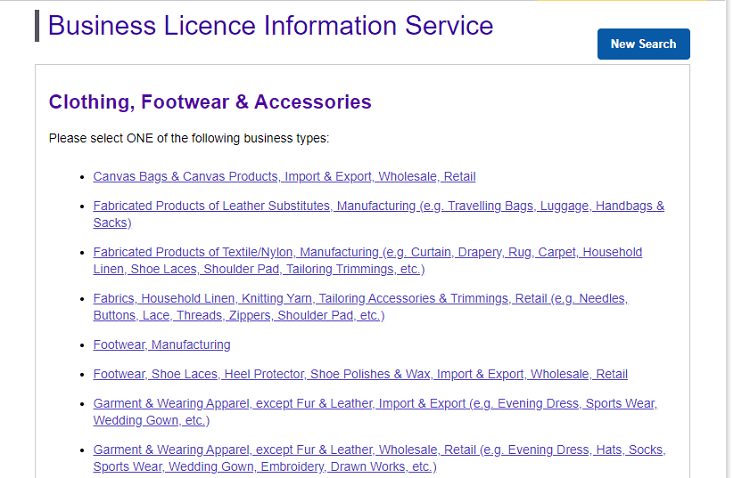 Suppose I would go to Footwear Manufacturing option.
Check on which most related activities are likely to be conducted by your company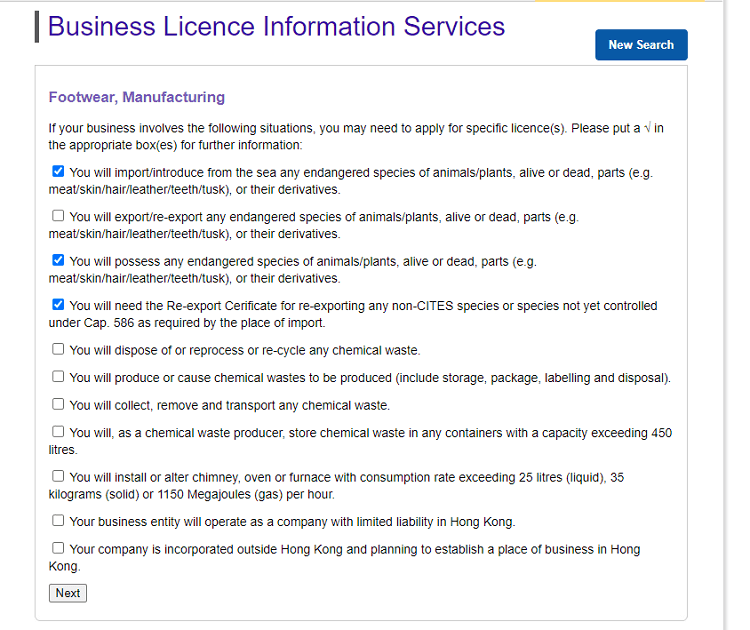 Based on your input information, the final screen will give suggestions of the type of license or permit you may need to apply to comply with the respective laws in Hong Kong. Remarkably, you would be provided with both compulsory and additional licenses that fit with your previous answers.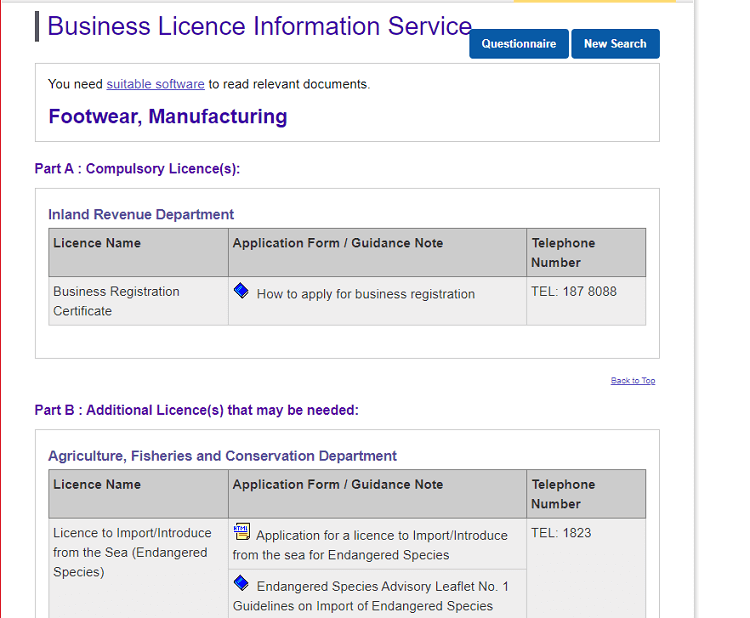 This free-accessing tool would help you somehow find out the types of business licenses or permits you may need to apply before starting a business in Hong Kong. For the most accurate answer for which licenses are needed, you can engage your trusted service provider on a case-by-case basis, or contact directly the SUCCESS department to gain better consultation.
Cyber Search Centre Portal: How to check your Hong Kong company registration
To prepare for your Hong Kong company registration, having a check on the company name availability and verifying other companies' information in the Company Registers are very necessary. There is one free gateway provided by Hong Kong governments to facilitate such demands, namely Cyber Search Centre.
Companies Registry's Cyber Search Centre acts as an online search portal for obtaining information of all companies registered in Hong Kong. There are available updated data of incorporated companies as well as their document image records stored by the Registrar. Two main benefits of using this tool include:
You can check whether your proposed company name is likely to be rejected due to its similarity or already existence with other companies' names.
If you are planning to enter a partnership with Hong Kong companies, you may need to know more details about them, then the Cyber Search Center will allow you to do that.
Using the Company's Particulars Search is a typical example. By accessing this part, you can obtain certain information about the date of incorporation, company status, directors information, registered address, together with particulars of that company secretary.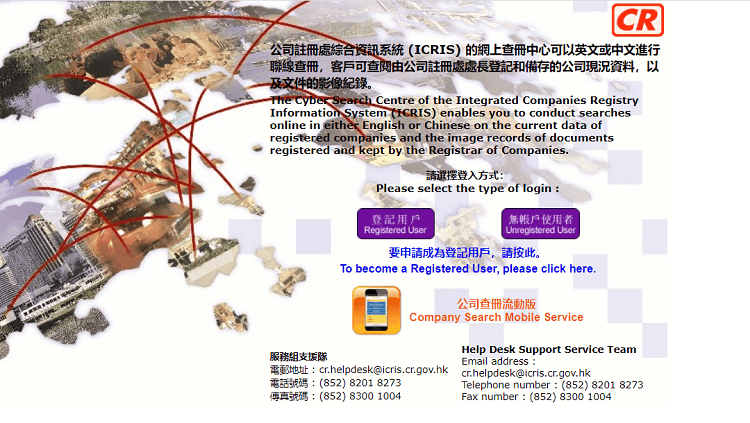 This is how the online search portal Cyber Search Centre looks like
You can log in the Cyber Search Center/Company Search Mobile Service (www.icris.cr.gov.hk/csci) through the following methods:
As an Unregistered Online User
As a Registered Online User (login with their IDs)
Under the Cyber Search Centre, there are 4 free-of-charge services, namely:
Company Name Search: to provide all company names registered on the Companies Register, not excluding dissolved companies.
Document Index Search: to provide records of documents submitted by Hong Kong registered companies, regardless of registered or pending ones. Documents include name, date of filing, size of image and the company status.
Disqualification Orders Index Search: to provide registers of disqualified individuals or entities who are directors or officers of the registered company.
Charges Index Search: to provide charges information of the registered company – i.e., a short demonstration about the charges or the registration number of the charge.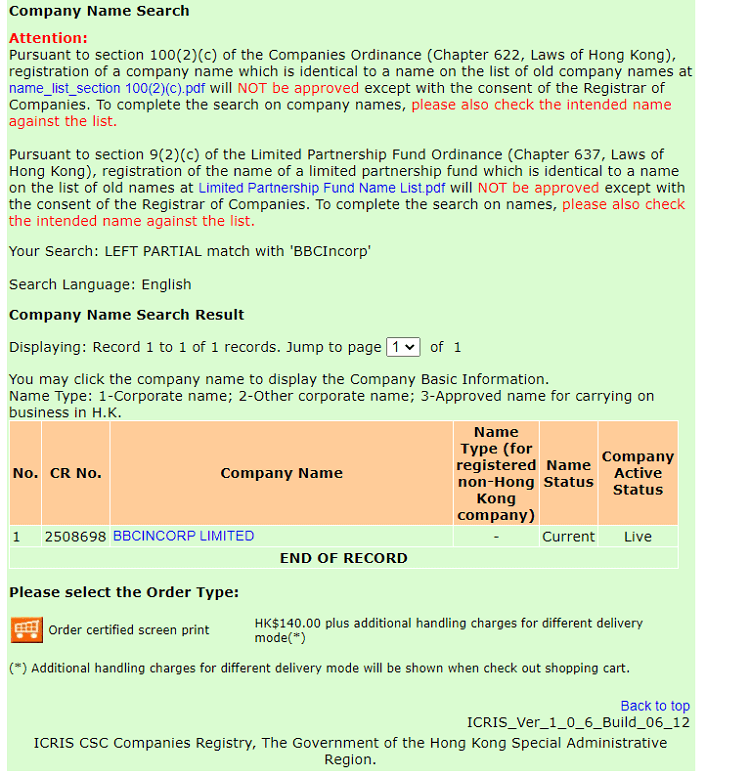 An example of Company Name Search
Other services that you need to pay for use:
Image Record Search
Company Particulars Search
Directors Index Search
Disqualification Order Particular Search
Ordering Certificates and Other Products.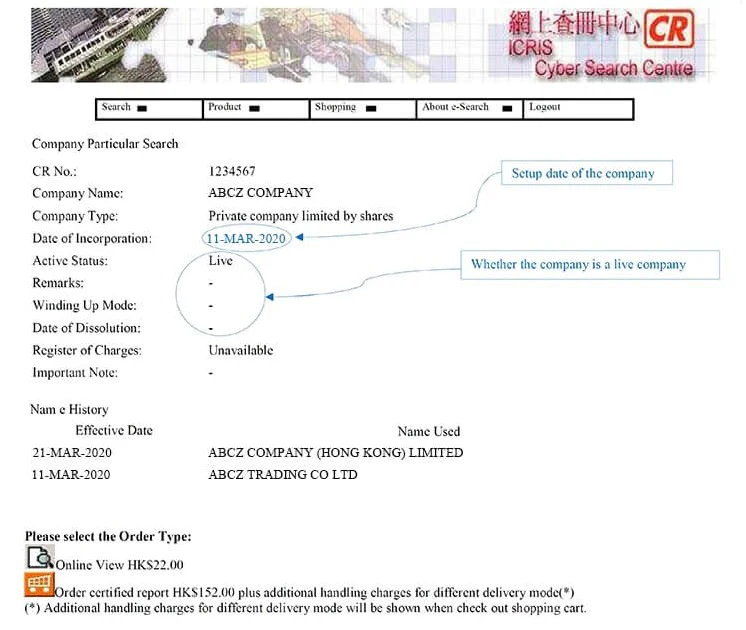 A simple search for Company Particulars (Free of Charge) on the Cyber Search Centre of the CR
Hong Kong Cost Planning Tool: Estimate your cost for starting a business in Hong Kong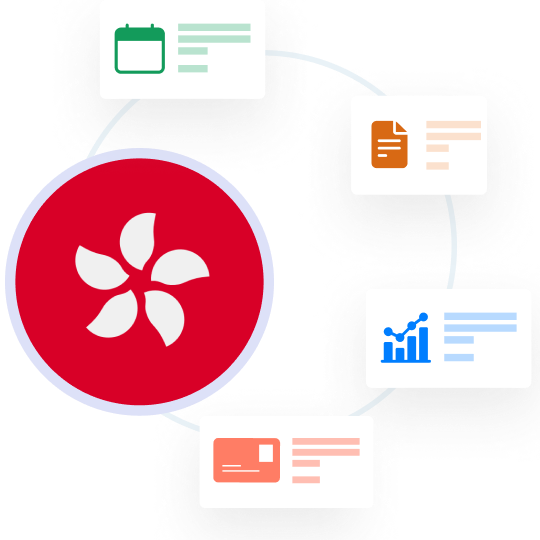 HONG KONG
COST PLANNING TOOL

Manage your business finances by working out all estimated cost for company setup, licenses, and so much more.

At-a-glance overview of business cost

Accessible and responsive consulting
The cost of incorporation in Hong Kong varies for different business types, structures, and industries. BBCIncorp's Cost Planning Tool helps you to work out initial costs for your business with a simple and practical test.
Should you need a detailed schedule before registering your new Hong Kong company, please feel free to contact us through the chatbox for better advice or leave a message via service@bbcincorp.com.
Disclaimer: While BBCIncorp strives to make the information on this website as timely and accurate as possible, the information itself is for reference purposes only. You should not substitute the information provided in this article for competent legal advice. Feel free to contact BBCIncorp's customer services for advice on your specific cases.
Share this article
Get helpful tips and info from our newsletter!
Stay in the know and be empowered with our strategic how-tos, resources, and guidelines.