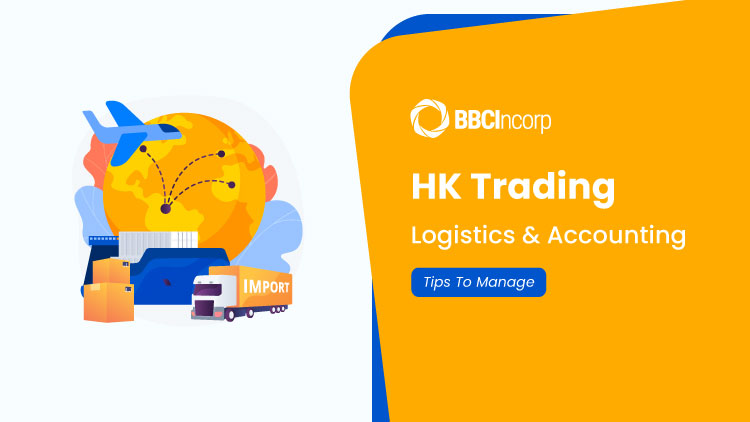 As a matter of fact, the success of a Hong Kong trading company can't be achieved without good management of logistics and accounts.
To establish good control over these two areas, it's important that you have basic knowledge of the concepts involved.
In this article, we'll provide a basic introduction to logistics and account management for trading businesses in Hong Kong, as well as some tips on how to manage them successfully.
Why do you need to focus on logistics and accounting management?
Logistics and accounting are two essential aspects of any trading business, which directly influence the financial condition and daily workflow.
Trading with good logistic management will improve efficiency, ensure order fulfillment, and facilitate smooth communication for all parties involved.
Accounting management also plays a significant role. It helps you track the financial performance of your trading business and make sure that all financial transactions are properly maintained.
By keeping good records, you'll get a better understanding of your company's financial position and make sound decisions for the future.
How to manage logistics effectively when trading in Hong Kong?
Take your time to learn more about the right way to manage logistics before starting your Hong Kong trading company.
Implement a good tracking system
Make sure that you have a good system in place for tracking your inventory and order fulfillment. Especially for overseas trading, with a high risk of loss shipment and delays, you'll need well-organized logistics that help track order status quickly and accurately, schedule, and ensure delivery timely.
You can implement a good tracking system through digital software or use a manual management method to trace the movement of traded goods.
Applying automation for logistics management is also a popular option that is worth considering. Not only does it improve efficiency, but it also helps you prevent human errors (e.g., wrong data input, missing information) and increase accuracy.
In this ever-changing world, adopting good technology and automation for your system is a good technique, enabling you to keep up with the fast-paced trading environment in Hong Kong.
Work with trusted partners
When trading in Hong Kong, it's important to find reliable and experienced partners to help with the logistics. By working with the right local partners, you can ensure that your shipments arrive on time and without any trouble.
Good trading partners offer timely and a good flow of shipment. This is crucial for logistic management because if the movement of goods is not running smoothly, it can result in lost sale opportunities, late deliveries, and even contract penalties for your trading business.
Reliable partners also pay you on time and provide detailed invoices for every shipment. This is beneficial for your logistic management because you can keep track of inventory and budget with greater accuracy.
Pay careful attention to logistics and trade compliance
Many of you choose Hong Kong to set up a trading company, but it doesn't mean that you only perform relevant activities within the border. It is crucial that you learn about global trade compliance so that you can smoothly import and export goods through Hong Kong customs.
For example, if you want to sell products that are manufactured in Hong Kong to the US, you must know the requirements of US customs, such as certifying the origin of goods.
Source appropriate freight forwarding agents
Entering the trading world as a new player is like fighting an uphill battle due to the lack of experience, expertise, regulatory competence, and local networks. A freight forwarder is a safe option that helps you take care of the logistics part, even dealing with the local customs.
How to manage accounts of your Hong Kong trading company?
Managing your accounting in Hong Kong can be just as challenging as managing your logistics. A small mistake may cost you big money. Take these tips into consideration for effective management:
Keep accurate records of trading transactions
This will help you stay on top of your finances and ensure that you are always up-to-date with your trading activity.
Having clear and concise records of transactions is especially important for tax accounting. There can be various types of taxes applied to your trading profits, you should familiarize yourself with these and make sure you are accounting for them.
Additionally, keeping accounting records also comply with Hong Kong's bookkeeping requirements for trading businesses.
Understand Hong Kong's accounting standards and practices
Engaging in Hong Kong trading requires you to comply with Hong Kong accounting standards.
Hong Kong has its own set of Generally Accepted Accounting Principles (GAAP) which companies registered in Hong Kong must follow. It is important that you're aware of these principles to prepare financial statements that correctly reflect your trading activity.
Use appropriate software to manage your account
There are a number of software programs available that can make the accounting process much easier, from tracking your trading activity to producing detailed financial reports.
With good software, you'll be able to make sound business decisions on real financial data, rather than estimates or guesses.
The most popular accounting software in Hong Kong is Xero, Quickbooks, and Sage.
Regularly review accounting information
Reviewing and optimizing accounting procedures allows you to identify any potential areas of improvement and ensure that the trading business is running as smoothly as possible.
Delegate responsibility for accounting tasks
As a business owner, you may feel the need to handle everything all by yourself, even accounting. But attempting this feat without the proper knowledge and expertise can do more harm than good.
Accounting is a complex and detailed process, and without the proper knowledge and experience, it can be difficult to get things done correctly.
It is therefore advisable to appoint an in-house accountant or outsource your accounting to professionals, who have the relevant skills and expertise to carry out the task.
Start an offshore company in Hong Kong for overseas trade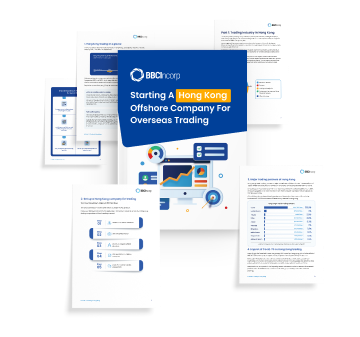 Conclusion
Running a trading business in Hong Kong can be lucrative, but it also comes with its own set of challenges.
Managing your logistics and accounting effectively is critical to the success of your business. In this article, we've outlined some tips for doing just that. Follow these guidelines and you should be on your way to successfully operating your trading company.
Feel free to drop us an email via service@bbcincorp.com for any questions you may have on trading business in Hong Kong, as well as your accounting matters!
Disclaimer: While BBCIncorp strives to make the information on this website as timely and accurate as possible, the information itself is for reference purposes only. You should not substitute the information provided in this article for competent legal advice. Feel free to contact BBCIncorp's customer services for advice on your specific cases.
Share this article
Get helpful tips and info from our newsletter!
Stay in the know and be empowered with our strategic how-tos, resources, and guidelines.