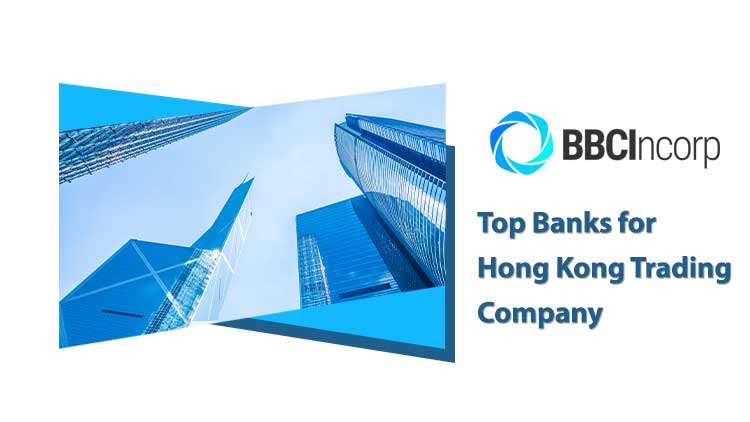 After registering your Hong Kong trading company, you have a full plate getting your trading business in place. The first vital step is to open your business banking account. It is not only about managing your financial activities but also ensuring working capital for day-to-day operations.
Hong Kong is home to some of the world's top banks, which offer comprehensive import-export finance solutions. In particular, you have a great range of options to choose from, from domestic to international banks; but it also gets you mixed up.
In this article, we'll introduce you to the top 3 banks for your Hong Kong trading company; including the alternative solutions. We'll also outline the benefits of each bank, so you can decide which one is right for you.
Why need a bank account for your trading business
When starting a Hong Kong trading company, you will need to open a business bank account. This account is commonly used for managing daily cash flow and overseeing all the company's transactions – receiving and sending payments, and making and receiving deposits.
Below are the main reasons why you should have a corporate bank account for your trading business:
Risk mitigation. Running a trading business with a bank account help to minimize the risks of foreign transactions.
Efficiency. With support from banks, you can reduce the time and cost of receiving funds, manage access to cash that increases working capital, and reduce loan needs.
Capital raising. When trading with a registered business banking account, you can get better pricing or credit terms from foreign suppliers, or obtain financing to increase cash flow
Trade activity management. A bank account helps you track transactions and monitor payments quickly.
Issuance of Letter of credit. Banks can issue a Letter of Credit that facilitates import and export transactions. This assurance makes it easier for trading businesses to find overseas companies' partners. The letter is extremely necessary in case you need working capital but haven't received payments from your trading partners.
Documentary collections. These serve as proof that the actual shipment of a product or service has occurred, so the buyer can accept a bill and the seller can receive payment.
Things to consider when choosing banking option for trading businesses
Banks play a vital role in the success of trading businesses. You should research carefully the following elements of a bank for the selection.
Competitive rates and fees
You definitely want your business to be charged as little as possible to mitigate the cost burden. A bank that offers low-cost wire transfers and competitive foreign exchange rates is more profitable to your company.
Product and service innovation
Your trading business will need a bank that offers innovative products and services. It helps you have access to foreign currencies, online banking platforms that are easy to use, or specific services that cater to your industry.
Financial robustness and security
You want your money to be safe and secure. A bank that has robust systems and procedures in place to protect customer funds is a good one to work with. Such a bank should comply with Hong Kong Monetary Authority (HKMA)'s regulations.
Some banks may have strict regulations that make your application not qualified. Many Hong Kong banks also require you to provide physical verification. Then you will need a bank that has more relaxed conditions for foreigners.
A bank that is highly rated by customers will comfort your business banking process. You can look for one with a high public profile.
Experience in the import-export business
A trading business will need a bank that is able to offer competitive business advice and support in moving money in and out of Hong Kong. This will also ensure that they have the knowledge and resources necessary to help your business succeed.
The ability to provide an appropriate line of credit to your trading needs
It is especially important when your trading partners are in countries with unstable economic conditions.
Establish your Hong Kong
trading operations with
confidence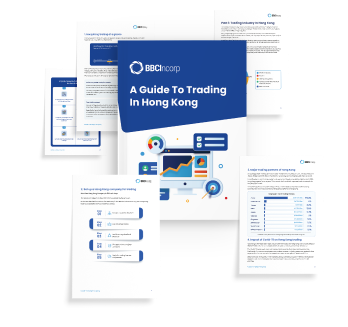 Top 3 banks to consider for Hong Kong trading businesses
Consider these 3 best banks for your trading company to start a business account after successfully registering your Hong Kong trading company.
Citi Bank
When it comes to banking options for a Hong Kong trading company, Citi is one of the top names in the business. Citi offers a comprehensive set of services to help traders conduct their business effectively and efficiently.
Pros
No minimum deposits for opening checking and savings accounts;
Global largest credit card issuer with various service options;
Flexible customer service that you can work with the bank in multiple means of communication;
Online banking platform that makes it easy to keep track of your business' finances no matter where you are in the world;
Provision of trade finance solutions, including the issuance of Letters of Credit and streamlining traditional trade transactions for importers, exporters;
A global network of branches and ATMs;
Easy online banking access.
Cons
Multiple applicable maintenance fees such as connecting an eligible deposit account to spend on overdrafts;
Limited choice of currencies (US dollar only);
High fees for international transactions;
Complicated account opening process;
The eligibility for fee waiver falls under certain conditions.
Overall, Citi is a good choice for businesses that need a global banking partner with a strong reputation. The bank has a wide range of products and services and offers excellent customer service. However, its fees can be high for international transactions, so it's important to compare rates before opening an account.
HSBC
HSBC is a global bank with a strong presence in Hong Kong that has an extensive global reach. It's one of the world's strongest banking partners and a leading provider of international trade and supply chain finance solutions.
Pros
Large global network, making it easy to transfer money internationally;
Wide range of products and services, including loans, credit cards, and insurance
US$ 1 as the minimum deposit to open checking and savings accounts;
Easy waiver of monthly maintenance fees;
Regulated by the Hong Kong Monetary Authority (HKMA), ensuring that your money is safe;
US$ 1 as a minimum balance to earn an annual percentage yield (APY);
Provision of international banking services.
Cons
More expensive foreign exchange rates and transaction fees;
Slow and difficult online banking system to use;
0.01% APY is starting rate on interest-bearing checking accounts.
HSBC is a great option for those who are seeking global expansion with an international extensive network and easy opening procedures for foreigners.
DBS
DBS Bank is one of the largest banks in Asia – a well-known and trusted bank in Hong Kong, with a long history of providing quality services to businesses. DBS offers a range of banking options specifically tailored for trading businesses, including accounts, credit facilities, and merchant services.
Pros
Large network of branches and ATMs all over Hong Kong, which makes it convenient for you to access your money;
Wide range of banking products and services for import and export;
Strong reputation for being a reliable and trustworthy bank;
Convenient online banking to manage your account 24/7 from anywhere in the world.
Cons
High-interest rate on loans;
Limited branch network.
DBS offers a number of online banking tools that make it easy to manage your finances on the go that ease your financial management of the Hong Kong trading business.
Alternative options for Hong Kong banks
If you're looking for a banking option for your Hong Kong trading business, you may find that some traditional banks are not an option. This may be due to certain reasons – such as the business being in a high-risk industry, or because the company is newly established.
In this case, you may need to explore alternative banking options. One such option is to use an Electronic Money Institution (EMI). These institutions offer a wide range of services, including current accounts, savings accounts, and debit cards. They also offer online banking facilities, so you can keep track of your business finances easily.
Another option is to use a Fintech account. These accounts are designed for small businesses, and offer a range of features, such as online payments and invoicing. They are also very easy to set up, so you can get started quickly and easily.
So if you're looking for a banking option that fits your Hong Kong trading business, why not explore these alternative options? They may be just what you need to get your business off the ground.
The bottom line
To keep the finances of your Hong Kong trading company on good ground, a corporate bank account is indispensable. Citi bank, HSBC, and DBS are the top 3 banks to start your business trading account. Each bank has its own benefits, so it is important to define your needs, do your research and find the best-suited one.
As a foreigner, it is common for you to have difficulty opening a bank account, then you can consider an EMI account to manage the finances of the Hong Kong trading company.
If you are still not clear on the determination, chat with our friendly consultants for further support on this matter, or drop us a message via service@bbcincorp.com!
Disclaimer: While BBCIncorp strives to make the information on this website as timely and accurate as possible, the information itself is for reference purposes only. You should not substitute the information provided in this article for competent legal advice. Feel free to contact BBCIncorp's customer services for advice on your specific cases.
Share this article
Get helpful tips and info from our newsletter!
Stay in the know and be empowered with our strategic how-tos, resources, and guidelines.