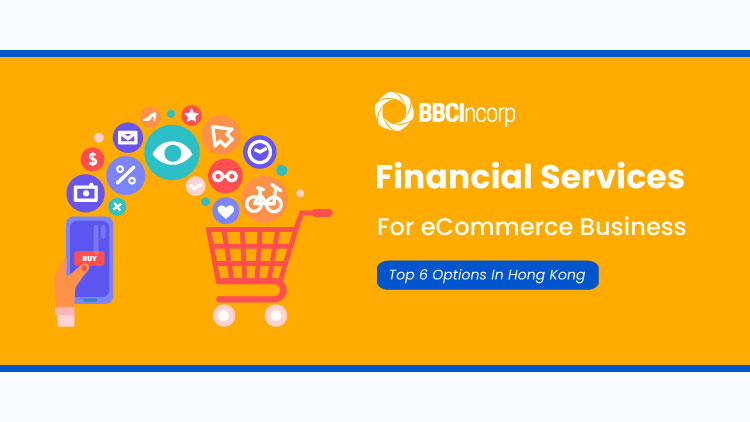 eCommerce is rapidly and consistently booming in Hong Kong thanks to the country's well-developed digital infrastructure and high-demand tech-savvy consumers. If you plan to build your business in Hong Kong, eCommerce is a worthwhile industry. 
Choosing the right financial solution is crucial in helping your eCommerce business in Hong Kong take off. There are various options from traditional banks to emerging fintech solutions. Let's dive into some of the optimal financial service options you should opt for.
Leading banks for eCommerce businesses in Hong Kong
To begin with, these are some of the most ideal traditional banks in Hong Kong to go for when starting an eCommerce business.
HSBC
HSBC is among the largest international banks in the world that offers exceptional business banking services. If you choose HSBC for your eCommerce startup, go for the HSBC Sprint Account.
HSBC Sprint Account is an integrated bank account specially designed for startups. Specifically, the benefits of opening an HSBC Sprint Account could be what you are looking for.
No monthly services fee for the first 12 months

You can open an account completely online and enjoy HK$495 saving on the account application fee until 31 December 2021

Manage your business operation with free access to HSBC Smart Solution digital platform

Get a free HSBC VisionGo Business Membership to connect with SMEs around the world
Hang Seng Bank
Hang Seng Bank is one of Hong Kong's leading commercial banks in terms of market capitalization. It offers various services, including online banking, investment support, credit cards, mortgages, and MPF.
In particular, below are the advantages of opening the Integrated Business Solutions Account of Hang Seng Bank:
No annual fee for the first two years

Exclusive access to other banking products and services 

Up to HK$10,000 of temporary overdraft to prevent autopay failure or returned cheques

Automatic fund transfer from your savings accounts to cover exceeded credit limit or overdrawn amount
Tips
It is optimal to open business bank accounts at more than one bank for your eCommerce company. You can enjoy various benefits from each bank at once. Also, it would be more convenient for your customers when transferring money to purchase your products online when you use multiple banks.
DBS Bank
The majority of SMEs including eCommerce businesses in Hong Kong go for DBS Bank when operating businesses. The seventh biggest bank in Hong Kong provides high-quality and convenient services to startups and SMEs. 
Here are the benefits of opening a DBS Business Digital Account with BBCIncorp:
Online bank account opening services for BBCIncorp's customers 

All required documents for the bank account opening do not need to be certified

No minimum balance or fall-below fees

Access to IDEAL which is DBS online banking platform specially designed for startups and SMEs

Make unlimited transactions daily
OCBC Bank
The Oversea-Chinese Banking Corporation Limited, or OCBC Bank, is the second-biggest bank in South East Asia in total assets. Global Finance Magazine consistently ranks OCBC Bank among the safest banks in the world. No wonder why it is one of the most highly-rated banks globally.
OCBC Business Account is a high-quality business bank account for eCommerce businesses. Its main features and benefits include:
Completely open your business bank account online 

No initial deposit, minimal balance, and fall below fees 

Free access to the OCBC OneCollect app, a digital merchant solution to help you collect payment from customers conveniently

Access to free business support tools on the OCBC Velocity Digital Business Banking platform such as a business cash flow management tool or e-Invoicing tool to create e-invoices 
Currently, BBCIncorp is collaborating with DBS Bank and OCBC Bank to help our clients conveniently open their corporate bank accounts.

Talk to our consultants now or email us at service@bbcincorp.com to get practical advice for your specific case.
Alternatives to traditional banks and the fintech boom
If you want to avoid the hassle of opening a traditional business bank account, fintech companies are effective alternative banking options for your eCommerce company. 
Fintech companies provide similar financial services to traditional banks and payment-related functions such as e-wallets, payment cards, or IBAN accounts. In general, the services from fintech firms are cost-effective, convenient, and secure to use.
BBCIncorp will typically recommend that our clients with Hong Kong eCommerce business go for options bar excellence like Airwallex. 
Airwallex offers a streamlined solution for your eCommerce business finances. Many rising eCommerce stars use Airwallex business accounts such as Brosa, Ettitude, and Deliciou. 
In addition, an Airwallex business account comes with the following benefits for your Hong Kong business:
No setup and monthly account fees

Simple and fast account opening

Hold balances in more than 11 currencies with Airwallex multi-currency wallet

Collect funds from major eCommerce platforms such as eBay, Shopify, Klarna, and more

Switch between multiple Airwallex accounts easily with a single sign-in, which is convenient in case you manage more than one eCommerce business

Integrate with Xero to reconcile your transactions and receive in-depth financial reporting
Sign up to Airwallex now with BBCIncorp and get zero conversion fee for the first HK$100,000 or equivalent in other currencies.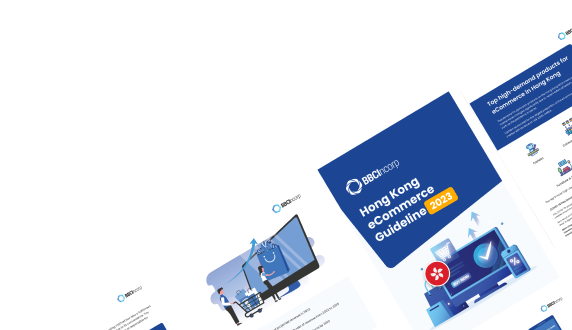 New guide
Want to start an
E-commerce company in
Hong Kong?
Do it the easy way with this guideline
Have you found the right option for your business?
Each option will bring you different perks. You should always go for the one that best suits your needs and business operation. 
Finding the right business account for your business may take some time. Above are just some recommended financial service options for you to consider for your eCommerce business in Hong Kong. If you need further discussion with our friendly and dedicated local professionals on how our top-listed partnership network can help, please know that BBCIncorp would be available to assist you.
Disclaimer: While BBCIncorp strives to make the information on this website as timely and accurate as possible, the information itself is for reference purposes only. You should not substitute the information provided in this article for competent legal advice. Feel free to contact BBCIncorp's customer services for advice on your specific cases.
Share this article
Get helpful tips and info from our newsletter!
Stay in the know and be empowered with our strategic how-tos, resources, and guidelines.