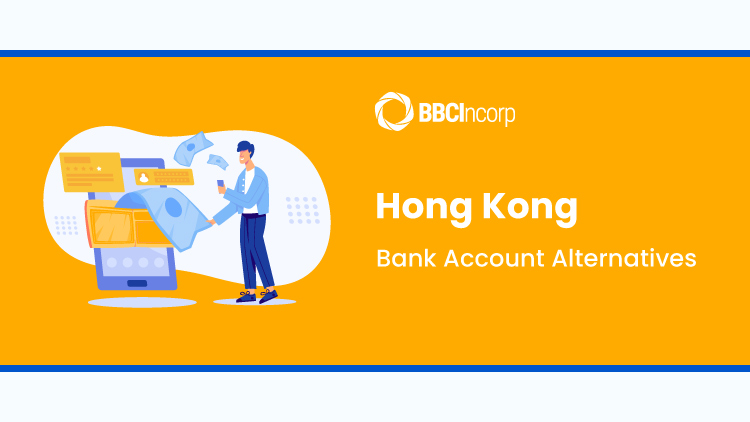 Most entrepreneurs are aware of the difficulties of opening brick-and-mortar bank accounts in Hong Kong. Interview visits, stringent procedures, or long waiting times are things to stand out among others. These may cause a lot of hassle for companies wishing to open Hong Kong bank accounts. For that reason, many fintech solutions like Airwallex, Wise, or Currenxie are relatively rising stars for those in need.
In this article, BBCIncorp will be covering some of the best alternatives to bank accounts in Hong Kong you should know. Stroll along with us!
A new emerging trend: Fintech solutions for opening bank accounts
Doing business in Hong Kong cannot proceed without a business bank account. On that note, you have heard the challenges of setting up a bank account in Hong Kong for foreigners.
Besides the complicated process or the waiting length, the widespread pandemic this year also influences on completion of the process. It has been difficult, and unfortunately, it is now becoming progressively difficult!
Are there other alternatives to bank accounts in Hong Kong? The answer, fortunately, is YES! Many high-tech platforms have been emerging to bring startups and newly incorporated companies in Hong Kong out of trouble. Instead of the hassle of opening traditional bank accounts, these fintech solutions become a worth-considering choice for your company.
A key to mention is that the fintech platforms require no visit to Hong Kong as a normal process in physical banks. As for foreigners, this is the biggest convenience outweighing the benefit of having a traditional bank account in Hong Kong.
Important
Do not misunderstand these fintech platforms with virtual banks in Hong Kong.
A digital-only bank that has no physical base. These banks are registered as Hong Kong licensed banks. They are regulated under the HKMA and assured to maintain the safety standard as traditional banks. Virtual banks must follow certain banking provisions, KYC processes, liquidity coverage, and capital requirements as well.
More information on Hong Kong's visual banks in the Three-Tier Banking System.
Money Service Operators (MSOs)
Also known as e-money institutions (EMIs) in most European countries, MSOs are regulated by the Customs and Excise Department of Hong Kong. It is also a legal term to refer to businesses engaging in money remittance or conversion services in Hong Kong. Both MSOs and virtual banks run businesses online.
The main difference is that MSO is not a bank, so it does not provide banking services as a bank does. Instead, MSOs focus on supplying payment services, and they are ideal solutions to rescue those that have been rejected by Hong Kong local banks.
Alternatives to bank accounts: Pros & Cons
Let's put all things in a comparison!
To help you have better consideration, below are some advantages and disadvantages of money service operators (MSOs), the emerging fintech platform we are mentioning as alternatives to traditional banks.
Pros of MSO solutions
The ability to adapt needs for a seamless and straightforward solution for opening a bank account
Welcome startups, SMEs, and newly incorporated companies with less chance of opening conventional bank accounts in Hong Kong
Super-fast bank account opening, no longer waiting for bank's approval
Unique Account Numbers offered to both individuals and companies
100% online opening: online submitted document, online verification, no need to take flights to Hong Kong
Multi-currency account available
Lower transfer fee
The availability of payment card services
Best choice for online business
If you are planning to open a bank account for e-commerce or online businesses, opening an MSO account is a wise choice. The key reason is that you must collect payments via several payment gateways like PayPal or Stripe during transactions.
While you may encounter the hassle of opening an account from a local real bank to connect with the payment gateway, MSO would be the vehicle to streamline this process (most MSOs are open to connecting with payments gateways easily).
A bit confused about how to distinguish these terms? Here is the blog to enrich your understanding: Merchant Account vs Payment Service Provider vs Payment Gateway.
Unique Bank Account Number
An alternative to traditional banks like money service operators does maintain a good partnership with licensed banks, even various banks in different jurisdictions. They, therefore, have the ability to provide clients with assigned segregated bank accounts under their clients' names as well. Each said account is also attached to its distinct bank account number.
MSOs play a role in better convenience for their clients. As clients' assets actually are still held in segregated bank accounts under licensed banks. It means your money is still in the bank, not in the MSO itself.  Shortly, the security of your money is assured as being stored in conventional banks.
Simple process & Remote opening
The process is 100% online, a big plus for most foreign startups and entrepreneurs. Especially for those who do not want to take flights for an in-person visit with the bankers or during the COVID-19 pandemic. Now, opening a bank account remotely helps foreign applicants save a lot of time and money.
In addition, MSOs offer less complicated procedures than traditional bank accounts. There is high flexibility in terms of document requirements.
To give an example, if startups are afraid of getting a high level of rejection in opening a local bank account in Hong Kong due to the absence of proof of business or trading, using MSO is a wise choice. For startups, many fintech operators have no obligation to submit such kinds of proof in their application, or if any, require reduced documents for applicants.
Fast registration
Opening a bank account in traditional Hong Kong banks can be an issue of headache for many business owners as the process can take a long waiting time. If things are done by yourself, you may take several weeks to make an arrangement in advance with the bank branch. In addition, the time length for review and approval from Hong Kong banks.
In case of multiple rejections, foreign entrepreneurs probably must take time to visit banks for the second time, the third time. It can be a long run, depending on your case!
Fortunately, alternatives to bank accounts through fintech platforms can meet applicants' urgent needs since it is opened remotely. Furthermore, a streamlined due diligence process would enhance the processing speed. Typically, the procedure for opening a business bank account with fintech options can be in no more than 2 weeks.
Multi-currency accounts & Low deposit
Providing multi-currency accounts is a good reason why you should choose MSO accounts in Hong Kong.
Particularly, these operators can arrange segregated bank accounts for clients, and these accounts are normally held as multi-currency accounts. Clients can store their funds in different currencies in one account, serving the utmost convenience for the bank-transfer demands of business owners.
Low deposit requirement is another benefit that makes fintech platforms like Wise, or Currenxie more popular for entrepreneurs. Just compare with the normal bank, and you can see how advantageous these solutions are. If you apply for opening a business account in Hong Kong physical bank, you must pay an initial deposit and maintain a monthly balance amount. As normal, it is ranging from 10,000 HKD to 500,000 HKD.
Cons of MSO solutions
In comparison with normal bank accounts, there are some drawbacks concerning the use of MSO accounts or bank accounts offered by MSOs in Hong Kong. Before making a decision, you might consider some of the statements below:
Account balance limits
The segregated bank account is arranged with a limited maximum balance. If this limit is reached, the account holder needs to withdraw money. In another way, you must send an application for upgrading this balance limit in the said account. Also, you are not allowed to receive money to this account when it is "full".
How does the operator determine your account limit? Well, it bases upon the business volumes, the amount to be transferred to other banks, or related banking regulations to identify the default limit to each account.
No availability of financial products
As the aforementioned, fintech platform providers are not banks. In particular, don't expect they would offer you financial products as what a brick-and-mortar bank provides. Examples of financial products are insurance, savings, checking accounts, investments, or loans.
In other words, traditional banks often sell these financial products to their clients to gain additional support for their business. Instead of, fintech solutions like MSOs tend to focus more on the performance of money transfers.
Not ideal for cash business
While opening a bank account with MSOs is ideally suitable for startups and SME owners who are high in demand for bank transfers but left behind by normal banks, a cash business should not go to this form of account. A cash business means you have a high volume of transactions with banknote payments every day.
Normally, cash business owners want to keep a lot of cash held in their accounts. With the feature that the alternative to banks like MSO limits a daily cash deposit into its account, opening a traditional bank account is a better choice for cash business.
No deposit insurance except for virtual banks
In addition,  e-money issuers or money service operators normally hold deposits that have deposit insurance for protection. Simply put, MSOs cannot enjoy deposit insurance schemes as a real bank, so your money may not be well-protected as when it is held in a traditional bank.
Cannot open a business merchant account
A major disadvantage is that money service operators in Hong Kong cannot act as merchant service providers, meaning they cannot open business merchant accounts for clients.
For instance, a merchant account is a bank account that enables businesses to accept payments by credit or debit cards. Merchant accounts are popular with eCommerce businesses, those high in demand for online settlements. Above all, a merchant account reflects the relationship between the bank/the merchant provider, the retailer, and the payment processor.
Some alternatives to bank accounts in Hong Kong you should know
If seeking the best option is what you are doing now. Then there are a number of fintech solutions arising for business people in such cases. Most importantly, to help you make the right decision, below is a quick review of 4 popular alternatives to Hong Kong traditional bank accounts that you should know!
Again, please note that these rising stars are best fit with the niche market of startups or SME owners.
Wise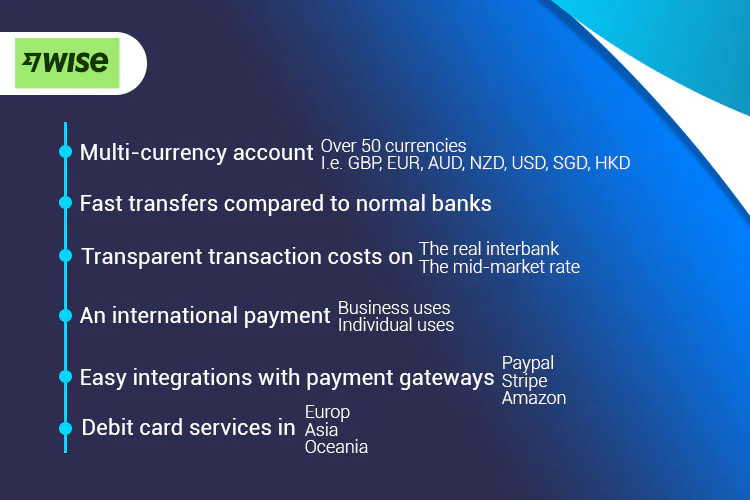 Wise gains the spotlight thanks to its international base and the real exchange rate. Below are several highlights of this bank-like fintech platform:
A global payment on big routes for both business and individual uses, especially in the UK and Europe
Fast transfers compared to normal banks
Multi-currency account, i.e., GBP, EUR, AUD, NZD, USD, SGD, HKD.
Real exchange rate, low charges on currency exchange, and outgoing money transfers
Easy linkage with payment gateways like PayPal, Stripe, or Amazon
Transparent transaction costs on top of the real interbank/mid-market rate
Available Wise debit card services in Europe, Singapore, Hong Kong, the US, Japan, Australia, Malaysia, Canada, Brazil, and New Zealand
However, one major disadvantage of using Wise is that the account holders may require to follow certain local regulations, depending on which place you have registered their account.
For example, it is an e-money provider that is regulated by the Financial Conduct Authority in the UK. But, in Hong Kong, it is normally licensed as an MSO and regulated by the Customs and Excise Department of Hong Kong.
In addition, the spending limit for your card with Wise is another thing to mention. The limits may vary depending on different regions and countries. Otherwise, not all nationals can be eligible to register a Wise business account.
Accordingly, you should ask your service provider before determining whether it is the best-fit solution for your business.
To prominent rising stars as alternatives to banks, entrepreneurs in desire of opening a bank-like account in Hong Kong can also consider the following digital names: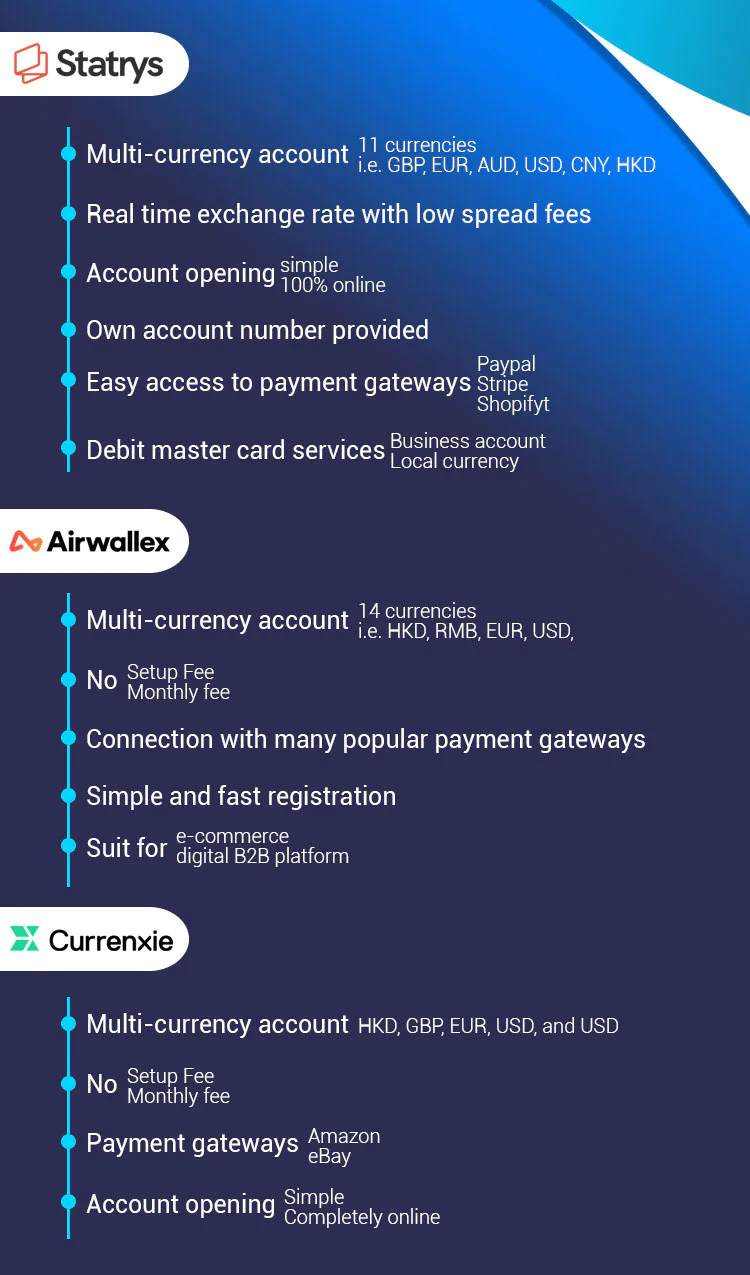 Statrys
Below are some highlights of Statrys:
Account opening is simple and entirely online
Own account number provided
Real-time exchange rate with low spread fees
Multi-currency account in 11 currencies: HKD, EUR, CNY, GBP, AUD, and more
Easy access to payment gateways like PayPal, Stripe, or Shopify
Available debit master card service. Business accounts and local currency accounts are the two most typical for Statrys
The number of company jurisdictions that can register a Statrys business account is limited. Currently, accepted countries include Hong Kong, Singapore, and the BVI companies. Unlike some other operators, Statrys does require an opening fee and monthly fee from your account for some special companies.
For one who doesn't incorporate in Hong Kong or Singapore, or those with special profiles.
Airwallex
Below are some highlights of Airwallex:
Account opening is simple and completely online
No setup fee, no monthly fee
Simple and fast account opening
Multi-currency account in HKD, GBP, EUR, USD, and more.
Easy access to major payment gateways: Amazon, eBay
Airwallex card services are also available.
Currenxie
Below are some highlights of Currenxie:
Easily have payments sent and received in up to 14 currencies: HKD, RMB, EUR, USD, and more
No setup fee, no monthly fee
Simple and fast registration
Connection with many popular payment gateways for online business
Suit for e-commerce and digital B2B platform seekers
Card services with Currenxie are not as strong as those from other alternatives. Moreover, certain high-risk countries shall be rejected to open a Currenxie account.
What if my company failed to open a bank account in Hong Kong?
Traditional banks in Hong Kong may be a challenge to prevent you from opening a bank account for business operations. Note, however, that it is not the sole way. In fact that the growth of the fintech industry in Hong Kong has led to the popularity of e-money providers or money service operators. Above all, if it is not easy to open Hong Kong local banks, such digital solutions would rescue your chance.
In short, some outstanding MSOs and bank-like products, namely Wise, Currenxie, Statrys, and Airwallex can be excellent alternatives to bank accounts in Hong Kong for your business!
For those encountering trouble opening a bank account in Hong Kong, don't let that difficulty prevent you from starting your business! Feel free to talk to our experts or leave a message via service@bbcincorp.com to get practical advice on your case.
Disclaimer: While BBCIncorp strives to make the information on this website as timely and accurate as possible, the information itself is for reference purposes only. You should not substitute the information provided in this article for competent legal advice. Feel free to contact BBCIncorp's customer services for advice on your specific cases.
Share this article
Get helpful tips and info from our newsletter!
Stay in the know and be empowered with our strategic how-tos, resources, and guidelines.