Hong Kong's banking system is characterized by a three-tier system, including Licensed banks, Restricted banks, and Deposit-taking companies. In this blog, we will delve into the key features of each type and how they work.
A glance at the banking system in Hong Kong
The banking sector is of vital significance in the economic development of Hong Kong.
Not only has Hong Kong become flourishing in terms of offshore banking, but also a strong linkage between Hong Kong and offshore renminbi business to Mainland China has attracted much attention from most foreign investors in recent years.
Hong Kong is deemed a globally well-reputed financial hub. There are more than 70 of the world's 100 largest banks in Hong Kong. With the high concentration of international banks, Hong Kong is listed in the top ten biggest international banking meccas when it comes to the volume of external transactions.
The banking system in Hong Kong is regulated under the Hong Kong Monetary Authority (HKMA). Except for the issuance of banknotes, most of the key duties of a central bank will be performed by HKMA. Hong Kong banking system is characterized by four main types of banks:
Licensed banks
Restricted license banks
Deposit-taking companies
Offices of foreign banks (Representative offices of overseas banks)
Other than representative offices, the banking system in Hong Kong is dominated by its three-tier system including three types of banking institutions as above.
This system is categorized on the amount of deposit, term of the deposit, and each one's business nature. They are also collectively known as Authorized Institutions (AIs) supervised under the Banking Ordinance.
As per HKMA's latest update to April 2020, the number of authorized institutions in Hong Kong was 193 in total, including 163 licensed banks, 17 restricted banks, and 13 deposit-taking companies in Hong Kong.
Furthermore, the jurisdiction has 42 local representative offices of overseas banks, 8 locally incorporated companies in Hong Kong granted licenses for virtual bank operations, and 30 money broker approvals by the HKMA.
It should be noted that there are certain requirements as well as restrictions among the three types.
It is also interesting to know that only restricted banks and licensed banks – the first two forms – can be deemed as banks. In what follows, we will delve into key features of the three-tier banking system in Hong Kong.
Free ebook
Everything you need to start doing business in Hong Kong
Company registration process
Compliance & tax requirements
Employment & hiring issues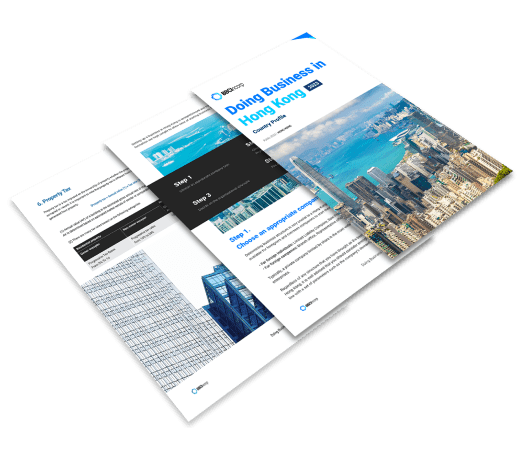 Features of the three-tier banking system in Hong Kong
The table below represents key highlights of the three-tier banking system in Hong Kong:
Licensed Banks
Restricted License Banks
Deposit-taking Companies
Current and saving accounts
Capital market and merchant banking activities
Specialized activities, namely consumer finance, securities business, commercial lending
Accept deposits of any size and maturity from the public
Accept deposits of any maturity of HK$500,000 and above
Accept deposits of HK$100,000 or above with an original term of maturity of at least three months
Minimum capital requirement of HK$300 million
HK$100 million
HK$25 million

Licensed Banks can be incorporated inside or outside Hong Kong.

Virtual banks are allowed in Hong Kong and categorized as licensed banks.

Restricted License Banks can be incorporated inside or outside Hong Kong.

All deposit-taking companies are incorporated in Hong Kong.