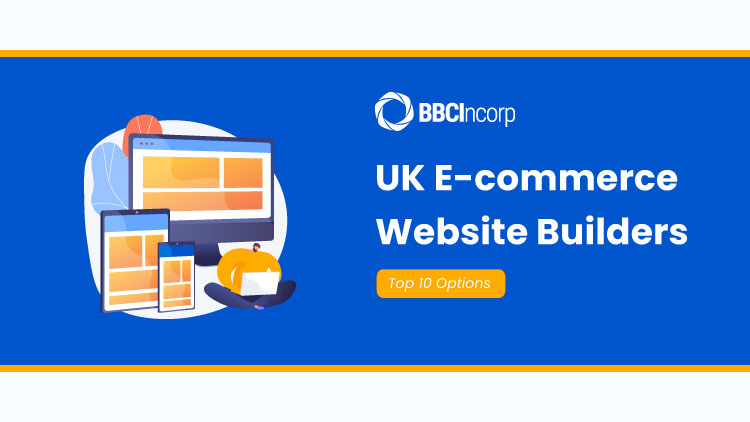 What is an e-Commerce website builder?
An e-Commerce website builder is a platform that allows users to create a website for an e-Commerce venture.
Whether you are a novice or an expert in the field, there are many features and functions that can be customized to your needs depending on the website builder.
But, with so many choices, how do you know which website builder is best for your e-Commerce business?
A good website builder is usually one that is user-friendly, customers expect a website that provides an intuitive, streamlined, and smooth browsing experience. It should be simple to set up an online store, process orders, track payments, and drive traffic.
Choosing the right e-Commerce website builder is more than a one-time decision; it is an investment that must be handled carefully. Investing in a scalable platform as your business grows will help you get closer to your customers while also increasing your bottom line.
Advantages of using e-Commerce website builders
Using a website builder is much more affordable for businesses with limited budgets than hiring a professional website developer, maintaining the system, and other associated costs when building a website in-house.
Aside from the customer service provided by the builder's support team, using a website builder means you're signing up to the established community of fellow users where you can easily find shared knowledge, forums, and even FAQs.
With available templates and themes, it is simple for beginners to embark on the journey of developing an e-Commerce website.
You can also easily find tutorials, training sessions, and help forums with the builders to help you get started along the way.
Because protecting your and your customers' information is critical to the success of your business, the website builder ensures that your website integrates well with SSL encryption, payment gateways, and other integrations/plug-ins.
Disadvantages of using e-Commerce website builders
Although using available templates from the website builder may sound appealing at first, you may find it difficult if the outcome is not what you expected.
There may be limitations to using the predefined layout if you want to make changes that are not possible. This is where you may want to consider building your own e-Commerce website.
While the website builder gives you control over your website's design, you may not have access to the source code, making it difficult to truly optimize your website for Google rankings and SEO.
Unless you subscribe to the premium plans, some builders limit the number of pages you can create with a free account, which limits the potential of your business if you need more pages to showcase your brand and the various services and products.
How to pick an e-Commerce website builder for your UK business?
Choosing the best e-Commerce website builder for your business in the UK will depend on certain factors.
Here are some critical criteria to keep in mind when considering your option:
Decide on a budget
Your main battleground will be online and an e-Commerce website is the face of your business, as well as the key competitive advantage.
You must consider your budget and select a website builder that is cost-effective, not only for the initial stage of your business but also for future growth.
It is also critical to research the packages and plans, compare the offers, and assess their impact on the growth of your business.
Furthermore, budgeting for building an e-Commerce website may entail more than just paying a subscription fee. Some website builders may require you to have an in-house professional web developer, which adds to your website building budget.
Consider your needs and timeline
Most website builders are designed for people with little or no experience with design or coding, but some will be easier to use than others.
If you're still unsure about which style to use for your website, choosing a web builder with a ready-to-use template may be a good idea.
However, if you already have a clear idea and concept in your mind on how the website should look like, you need to make sure that the website builder you choose offers a template style that reflects that.
Also, ensure that these templates are diverse, simple to use, and easily customizable based on your preferences and e-Commerce business model.
For those website builders that require you to hire a professional developer, you may need to spend more time searching for and hiring the right one for your company. This is important to consider because it will increase the time it takes for your website to go live.
Look for integration and customization
If you want your website to run smoothly after you've finished building it, integration may be necessary.
During operations, you may use a variety of tools and systems to support your company's activities, such as marketing, sales, CRM, order fulfillment, analytics, and so on. If this is the case, you must ensure that your e-Commerce website builder includes simple integration functionality.
Also, as your company grows, consider whether the builder provides a wide range of additional integrations to meet your future needs.
Hiring a website developer is critical if you want to customize your website beyond your current skill set. In this case, ensure that the builder is open-source or provides access to the code of your website so that your developer has easy access to the source code.
Top 10 best e-Commerce website builders in the UK
Let's dive into the pros and cons of the most famous e-Commerce website builders in the UK to help you figure out which one is best for your business.
Shopify – The most easy-to-use platform for small businesses
Shopify is a well-known e-Commerce platform as well as an all-in-one website builder for startups and small businesses.
The website includes a full content management system (CMS) that allows users to easily manage their digital content from a single location.
Pros
Plenty of customizable themes for a professional-looking layout
Extensive add-ons and integrations to increase productivity
Flexible payment processor and software to scale your store
Cons
Expensive with add-ons (templates, plugins, web designer, etc.)
Extra transaction costs are charged if don't use Shopify's integrated payment processor and Shopify payments
Advanced reporting features are limited to expensive plans
Pricing
Shopify offers a 14-day free trial and three main pricing plans:
Basic – £24
Shopify – £69
Advanced – £259/month
Wix – The most user-friendly website builder
Wix is a well-known builder with a diverse pool of themes and simple drag-and-drop customization features
Pros
Variety of professionally designed mobile-responsive templates that suits every business
Network of partners that can help you design your website (with additional cost)
Pricing plans for businesses of all sizes
Wix Payments included
Tutorials and support are available
Cons
Site analytics are not available for basic plans
Users need to pay extra to access the Wix Analytics App
Website content tied to the template
Pricing
Wix offers flexible pricing ranging from £3.50 to £19/month depending on the plan. The company also offers a 14-day free trial period so that you can try out the features before deciding to subscribe.
Squarespace – The most creative website builder
Squarespace is a cloud-hosted website builder that offers well-designed templates that guarantee a contemporary and professional-looking layout for your website.
Pros
Award-winning templates to create a consistent and engaging website easily
Affordable pricing for startups with limited budgets and no transaction fee to save cost
Convenient integration into Google Analytics for better tracking and reporting
Round-the-clock customer support for any issues and problems that may occur
Cons
Lack of customized options compared to others
No built-in multi-currency selling functionality
Fewer payment options to connect with
Free domain is only available for the annual billing plan
Pricing
Squarespace's pricing ranges from £10 to £30 per month, depending on the plan. The cost of choosing monthly billing over an annual plan can be much higher. You can also try out a 14-day free trial on the website.
GoDaddy – A powerful website builder with ADI
GoDaddy offers artificial design intelligence (ADI) to make it easier for you to build your e-Commerce website. GoDaddy also boasts built-in tools for search engine optimization, social media, and email marketing.
Pros
Reasonable pricing
Easy-to-use templates
Dedicated UK-based support service
SSL-certified pricing plans
Professional-looking site with ADI features
Cons
No SEO tools for the Basic plan
Less advanced features
Minimal Customization control
Pricing
GoDaddy is offering a month-long free trial. Following that, you can select pricing ranging from £6.99 per month for the Basic plan to £19.99 per month for the e-Commerce plan (when billed annually).
Weebly – The best website builder for startups
Weebly gives you complete control over your e-Commerce website, from layout design to store management, covering all things a startup needs to get up and running quickly.
Weebly is a good option if you're just starting out and don't want to get bogged down in technical elements or maintenance.
Pros
Mobile-friendly websites for better customers experience
Simple interface for quick website setup
No coding is required
Adaptable inventory and order management platform
Startup-centric pricings
Cons
Lack of creative and cutting-edge features
Blogging functions are limited compared to others
Pricing
Pricing
Weebly's basic service is completely free, but there are some limitations. You can upgrade to paid plans for more features, which start at £4 per month for the Starter plan and go up to £10 per month for the Pro plan.
Volusion – The most beginner-friendly website builder
Volusion is a great platform for beginners because it is simple to use, with a well-structured dashboard and step-by-step tutorial.
Pros
Easy access to analytics to see how your store is performing and where to improve
Integrated with eBay and Amazon, making it simple to sell on these sites
Simple page design features
Cons
Digital product sales are not permitted (e.g., ebooks, music, art, etc.)
Phone call support is not always available.
Pricing
Volusion costs £25 per month for a personal plan, £75 for a professional plan, and £259 for a business plan. For even more unique benefits, you can select a custom plan.
Site123 – The most long-standing e-Commerce website builder
One of the oldest e-Commerce platforms available today, SITE123 provides a wealth of tools and pre-built website designs for both private and commercial use. You can easily and quickly create a website with Site123 in a matter of minutes.
Pros
Plenty of themes and templates that suit every business's needs
24/7 customer support with live chat available
Simple editing interface for creating your online store
Mobile-friendly stores that will display your products beautifully on all devices
Cons
Restricted features and free domain plan
If you don't upgrade to a premium plan, the Site123 logo is added to the website
Lowest design score & limited creative flexibility
Pricing
SITE123 has five different plans ranging in price from $12.80 to $28.80 per month. A 10-year subscription costs $5 per month.
BigCommerce – Best option for website customization
BigCommerce is an all-in-one solution and is particularly famous for its scalability. Users can easily design an e-Commerce website using the drag-and-drop functionality.
As such, there is no need for coding know-how or a professional developer to launch your website.
The website can also be tailored even when you've already published your site.
Pros
Free trial available
Unlimited storage, products, bandwidth
No additional transaction fees
Unlimited staff accounts
Integrated with PayPal and Apple Pay
Mobile-optimized checkouts
24/7 chat and email support
Cons
Limited free themes to choose from
Not suitable for absolute beginners
Annual $50,000 limit on sales with the Standard Plan
Phone support is solely based in the US
Pricing
BigCommerce offers a 15-day free trial. After that, prices start from $24/month (Standard Plan), up to £259/month (Pro Plan).
EKM – Top choice for UK small businesses
EKM is also an all-in-one platform where you can get access to everything that is needed to launch an e-Commerce website.
Pros
Domain name ownership
Dedicated UK-based support
Over 70 customizable themes
Beautiful templates
SSL certified
No additional transaction fees
Pre-included email marketing tools
Built-in payment processor
Cons
Expensive for startup and small business
Final pricing doesn't include VAT
Limited native third-party apps
Pricing
EKM provides a 28-day free trial. After the trial, the prices start from £34.99 + VAT/month for the Basic plan, rising to £209.99 + VAT a month for the Advanced plan.
If you want to customize your website, the price is £1,999.99 + VAT.
Square Online – Setup your website for free
Square Online is a site-building platform powered by Square, a digital payment company. As a result, businesses that already use Square to process payments can take advantage of Square Online for free.
Square Online aims at smaller businesses and those with a physical presence. This has made this builder an excellent option for online businesses with brick-and-mortar stores
Pros
No monthly fees or startup fees
Predominantly uses artificial design intelligence (ADI)
Synced online and offline inventories
Cons
Limited storage space on the free plan ( up to only 500MB)
Charged fees on transactions made on non-Square payment gateways
Pricing
No monthly fees or startup costs to set up a website, only a processing fee is charged when you make a sale, starting at 1.9% per transaction. The paid plans start from £9 to £54 a month (when billed annually) plus VAT.
Conclusion
When it comes to selecting a website builder for your e-Commerce business, there is no one-size-fits-all solution.
It's normal for one builder to work perfectly for another but not for you. As a result, you should look for a website builder that meets the majority of your needs, skill sets, and business model.
Using the information and recommendations in this article as a resource when evaluating the best e-Commerce website builder for your business in the UK could make the process easier.
Disclaimer: While BBCIncorp strives to make the information on this website as timely and accurate as possible, the information itself is for reference purposes only. You should not substitute the information provided in this article for competent legal advice. Feel free to contact BBCIncorp's customer services for advice on your specific cases.
Share this article
Get helpful tips and info from our newsletter!
Stay in the know and be empowered with our strategic how-tos, resources, and guidelines.