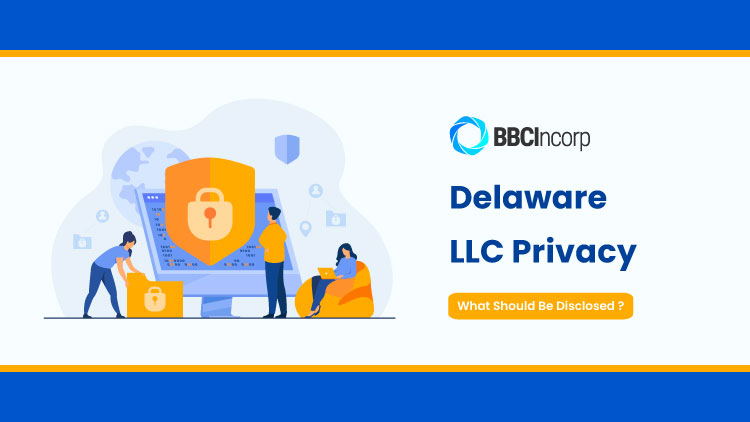 About Delaware LLC Privacy
Basic information to keep in mind
Registered agents take charge of filing a Delaware LLC (limited liability company), which upholds the highest level of confidentiality.
Only the names/addresses of the registered agents and registered companies are displayed in formation documents. As a business owner, you have a voice in whether your name shows up in certification documents or not.
Once you have established the business, the registered agent will issue the Certificates of Incumbency upon your request. The document identifies members and managers of LLC who has the power to legally operate the business, sign contract, open bank account, issue stock certificates, etc.
How about annual reports? The great news is that they are not compulsory for Delaware LLCs. There is no need to publicize all the members' names and other private information, either. So the benefits you first aim for are safe.
Still, make sure your registered agents own a record of an LLC's point person, including their name, business address, and business telephone number. Other requirements for a point person are:
Registered Agents will have some limits about the age for this person, usually not under 18 years old.
They need to be actual managers or members of the company.
They do not have to be U.S. citizens or live in the United States.
Is it possible to utilize legal features to safeguard your identity?
Our answer is Yes. Here is an illustration of ways investors might use the laws to gain Delaware LLC privacy benefits and keep their anonymity.
Let's say an investor purchases a California property via a limited liability company in Delaware. This LLC was authorized by this investor and established by another.
Hence, the firm must be registered as a foreign LLC to perform legal business in California. Once done, the investor must file Statements of Information like other domestic LLCs.
Yet, this investor decides to set up a second Delawarean limited liability company. It becomes the manager/director of his first one, owning the properties. Then he files the address and name of this second LLC on Statements of Information for his first one.
It is important to note that this man does not have to register his second LLC (also the manager) as a foreign LLC in California. Why? Because it controls the first company, which owns the California properties. There is no need to submit Californian Statements of Information listing addresses and names of its members/managers, either.
So the benefit here is that the true owner of the Delaware LLC does not need to reveal his/her identity but authorize a person (such as a registered agent) to file any required documents. And of course, the name of that person will be listed on the document instead of the "true owner."
What are the disclosure requirements for Delaware LLC?
Names and addresses of the registered agents
Assigning registered agents is also a must for all businesses. The names and addresses of these agents have to be covered in the certificates of formation, too.
Information about one business officer and all directors
Unlike other states, Delaware LLC does not require annual reports. Hence, information about managers and business officers is not obligatory.
Still, unlike other regions, registered agents in Delaware can be associated with no limit ( if they serve as registered agents for more than 50 entities then some conditions need to be met). This means that a firm may simply name one particular agent as the LLC's contact person, ensuring utmost anonymity.
For more guidance and support on issues about the anonymity of business members, we suggest you seek help from renowned third-party websites with trustable and experienced lawyers.
What should and should not be on the Public Records Of Delaware LLC?
Which info must be made public?
Only the names of your firm and the registered agent show up on Formation Certificates, coupled with the filing date and the firm's file number.
Your contact person has to be a real individual (instead of another firm). Aside from these two regulations, no other criteria are in force so far. The person doesn't need to be a firm manager/member or live in America.
Which info can stay private?
How about statements from an authorized person? Must they be listed in the documents?
First, it is important to know how they work. Keep in mind that Formation Certificates should be handled by an authorized person. Therefore, an LLC should hire a lawyer or registered agent to get access to some vital law advice before making any major decision.
On behalf of all members, this person establishes the LLC by submitting formation documents to Secretaries of State. Once done, he will give LLC members the certified papers. (In most cases, authorized people are the registered agents themselves, whose power is merely to file documents to Divisions of Corporations and give the LLC to the original members once the documents are filed).
Legal instruments releasing LLCs to the original members are called "Statements of The Authorized People" (in reality, this statement's name may vary depending on the Registered Agent), neither signed and prepared by the authorized individual nor submitted to Delawarean authorities. Hence, you do not have to file these statements in the public records.
Some other non-requirements state:
Business owners do not need to list the firm's managers or members on Formation Certificates.
Divisions of Corporations also do not store, obtain, or request info about the firm's managers and members.
Conclusion
This article has delivered guidelines on Delaware LLC Privacy. Delaware's commitment to treating businesses well and maintaining a favorable business climate has made it a top choice for entrepreneurs and companies.  However, it's vital to stay informed about the changing regulatory environment and evolving privacy landscape to adapt and make the best decisions for your company.
To sum up, firms filed by registered agents experience the benefits of the highest anonymity levels. Also, tips to utilize the laws and strengthen your privacy are available, so keep them in mind to ensure the optimal outcome.
Disclaimer: While BBCIncorp strives to make the information on this website as timely and accurate as possible, the information itself is for reference purposes only. You should not substitute the information provided in this article for competent legal advice. Feel free to contact BBCIncorp's customer services for advice on your specific cases.
Share this article
Get helpful tips and info from our newsletter!
Stay in the know and be empowered with our strategic how-tos, resources, and guidelines.