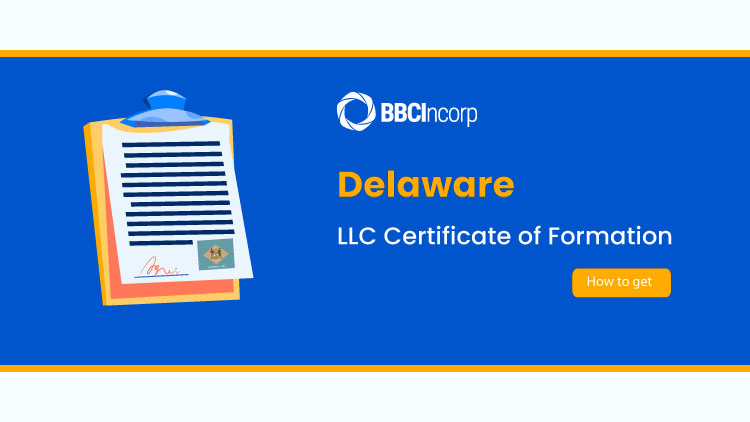 Overview Delaware LLC Certificate of Formation
The Certificate typically includes essential information about the LLC, such as:
The official name of the LLC;
Details of the registered agent, including address and contact information;
The registered company address or office location;
A statement of the LLC's business purposes or activities;
Information about the LLC's members or managers; and
Details regarding the authorized share capital if applicable.
Difference between Certificate of Formation and Certificate of Incorporation
A Certificate of Formation is specific to LLCs and is the document that establishes the existence of an LLC in Delaware.
A Certificate of Incorporation, on the other hand, is used for the formation of a corporation, and it is filed with the state to create a corporation.
Upon completion, the Certificate of Formation is submitted to the Delaware Division of Corporations along with the necessary filing fees.
After processing, the state issues an approved Certificate of Formation, which is typically sent to the LLC via email. This document is presented in black and white and bears a time and date stamp in the corner, confirming its authorization by the Delaware Secretary of State.
This approved Certificate serves as official proof of the LLC's creation and legal existence.
A sample of the Articles of Organization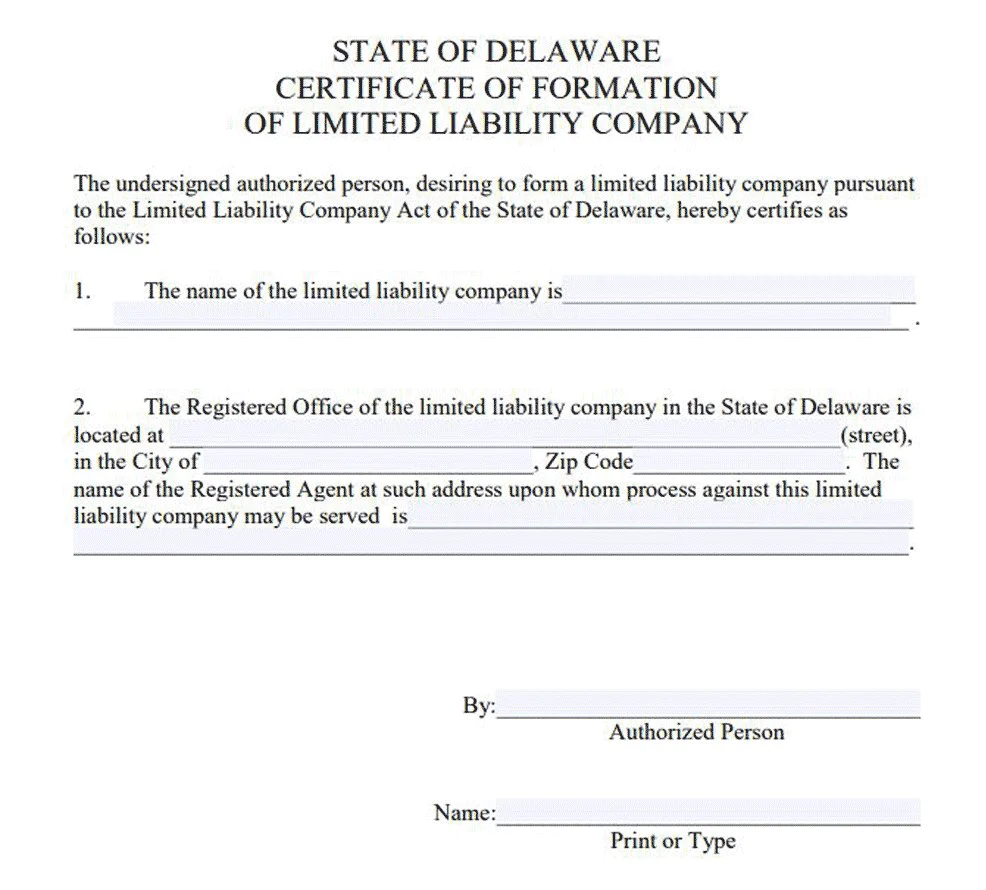 How to submit Delaware LLC Certificate of Formation?
Pre-registration
Before filling Certificate of Formation, you should choose an LLC's official name and its name must include "Limited Liability Company," "L.L.C.," or "LLC" in Delaware. Your company name can be reserved for successive 120-day periods while you finish your Certificate of Formation. For process-serving purposes, you must list a Registered Agent including its name and address. A Delaware-based individual or business serving as your company's registered agent will accept and deliver official mail.
Submitting process
According to the State law, an LLC is a corporation having at least one member and one or more qualified individuals needed to fulfill the signature. By signing, the individual certifies that they correctly and truthfully filled out the certificate intending to form a Delaware LLC. In addition, you can decide on a filing date if you want your certificate to go into effect later.
Key consideration when setting up your Delaware LLC
Obtain an employer identification number (EIN)
An EIN is a unique identifier for your LLC, often required for tax purposes, hiring employees, and opening a business bank account. To obtain an Employer Identification Number from the IRS, you will need to complete Form SS-4 and submit it either online or by mail. You can find more information on the IRS website.
Open a business bank account
This will help you keep your personal and business finances separate, and make it easier to track expenses and income. In order to open a business bank account, you will need to provide your Delaware LLC Certificate of Formation, EIN, and contact information for the business. You can usually open a business bank account with a small deposit and no monthly fees.
Create an Operating Agreement
This agreement lays out the procedures for resolving disagreements between the LLC's members and is signed by them. Consider the manner in which distributions will take place, the dates at which members will join or depart the LLC, and other operational concerns that may arise throughout the course of your company's existence. If you don't have an Operating Agreement, the Delaware LLC Act's default standards will govern how disagreements are handled in court.
Get Licenses and Permits
Before forming an LLC, you must ascertain whether your business needs any licenses to operate legally. A few commercial activities necessitate obtaining federal licenses and/or permissions.
Learn how to get Delaware business licenses your company needs, or contact a company to handle it for you:
Federal: Consult the U.S. Small Business Administration's (SBA) guide on obtaining business licenses and permits from the federal government.
State: Visit the First State's One Stop website to submit an application or get additional information regarding licenses, permits, and registration.
Local: Contact the county clerk in your area to know more about available licenses and permits.
Pay state tax obligations
You must pay all of your state tax obligations in order to finish the process and be recognized as an official business in the state. This includes any income, franchise, and/or withholding taxes. You can find more information on the Delaware Division of Revenue's website.
Conclusion
It's essential to obtain a Delaware certificate of Formation if you want to create a Delaware LLC. This document serves as evidence that your business is officially formed. We have plenty of experience forming LLCs in the First State, so we can assist you in getting everything in order so that your company may succeed in this growing environment.
Don't hesitate to get in touch with us via service@bbcincorp.com or simply chat with one of our friendly consultants for advice on forming an LLC in the First State.
Frequently Asked Questions
What is the process for obtaining a Delaware Certificate of Good Standing?
The Delaware Certificate of Formation must be signed by a registered agent in the First State and must be accompanied by the filing fee. Once this is filed and approved, you will be issued a Certificate of Good Standing from the Division of Corporations. This certificate is proof that your LLC is in good standing with the state and can be used to open a bank account or apply for loans or other services.
If you need a Certificate of Good Standing, you can order one from the Division of Corporations.
Is Delaware Certificate of Formation the same as Articles of Organization?
Forming an LLC in the Diamond State requires you to submit the Articles of Organization for LLC. The state calls it the Certificate of Formation.
Is a lawyer required to incorporate an LLC in Delaware?
You don't need a lawyer to form an LLC in Delaware. You can easily file the LLC Articles of Organization by following 6-step process in this blog. And if you want to hire a service provider, you can click here to get more information. 
Disclaimer: While BBCIncorp strives to make the information on this website as timely and accurate as possible, the information itself is for reference purposes only. You should not substitute the information provided in this article for competent legal advice. Feel free to contact BBCIncorp's customer services for advice on your specific cases.
Share this article
Get helpful tips and info from our newsletter!
Stay in the know and be empowered with our strategic how-tos, resources, and guidelines.