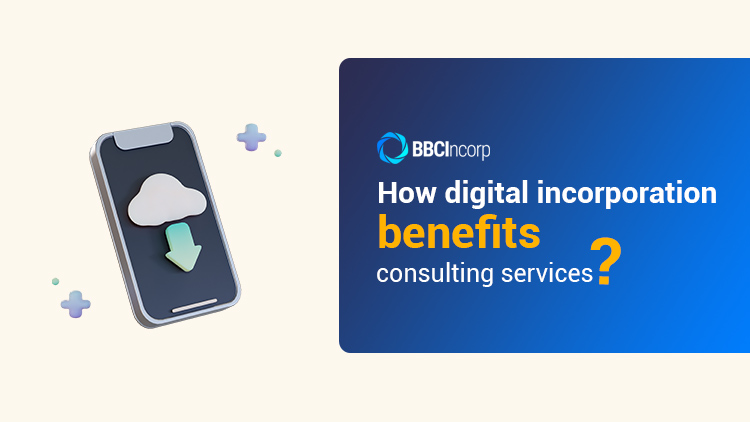 With the outstanding growth of competition and shifting clients' demands, consulting firms are aiming to differentiate themselves. In this context, the adoption of digital is inevitable, and digital incorporation ultimately allows consulting services to be more competitive when pitching for new work.
Hey, Google, define "digital incorporation"
White paper
Entity Formation On A New Horizon
Learn how professional services are exploring digital avenues for entity establishment.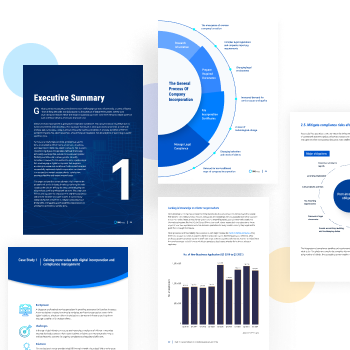 Firstly, incorporation is the legal process through which a corporate entity (or a company) is formed. In nearly all countries, corporations can be created in many identifiable forms such as with "Inc." or "Limited (Ltd.)" in their names. As a result, a corporation is created as a legal entity to separate the firm's assets and income from whoever owns and invests in it.
Traditionally, corporation formation has been done by filling out forms, obtaining signatures, and discussing between notaries and the company owners through meetings. Digital incorporation, therefore, is the same process but done through digital meanings, often an online platform that can facilitate digital communication instead of the direct, face-to-face method.
Due to the spread of the Coronavirus, governments have begun to adopt technologies at an increasing rate. Online services that have been put into use before the pandemic has proven their retrospective effectiveness to ensure business continuity.
For example, thanks to its implementation of online business registration in 2008, New Zealand never experienced any interruptions by local restrictions. However, of course, there have also been cases of pandemics triggering the digital transformation of business incorporation.
In April 2020, Honduras took steps to accelerate digitization, including amending their legal provisions on electronic signatures, as well as developing supporting digital tools for business registration and electronic payments.
Aside from dealing with the pandemic crisis, digital incorporation not only improves process efficiency but also plays an important part in reducing informality. As a case in point, Guatemala's introduction of online incorporation has increased the number of businesses registering by 40% thanks to the easier process.
Smaller or more remote firms are more likely to register their businesses online despite their distance from the registrar's office since things can now be done through online forms.
The implementation of digital incorporating platforms has also improved transparency because the company's info can easily be found for compliance and auditing purposes as well as risk analysis of potential trading partners.
Which issues faced by consulting services can digital incorporation solve?
In a PTC report in 2019, 40% of executives realized that operational efficiency was the top benefit when implementing digital transformation into their business processes. From time-tracking tools to productivity software, taking advantage of digital incorporation can boost your agency's efficiency.
For instance, instead of manually filling in fields on an incorporation form, you can take advantage of automation and auto-fill tolls to remain hands-off. This way, consulting firms can assist clients in speeding up the process while maintaining informational accuracy.
Digital incorporation will allow more transparency and reduce the information silos working practice. This means that instead of using file folders to manage customer information, consulting services can quickly access a massive database on any device, completely paperless. Now, there is no longer the need to sort through and organize data anymore since you can have a high-level overview of the data required for the registration process from the cloud.
That's not all. The best part is that your entire team can work in real time with any data they need, on any device, and from anywhere around the world. This is particularly helpful when dealing with global customers who are looking to form international branches.
The potential to save costs and cut down spending by taking advantage of digital incorporation can be endless, especially when companies go completely digital.
Thanks to digital incorporation and registry, regular maintenance costs and amenities you have to pay for an office space can be cut down completely. Complex intranets that cost a fortune can go away too. Instead, the entire process of legalizing a corporate entity is now done through web pages and login portals.
The landscaping, signage, business cards, and back-to-back meetings will all become bygones thanks to the digital transformation of the incorporation process.
Better, faster data storage
Digital incorporation being implemented also comes with the added benefit of better security standards in place. As the need for instant access to data rises, more companies are shifting away from traditional cloud networks and edge computing.
Edge computing may sound complicated, but it can be simply understood that there will be a shorter distance between data. What that means is you get better, faster data storage available for access at any time and anywhere. According to a Sailpoint survey in 2020, 94% of security breaches are identity theft cases. Therefore, introducing better digital systems to improve the digital incorporation process can help protect the clients' company and employee data from malicious attacks at the point of registry and establishment.
New business opportunities
Did you know that 70% of firms have adopted a digital transformation strategy? That was the result produced by a Tech Pro Research survey in 2018. Companies use digital transformation strategies for many reasons, but the most important reason is likely for allowing themselves a better chance against the competition in the industry.
With digital incorporation, consulting services can now become more competitive when it comes to global clients who expect speed, cost-effectiveness, and simplicity in the incorporation process that you offer them.
Conclusion
Digital incorporation is adding new dimensions to the consulting job. That includes a change to the systems, processes, workflow, and culture we have. The digitization of business registration is both a great opportunity and a great challenge for consulting services. The first step to take is understanding the benefits digital incorporation can bring to your firms.
We hope that the insight from our article can help you overcome the challenges that affect all levels of the professional industry. Should you have any questions or concerns regarding this matter, don't hesitate to drop us a message via service@bbcincorp.com or chat with one of our friendly consultants for actionable advice!
Disclaimer: While BBCIncorp strives to make the information on this website as timely and accurate as possible, the information itself is for reference purposes only. You should not substitute the information provided in this article for competent legal advice. Feel free to contact BBCIncorp's customer services for advice on your specific cases.
Share this article
Get helpful tips and info from our newsletter!
Stay in the know and be empowered with our strategic how-tos, resources, and guidelines.