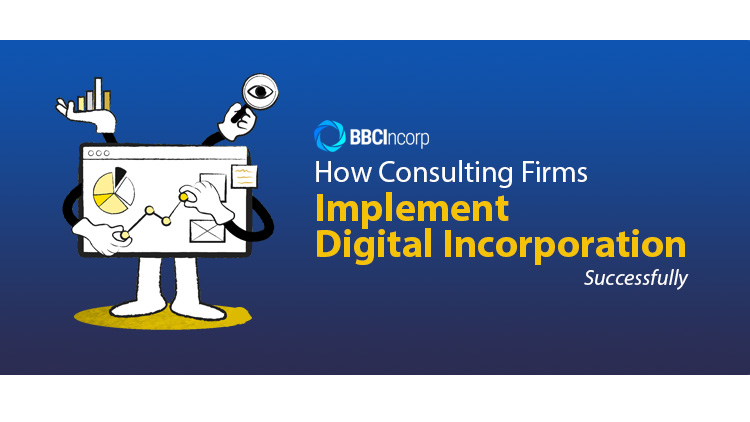 According to KPMG's Tech Survey, 70 percent of firms shared that they're investing time and energy into digital transformation in establishing entities for their clients and supporting this process. But why is the urge to go digital so ubiquitous?
The short answer: digital incorporation helps consulting firms deliver better customer services by automating administrative tasks and upgrading service experiences to a new norm.
The difference between digital incorporation and the traditional methods
In the pre-digital days, corporate formation usually means going through a series of manual-labor tasks, including:
Filling out forms by hand, which contain a myriad of fields and data requirements.
Verifying identities through photos and documents can take days, or even weeks, to complete.
Waiting for application forms to arrive by post for signatures.
Manual screening is a process in which staff must manually review documents and verify the information within them.
Nowadays, the biggest difference that the introduction of digital incorporation brings can be immediately felt at the moment of signing the deed.
The process of data collection can be done completely digitally without any physical files involved, as the data can be input from any device, anywhere.
Moreover, protocols such as anti-money laundering and KYC (Know Your Customers) will be completely automated, ensuring better security as automation can cut down human errors. Furthermore, digital incorporation can be done remotely through a central platform where all communications can take place.
Thankfully, the digital corporation process and the digital notarial deed remain as similar as possible to the current process and the paper method for the sake of familiarity in carrying them out. The online call for content discussion can be made an appointment by the client beforehand, after all.
However, according to the European Commission, digital incorporation will be a simpler, faster, and cheaper method. This serves as an assurance for many companies who obviously question the cost and effectiveness of moving to such an entirely new platform to conduct business registration.
In a digitized world where it is more and more common for clients to go global, consulting firms find themselves lagging behind due to manual practices that are slow, inefficient, and outdated.  Find out more about the biggest challenges facing consulting firms in our latest article.
How consulting firms are implementing digital incorporation
Most consulting services nowadays choose to outsource the role and functions of the incorporator, hiring independent online platforms that have already established due procedures and work practices for the job.
By outsourcing a digital incorporator, you are relieved from the challenges with clients' global expansion.
The job of a digital incorporator is also to prevent a company from crashing its budget when starting out. The entire structure of the company may falter and become liable to fall in no time if the budget is compromised.
By outsourcing a digital incorporator, consulting services can employ a consistent and centrally-coordinated professional staff who can tackle compliance management issues, increase the economy of scale, and eliminate the burden of having to specifically maintain a back-office staff.
For the above reasons, thousands of employers have already shown interest in outsourcing incorporation services from the online community and shifting the business landscape to the digital market. However, there are still cautions to take when choosing whom to hire.
Top aspects to consider when deciding on an outsourced digital incorporator
Understanding the benefits of hiring a digital incorporator, there are key aspects that consulting services should keep in mind when making the decision of whom to choose in today's vast market. In particular, there are four criteria:
Service quality
Outsourcing incorporation tasks can save time and costs. However, you get what you pay for, and choosing the cheapest option is not always a viable strategy.
According to Credit Donkey's research in 2021, for 50% of employers, the quality of the service is one of the biggest disadvantages when outsourcing.
These companies felt that they did not receive great quality when deciding to outsource workers for specific tasks.
In addition to that, these employers have faced a myriad of problems with outsourced agents not being proactive enough when it came to foreseeing problems and acting upon them before they even occur.
Therefore, compare the different services available, gauge how responsive their communication is, judge their expertise, fee structure, transparent pricing, the type of employees you will get, and how they stand against other companies.
Tech-enabled features
Every outsourced partner will have its own resources and method to deal with technologies. Based on those two factors, you should ensure how capable an organization is in handling your tech-related needs through its own tech-enabled services.
For example, cloud-based solutions are no longer just something that is exclusively required by tech companies such as IBM, Accenture, Microsoft, and Amazon.
Nowadays, even smaller firms can benefit greatly from the potential of cloud-based solutions; the cloud computing industry has already crossed 200 billion USD in 2018 alone.
Digital automated systems also play an important role, especially those that are fully integrated. They can improve crucial tasks such as project management, resource management, and client engagements.
Automation has helped consulting firms scale, monitor, and network with their talents more easily. McKinsey actually made a prediction in 2021 that 69% of data processing and 64% of data collection can benefit from automation.
The sustainability factors
There is a significant security risk to consulting services when outsourcing a digital incorporator, among other services. Therefore, it is a good idea to consider outsourcing organizations capable also in data entry tasks, data capture, and data storage. Some of the most common data-related outsourced works include:
Data entry tasks
Data storage on servers
Data capture and collection
Data processing and analysis
These outsourced data services can become critical for the success of consulting for digital incorporation as the data you collect through each project can later contribute as a form of "digital experience" to improve your services for future clients. They can also help reduce data security risks and determine what you can do to keep your data safe.
Ancillary support
Unlike traditional incorporation which only covers the registration aspect, digital incorporation integrated a wide range of additional services. The more they can do, the more your outsourcing decision can save costs in the long run. For example, digital incorporation can receive support from banking services.
When consulting firms input company details on the onboarding platform for incorporation, the system will take that information and automatically generate a list of banks that match the company's description.
And by extension, the requirements needed to apply for that bank, and the costs associated, saving time and effort for consulting firms.
A Deloitte survey in 2021 pointed out that 59% of businesses find they can save costs by using an ancillary business to perform duties that were often done in-house before.
Another important aspect that a digital incorporator can assist with is outsourcing compliance process. Given the volatility of the regulatory landscape today, having a specialized agent to keep up with fast-changing government regulations and reporting requirements can be a huge benefit.
White paper
Entity Formation On A New Horizon
Learn how professional services are exploring digital avenues for entity establishment.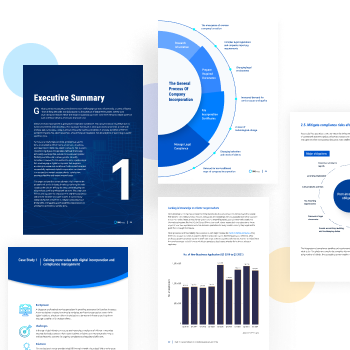 Conclusion
It has been two decades into the 21st century, yet consulting services are still lacking behind when it comes to the adoption of digital transformation amidst rapid globalization.
Through this article, with a better understanding of the trend and benefits of digital incorporation, we hope that firms can now clearly see the path ahead for their business strategies in order to thrive in the professional service industry that is slowly, but surely, changing with the flow.
Need help with automating legacy processes in company formation? Get in touch with our team via service@bbcincorp.com and find out how we can tailor our services to suit your current and future needs.
Disclaimer: While BBCIncorp strives to make the information on this website as timely and accurate as possible, the information itself is for reference purposes only. You should not substitute the information provided in this article for competent legal advice. Feel free to contact BBCIncorp's customer services for advice on your specific cases.
Share this article
Get helpful tips and info from our newsletter!
Stay in the know and be empowered with our strategic how-tos, resources, and guidelines.