Recently, we have found an increasing interest of our customers in the list of "non-cooperative jurisdictions for tax purposes" by EU Council, even blacklisted, grey-listed or "white"-listed are all big matters of concern. Most of them are considering this as an important factor to determine their best choice for offshore company formation.
A key to mention here is the criterion of "Economic Substance" has been acting as the promised reform applied in many offshore jurisdictions in question, including the premier destination like the Republic of Marshall Islands.
In the light of this growing demand, we will outline in this blog the ins and outs of How Economic Substance Regime Works through a very typical example of Marshall Islands ESRs. Let's read below!
Where did "Economic Substance Rules" come from?
Economic Substance Rules act as a driving force behind the battle of the EU and the OECD against tax havens.
Economic Substance rules originated in 2017 as the criterion so that the EU Council has adjudicated the tax practices of jurisdictions deemed low or free tax. ESRs actually hinder such favorable tax jurisdictions in their facilitation of growing offshore business structures that do not reflect real economic activity in the jurisdiction.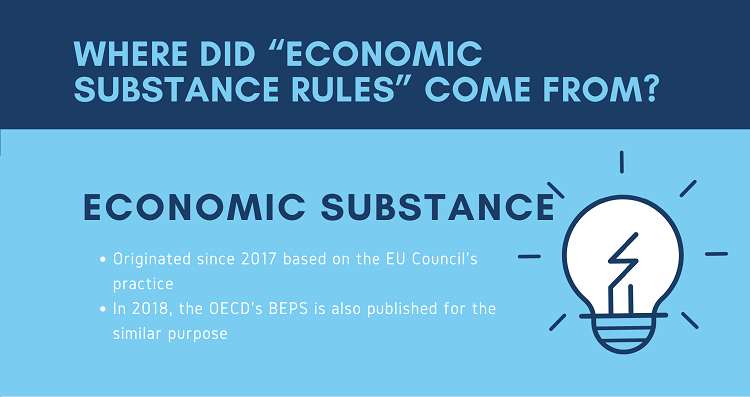 A year later, the OECD in 2018 also published its Base Erosion and Profit Shifting, aka BEPS, Action 5 for the similar purpose of avoiding substantial activities regarding geographically mobile activities granted for preferential tax treatments within relevant jurisdictions.
Many inclusive countries and territories have steadily introduced legislation regarding economic substance requirements for tax purposes effective from early 2019, namely the BVI, Cayman Islands, Jersey, the Isle of Man, etc.
The Marshall Islands obviously does not lie beyond this list, but clear guidance to its ESRs has just been brought forward recently. In what follows, we help you clarify Marshall Islands Economic Substance-related requirements and entities.
What is Economic Substance Requirement?
The Marshall Islands Economic Substance Regulations of 2018 (the "Regulations") mandate that all "relevant entities" carrying out a "relevant activity" in the Marshall Islands must satisfy reporting requirements regarding their actual level of economic substance in the jurisdiction.
ESRs published by the Registrar of Corporations came into force on 1st January 2019. It then adopted further amendments on 21 February 2019 and 29 August 2019. The Regulations effect for financial periods starting on or after 1 January 2019.
Let's check whether your company is subject to economic substance requirements in 8 countries.

Qualification Test

Compliance Requirement

Reporting Obligation