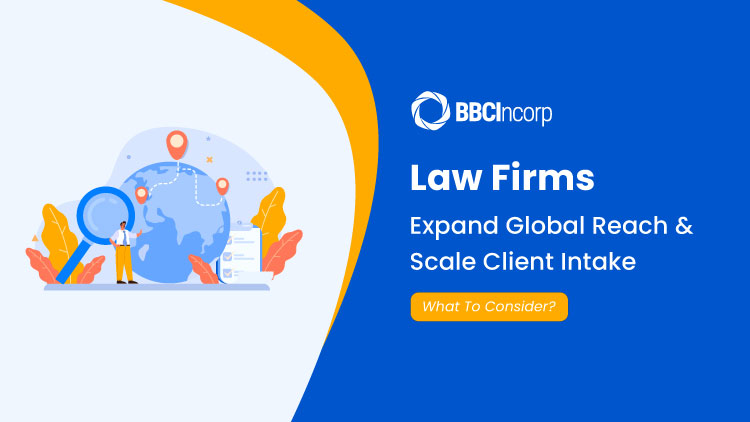 Why is it important for law firms to scale up to a global playing field?
Catching up with client footprints
With international trade on the rise and an increased number of trade agreements, clients prefer to expand globally and set up their subsidiaries in multiple countries with strong strategic links (e.g., the US, Mexico, Spain, and Australia).
Although this opens work opportunities and brings in more revenue streams, law firms have to plan for contingency in the event that a client opts for a country in which they have no prior experience. Clients will also want a law firm that knows the ins and outs of international law, especially those such as the GDPR, FATCA, etc.
To sum it all up, law firms will lose out on the profit of global expansion if they cannot become part of an international workflow and catch up with clients' footprints.
Maintaining long-term relationships
Without a strong network across borders, law firms may risk losing clients when global expansion is more important than ever.
For example, when a long-time client needs legal representation overseas and your law firm cannot handle the matter, you are at risk of losing that client to a firm that can.
The clients might look for another firm that has an office in the jurisdiction the project is taking place, or a firm that has developed more presence than yours through a relationship or affiliation that makes it possible to stay involved in managing the project.
Scaling up and staying competitive
Having a long-term relationship with a loyal customer is good, but it cannot be the end goal. Serving one client, or a small handful of local clients is not an ideal strategy for long-term growth, firms must look to expand their presence further and wider.
Firms should consider stepping up their marketing campaigns by sending out emails to targeted clients and building a larger network in order to establish their brand, build credibility, get repeat customers, and convert new leads.
When it comes to competition in the global market, the challenge in global expansion isn't about whether your firm can deliver a project or not. Instead, it's about how fast you can deliver it, how efficiently you can get to your results, and how well you can utilize your budget for projects.
All of that, combined with being able to meet and exceed customer expectations, is how law firms can stay competitive.
Whether small or large – global expansion is the same for each law firm
There has been an outdated perception that large law firms can safely rest on their laurel when it comes to global expansion because they have virtually infinite resources to handle any problems occurring during the transition.
However, the reality is often disappointing. Larger firms mean larger international footprints, which means they require more effort to manage the process. And, large firms may not always have enough experience or expertise for matters of expansion in every country.
On the other spectrum are smaller law firms that think there is no need for them to expand, and that staying local is enough. However, as the world evolves in terms of technology and client demands, they will soon realize that there is no other choice but to scale up to stay relevant.
In short, scaling internationally is alike for both large and small law firms. No one can escape the fast-paced changes around the world, and firms have to be ready for such a transition sooner or later.
What law firms should know for successful global expansion
Make the right decisions for penetration
There isn't a one-size-fits-all formula for law firms to use in making decisions for their entry into the international arena. However, a good start can be coming up with a penetration strategy in foreign jurisdictions, whether by setting up from scratch or by merging with or acquiring local practice groups or firms (which is especially effective for large firms since it requires commitment and management).
For mid-sized firms, a better strategy would be to seek partnerships with like-minded law firms in foreign jurisdictions and develop a close working relationship with them. And, for small firms with no clients or sufficient work to justify the hard work of building partnerships, they should consider participating in professional associations and law firm alliances to expand their networking.
Navigate local laws
When firms expand to different countries, they will have to deal with different regulations for providers of legal services. These regulations vary depending on the industries in which the clients the firms serve work. As a result, firms, large or small, have to structure themselves to comply with these different regulations.
Partner up with a third-party service
It is a challenge for any law firm to manage international work on its own effects, and scaling to provide additional client services often requires investment.
One way to expand efficiently is to work with a third-party service that understands jurisdictional requirements and has feet on the ground to obtain necessary information. An entity formation and compliance partner who provides a single point of contact for building global presences.
Law firms looking to expand business in other countries are likely to hit roadblocks because the process differs from their local jurisdiction. Regulations, rules, and the laws of the land are not always clear, and there may be questions about establishing a legal entity.
And since it is often too easy to underestimate the amount of work and nuances in requirements between countries, it is important for law firms to work with an expert like BBCIncorp, who can help them clear out confusion when it comes to:
Entity formation in more than 18 countries worldwide, helping you get ahead of clients' footprint, saving you time and cost for better results and healthier profits
Compliance to ensure your firm is compliant with all local requirements from registering for taxation, paying taxes, filing tax returns, financial reporting, and AML/CFT laws
Banking support in foreign jurisdictions with high-success-rate banks for effective financial management
White paper
Entity Formation On A New Horizon
Learn how professional services are exploring digital avenues for entity establishment.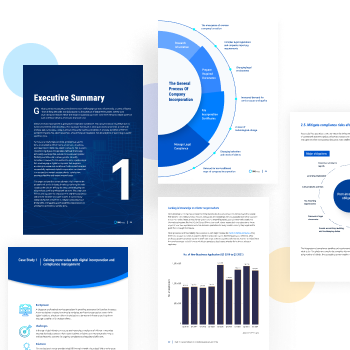 Conclusion
The professional service industry has been expanding its reach to the international market for a long time. However, the rise of the Internet has truly accelerated the globalization of many businesses, allowing for seamless workflow and contact around the world through email and video conferences. As an intrinsic part of the global economy, it is inevitable that law firms also must expand and move their scope across different jurisdictions in the past few decades.
To make the best decisions when entering the international playfield, firms must navigate local laws where their client's project is based. And in order to comply successfully, they need to understand and clarify laws which can often be confusing.
As a result, one of the best solutions is to seek out a partnership with a global digital incorporator, who can provide clarity when it comes to compliance requirements, entity structures, and the nuances in digital incorporation.
For professional support on global expansion and incorporation, don't hesitate to drop us a message via service@bbcincorp.com. Or, simply chat with our friendly, expert consultants for practical advice and guidance.
Disclaimer: While BBCIncorp strives to make the information on this website as timely and accurate as possible, the information itself is for reference purposes only. You should not substitute the information provided in this article for competent legal advice. Feel free to contact BBCIncorp's customer services for advice on your specific cases.
Share this article
Get helpful tips and info from our newsletter!
Stay in the know and be empowered with our strategic how-tos, resources, and guidelines.