Offshore bank accounts have always been familiar to entrepreneurs as a way to manage business finances. In this article, we look at one of its specific types – Offshore Brokerage Account.
Take your time to read on to discover everything you should know about this type of account.
1. Overview of an offshore brokerage account
A brokerage account is the bank account specifying for investment and securities exchanges. An offshore brokerage account refers to the brokerage account to be opened in a jurisdiction outside of your original country.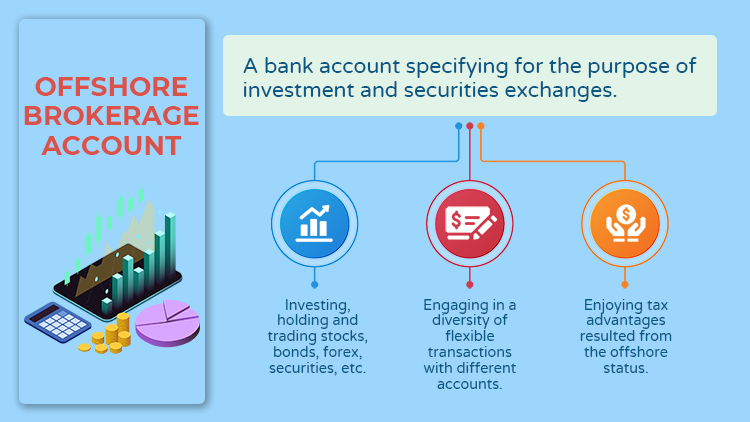 In general, you open a brokerage account with a brokerage firm.
Once you have deposited the fund into this account, regardless of cash or credit source, you can start trading and exchanging various types of investment securities as you want.
There are various purposes of the offshore brokerage account. But in specific, you can use it for the following common intentions:
Investing, holding, and trading stocks, bonds, forex, securities, or other financial instruments;
Engaging in a diversity of flexible transactions with different accounts;
Enjoying tax advantages resulting from the offshore status;
Also, in most cases, an offshore brokerage account is owned by a company, not by an individual.
2. Offshore vs Domestic brokerage account
You may be confused about how the offshore brokerage account is different from the domestic account.
In this section, we help you clarify some general differences between offshore and domestic brokerage account below:
Offshore brokerage account
Flexible financial instruments and extensive access to investments
Multiple foreign currencies are allowed
Beneficial taxation and open regulatory framework
Domestic brokerage account
Limited financial instruments and access to investments
Multiple foreign currencies are not allowed (in some cases)  and no tax benefits
Strict regulatory framework
FIND OUT WHAT BANKING OPTION SUITS YOUR BUSINESS MOST
See your chance of getting your desired business bank account with easy steps!

List of recommended banking options

Successful rate assessment on your choice list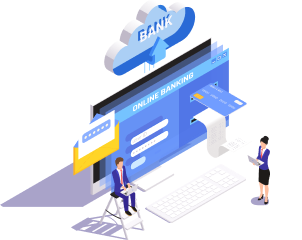 3. Countries for offshore brokerage account
More often than not, an offshore brokerage account is preferred by those in need of opening a bank account for financial investment purposes.
Interestingly, many foreign investors choose to open an offshore bank account to facilitate easier access to their offshore brokerage accounts.
To gain more insights into which offshore banking country you should consider, simply read our article of Countries with best offshore bank accounts for 2022.
The question is where should you set up your offshore brokerage account?
Depending on your circumstance and your chosen offshore bank, you may capture different advantages as well as investment opportunities.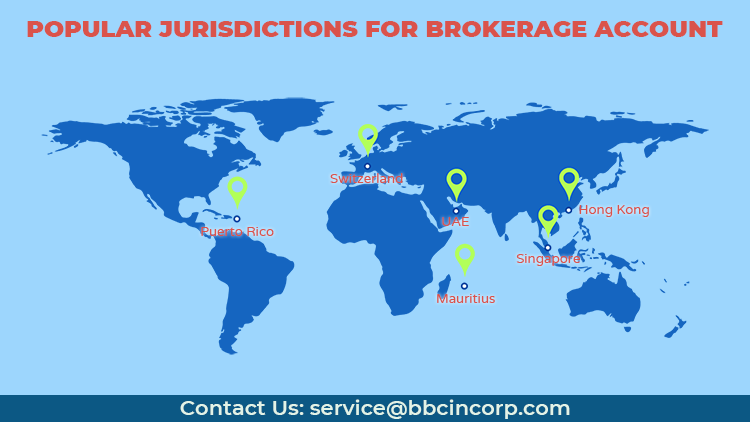 To summarize, popular jurisdictions for setting up an offshore brokerage bank account are Puerto Rico, Switzerland, UAE, Mauritius, Singapore, and Hong Kong.
Key note
Assuming you have an e-commerce company and your profits are mostly served for other investments like purchasing stocks, then Mauritius or Puerto Rico are great jurisdictions to open your brokerage account.
Each offshore locale can be tied closely to different features that make it stand out, so it is advisable that you spend time checking your choice before moving.