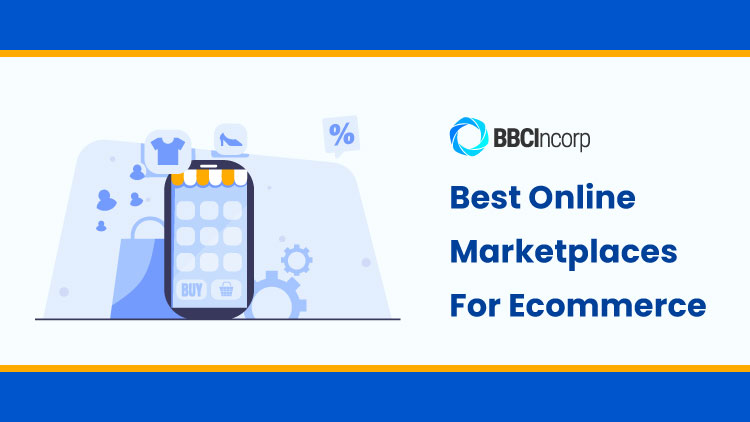 What is an online marketplace?
Think of an eCommerce marketplace as an online bazaar where you can discover different brands of items from multiple vendors, shops, or persons showcased on the same platform.
The business owner promotes and sells his products while the third-party vendor takes care of the logistics and site maintenance. Online marketplaces streamline the business creation process through one simple entryway, where the manufacturers sell their items directly to the consumers. Thus, eliminating the risk of stock holding.
Every e-marketplace is different in its rights but ultimately has the same modus operandi – to empower online selling, some do it via leveraging their renowned status while others their business acquisitions. Regardless of approach, it's not a stretch to say that these digital selling platforms have come shockingly close to perfecting e-commerce, almost to the point of having it down to a science.
Benefits of selling on an online marketplace
As a seller on e-marketplaces, you can expect to receive the following benefits.
Large Prospects Base
More exposure means more room for growth
First-party (1P) or third-party (3P) sellers often take their businesses onto big online retail platforms with the confidence that their products will gain more exposure in the market. This would mean a significant cost reduction in customer acquisition and more resources allocated towards other important aspects of a business.
Quick Setup Time
Speed is everything in business
Best online marketplaces are designed in a way that they can help streamline the entire business launching process quickly and efficiently. You can have a store set up in a matter of hours, all you need is to be certified of your business's legitimacy and you're off to set up your storefront!
Customer-centric UX/UI
Personalization is key
The sale-closing power of online marketplaces lies in the seamless and memorable shopping experience they can provide for customers. It's been reported that buyers show strong inclinations toward brands that offer relevant and interesting recommendations.
You'd be pleased with the amount of optimization done on these platforms. Responsive drop-down menus, masterfully curated product sections, and non-intrusive notification systems are some of the prime benefits you as a 3P seller can offer to your customers.
Strong Brand Familiarity
Brand equity facilitates buying intention
How much a customer is willing to bypass their perceived risks and proceed with the buying decision relies on their initial perception of the brand itself. Industry giants like eBay and Amazon use their established credibility to empower sellers on their platforms and instill trust in their customers.
First-time vendors can use this to their advantage to rack in those precious initial sales without having to build their reputation from the ground up.
Low Maintenance
Lower overheads, the higher bottom line
As a 3rd party vendor, server maintenance and plug-in updates are processed on the backend, sparing you precious time and resources to be allocated to other important aspects of your business.
This benefit also comes with other cost-efficient IT solutions, such as having access to the latest hardware available. By selling on these platforms, you can leverage their cutting-edge technology to your advantage and keep up with the fast competition.
Possible challenges of selling on an online marketplace
Selling on an online marketplace can have some drawbacks for sellers. Some of the most common issues that arise include:
Low profit margin
The fees associated with selling on a marketplace typically equate to a lower overall profit margin for sellers in the increased competition, especially when factoring in shipping costs and other overhead expenses.
Lack of control over prices
Most marketplaces set minimum pricing levels, which sellers have limited control over. This can lead to lower average prices and can be a disadvantage to sellers who are interested in charging higher prices for their products.
Risk of brand identity
Selling on a marketplace can take away from the seller's brand identity. Marketplace stores are often hard to differentiate, and customers may not recognize the seller as the source of their purchase.
Difficulty managing customer relationships
Customer relationship management in a marketplace can be difficult because it is not always clear who the customer is. Marketplaces often do not provide the seller with the ability to contact customers directly, leaving sellers without an easy way to maintain relationships or answer customer inquiries.
How to sell on top eCommerce marketplaces
Before you can start selling, you'll need to several steps to kick off your eCommerce business on the top online marketplaces.
Research potential marketplaces
Before committing to selling on a particular marketplace, research which one is the best fit for your product or service. Consider factors like average transaction sizes, customer demographics and satisfaction ratings, fees charged by the marketplace, and any restrictions they may have on what you can sell.
Set up an account
Create an account after you've decided on a marketplace. Submitting business information and verifying your identity to the platform are key steps to finish. You should also decide which payment options or methods you'll accept from customers and link these to your account.
Prepare your product listings
Create detailed descriptions for each of the products/services that you plan to offer, including images. Accurately price each item and consider discounts or promotions that could attract buyers to your store.
Promote your sales, monitor sales & customer feedback
To make sure customers know about your products/services, set up campaigns on social media or other advertising channels to generate interest in what you're selling. Consider offering discounts and creating limited-time offers to attract customers.
Don't forget to review your metrics regularly and adjust your product pricing or promotions as needed. Additionally, respond promptly to customer inquiries and complaints so they feel valued. Making sure customers are happy with their purchase is key to retaining them for future business.
Top 7 Best eCommerce Marketplaces to Set Up Business
Amazon
Amazon commands a good amount of respect within the eCommerce sphere for its long-standing reputation and its openness towards sellers who are new to the market.
When it comes to sheer prospect numbers, Amazon blows most of the competition out of the water. Boasting almost 49% of US e-commerce sales alone, it's not a stretch to say that it's currently the biggest hub in the eCommerce world.
As of now, it remains the go-to sales channel for medium to large-scale businesses alike. And although Amazon has had its fair share of shortcomings – mostly on resellers' loyalty retention – the benefits of selling on the platform far outweigh the cons.
Why sell on Amazon?
Order Fulfilment Support
Amazon currently has 2 fulfillment methods for sellers to choose from FBA (Fulfilment by Amazon) & FBM (Fulfilment by Merchant).
FBA sellers have the privilege of placing the order fulfillment part entirely on Amazon and are automatically Prime-eligible. This is done regardless of the seller's ability to perform order fulfillment to ensure customers can receive the most uniformly efficient service from Amazon.
As for the FBM alternative, sellers are given the option to fulfill the order on their own with full benefits from FBA intact except for Prime integration. Only reputable-deemed sellers can apply for it, the biggest reason being that they most likely have heavy cargo so this option can help them shave off some hefty overweight fees.
Anti-monopoly Environment
It certainly pays to be big, as most online platforms seem to be more favorable towards big and established brands in most things, even at the expense of other smaller businesses.
On Amazon, this is simply not the case, as the algorithm is designed to provide a level playing field for both small and large sellers in which to compete. And with programs like FBA made available, first-timers can have an on-hand experience of what it's like to sell on Amazon without needing the abundance of capital.
Enhanced Customer Experience
A polarizing factor of Amazon is its impressive same-day shipping offer, made possible by the encompassing network of warehouses worldwide. The product gets shipped to one of these warehouses the moment it's put in the shopping cart.
For any product complications post-purchase, Amazon will see that it gets resolved within 24 hours. Order refunds, change of shipping address, and other related matters are processed solely by Amazon to ensure peak customer satisfaction.
eBay
eBay started as a P2P marketplace with online auctioning as the main selling format. People used to make money by placing their items on digital auctions, from which eBay took a percentage cut as referral fees. Their "Buy it Now" feature was later implemented to adapt as the consumers began to be more on-demand with their shopping.
Typically, niche and seasonal trend sellers tend to do best on platforms like this since they can get the most value out of auction selling.
Why sell on eBay?
Low Fees
While Amazon has more diverse shipping offers and prices, they charge individual sellers anywhere from 6% – to 45% as referral fees per product on top of other incurring fees. Over time, this can stack up a lot and affect your bottom line for the worse.
eBay only charges you 10% – 15% when doing business on their site, giving you more room for margins per sale. They also have lucrative fee reduction schemes for subscribers of their eBay Store plan.
Fast & Cheap Shipping
eBay does not spare any expense when it comes to order fulfillment, evidenced by the generous amount of shipping discounts granted to businesses. Some discounts can go up to 52% which proves more enticing compared to other marketplaces.
Walmart
Walmart arrived on the scene as a brick-and-mortar multinational retailer but later set up its digital presence with the introduction of Walmart Marketplace in 2009.
In 2022, Walmart U.S. alone has accumulated an impressive 47.8 billion dollars in eCommerce sales, an increment of more than 11% in contrast with 2021's statistics. The platform has had a good track record of growth and is set on the right course for future expansion.
Sellers are now migrating to this new platform to take advantage of this momentum, further bolstering its market share.
Why sell on Walmart?
Low Competition
Walmart Marketplace only accepts the finest sellers into its platform, of which it now has +100,000 members. To make the list, you'd have to be able to provide high-quality products competitively priced while also maintaining a high level of customer service.
Getting past this high entry barrier would yield the initial benefit of giving your products a higher chance of being listed more often on their site. Furthermore, it automatically increases your brand's credibility in the eyes of consumers.
Higher Conversion Rate
Every large marketplace has some form of buy box algorithm implemented in its infrastructure. Simply put, the buy box is an algorithm that, when granted, can put the products into favorable real estate on Walmart's front page.
Budget-Friendly Advertising
PPC campaigns on most online platforms can be costly, especially for small businesses trying to generate leads. At Walmart, they only charge you a fee for a product sold, which means less money on ad campaigns and higher profits back to the business.
Rakuten
Envisaged and founded in 1997 by Hiroshi Mikitani, Rakuten is Japan's very own Amazon.com but with more diversity in the mix. The platform is commonly known as a B2B2C marketplace but the company also offers fintech, digital content, and communication services to clients.
Rakuten's competitive edge comes from the vast array of acquisitions and joint ventures it has made over the years. With names like Viber, Viki, Ebates, etc. incorporated into the business, Rakuten stands as a force that can go up against goliaths in the industry.
Why sell on Rakuten?
Personalized Storefront
Rakuten empowers 3P sellers to personalize their brand identity with customized storefronts and also own their policies.
Excellent Services and Support
Rakuten provides sellers with tools to boost their brand visibility, expert training and guidance, and actionable data to take action. It aligns every marketplace seller with a dedicated E-commerce consultant (ECC).
Etsy
Etsy falls in the category of community-based platforms that cater to specific demographics in the market. In this case, the focus is on artisan/handmade products like vintage clothes, decorative items, crafts, and so on, all curated and made by independent sellers on the platform.
The sellers are also responsible for order fulfillment and shipping, as the platform has stated that it only acts as the catalyst to draw more attention to the sellers. You would need to satisfy their set of standards before listing your products on their site. If you want to sell a vintage t-shirt from an Aerosmith concert, make sure that it is at least 20 years of age.
Why sell on Etsy?
Cost-Effective
Setting up a storefront, listing products, and website maintenance, all of which are only for a relatively low annual fee.
Focused Audience
Since Etsy has a specific target audience, your products have a better chance of appearing more often on their platform for less budget.
Good Incubation Environment
Even if you don't plan to set up shop permanently on Etsy, it's still a good testing ground for your handmade business.
On Etsy, you have the chance to run your business through a trial to get a feel of how things work. You can set up your storefront after being certified and start selling right away with $0.20 per item listed. Note that this fee is subject to renewal every 4 months.
Grailed
Grailed is a great online marketplace for fashion enthusiasts to gather and capitalize on the growing need for the next hottest vintage or archive pieces. The premise is simple: sellers go on this platform to set their most prized pieces up for auction and the buyer with the best offer gets them.
Back then, the only people selling on Grailed were those with obscure and high-end designer pieces from Gucci, Dior, Louis Vuitton, etc. But as time went on, the need for more grounded and classic items became more prominent, leading to the formation of an entirely new sub-market called "Grailed Basics".
As a result, Grailed is now more open to new sellers who want to start selling J.Crew, Uniqlo, and other more accessible brands.
Why sell on Grailed?
Fast Transaction Processing
Grailed processes its payments via Paypal, which is considerably fast on its own. There's little delay between the moment when a buyer clicks "Buy now" and the invoice appearing in their mail. Sellers receive the payment almost instantly and only have to pay the incurred fee (about 2.9%) from PayPal.
Bump System
The bump system has a similar mechanism as a buy box, all products are given a bump once every 10-day interval after being listed on the platform. What happens is that your product gets pushed to the front page for more exposure.
Newegg
If you're someone who wants to try their hands in selling techs then Newegg should be the first on the list. A quick look at the platform and you'll find all types of electronic products from processing chips, graphic cards, and gaming peripherals to software solutions, listed in a fashion close to Amazon or eBay. However, it has also moved on to other non-tech pastures, selling clothes and household appliances, and so on.
Buyers can be assured that they are getting the best products from reputable brands like Dell, Lenovo, Asus, and Intel upon purchase. Newegg has over 32 million users worldwide, including its premium tier users with double the buying power.
Why sell on Newegg?
Newegg Premier Seller Program
NPSP is the equivalent of Amazon Prime in the sense that it helps boost sales by offering incentives like fast shipping or cashback to subscribers. Qualified sellers will have the advantage of tapping into a large pool of highly potential customers. Focus on building your brand image and eventually, you might find yourself on the front page of Newegg before long.
Seller Marketing Tools
Newegg has several tools that make marketing and strategic cycles simpler for their vendors. Most remarkable of the bunch are the Sponsored Product Ads and Newegg Shipping Label Service that help enhance the product's reach and optimize your marketing efforts.
Conclusion
In summary, online marketplaces have emerged as invaluable platforms for small-business owners seeking to establish a strong presence in the market. The benefits of utilizing online marketplaces are abundant, from increased visibility, access to a broader customer base, to enhanced opportunities for sales growth.
By leveraging these platforms, your business can tap into a vast pool of potential buyers actively seeking the very products you offer.
Disclaimer: While BBCIncorp strives to make the information on this website as timely and accurate as possible, the information itself is for reference purposes only. You should not substitute the information provided in this article for competent legal advice. Feel free to contact BBCIncorp's customer services for advice on your specific cases.
Share this article
Get helpful tips and info from our newsletter!
Stay in the know and be empowered with our strategic how-tos, resources, and guidelines.