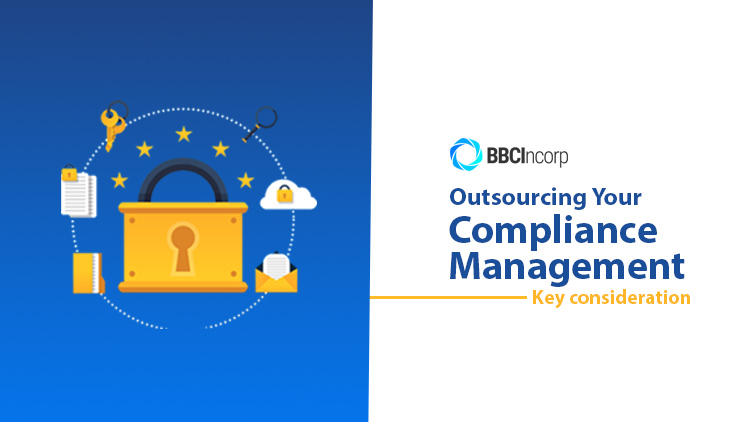 As compliance has grown tougher to manage, consulting firms are looking to outsource certain aspects of their compliance workload. More than one-third (34%) of 750 risk and compliance companies surveyed in 2020 by Thomson Reuters stated that they are outsourcing compliance management.
This article helps firms understand better the practices of the outsourcing compliance process, its benefits and offers an objective view by demonstrating some potential problems when outsourcing.
1. Why is everyone outsourcing compliance management?
White paper
Entity Formation On A New Horizon
Learn how professional services are exploring digital avenues for entity establishment.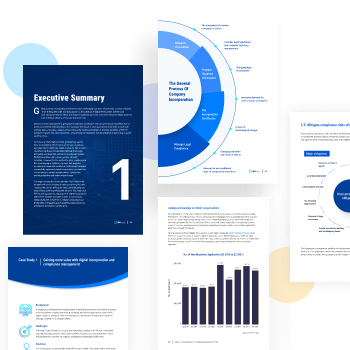 Nowadays, there are more and more compliance requirements that professional consulting services need to fulfill. Firms are most affected by government regulations, reporting requirements, and local rules. The following reasons are indicated why they are driven to outsource compliance management:
Increasing requirements to stay compliant
Keeping up with the latest regulations is a time-consuming process. By outsourcing, firms not only can shed a lot of time-consuming work but also ease off all kinds of headaches for the in-house team.
Additionally, you can now spend less time learning about how regulations are shifting and dedicate more to delivering the excellent customer service that your brand is known for among your client. Compliance policy/activity tracking was mentioned by 41% of firms surveyed by ACA in 2021 as one of the top risks in compliance management.
Shortages in skilled professionals
The lack of locally available resources and manpower can also motivate firms to outsource more. Only 31% of respondents in Thomson Reuter's Cost of Compliance Report in 2021 predicted that their compliance teams will grow in the next 12 months, down from 43% in 2018. There has also been an increase in how much it takes to recruit, train and retain people with the required knowledge and expertise. The supply of compliance specialists is small compared to organizations' demands to stay highly regulated.
Things get even more complicated by professional consulting services with global presences, who have to tackle a web of regulations in multiple jurisdictions.
High investments in technology infrastructure
Professional consulting service providers must continuously invest in new technologies and infrastructure to keep up with increasing compliance needs. Global organizations struggle with rising investments, redundancy in dealing with regulatory questions in different ways and using multiple systems. In fact, according to Thomson Reuter's Fintech, Regtech and the Role of Compliance
Reported in 2021, 70% of risk and compliance experts said the pandemic has increased their reliance on technology to improve a wide range of business areas including decision making, performance monitoring, and risk management.
2. The benefits of outsourcing compliance management process
According to Bloomberg in 2021, 50% of organizations said they spend 6-10% of their revenue on compliance costs.
Paying an outsourcing firm doesn't always cut down costs significantly, but you can be sure that the job will be done better, saving you time and headache. The third-party firms that you outsource are specialized in delivering just one or two services for multiple clients. Therefore, due to economies of scale and a clear operational focus, saving is possible thanks to offers of very competitive rates.
Gaining access to a more professional team for the job
CEI's Ten Thousand Commandments in 2021 showed that U.S. businesses spend an average of US$10,000 to cover regulatory costs per employee. When you outsource to a reputable company, you get the peace of mind that its employees are experienced and knowledgeable compliance consultants who have all the authority and qualifications to fulfill compliance management tasks as well as keep up with regulatory requirements.
You will also be supported by a team of qualified professionals who can assist and support you at all times, even when your dedicated Compliance Officer/MLRO is unavailable.
Gaining more tools and finding better approaches
According to Fortunly in 2019, more than 93% of organizations surveyed are considering or have already adopted cloud services to improve outsourcing. You can access more sophisticated systems more quickly – such as compliance analytics – when outsourcing. Normally, you would have to pay for in-house development for such privileges.
An outsourced solution can also save you a lot of time, as your staff will be freed up from tedious compliance projects to concentrate on other activities, thanks to your outsourcing partner being the one responsible for staying on top of all the latest regulations and rules changes instead.
Ensuring operational continuity
Speed and continuity are other big benefits when working with an outside compliance consultant. A 2020 Research by Forrester found out that nearly 69% of organizations feel that business continuity/operational risk levels are increasing.
Thankfully, compliance consultants are so experienced in dealing with both common and uncommon regulatory issues on a regular basis, they've developed optimal procedures to follow when any problems come up. Moreover, they can implement more procedures quickly enough no matter what kind of situations your firm gets put in. Those capabilities are invaluable in maintaining your firm's ability to provide services uninterrupted, regardless of regulatory changes.
3. Possible challenges in outsourcing compliance management
Changes often take time to happen
Many organizations are still hesitant when it comes to outsourcing compliance management because they fear the potential loss of control they have over the process. In the end, you – the client – still take full accountability for non-compliance, which is why many choose to keep almost everything in-house.
Your in-house team may not like the changes, either
When considering outsourcing, you will likely meet with resistance from your internal (in-house) compliance team, who are already managing the process. Nobody wants their jobs taken away or diminished, and the idea of a (potentially) more dedicated team "taking over" is something your in-house team will be against.
ACA's Report on Compliance Management's Key Trends in 2021 pointed out that 58% of organizations say that the top challenge they face when it comes to third-party risk management is vendor responsiveness in the due diligence phase.
Many firms feel that their standards may diminish through outsourcing because their managements no longer have full oversight. On the other hand, other firms are concerned about expectations not being met by their outsource partner, resulting in more than just poor service, but also compounding fines from compliance failures.
4. What you can do to minimize the risks of outsourcing compliance management
Helping your outsource partner understand the complexity and nuances of the professional consulting service
While it is essential for you and your partner to have mutual agreements and understandings about your business and your compliance obligations, there are certain processes that can be handled by a third party without industry insight.
Third-party providers are most needed typically for their audit and regulatory expertise. Your job, at this point, is to enhance your outsourcing partner with specific knowledge from your in-house team, whenever and wherever necessary.
Keeping things between the in-house and the outsourced teams transparent to prevent conflicts
It's important to remember that outsourcing is about supporting existing in-house functions, not replacing them. Your in-house team will still play a crucial role in overseeing the outsourced work.
Ultimately, the responsibility for the compliance process remains within your organization. Therefore, transparency and real-time reports are key components in maintaining a good working relationship between you and your internal compliance staff.
5. Conclusion
Outsourcing and offshoring core processes can help cut down yearly costs, increase capabilities, and raise the service quality. This allows professional consulting services to concentrate on core business values and market strategies.
Even though the benefits of outsourcing compliance process are undeniable and some professional firms might have realized it's time to change, they keep holding back because there is no clear path to follow. For many firms, the lack of confidence in the way ahead is the biggest challenge.  And that's what BBCIncorp is here for!
We help you eliminate compliance risk and provide you with peace of mind across operations. Contact us via service@bbcincorp.com to learn more about our solutions and find out how we can tailor our services to suit your needs.
Disclaimer: While BBCIncorp strives to make the information on this website as timely and accurate as possible, the information itself is for reference purposes only. You should not substitute the information provided in this article for competent legal advice. Feel free to contact BBCIncorp's customer services for advice on your specific cases.
Share this article
Get helpful tips and info from our newsletter!
Stay in the know and be empowered with our strategic how-tos, resources, and guidelines.