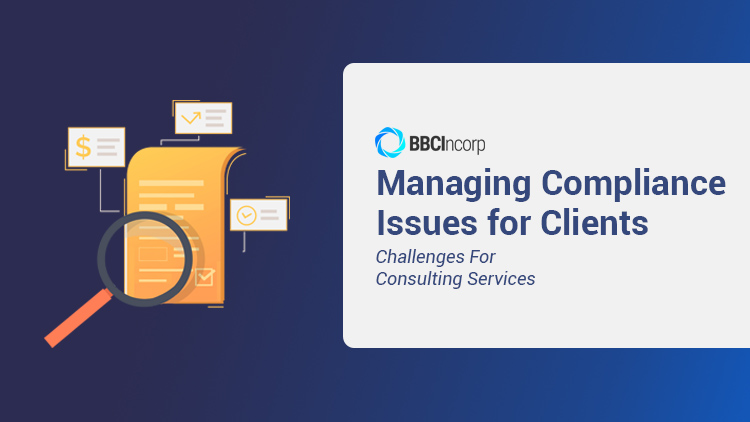 For an enterprise to survive and develop well, it must rely on legal regulations to create a solid foundation of resources in the process of carrying out business activities.
All core resources, such as human resources, finance, infrastructure, machinery, equipment, factories, technology, intellectual products, business know-how, etc. must comply with legal obligations. This complex task falls into the expertise of consulting service providers.
However, with an increasingly digitized world where it is more and more common for clients to go global with their companies, the compliance task for the consultancy industry is met with new challenges from all sides.
1. Why are consulting services facing challenges with clients' compliance issues?
White paper
Entity Formation On A New Horizon
Learn how professional services are exploring digital avenues for entity establishment.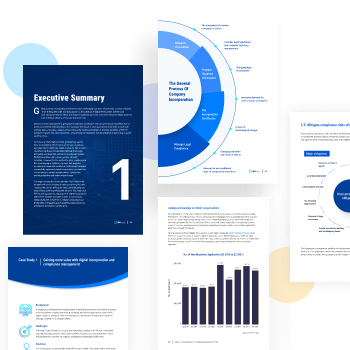 1.1. Increased regulatory complexity
As the Covid-19 pandemic has left the world in a different stage, the compliance job has also grown more complex. Now, tracking and documenting all the overnight changes to regulations are no longer the only headache.
Keeping up with new policies and procedures, informing companies' boards about changes, and encouraging a culture of compliance are also more tasks added to the list.
According to a study by Deltek, 91% of CEOs do not think their business is prepared for regulatory risk and 33% say compliance is their top improvement priority.
For many companies, the burdens of compliance are taking away the time and resources they could have used to stay creative and competitive. As a result, companies are stretching their budgets thin and are failing to stay nimble in a market disrupted continually by technological advancements.
It is more about developing compliance protocols these days rather than tackling business challenges and managing risks since those very same protocols can really bog down everything.
1.2. Slow to adopt technology
The growth of technology affects all industries. Everyone knows how important it is to protect private data because of the rising risks of data collection and aggregation growth. However, not every industry has managed to acclimate itself to the trend of digitalization. Unfortunately, the law is anything but adaptive.
A lot of compliance requirements hold back technological adoption, and consulting companies are still on the slow end of the spectrum. This rings true for the professional services industry. According to Statista, 88% of companies surveyed in 2020 will take way until 2025 to fully adopt cloud computing.
With the rising pressure from clients to deliver competitive quotes for jobs, which means they want compliance firms to do more with less money, professional service providers now need to face the reality of how much technologies can transform their workflow and their delivery methods.
It is time to put manual document reviews behind and embrace the advent of AI in sorting and processing compliance-related materials.
In the changing landscape, technology adoption has proved to be a big part of the answer to consulting firms' problems. It's time firms acknowledge the global trends and prepare themselves in order to maintain operational continuity and deliver consistent service quality.
1.3. Changing client's behavior after the pandemic
After the pandemic, tech companies like Apple and Twitter were the first to make the jump to a permanent work-from-home model. Sooner or later, other companies will follow suit, shifting from full-time in-office work to a hybrid model, and, eventually, completely allowing their staff to work remotely.
On the other hand, many companies also have to deal with what economists named "The Great Resignation", where a record number of people are leaving jobs, forcing firms to re-assess their talent-seeking approaches.
What does this mean for staff compliance? Consulting firms will need to re-review their compliance risks on a longer-term basis this time. It is increasingly crucial that companies promote the right culture and conduct when their employees are now both physically and mentally far away.
This is due to the fact that remote workers may take excessive risks or neglect agreed processes since they no longer have oversight or teams to provide ethical cues and moral anchors.
According to a 2021 research by FortiGuard Labs, when switching to an online working environment, businesses and workers are more vulnerable to cyber-attacks as employees are more careless at home and may fall into online frauds that can expose confidential information.
Consulting service providers now need to show that they can help clients obtain good governance, strong control, and effective compliance with the current regulations.
2. What are the current practices of consulting services?
2.1. Dealing with multiple law firms and local agents across many countries
Driven by a desire to rise above the competition, expand operations, and satisfy more of their customers' needs, companies are forming more numerous and complex partnerships and forming subsidiaries and new companies in offshore countries on a significant speed and scale.
In the United States alone, 37,000 jobs were sent overseas in just three months of 2020's third quarter. In response to this, many consulting services entered into the same markets as clients, collaborating with local agents to offer services in a wider range of countries. As a result, it has become increasingly harder to keep track and manage compliance operations effectively.
Projects now become even more complex as they may involve overseas branches or subcontractors (and/or other partners). Therefore, consulting firms are expected to not only deliver a project but to deliver it faster, more efficiently, and adhere to tighter budgets.
2.2. Self-manage information via spreadsheet
Not willing to upload their data to a third-party's cloud service (such as Google), many consulting firms still manually do their "chores" on Microsoft Excel's spreadsheets. Though it is great for some tasks, managing international compliance programs isn't one of them. The old-fashioned and demotivating approach to information management still thinks that the job always has fixed beginning and endpoints. However, as regulations have evidently been on constant twists and turns, compliance is actually an ongoing and holistic process.
3. Should consulting services outsource compliance management?
For consulting firms that serve global clients, outsourced support will be even more significant in reducing the challenges facing them today. Outsourcing certain aspects of your business is one of the best ways to reduce expenses without sacrificing the end result.
Many companies outsource functions such as HR, accounting, and IT. Compliance shouldn't be an exception, viewed as an extra expense. It is not a risk that consulting firms should take by cutting corners.
When running an in-house compliance team, consulting services risk creating a skill and knowledge gap when one person leaves the team. And even if you have a dedicated compliance team, it doesn't hurt to outsource professional help when it comes to skills your organization still lacks, such as the ability to employ the newest tech to manage your compliance checklist.
Furthermore, outsourcing compliance agents allows consulting firms to establish relationships with overseas partners, which further helps with their goal of going global.
Conclusion
In 2022, consulting services will face increasingly interconnected regulatory challenges. Changes wait for no one, and to not be left behind, business, ethics, and compliance management must take action to avoid being swallowed up by the pitfalls in compliance for the consultancy industry.
If you're having problems with compliance management, our friendly experts are always ready to help. We'll provide practical advice that guides you through any difficulty encountered. Don't hesitate to drop us an email via service@bbcincorp.com.
Disclaimer: While BBCIncorp strives to make the information on this website as timely and accurate as possible, the information itself is for reference purposes only. You should not substitute the information provided in this article for competent legal advice. Feel free to contact BBCIncorp's customer services for advice on your specific cases.
Share this article
Get helpful tips and info from our newsletter!
Stay in the know and be empowered with our strategic how-tos, resources, and guidelines.