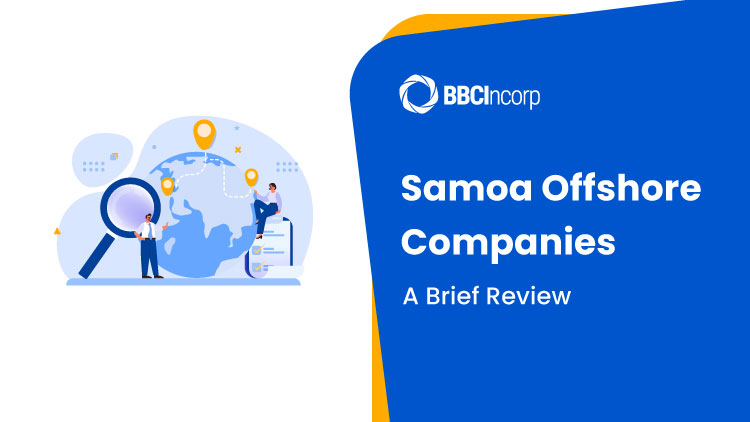 In this article, we will guide you through the process of defining a Samoa offshore company and provide step-by-step instructions on how to start one.
Overview of Samoa offshore company
Samoa is formed by a group of small islands located in the central Pacific. Samoan and English are the main languages. The most popular legal entity in Samoa is the International Company. You can register an offshore company to enjoy tons of benefits provided by the country. Below are the key characteristics of Samoa offshore company:
Corporate legislation. The country uses English Common Law to govern business registration. All international companies are mainly managed by International Companies Act 1988. There are also other legislations for specific sectors such as trust, banking, or insurance.
Key offshore business entities. International Company and Limited Life Company are the two main Samoa offshore companies. The business entities fall under Samoan International Financial Services Authority (SIFA) Regulations. Each entity has a different corporate structure.
Key company types. Four common types of companies registered under the Act are Holding Companies, Investment Holding Companies, International Trading, and Asset Protection Companies.
Trading restrictions. Samoa offshore companies can't do business with local real estate companies. Moreover, they can't perform certain activities such as banking, trust management, fund management, insurance, and assurance without appropriate licenses.
If you are planning to register one of the aforementioned business sectors, do consult specialized departments or local authorities to know the requirements.
Advantages of Samoa offshore company
As an offshore jurisdiction, Samoa offers plenty of advantages for international companies registered within the border. Here are the reasons why international investors pick the country for offshore company formation.
High level of corporate privacy. One of the main attractive factors of Samoa offshore company formation is its layered corporate confidentiality. The government doesn't require companies to publicize the names and personal information of shareholders, directors, and managers. It also allows companies to use nominee services working on behalf of the companies to sign and appear on public documents.
High protection of company assets. Thanks to the maintenance of corporate anonymity, tracking the asset owner is difficult or even impossible. Therefore, the company can keep its assets safe from creditors.
Friendly business tax regimes. Samoa is famous for being a no-tax country for offshore companies. Your offshore company will not be subject to any corporate taxes for all incomes deprived of jurisdictions other than Samoa.
The company is exempted from income tax, corporate tax, capital gains tax, inheritance tax, estate tax, and stamp duty. Only residents have to pay taxes at 27%. No tax returns are required.
In addition, the country has only a few double-tax treaties with other nations. Offshore companies registered in Samoa deal with fewer fiscal inquiries from other parties out of the jurisdiction.
Maintained tax transparency. The country has signed multiple agreements with many other countries regarding the prevention of money laundering or tax evasion.
English is the main language for corporate legislation. This is a big advantage for foreign investors. Understanding the laws is one of the most important things to enter a business in a country. And with English, the barriers are deemed to be more relaxed. Furthermore, you can incorporate your business in Samoa in any language. This will ease your incorporation process as an international business owner.
Minimal reporting requirements. Reporting procedures are usually a headache issue for most business owners. However, registering an offshore company in Samoa will relieve you from annual reporting or auditing requirements.
You also don't need to file accounting records with the government. The filings are not mandatory but the keeping of records is crucial to show your company's financial position in some cases or to use for inspection purposes.
No exchange control. The Samoa government allows companies to trade in any desired currency without any charges. You don't need to worry about paying extra fees for trading with different currencies. USD is the official currency used for all international business transactions.
Disadvantages of Samoa offshore company
Besides many favorable features, there are some disadvantages that international investors should know.
Samoa is now blacklisted as a non-cooperative tax haven by Organisation for Economic Co-operation and Development (OECD) or Financial Action Task Force (FATF) in the revised EU list of the latest update of 04 October 2022.
For Samoa International Company, there is no minimum capital requirement but the minimum authorized share capital of US$ 1 must be paid at the registration. Furthermore, the high corporate confidentiality makes it difficult to follow the responsible persons for certain business violations.
How to register a Samoa offshore company
After you have decided on your offshore business entity, you can start the registration process. The Registrar of International and Foreign Companies is responsible for managing and monitoring company registration within the border. In general, there are 3 main steps to register the company with the Samoa government.
Step 1: Name the company
The naming must comply with Samoa regulations:
It must be the unique name in the company register;
It must end with the word "Limited", "Corporation", "Incorporated", "Berhad", "Gesellschaftmitbeschrankter Haftung", "Public Limited Company", "Societe Anonyme", "Naamloze Vennootschap", "Besloten Vennootschap", or "Aktiengesellschaf", or their abbreviations;
If it doesn't meet the requirements, the name will be given by the Registrar.
You can check if the name is available in the company register here. The government also allows you to reserve the desired name to avoid being taken by other business owners.
Step 2: Obtain a registered office
Samoa requires all business owners to have a registered office and postal address during the time of the company's existence in the territory. The registered office will be the place to receive all legal papers and notices from the Registrar. It is also the place to keep all company documents.
The registered office must be physically located in the country. Any change of the registered office must be notified to the Registrar.
Step 3: File the Certificate of Incorporation
The Certificate of Incorporation is considered the birth certificate of your Samoa offshore company. You must submit an application to the Registrar.
Below are the required information for the application:
The company name;
A specification that the company is private or public;
The personal information of directors and shareholders such as names and addresses;
Name and address of the registered office;
You will receive the stamped certificate if your application is qualified. Then your company will legally exist in the Samoa company register.
Tips
Other considerations of a Samoa offshore company setup
Registration is the initial stage when setting up in "Samoa tax haven". There are other procedures you need to follow to enable the company's operations.
Licensed registration. Certain companies will be required to meet certain licensing requirements. Failing to comply with these requirements will lead to monetary penalties or being forced to cancel the company. You should contact the in-charge departments or local authorities to check if your company must meet the licensing requirements.
Bank account opening. Obtaining a bank account is not obligatory for all offshore companies. Still, all business owners should have to manage the company's business transactions. The account opening is simple for Samoa residents but extremely troublesome for non-residents. It is recommended that you consult a trusted agent to help you open a Samoa bank account for your company.
Conclusion
Starting an offshore company in Samoa is deemed to be preferable with plenty of benefits. However, the registration process may be challenging for newbies, especially non-residents. You will have a long list of procedures needed to take care of. And mistakes are unavoidable and they would only be more time-consuming and cost-added.
Choosing an experienced service provider would help you open a Samoa offshore company with ease. Contact us for more practical advice on your company.
Disclaimer: While BBCIncorp strives to make the information on this website as timely and accurate as possible, the information itself is for reference purposes only. You should not substitute the information provided in this article for competent legal advice. Feel free to contact BBCIncorp's customer services for advice on your specific cases.
Share this article
Get helpful tips and info from our newsletter!
Stay in the know and be empowered with our strategic how-tos, resources, and guidelines.