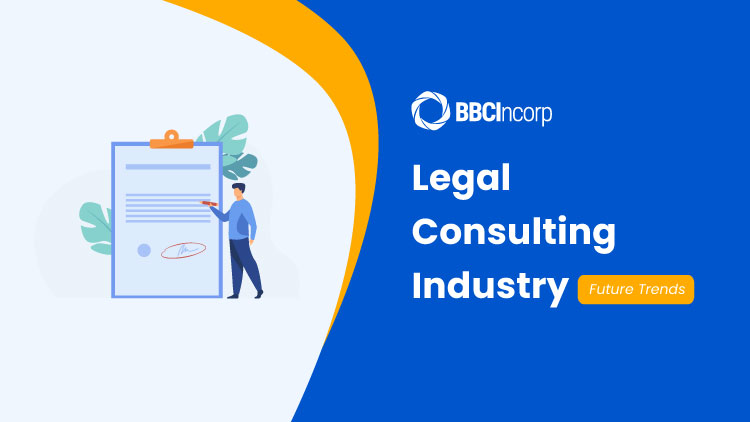 Blane Prescott, the CEO of MesaFive LLC, once said, "Law firms, like most organizations, only change when they have to." Indeed, if the recent COVID-19 pandemic has shown us anything about law firms and the legal consulting industry, it is time for changes to happen.
The momentum is rolling right now, and for those who keep a close watch with what is going on in the legal field, data insights, client experience, heightened security, and other trends are shaping the future of the legal consulting industry as we speak.
In this article, let answer the question "What does one need to know to run a good law firm in 2022?" and explore the highlights of the what's to come for those working in legal counseling.
1. Data and statistics
White paper
Entity Formation On A New Horizon
Learn how professional services are exploring digital avenues for entity establishment.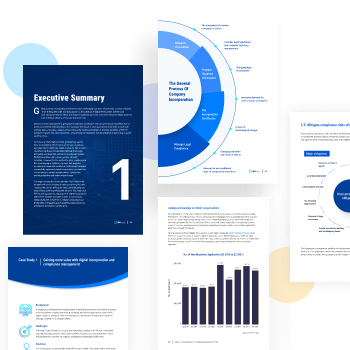 Legal analytics is becoming the new norm for law firms as the market is positioning itself on a more data-driven horizon. According to a 2022 annual survey, 68% of law firms are now realizing the untapped potential of automated legal analytics technology in driving more growth.
Lawyers are no longer subscribing to the trite idea of damning automation as a direct threat to their livelihoods; now they aim to use it to leverage the entire legal industry as a whole. Nowadays, data-based decision-making is becoming more and more crucial as data and analytics have dominated and revolutionized the way firms operate. Whoever has more data, has the better edge.
This is because of the enormous advantages data and statistics can bring to the table. The more data law firms can gather, the better they can understand their clients and customize their legal assistant's directions based on their immediate needs, long-term goals, and potential issues. Thanks to big data, every lawyer and their associates will gain access to a larger picture of what they are supposed to do, allowing them to be more effective.
2. Improving customer experience through personalization
Law firms need to grow in this day and age to keep up with rising demands and requirements from clients as their needs become more sophisticated. As a result, any law firms that can leverage technologies and infrastructure that make the lives of their clients more convenient, seamless, and transparent will gain more opportunities in the field. The better an experience they can provide, the more cases will come to them, and in better quality
Such a shift is inevitable as clients now demand streamlined legal services that typically involve drafting employment or privacy compliance documents – to which legal tech providers like Legal Zoom or digital incorporators are catering.
3. Basic administrative work can be now outsourced to tech solutions
Contrary to popular industry beliefs, technology isn't going to take away the job of lawyers but enhance it. Any law firm with a great focus on technology understands that leveraging automation is a great way to help their in-house lawyers get rid of the tedium of basic and repetitive administrative work such as filing, calendar management, report preparation, and some human sources functions.
Perhaps law firms do not yet need to reach "novelties" such as AI or blockchain, but tools that can prevent their workflow from being bogged down by manual tasks performed in person. Any piece of technology that can take the repetitive tasks away from lawyers and allow them to focus their expertise on more specialized tasks will be greatly appreciated among firms. These can include:
Online file storage
Word processors
Scanners
Virtual receptionist service
Document management
Time tracking and billing solutions
E-signature tools
Video conferencing software
Client portals
And more…
4. Investment in Data Security against Cybercrime
Cybercrime is a term used to describe a crime that is committed through an internet connection and a computer. This type of crime can include tax evasion, fraud, identity theft, money laundering, embezzlement, etc.
Data breaches can be especially detrimental to data-heavy businesses like law firms, as they typically contain personal or sensitive information that is prime targets for ransom, phishing, and other malicious acts.
In 2020, The American Bar Association's Legal Technology Resource Center published its annual report on cybersecurity for law firms that highlights a 3% uptick in security breaches. This denotes the importance of cyber threats insulation for global tech firms like Google, Amazon, and the likes.
More and more law firms are seeing the importance of spending their budgets on technologies that can enhance their data security in order to safeguard their clients' data. This is especially true for law firms dealing with criminal cases, who are often in charge of confidential data such as case details, witness testimonies, financial statements, and property information.
As a result, these firms are equipping and training their legal consultants with various technologies and practices to protect these sensitive data, including 2FA (two-factor authentication), email encryption, risk inspection, and plans for responding to risks. Moreover, law firms dealing with cybercrime consulting services also employ in-house lawyers and ethical hackers experienced in managing crises and handling online financial frauds, data breaches, privacy theft, and intellectual property infringement. Therefore, it is even more important for firms to closely review their outsourced partners' data security plan and communicate what they expect in terms of which crucial aspects of the data to focus on, and what will happen should a cyber-attack occurs after hiring the partners.
5. What can law firms do to prepare for the future?
Understanding the trends of the future, most law firms will want to know about steps they can take the address the shifting world. There are some steps firms can take to lay a solid foundation for a business that can stand the test of time
Improve Service Delivery and Scope
To prepare for the future, firms need to do more than just strive for excellence. It is also about instilling a mindset for your legal consultants that the client experience is evolving and that they need to be original and creative about their approach. Clients are maturing in their desire for quality and lawyers need to find ways to deliver values and speed based on these needs.
Implement New Technologies and Ideas
Technologies will transform how law firms work and it is inevitable. What you can do for your business is to embrace them and nurture a culture of experimentation among in-house lawyers. Put new systems into work, encourage new ideas, such as outsourcing or finding a trusted partner for the work process, and find ways to make the techs work for you. Law firms that understand the role of technologies in helping their clients succeed will find great success ultimately as well.
6. Conclusion
Gone are the days that law firms could just stick to the old way and every day was "business as usual". To prepare for the future, there is a lot more work to do. These include tech adoption, leveraging data and analytics, customizing client experiences, and enhancing data security. All you need to do now is ask yourself if your law firm is doing more.
Disclaimer: While BBCIncorp strives to make the information on this website as timely and accurate as possible, the information itself is for reference purposes only. You should not substitute the information provided in this article for competent legal advice. Feel free to contact BBCIncorp's customer services for advice on your specific cases.
Share this article
Get helpful tips and info from our newsletter!
Stay in the know and be empowered with our strategic how-tos, resources, and guidelines.