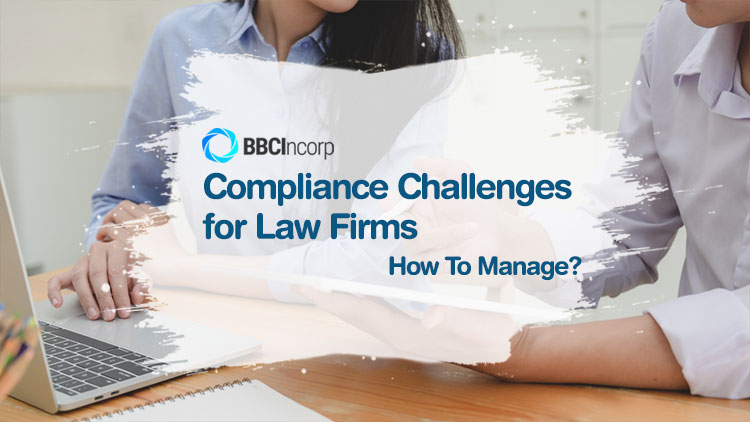 Compliance is a high-priority aspect for any business which requires employees from across all departments of an organization to work together. However, meeting these compliance requirements, it's not an easy task for law firms due to the vast amount of data they hold. Firms can rack up huge costs due to compliance, yet they are obliged to stay compliant with a host of regulations on the federal, state, and international levels.
While it is mandatory for law firms and those who offer professional services to maintain compliance, the process and protocols for this aspect of their jobs can be quite challenging and complex.
1. What kind of compliance management challenges are out there for law firms?
White paper
Entity Formation On A New Horizon
Learn how professional services are exploring digital avenues for entity establishment.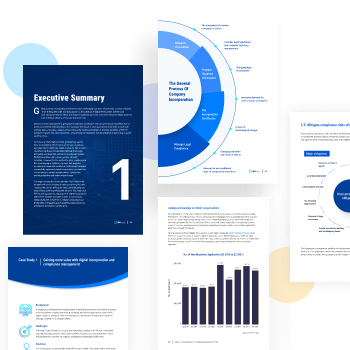 According to CSO Online in 2021, 66% of companies see cyber security as a major portion of their compliance spending. There have been an increasing number of regulations across all industries regarding data and privacy. Law firms are no exception. The data they store and collect from their clients is extremely sensitive and important, which means that a data breach or a failure to prevent any kind of cyber-attacks can be devastating.
However, based on American Bar's findings in 2019, only less than 35% of firms used precautionary cybersecurity measures to protect their businesses, and a staggering 7% of firms employed no security measures at all.
Average spending on cyber threats insulation was reported to only be around US$1.3 – a far cry from the standard US$1.8 recommendation (IAAP). Cybersecurity costs a lot because law firms will need to extensively invest in their IT infrastructure and staff, whether in-house or outsourced. This can be an immense challenge for small law firms that cannot afford the protection budget.
Compliance regulations are always evolving, expanding, and becoming more complicated by the year. On one hand, this means the quality assurance has improved, but on the other hand, lawyers from small firms are also challenged to keep up with the shifting compliance landscape.
The bigger a company grows, the higher its compliance risks will become. The challenge here for most firms is that compliance rules apply to everyone, regardless of size. And while having a dedicated compliance team is something larger legal firms commonly do, smaller firms can only consider that a luxury. That is why education and training are exponentially more important for these small firms.
When firms do not have the budget to hire dedicated staff members for risk and compliance tasks, the only thing they can do is to encourage their staff to maintain awareness and diligence. However, we all know that human errors are unavoidable. Behavox, in 2020, pointed out that automated compliance management solution reduces false positives by 90% compared to legacy solutions, which could save a compliance officer up to 5 hours every day.
According to Statista, legal services are now going global and are back on a growth trajectory after a period of economic slowdown due to the COVID outbreak. There have been more and more "global lawyers" who operate internationally, extending their services to many jurisdictions aside from the one in which they were trained and qualified.
Major clients often require legal representation in multiple jurisdictions, which can be a serious compliance obstacle for global lawyers. The more jurisdictions you operate in, the more different sets of regulations you have to keep pace with, leading to great compliance management challenges.
In 2020 alone, ISO published 1,627 new standards on top of their already massive number of 24,130 international standards that regulate all aspects of technology and manufacturing. To benefit from globalization, it will take law firms considerable efforts in risk and compliance.
Over the past few years, client expectations have been shaped by the increasing range of technology available on a consumer level. People can now do things such as banking, grocery shopping, ordering books, and performing other daily routines online through their smartphones. In 2021, clients will expect the same kind of seamless services from their law firms.
Even before the COVID-19 pandemic, 92% of business leaders felt that their business model would not stay competitive enough due to the current rates of digitalization, which have been sped up thanks to the virus.
Life's digitalization is forcing firms to reassess how they run their businesses. If lawyers cannot evolve their services quickly enough with the time, they will be left behind as it is now a point where clients expect them to adapt to the constant change of a digital world.
2. How are law firms currently dealing with these compliance management challenges?
The COVID-19 pandemic has forced a significant portion of the law industry to implement remote working policies, and this massive shift in working habits has brought about new problems. Yet, the client expectations for law firms, which were mentioned in the previous part, have not reduced.
Through the Legal Industry Report 2021, we learned that 53% of firms would allow lawyers and law firm staff to work full-time from home after reopening and 70% would allow such working habits part-time. Under the new working environment, senior leaders are losing opportunities to provide hands-on supervision, guidance, and training and, consequently, have been less impactful towards their firms' growth.
The decentralization of these law firms' computers has also exposed firms to extensive cybersecurity threats. Now, lawyers use their own phones, computers, and networks, which will complicate data security. These problems were not as difficult to manage before when everyone was working from the same place.
3. How can law firms tackle these compliance management challenges effectively?
Stay ahead of compliance using digital compliance management
In 2019, 49% of law firms stated that they are implementing technology effectively, and 47% said they plan to improve their tech adoption even further.
The key here is implementing good practices and management software. Compliance tools must be built into every module, whether it is the accounting rules of a solicitor's regulatory authority, the specific anti-money laundering guidelines for law firms, tools that allow for GDPR compliance, etc. Law firms can take advantage of specific learning management systems to distribute, manage, and keep records of compliance training.
Utilize technology to tackle a new hybrid environment
From a technology standpoint, it is time law firms found a trustworthy software supplier to improve their workflow. According to Thomson Reuter's "Fintech, Regtech, and the Role of Compliance Report" in 2021, 70% of risk and compliance experts regarded the pandemic as the factor that had caused more reliance on technology to improve decision-making, performance monitoring, and risk management.
A good legal IT partner will be ready to share with you the lessons that law firms have learned about taking the most advantage of the new hybrid working environment in the legal industry. The most obvious among them is software-as-a-service and cloud hosting for mission-critical applications.
Outsource the compliance process
Firms often choose to outsource to save money from having to train and maintain in-house dedicated compliance staff, especially one that can keep pace with the constant regulatory changes. This cost-saving can go up to 49% according to Fortunly.
By transferring risk and compliance functions to a professional service firm, law firms can be assured that the tasks will be handled by skilled and experienced officers who know what they are doing.
Outsourcing also prevents any disruptions in a firm's compliance management, as well as any turnover costs that occur by relying on several key staff members who could leave at any time.
4. Conclusion
The four most important aspects of maintaining great compliance management for a law firm are education, training, diligence, and technology. Understanding these core factors may help firms minimize compliance risks and prevent oversights in today's fast-paced, globalized, and digitalized environment.
If you have any concerns or questions regarding compliance management for your law firms, don't hesitate to get in touch with us via service@bbcincorp.com or simply chat with our friendly consultant for practical advice.
Disclaimer: While BBCIncorp strives to make the information on this website as timely and accurate as possible, the information itself is for reference purposes only. You should not substitute the information provided in this article for competent legal advice. Feel free to contact BBCIncorp's customer services for advice on your specific cases.
Share this article
Get helpful tips and info from our newsletter!
Stay in the know and be empowered with our strategic how-tos, resources, and guidelines.