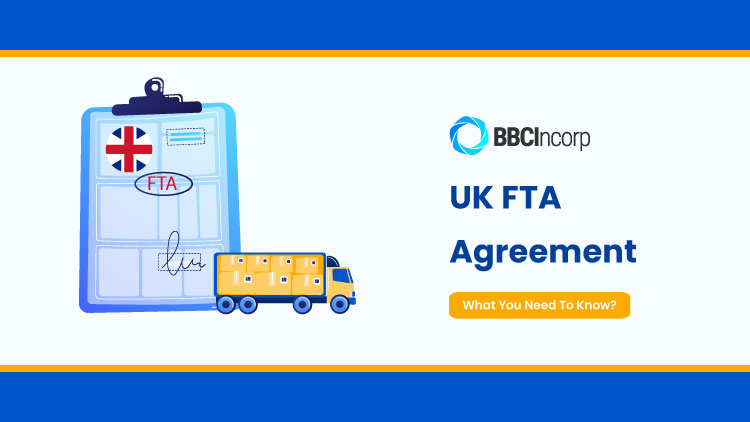 What are free trade deals in the UK?
Free trade deals or free trade agreements (FTAs) set the rules in trading between two or more countries, aiming to make the trading activities of goods and occasionally, services, easier for those applied countries. This may be conducted through various actions such as reducing trade barriers, reducing tariffs, enhancing treatments for imports and exports, and offering more competitive advantages.
In these agreements, tariffs and duties among the nations are determined and there are three common types of trade agreements:
Unilateral trade agreement: Occur when a single nation imposes trade restrictions and no other nation reciprocates.
Bilateral trade agreement: These agreements involve two countries and both agree to loosen trading restrictions to enhance the opportunities.
Multilateral trade agreements: These agreements occur among three or more countries and are the most difficult to negotiate because of multiple participants.
For the UK, since Brexit, there are many changes have been put in place. As such, to start a company in the UK means keeping an eye on the news for emerging trade deals.
At the moment, most trade deals in the UK can be categorized into three different types:
Trade agreements with the EU
Trade agreements with non-EU countries
The trade agreements that are in negotiation
Why do countries impose quotas and tariffs, and why trade deals?
What are quotas and tariffs?
Quotas and tariffs are both imposed to protect domestic industries; however, their administration and effects are significantly different. Quotas are restrictions on the quantity of a good or product imported from another country while tariffs are taxes or a charge levied on the value of imported goods. Another noticeable difference between a tariff and a quota is that the welfare loss due to a quota may be greater since the government earns no tax from it. As a result, quotas are less frequently used than tariffs.
The reason for imposing quotas and tariffs
The reason behind the imposition of quotas and tariffs from governments worldwide is because these are protective measures to control the trade between them and other countries. Countries use quotas to help regulate the trading volume of goods and enact tariffs to protect the demand for domestic goods since tariffs will increase the cost of imported goods, making them less appealing to consumers.
However, highly restrictive quotas and high tariffs can cause trade disputes and other problems between countries. As a result, as a measure to accelerate the economy, this is where trade deals are put in place.
Why trade deals?
FTAs play an important role and contribute significantly to economic activity and job creation in not just the UK but any involved nation. These trade deals offer a wide range of opportunities for not just foreign businesses but also for those local ones as well. As a result, businesses, regardless of the scale and size, will benefit from greater trade and investment.
Regarding FTAs, tariffs and quotas are not the only factors that are affected even though they are the main components of the agreements. Not just the tariffs are reduced or eliminated, but with the effects of trade deals, various barriers that might impede the flow of goods and services will be addressed and as a result, investment is encouraged to thrive.
A few noticeable benefits that trade deals bring include
Access to a broader range of goods and services that are competitively priced, associated with new technologies, and innovative practices for local businesses and consumers.
Enhanced opportunities for foreign investment that contribute to economic growth.
Strengthening of the bilateral or multilateral relationships between nations.
UK trade deals before Brexit
Before Brexit, as a member of the European Union (EU), the UK was automatically part of any trade agreement the EU had negotiated with another country, which contained approximately 40 deals with 70 countries worldwide. However, as of 1 January 2021, EU trade agreements no longer apply to the UK because of Brexit.
UK trade deals post-Brexit
After Brexit, by the end of 2021, the UK has negotiated rollover deals with 63 out of 70 countries. Until now, the UK has trade deals with over 70 countries. Regarding the entry into effect mechanism, the UK Free Trade Agreements has three different types as below:
Full ratification: The ratification of a treaty or written agreement is the process of giving formal approval to it, meanwhile, full ratification means that the agreement is ratified and official.
Provisional application: A temporary and the agreement is not yet ratified officially. Provisional application is a commonly used method in international treaty practice to implement the agreements before coming into force.
Bridging mechanisms: An alternative way to guarantee the continuity of trade where countries involved in the treaty are unable to fully ratify or provisionally apply an agreement. These include Memoranda of Understanding or Exchange of Diplomatic Notes.
You can check out the details in the Trade agreement in affect table
Besides the above-mentioned deals, the UK has signed three new trade agreements including Australia, New Zealand and the United States of America since leaving the EU. These agreements are not yet in force. Also, there are free trade agreements that are still in the discussion and negotiation stage between the UK and numerous countries around the world.
How about the UK-EU trade deal?
After exiting the EU, any existing agreement with countries in the EU that was not rolled over ended on 31 December 2020 with trade taking place on World Trade Organization (WTO) terms until a new agreement could be ratified. Regarding the UK-EU agreement, the trade agreement went into effect on 01 January 2021 and the key highlights of the agreement include:
There will be no tariffs and quotas imposed on trading between the UK and the EU.
Several new checks including safety checks and customs declarations were introduced at borders.
New restrictions on certain UK animal food products due to strict EU laws.
Conclusion
It is vital for any business to understand clearly the UK trade deals and agreements with other countries before doing business in the region.
As the situation in the UK tumbled noticeably since Brexit, businesses will need to stay in the know of the latest updates on the trade deals as well as the status of those in-discussion agreements.
To get to know more about running a business in the UK, simply drop a message or connect with us at service@bbcincorp.com and we will be in touch shortly.
Disclaimer: While BBCIncorp strives to make the information on this website as timely and accurate as possible, the information itself is for reference purposes only. You should not substitute the information provided in this article for competent legal advice. Feel free to contact BBCIncorp's customer services for advice on your specific cases.
Share this article
Get helpful tips and info from our newsletter!
Stay in the know and be empowered with our strategic how-tos, resources, and guidelines.