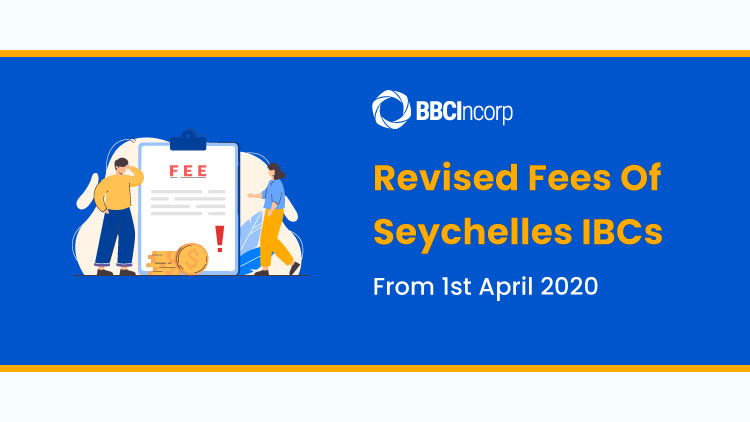 On 29 November 2019, The Seychelles Financial Services Authority released an approved proposal for adjusting fees under the International Business Companies Act, 2016.
In accordance with the Act, fees payable for the incorporation and annual renewal of all Seychelles International Business Companies (IBCs), except a Protected Cell Company, shall be changed as below:
| Fee types | Fee payable before 1st April 2020 | Fee payable from 1st April 2020 |
| --- | --- | --- |
| Incorporation fee | 100 USD | 150 USD (ICSP Tax included) |
| Annual renewal fee | 100 USD | 150 USD (ICSP Tax included) |
A new penalty regime for late IBC renewals will also be implemented from 1 April 2020.
Late renewal of an IBC within 90 days from the due date will incur a 10% penalty fee (24 USD inclusive of ICSP Tax). The penalty fee will be increased to 50% (80 USD inclusive of ICSP Tax) once the submission is made after this period.
It should be noted that new fees are applicable only to transactions carried out on or after 1st April 2020. Other fees for certain issuing and filling services are also revised, so click here for further details.
In acknowledgment of the fee adjustment from the Seychelles authority, please be informed that BBCIncorp Limited will also change our service charges payable for Seychelles IBCs' incorporation and renewal.
If you need more information concerning the updated fee, please contact us via email at service@bbcincorp.com or drop us a live message to chat with our expert now!
Disclaimer: While BBCIncorp strives to make the information on this website as timely and accurate as possible, the information itself is for reference purposes only. You should not substitute the information provided in this article for competent legal advice. Feel free to contact BBCIncorp's customer services for advice on your specific cases.
Share this article
Get helpful tips and info from our newsletter!
Stay in the know and be empowered with our strategic how-tos, resources, and guidelines.