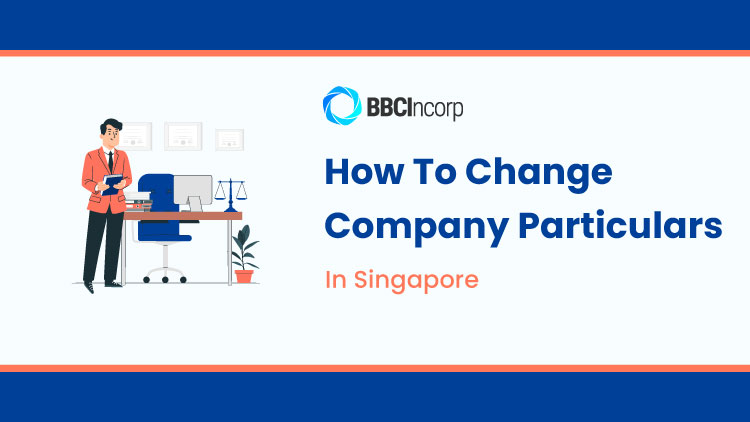 In an economy like Singapore, adaptability and strategic optimization are critical for long-term growth and competitiveness. The modification of company particulars, including changes in names and business activities, is an important aspect of business adaptation.
If you're starting or running a business here, be prepared to encounter situations where these updates are unavoidable. Let's explore the significance of the Singapore company particulars changing process.
Changes in identifying information & business activities
Company name
Changing the company name is necessary if the current identity no longer reflects your company's vision, values, or target market.
The company name is the official name you registered with the Accounting and Corporate Regulatory Authority (ACRA), which is expected to be unique and comply with ACRA's guidelines. So, to avoid reputational damage or legal issues, be sure to make sure you conduct a thorough company name check before updating.
How to change your company name
To change the name of your company, you will need to follow a few steps. Firstly, you must submit a name change application to ACRA and pay a small fee. ACRA will review your proposed name and provide approval if it meets the necessary criteria.
Once your proposed name is approved, the next step is to pass a special resolution within your company. This resolution signifies the decision to change the company's name and must be filed through Bizfile+. Finally, by filing a Notice of Resolution, you officially change the name of your company.
Registered address
The physical registered address of your business is where the registered office is located, and it also serves as the company's legal address (not including correspondence addresses unlisted in ACRA's records).
You might consider changing your company's registered address when there is a new physical relocation, a need for privacy or security, utilization of virtual or serviced offices, or even expansion to other branches.
How to change your registered address
Once you have made the decision to change your company's location, the first thing to do is pass a board resolution, which can be done by either signing or voting at the general meeting. This resolution will officially change your company's address.
Following this, it is important to adhere to the timeline set by the authorities. Within 14 days from the date of changing your company's address, you must file a "Change in Company Information including Appointment/Cessation of Company Officers/Auditors" form with ACRA through Bizfile+. This step ensures that the necessary updates are made to your company's records.
This process can be completed online through Bizfile+ using the company's CorpPass account by either the company director or the company secretary.
Business activities
The description of your business activities plays a crucial role in defining the primary industries or areas of operation for your company. This, in turn, helps accurately categorize and classify your business for regulatory compliance and statistical purposes.
How to change your business activities
In the event of any changes to your company's business activity, it is important to notify both ACRA and IRAS separately to ensure accuracy and up-to-date records for income tax assessment purposes.
The two essential steps are:
Inform ACRA by updating the company's business activity (i.e. SSIC Code) via Bizfile+
Inform IRAS by sending an email via myTax Mail, which includes an effective date of change in the company's business activity and a copy of the Business Profile extracted from Bizfile+
Updates on particulars of company stakeholders
In Singapore, a company officer refers to a senior executive appointed by either the board of directors or the business owner.
These officers can hold important positions within your company, such as shareholders, directors, corporate secretaries, financial officers, or chief executive officers (CEO), depending on the industry.
As you engage in your business operations, there may arise a need to change or update particulars of company officers in Singapore, which could involve the appointment or removal of key personnel.
Adjustments to directors and secretaries
Changes in particulars of existing company officers
Any changes to your existing company officers require you to file the necessary documents with ACRA within 14 days. This includes names, identification numbers, addresses, nationalities, and e-mail addresses
To initiate the process of updating these changes, you can visit the website https://www.bizfile.gov.sg and follow the steps: File eServices > Local Company > Make Changes > Change in Personal Particulars of Company Officers.
Update particulars of newly added or withdrawn officers
To ensure the accuracy of your company's information, you must promptly update ACRA whenever there are appointments or removals of key officers, including company officers, authorized representatives, and shareholders. To do so, follow these steps:
Step 1: Log into www.bizfile.gov.sg
Step 2: Go to File eServices
Step 3: Select Local Company
Step 4: Choose Make Changes
Step 5: Click on Change in Company Information, including Appointment/Cessation of Company Officers/Auditors
In addition to the above steps, you will need to provide the officer's name and contact information, as well as the type and number of identification, and the date of appointment/withdrawal.
By following these instructions and providing the necessary details, you can ensure that your company's information remains accurate and up to date.
Adjustments to shareholders
Typically, when it comes to updates in shareholders, your company would be considering two primary scenarios:
Add new shareholders by submitting the "Return of Allotment of Shares" transaction
Update the particulars of existing shareholders by logging into Bizfile+ > File eServices > Local Company > Make Changes > Change in Particulars of Shareholders
Regardless of the purpose, updating the new shareholder information properly on the Bizfile+ system is strictly required to reflect the current shareholding structure of your enterprise.
Important Note
Singapore citizens and Permanent Residents are not required to update ACRA on changes to their residential address, personal name, nationality, identification type, and number. You should notify the Immigration and Check Points Authority of Singapore (ICA) instead.
Changes in company governance, compliance, and structure
Constitution
The term "Constitution" refers to the comprehensive legal document that governs the operations and activities of a company, which includes the Memorandum of Association (MOA) and Articles of Association (AOA), along with any additional regulations, policies, or by-laws that regulate the company's affairs.
When incorporating your company, you are obliged to submit a copy of the constitution and the signed constitution must be kept by the registered office address, serving as a record of agreement among the shareholders (also referred to as subscribers).
In the event of any proposed amendments to the constitution, approval through a special resolution at a general meeting is necessary. After the resolution is passed, you will then have to file a Notice of Resolution via the Bizfile+ platform within 14 days. This process ensures that any changes made to the constitution are properly recorded and documented.
What about changes to the Memorandum of Associations?
The Memorandum of Association (MOA) is a crucial component of the Singapore company's constitution. While it is not considered a complete representation of the company's particulars, it plays an integral role in shaping the overall constitution.
Read more on the process of amending the M&AA in our dedicated article if you plan to update the provisions.
Financial year end
A company's financial year end (FYE) is a specific date that signifies the conclusion of the company's financial year, serving as a crucial requirement for financial reporting and compliance.
To inform ACRA about your company's new financial year end, you can use the Change of Financial Year End digital service on Bizfile+. It is worth noting that there is no need for a separate notification to IRAS
ACRA will utilize the updated information for proper record-keeping, while IRAS will depend on this record to send you the Estimated Chargeable Income (ECI) filing notification and for income tax assessment purposes.
Share capital
The share capital of a company represents the total value of shares issued to its shareholders and signifies their ownership stake in the company. There are instances where a company may seek to change its share capital for commercial reasons.
This can involve altering the current amount or even reducing it. Such changes may be driven by various factors, such as financial restructuring, attracting new investors, or adapting to changing business requirements.
Amount alteration
The alteration of the share capital encompasses various actions such as increasing or decreasing the nominal value of existing shares, issuing new shares, converting shares from one class to another, reconverting stock into fully paid-up shares, canceling shares that have not been taken up or have been forfeited, and more.
If your company intends to make changes to share capital, you should file the Notice by Local Company of Alteration in Share Capital under S71 transaction via Bizfile+. Make sure the necessary details are provided and that the notice is submitted per the guidelines.
Amount reduction
Reducing a company's share capital is a process that results in a decrease in shareholder equity. There are two ways in which a company can reduce its share capital: by obtaining members' approval or by filing an Order of Court. Whichever method is chosen, it is necessary to pass a special resolution that is approved by the members.
To comply with regulatory requirements, you must file the Reduction of Share Capital by Special Resolution under S78E to ACRA. However, it is not mandatory to notify IRAS about the reduction in share capital.
Our corporate secretary service offers comprehensive assistance in filing changes to share capital and other company particulars with the relevant authorities. Should you require any guidance or support, our team of friendly consultants is available for a chat. Feel free to contact us to receive prompt and timely assistance.
Post-submission steps to follow
After applying to adjust company particulars in Singapore, several post-submission steps should be followed to ensure a smooth transition and compliance with legal and regulatory requirements.
Below are some important post-submission steps for you to consider:
Monitor the changing process and address additional requirements
By regularly checking the Bizfile+ portal, you can keep track of any updates or requests for additional information from the authorities. This proactive approach not only helps you stay informed about the progress of your application but also enables you to promptly respond to any requirements or inquiries that may arise during the process.
To ensure a smooth transition and avoid unnecessary delays in the processing of your application, it is crucial to comply with any additional information or documentation requests made by the authorities. Maintaining open communication with the authorities is also essential in this regard.
Communicate with stakeholders about the changes
Crafting a comprehensive communication plan is essential to ensure that all stakeholders, including shareholders, directors, employees, suppliers, customers, and partners, receive the new information effectively. Remember to provide ample opportunity for stakeholders to ask questions during the communication process.
During the planning phase, it is crucial to clearly articulate the details of the changes and address any implications or impact on their involvement with the company. To reach out to stakeholders, you should utilize various communication channels such as email, meetings, or official announcements.
Update information with government agencies
When making changes to your company's particulars, you should identify the relevant agencies that need to be notified. These agencies may include the Central Provident Fund (CPF) Board and the Ministry of Manpower (MOM), depending on the nature of the changes.
Follow the prescribed procedures provided by each government agency to update your company's information. This typically involves completing specific forms, providing supporting documents, or utilizing online portals for submitting the update.
By adhering to these procedures, you can ensure that your company's information is accurately and promptly updated.
Takeaway
Changing any company particulars in Singapore requires careful planning, adherence to legal requirements, and effective execution. By proactively adjusting company particulars, you can enable your Singapore-based company to seize new opportunities, enhance operational efficiency, and drive long-term growth.
To make the process easier for your company, this article has provided comprehensive information and guidance on updating company particulars' details.
If you still have any inquiries about changing company information, such as addresses, activities, the M&AA, or any questions regarding doing business in Singapore, feel free to reach out to us at service@bbcincorp.com and we will get back to you as soon as possible.
Disclaimer: While BBCIncorp strives to make the information on this website as timely and accurate as possible, the information itself is for reference purposes only. You should not substitute the information provided in this article for competent legal advice. Feel free to contact BBCIncorp's customer services for advice on your specific cases.
Share this article
Get helpful tips and info from our newsletter!
Stay in the know and be empowered with our strategic how-tos, resources, and guidelines.