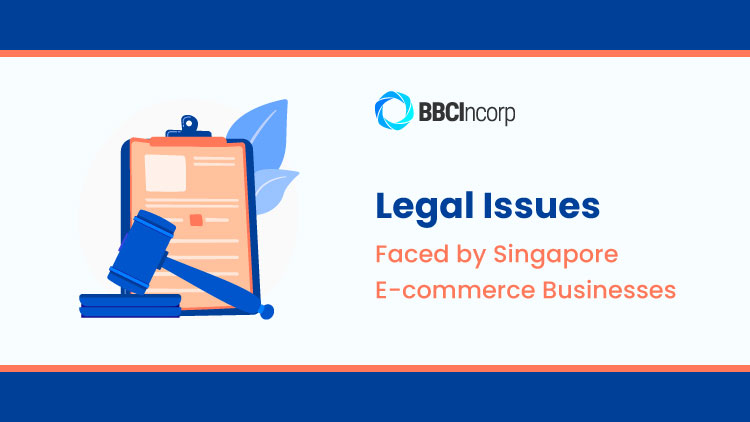 Numbers don't lie: Singapore is a thriving e-commerce hub with a compound annual growth rate expected to surpass US$10 billion in 2025.
E-commerce is a booming industry all over the world, and Singapore is no exception. However, as with any business, e-commerce businesses in Singapore are subject to certain legal issues that must be taken into consideration. Let's check it out.
Singapore e-commerce registration and compliance
It's crucial to comply with your business obligations before they become your business's legal concerns.
To set up your company in Singapore, start by registering the e-commerce company with ACRA. This includes registering as a business entity (e.g. a company or a sole proprietorship) and registering for GST if your business's annual revenue exceeds $1 million.
Also, Singapore-based e-commerce companies, like every legal business, are required to comply with several regulations and laws annually.
Companies in Singapore must comply with various annual compliance requirements. For example, e-commerce companies are required to file an annual return and audited financial statements with ACRA.
Non-compliance with such applicable requirements (annual compliance and administrative tasks vary depending on a case-by-case basis) shall lead to a financial penalty or the dissolution of your company.
E-commerce sales-related legal issues for Singapore companies
In June 2020, Enterprise Singapore and the Singapore Standards Council released Technical Reference 76 (TR76) – the first national standard for e-commerce transactions.
This serves as a practical guide for e-retailers and online marketplaces within Singapore, leveraging the digitalization of SMEs as well as the e-commerce sector in the city-state.
Singapore e-commerce merchants must navigate through the inter-related network of regulations to make their business compliant. You'll find out several applicable laws in the e-commerce field for your Singapore companies.
Quick Note
Consumer protection, sales of goods and services, trade description, and personal data protection are the most prominent regulations, according to ZICO's 2021 Electronic Commerce in ASEAN.
Data security
E-commerce businesses must also comply with the Singapore Personal Data Protection Act (PDPA), which sets out many requirements for the collection, use, and disclosure of personal data.
Concerning ransomware and data breach-similar issues, there had been 68 cases reported to the Cyber Security Agency of Singapore in the first 6 months of 2021, double the number of cases in the same period of 2020.
PDPA terms should be available in the policies of e-commerce platforms where your business is in use.
It is crucial for e-commerce businesses to protect their customers' personal data by implementing appropriate security measures and obtaining consent from their customers before collecting, using, or disclosing personal data.
Quick Note
When it comes to web contracts, Electronic Transactions Act is another crucial document to consider. It requires e-commerce businesses to take reasonable security measures to protect their clients' data from being used for unfavorable purposes. 
Contracts and payment methods
E-commerce businesses in Singapore must also comply with the rules governing contracts and payments. For example, they must ensure that their terms and conditions are fair and reasonable and payment is accepted through authorized methods (i.e., credit cards, PayPal).
As a result of Singapore's mature online payment infrastructure, a variety of payment solutions are available on e-commerce platforms, namely credit cards, and bank transfers. As a smart online vendor, protecting credit card information transmitted to you is essential.
Companies must take measures to protect their customers from fraud, like verifying the identities of their customers and using secure payment methods. Go through the Top 5 Payment Gateways For Your E-commerce Business In Singapore for reference.
Consumer rights
Your e-commerce company needs to guarantee that your customers are protected under consumer law. This includes making sure that your website is compliant with Singapore-regulated practices and is up to snuff with the latest e-commerce security standards. Your terms and conditions must be fair and clear.
E-commerce businesses should also be aware of the fact that they could be held liable for any damages caused as a result of their online transactions. If a customer's personal data is compromised as a result of using an e-commerce website, the business may be held liable.
In addition, e-commerce companies should review their terms and conditions regularly to confirm that they are updated and compliant.
Example
Intellectual property
Without proper protection, your intangible creative assets such as images, information, and data could be used freely across the Internet. Therefore, protecting your intellectual property rights in this sector is vital.
Be certain that you have registered trademarks and copyrights in Singapore and that you are taking steps to protect their intellectual property from infringement.
New guide
Start reading to grow your Singapore E-commerce with minimal effort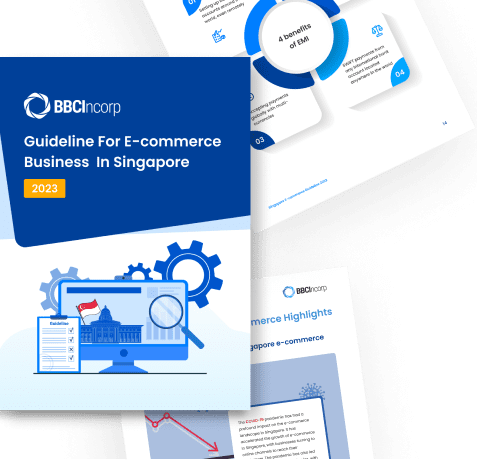 Conclusion
The e-commerce landscape in Singapore is constantly evolving, and laws and regulations can be complex and challenging to navigate. Stay alert for changes in regulations to avoid legal complications and establish a satisfying online shopping experience for customers.
Although at times, you might encounter problems more serious than expected, so don't hesitate to consult with local experts for timely solutions.
Regarding any questions related to your company, especially e-commerce businesses in Singapore, feel free to contact us through the chatbox or leave a message via service@bbcincorp.com.
Disclaimer: While BBCIncorp strives to make the information on this website as timely and accurate as possible, the information itself is for reference purposes only. You should not substitute the information provided in this article for competent legal advice. Feel free to contact BBCIncorp's customer services for advice on your specific cases.
Share this article
Get helpful tips and info from our newsletter!
Stay in the know and be empowered with our strategic how-tos, resources, and guidelines.