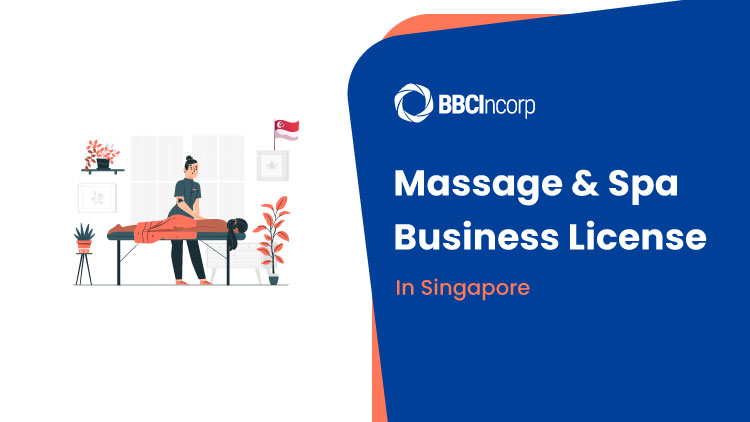 There is an increasing demand for relaxation and well-being services in Singapore, where life can be hectic. Consequently, the massage and spa industry has witnessed substantial growth, offering a promising avenue for aspiring entrepreneurs.
This article serves as a business guide for those considering venturing into Singapore's massage and spa industry. We will explore the crucial steps in obtaining a massage and spa license and opening a spa business in Singapore.
A look into the wellness service market in Singapore
How well is this industry doing in the Lion City? Based on GWI's study, Singapore holds the impressive position of #14 among 45 countries in Asia Pacific when it comes to the wellness economy.
This specific region has demonstrated remarkable growth in the market, with a notable 8.1% increase from 2017 to 2019. They also experienced the smallest decline of only 6.4% in the pandemic period in 2020.
These statistics were primarily attributed to factors such as higher disposable incomes among consumers, a continuous rise in tourism, and an increased willingness to invest in wellness-related activities. The numbers clearly indicate substantial potential and opportunities, making it an appealing choice to open your spa in Singapore.
Unveiling the vital license for operating a Singapore spa
What are the crucial requirements that one must qualify for to open a spa in Singapore? First, there are specific Singapore licenses and permits you shall obtain, particularly the Massage Establishment license.
Massage Establishment license in Singapore
Under the Massage Establishment (ME) Act, a Massage Establishment license is required if your business provides massage services, muscle tension, stimulating circulation treatments, or other similar treatments.
Whether operating a hotel that provides spa and massage services or running a salon, you must apply for a Massage Establishment license from the Singapore Police Force (SPF).
However, owning this license is optional if you only provide manicures, pedicures, light treatments, electric treatments, vapor treatments, or baths without any massage service.
More information can be found in the Massage Establishment (Exemption) Order 2018.
Types of Massage Establishment licenses
How many categories are there for Massage Establishments (ME) licenses in Singapore, and how do they differ from one another?
To start with, applicants have two primary options:
Category 1 is for businesses operating in Housing & Development Board (HDB) shophouses, shopping centers, and hotels. You can employ citizens and foreigners with relevant work passes.
Category 2 is for premises in areas away from residential areas, schools, and places of worship. Only Singapore citizens, permanent residents, and Malaysians with valid work passes can work at these spas.
Did you know?
Spas usually opt for Category I licensing since Category II licensees are subject to stricter business requirements and smaller operating areas.
Category I licensees are allowed to serve alcohol, accept customers regardless of age and employ foreign masseuses or therapists.
Each of these types further branches into two subcategories: provisional and standard versions. To progress towards obtaining the standard version of a ME license and operate your business, you must acquire the provisional license in advance.
Who can apply for an ME license in Singapore?
While each license entails its own set of criteria, ME license individual applicants must meet are generally subject to certain shared requirements:
Be at least 21 years of age at the time of application
This age threshold is a fundamental criterion to ensure applicants possess the necessary maturity and responsibility.
Be a fit and proper person to hold the license
You are required to demonstrate honesty, integrity, a good reputation, competence, and capability. This encompasses but is not limited to:
Having a good track record of legal compliance with public order and safety
Being cooperative with the Singapore Police Force during any related investigations
Not being convicted of any law offense
Not having any massage/ spa license, permit, or permission canceled or suspended
And so forth.
Be a responsible officer
According to the Massage Establishments Act 2017, you shall hold the position of either:
A partner of a partnership;
A member of the governing body of an unincorporated association;
Any director of the company or officer holding a similar managerial; or
An executive position in the body corporate.
Possess the eligible residency status
You must be either a Singapore citizen, a Permanent Resident (PR), or hold a valid relevant work pass to set up your spa business.
Note that application for a license on behalf of an organization will require a co-licensee who meets the fit and proper criteria. He or she must also be an officer of the organization.
Other license types you might need
In addition to the ME license, there are several others you might need, depending on the nature of your business, the promoting strategy, the products used, and more.
Here are a few examples:
Advertisement License
Localized Private Network License
Non-Residential TV License
License to keep or possess an irradiating apparatus, radioactive materials
License for handling and transporting radioactive materials
And so on.
The process of getting a spa license
Opting for a Singapore spa license may seem complex for beginners, but there's no need to worry. Below is a helpful guide to help you through the step-by-step process. Let's delve in!
Step 1: Register your business with the ACRA
A license application requires essential information about your company, so you must register your company before proceeding.
When starting a business in Singapore, there are specific procedures to follow and documentation to submit to the Accounting and Corporate Regulatory Authority (ACRA).
These documents include the company name, constitution, director, shareholder details, registered office address, etc. Along with the necessary paperwork, applicable fees must be paid during the submission process.
Once your application is received, ACRA will assess the submission. Following a thorough review, they shall issue a certificate of incorporation. This certificate serves as official recognition of your company's existence in Singapore.
Setting up your Singapore business has never been so simple with BBCIncorp's Singapore company formation service. Register your company within one day with our streamlined process, while enjoying online bank account opening support and more!
Step 2: Ensure that the premise's structure is qualified
Your operating area must meet the necessary criteria for the layout, safety measures, and overall suitability set by the relevant authorities (e.g. the Urban Redevelopment Authority, the National Environment Agency)
The requirements are generally as follows:
No locking device for the doors of the treatment or massage room
The numbering of the rooms should be done as per the layout plan
No placement of a warning device to alert about the arrival of the enforcement officers
The staff room must have a clear sign with a "No Entry"
No suspicious placements of objects which could violate the customer's privacy
Additionally, if the spa serves both genders, there should be proper segregation of male and female areas at the establishment. 
This dedication to legal compliance can enhance your chances of obtaining the license, and pave the way for a successful business.
Step 3: Submit the essential documents
After ensuring that the premise's structure is approved, our next step is to submit the necessary paperwork to the Singapore Police Force.
These documents typically include:
ACRA Business Profile
Colored photographs of the staff uniform in front, side, and rear view (with sleeves for top and pants for bottom), and a close-up shot of the company nametag.
Layout plan of the establishment drawn to scale
URA planning permission for the proposed use of premises or HDB approval letter
Case Trust Accreditation Certificate (for Category 1 only)
Upon getting these files ready, it's time to sign in to the GoBusiness Licensing Portal with your SingPass or CorpPass account to apply for your license.
Step 4: Wait for the authority's approval
It normally takes 21 working days for your application to be processed.
The relevant authorities will review your application and conduct the necessary assessments during this period. You will be notified of the outcome through both email and postal mail. Alternatively, you can check the status of your application by logging in to the GoBusiness Licensing portal.
Once the registration is approved, you can now proceed with setting up your spa, hiring qualified staff, and creating a serene and welcoming environment for your clients.
Conclusion
Opening a spa in Singapore offers a wealth of opportunities in this thriving wellness industry. Through our guide, aspiring spa owners are equipped with a clear understanding of the path to successfully obtaining a Massage Establishment license.
And with the ME license firmly in your possession, your business can set forth on an extraordinary path to craft a sanctuary of serenity and revitalization.
Should you have further inquiries regarding business incorporation in Singapore, we are here to help! Feel free to reach out to us via service@bbcincorp.com for more support.
Disclaimer: While BBCIncorp strives to make the information on this website as timely and accurate as possible, the information itself is for reference purposes only. You should not substitute the information provided in this article for competent legal advice. Feel free to contact BBCIncorp's customer services for advice on your specific cases.
Share this article
Get helpful tips and info from our newsletter!
Stay in the know and be empowered with our strategic how-tos, resources, and guidelines.