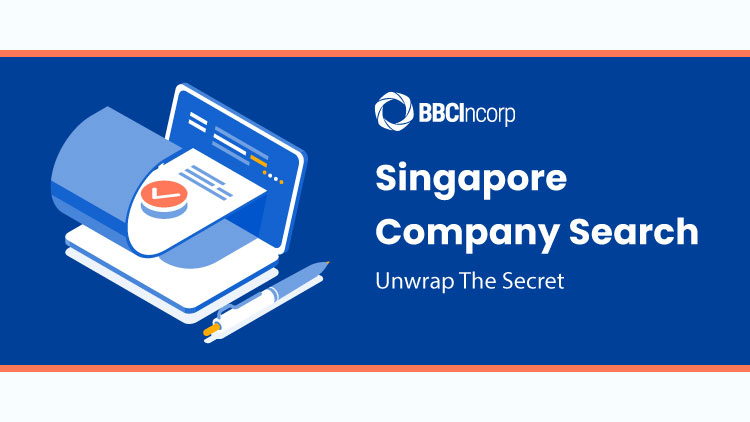 As the old proverb goes, "Trust, but verify." This timeless adage is especially relevant when it comes to conducting a Singapore company search.
Whether you're an entrepreneur looking to check up on your own business or a business seeking to do a background check of your potential business partners, verifying the information you receive and ensuring that you're dealing with legitimate and trustworthy parties is crucial.
With this in mind, we've put together a guide to help you easily navigate the Singapore business search process.
The importance of company search and verification in Singapore
The good thing about conducting a company search, or an ACRA business search, in Singapore, lies in the information you can get from it. Regardless of your specific business objective, this step is never a waste of time.
To ensure businesses are in good standing
Despite its reputation for having a relaxed and amiable business environment, staying compliant with Singapore laws and regulations can be difficult for businesses, especially when it comes to maintaining a good business standing.
Checking up on your compliance standing and status is always necessary to ensure long-term development. The checkup can be done quickly with just your UEN number or business name, you can even see all the information that Singapore authorities have put on the record.
If you're worried about what information about your business is publicly displayed on the government system, a quick check-up is a great idea to make sure information such as company identity is correct and up-to-date, so as to prevent misrepresentation and potential legal issues. The information included the company identity, legal status, and financial status.
As a result, it helps you understand your company's situation and adjust accordingly.
To ensure a reliable strategic partnership
Before investing your time and money into a partnership with Singapore companies or clients, it's essential that you run a background check. By doing so, you can verify their legitimacy, find details about their operational history, and understand the financial matters of your soon-to-be partners.
Similar to checking up on your own business, you'll need your partner's UEN number or business name for correct verification. The information you get will include but is not limited to legal status, financial health, and company identity, which helps you determine your partners' credibility.
For a success check and verification, make sure you get the right information that provides answers to all these questions:
Is the company legally registered and in good standing with the Singapore Government Agencies?
Is the company financially stable and able to fulfill its obligations?
Are the directors and shareholders reputable and trustworthy?
Does the company have a good reputation in the industry? Are there any negative reviews or testimonials from other companies or clients?
What is the company's compliance status? Does it have a history of meeting its obligations and complying with the law?
Are there any legal disputes or criminal cases against the company? If so, what are the details of these cases?
By obtaining accurate and up-to-date information through a UEN search and verification in Singapore, you can make informed decisions and establish reliable business partnerships that are likely to be successful in the long run.
Things to look out for in a Singapore company search
If you are conducting a Singapore company search, there are several things you should look out for to ensure that you are making an informed decision. Below are some of the key areas to consider:
A company status indicates whether the company is active or not.
Singapore government requires every company to regularly update its operational status, and failure to do so could be a sign that the company has ceased operations or has been neglected.
Whether you search for another company or your own, make sure it has "live" or "active" status to confirm that the company operates legally and fully complies with the law.
It's important to verify the accuracy of the address listed for a company during a Singapore company search to ensure that you can locate and communicate with the company effectively. If the address is incorrect or questionable, it could be a sign that something is not right.
For instance, if the address listed for a company is "12 Orchard Road #88-999 Singapore," this address may be questionable because the last four digits of the postal code "999" do not exist in Singapore, and the address does not specify a building name or floor number.
While a virtual office or mailbox address may not necessarily indicate a lack of legitimacy or credibility for a company, it's important to verify that the company has a physical presence and that it is not using the virtual office or mailbox address to mislead customers or investors.
Accessing industry information can be very valuable when conducting a Singapore company search. Understanding the company's primary activities and estimating its main sources of income and capital scale can provide insights into the company's operations and financial health.
By researching the industry in which the company operates, you can gain a better understanding of the competitive landscape, market trends, and regulatory environment. This information can be used to assess the company's market position, growth potential, and risk factors. This can help you identify potential business partners or competitors and make informed decisions about your business strategy
Reviewing the company's financial statements helps you assess its financial performance and stability, and identify any red flags in law compliance.
For example, if a company has inconsistent or unusual accounting practices, such as overvaluing its assets or understating its liabilities, it may be a sign of financial mismanagement or fraud.
Financial statements are particularly important for listed companies because they are required to disclose their financial information to the public on a regular basis. This information is used by investors to make informed decisions about buying, holding, or selling the company's stock.
The AGM's details help assure a company's legal manner and its commitment to good corporate governance and transparency.
Furthermore, the minutes of the AGM can also provide valuable information about the discussions and decisions made during the meeting, which can help you assess the company's strategy and prospects.
Searching for the company's annual return provides insight into its compliance with Singapore regulatory requirements and changes in its ownership and management.
You can check if the company has filed its annual returns on time if it has any outstanding penalties or fines, and if there have been any changes in the company's directors or shareholding structure.
Overall, conducting a Singapore company search by considering the above factors can help you obtain a comprehensive understanding of the company's operations, financial health, compliance with regulatory requirements, and overall reliability.
How to conduct a company search in Singapore
There are two main ways to conduct a Singapore company search using the ACRA website, including
ACRA company search tool; and
ACRA business profile function.
ACRA company search tool
This method allows you to search for companies by name or registration number and provides information such as company registration date, status, and registered address.
If you simply want a quick search to obtain basic information about a company, follow the 4 easy steps below:
Step 1: Login to ACRA Bizfile
To start the search, log in to your BizFile+ account to access the company database.
Step 2: Enter the company name
Click on "Business Entities" on the top menu and select "Company Search" from the drop-down menu. After that, you can enter the company name or registration number in the search box and click "Search."
Step 3: Complete CAPTCHA verification
Once you click on the "Search" button, the system will prompt you to complete a CAPTCHA challenge to ensure that you are a human and not a bot. Once completed, you can fill out the required form and proceed with your search.
Step 4: View the search results
After completing the required form, the system will display the basic information associated with the company you searched for.
The information you can view as the result of the search includes the:
Company name
Industry
Registered address
Business entity status
Compliance rating
Looking to do a company search in Singapore? Look no further! Our Singapore company package includes everything you need to make informed decisions about your business.
ACRA business profile function
The ACRA business profile search, on the other hand, provides a more detailed and comprehensive view of the company's information, including
Business activities
Financial statements
Shareholding structure
Directors and key personnel
Legal issues
Business partners and clients
AGM details
Annual returns
To access the function, you will need to make a successful payment of $5.5, after which you will receive an email containing a URL to download the business profile.
The download for a purchased business profile from ACRA will expire 7 days from the date of purchase. So make sure you save or copy the information before the expiry date.
You can see a sample of the purchased business profile here.
In conclusion
Conducting a Singapore company search is crucial for every business, especially when entering into new business relationships, partnerships, or investments.
With a few clicks, you can obtain important information, make informed decisions about any potential business transactions or investments, and have a comprehensive understanding of the company's prospects.
If you're looking for a hassle-free way to conduct your Singapore company search, contact us at service@bbcincorp.com for further information and support. Let us help you get started on the path to success today!
Disclaimer: While BBCIncorp strives to make the information on this website as timely and accurate as possible, the information itself is for reference purposes only. You should not substitute the information provided in this article for competent legal advice. Feel free to contact BBCIncorp's customer services for advice on your specific cases.
Share this article
Get helpful tips and info from our newsletter!
Stay in the know and be empowered with our strategic how-tos, resources, and guidelines.