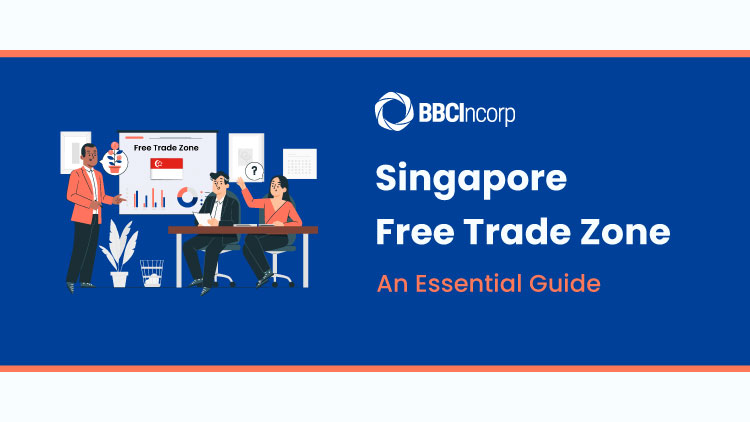 In the bustling metropolis of Singapore lies a haven designed to catalyze international trade and facilitate various trading businesses: the Singapore Free Trade Zone. This serves as a hub for economic activities, facilitating the flow of goods, services, and investments across borders.
This article will provide you with useful information about the Singapore Free Trade Zone, with the benefits of exemption from customs duties and taxes on re-exports, simplified procedures, streamlined logistics, and many more.
What is the Singapore Free Trade Zone?
Singapore runs a free trade zone (FTZ) where goods can be stored, handled, and distributed without being subject to customs duties or taxes. The FTZ is a vital part of Singapore's trade strategy and aims to promote the country as a hub for international trade.
The Singapore Free Trade Zone covers the entire island, including the Port of Singapore, Changi Airport, and various designated areas throughout the country. Businesses that operate within it can enjoy exemption from customs duties and taxes on re-exports, simplified customs procedures, access to streamlined logistics and transportation services, and so much more.
There are nine free trade zones in Singapore, which are operated by three authorities (PSA Corporation, Jurong Port, and Changi Airport Group):
Brani Terminal;
Keppel District Park;
Tanjong Pagar Terminal and Keppel Terminal;
Sembawang Wharves;
Pasir Panjang Wharves,
Jurong Port;
Changi Airport Group;
Changi Airport Cargo Terminal Complex; and
Airport Logistics Park of Singapore.
With 170,000 square meters of warehouse facilities, Jurong Port is the largest FTZ, followed by Changi Airport Group with 100,000 square meters of warehouse and office space.
What are the benefits for entrepreneurs here?
In this dynamic landscape of global trade, entrepreneurs constantly seek avenues that offer them a superior edge to propel their Singapore company formation to success. The Singapore free trade zone has emerged as a beacon of opportunity, enticing businesses with an array of benefits.
Exemption from customs duties and taxes on re-exports
The FTA imposes no customs duties or GST on products imported into the zone as long as they are re-exported. Furthermore, non-controlled goods are exempt from permits.
This exemption allows you to import raw materials, components, or finished goods to Singapore at very low costs, increasing your profit margins and price competitiveness in the Singapore market.
Procedures simplified with quick customs declarations and inspections
Customs procedures within FTZ are simplified and expedited, reducing bureaucratic hurdles and saving valuable time for business.
The FTZ's inspection systems are also standardized to avoid administrative complexities. This enables trade-related documents such as customs declarations, permits, and certificates to be checked accurately and on time, reducing the risk of non-compliance and potential penalties and making import and export processes much more efficient.
An example is the implementation of the TradeNet system, an electronic platform for trading document submission facilitated by regulatory authorities, utilizing automated validation, immediate feedback, on-the-spot tracking, and so forth.
Access to streamlined logistics and transportation services
The FTZ is home to world-class logistics and transportation facilities such as the Port of Singapore and Changi Airport, which provide timely access to global markets.
The efficient handling, storage, and transportation of goods within the zone minimize transit times and the risk of delays or disruptions. This facilitates just-in-time inventory management, which greatly reduces holding costs.
Customs brokerage, documentation assistance, freight forwarding, and other ancillary services are always available here. Most importantly, the sophisticated tracking and monitoring systems within the free trade zone will provide you with real-time visibility and complete control over your supply chain.
Opportunities for networking and collaboration
The free trade zone serves as a hub for a wide range of businesses, attracting entrepreneurs from various industries and sectors. This creates a vibrant ecosystem in which like-minded people can connect, exchange ideas, and explore potential collaborations.
Moreover, the presence of trade associations, industry events, and business networking platforms within the zone expands networking opportunities even further. Entrepreneurs can attend seminars, workshops, and conferences where industry experts, thought leaders, and professionals gather.
The collaborative ecosystem of the free trade zone truly serves as a catalyst for entrepreneurial success and fosters a vibrant business community.
Businesses that benefit from the FTZ
Export-Import businesses: Benefit from duty & tax exemptions on re-exports, reduced inventory costs, and enhanced flexibility, boosting constructive competitiveness.
Manufacturing companies: Experience streamlined procedures, leading to reduced administrative burdens, improved operational efficiency, and cost-effective methods for importing and exporting both raw materials and finished products.
Logistics and distribution companies: Enjoy world-class logistics and transportation facilities, including the Port of Singapore and Changi Airport, and faster and more precise delivery.
E-commerce companies: Access an expansive cross-border online consumer base thanks to advanced digital technologies and much fewer physical presence requirements
Trading companies: Leverage the FTZ's strategic location, proximity to suppliers, and access to markets worldwide, allowing for expanded product offerings while minimizing costs associated with logistics and distribution.
Financial service providers: Capitalize on a thriving business ecosystem within the FTZ, opportunities for collaboration, business development, and access to a diverse client base, contributing to their growth and success.
What are the challenges faced by businesses in the Free Trade Zone?
For entrepreneurs venturing into the Free Trade Zone, it's essential to be aware of the challenges that may arise. Several notable difficulties might include:
Intense competition
Due to the large number of businesses operating within the FTZ, competition can often be fierce, especially in the manufacturing sector. Having lower manufacturing costs is indeed beneficial for businesses, but then you would have to differentiate yourself successfully from other similar-priced competitors.
This can be challenging for startups or SMEs as they lack sufficient dedicated resources and expertise to navigate through such difficult situations.
Regulatory compliance
As with any business operating in Singapore, companies in the FTZ must comply with local regulations such as GST, income tax, etc. (regarding products sold locally for domestic consumption), which can require a significant investment of time and resources.
Obtaining the necessary permits and licenses can also pose obstacles. To exemplify, the prominent permit is the Customs Permit, required for importing and exporting goods.
Additionally, businesses will need to obtain licenses specific to their industry, such as the Wholesale Dealer's License for companies engaged in wholesale trading activities. Other permits may include the Food Shop License for businesses operating in the food and beverage sector or the Employment Pass for foreign employees.
Layered cost burden
These costs may include permit application fees, regulatory compliance consulting fees, costs for meeting specific standards or requirements, and ongoing compliance monitoring expenses.
For instance
Companies operating in Singapore free trade zones must possess a paid-up share capital of SGD 100,000 if a warehouse is required or SGD 50,000 if only an office space is required. During the first year of operations, the paid-up share capital (eligible to be used for business expenses) must be deposited.
This would require a proactive approach that streamlines processes, optimizes resource allocation, and explores cost-saving measures while adhering to regulatory requirements.
Vulnerability to external shocks
As an open and universally connected economy, Singapore is susceptible to various external factors that can impact businesses operating within the jurisdiction. Despite its promising features, the Free Trade Zone is no exception to this downside.
To name a few, global economic downturns, changes in international trade policies, geopolitical tensions, natural disasters (flash floods, earthquakes, heatwaves), or pandemics tend to adversely affect business operations.
The recent COVID-19 pandemic serves as a stark reminder of how health crises can impact the Singapore Free Trade Zone. Lockdown measures, travel restrictions, and factory closures in different countries inevitably created logistical challenges and delays in the movement of goods.
In short, the nature of this business environment demands a keen understanding of market dynamics, customer preferences, and industry trends. By carefully analyzing and addressing these challenges, you will be able to position your business for long-term success in the Free Trade Zone.
What are the requirements for operating in the Singapore FTZ?
Obtaining the necessary licenses and permits for your business is part of the business registration and licensing process in the Singapore Free Trade Zone (FTZ).
The specific requirements will depend on the nature of your business, but some standard licenses and permits include the following:
Corporate permits: usually valid for 1 to 3 years
Temporary permits: issued with validity from 24 hours to 2 weeks
Both types are typically issued within four days of the application.
To apply for the necessary permit, you must agree to abide by the permit conditions, safety regulations, and security rules imposed by the Free Trade Zone Act and the specific trade zone where your business is operating.
Make sure to familiarize yourself with the relevant regulatory authorities overseeing activities within the FTZ, such as the Singapore Customs, the Economic Development Board (EDB), and other government agencies responsible for trade and commerce.
To wrap up
The Singapore Free Trade Zone is a gateway to the world for businesses of all sizes. With its strategic location and world-class infrastructure, the FTZ provides a platform for entrepreneurs to tap into new markets and grow their businesses globally.
From e-commerce companies looking to take advantage of the region's booming online retail market to manufacturers seeking to access the region's robust supply chain, the Singapore FTZ offers businesses a wide range of opportunities to expand and succeed.
While there are challenges and risks to operating in the FTZ, these can be overcome with creativity, resourcefulness, and a willingness to adapt to new situations.
Should you decide to set up a business in Singapore but have questions or concerns, please feel free to contact BBCIncorp team on our chatbox or send us an email at service@bbcincorp.com for advice on your company's specific situation.
Disclaimer: While BBCIncorp strives to make the information on this website as timely and accurate as possible, the information itself is for reference purposes only. You should not substitute the information provided in this article for competent legal advice. Feel free to contact BBCIncorp's customer services for advice on your specific cases.
Share this article
Get helpful tips and info from our newsletter!
Stay in the know and be empowered with our strategic how-tos, resources, and guidelines.