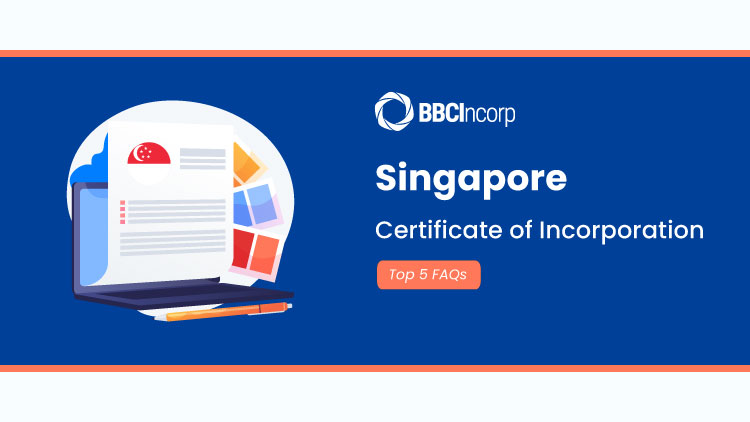 A certificate of incorporation (COI) is a document that proves the existence of your company and also confirms your company's compliance with Singapore's law.
If you want to start a business in any country, you need to check into the regulations that govern business formation. Having a certificate of incorporation can help legitimize your company and ensure that doing business in Singapore is simpler and easier.
In this post, we've summarized the top 5 frequently asked questions about the certificate of incorporation (COI) process to help you get started. Stay tuned for more detailed posts on each step of the process!
What is a Certificate of Incorporation in Singapore?
A certificate of incorporation (COI) is a document that officially recognizes the formation of a company in Singapore. It also serves as proof that your company has been duly registered with the authorities and is therefore compliant with all applicable laws and regulations. The COI may only be seen and purchased by the entity's authorized registered filing agent and position holders. Obtaining a Certificate of Incorporation is a key step in setting up a new business in Singapore.
When you first register your business, you will receive one free copy of your Certificate of Incorporation. The contact person or representative that you give to ACRA throughout the business establishment procedure will get this Certificate of Incorporation via email.
Who issues the Certificate of Incorporation in Singapore?
The certificate is issued by the Accounting and Corporate Regulatory Authority (ACRA). Once your application has been approved, you will be issued a Singapore certificate of incorporation.
When incorporating a company in Singapore, there are a few things you should consider, such as the type of business you want to set up, the name of your company, and the number of shareholders. You will also need to appoint at least one director who is a resident of Singapore.
What are to be included in COI?
Now that you know what a certificate of incorporation is, let's get more information about what it contains.
Company name
Registration Number/Unique Entity Number (UEN)
Incorporation date
Former company names (if applicable and up to five recent former names)
Company structure (private limited liability company, public limited company, limited liability partnership, and so on)
If you set up a Private Limited Company in Singapore, your certificate of incorporation will look something like this.
What are the advantages of having a COI?
The Singapore certificate of incorporation is important as it will be required for various purposes.
Open corporate bank accounts
If you want to open a business bank account, the COI is one of the most important documents you'll need. It shows that you have properly set up your business and that it is a legal entity that is listed on the public register of businesses.
Sign formal business agreements
The COI is required in order to sign formal business agreements with other companies or individuals. Without a Singapore certificate of incorporation, businesses may not be able to engage in certain activities or transactions.
Demonstrate your company's legal status
This document proves that your business is legitimate and registered in Singapore. Having the COI can help to build confidence among customers, suppliers, and other stakeholders in your business. The certificate also serves as a useful reference point for key information about your company, such as its registered address, share capital, and directors.
Handle for bank loans and other financing options
The COI will give banks the confidence to lend you money. Without a Singapore certificate of incorporation, it may be difficult to get funding from banks.
Sell the company to third parties
The COI can increase the value of the company and make it more attractive to potential buyers. If there are any disputes or problems with the sale, having a Singapore certificate of incorporation can help to resolve them more quickly and efficiently.
How can you get COI?
Here is a step-by-step explanation of the certificate purchasing process:
Step 1: Visit the BizFile website (a web portal maintained by ACRA)
Step 2: Select 'Buy Information' from the drop-down menu
Step 3: Under the tab, you will see four options (Buy Business Profile, Buy Other Information, Buy Package Information, and iShop Membership).
Step 4: Choose the appropriate option and proceed as directed.
ACRA sends an email to the company's shareholders confirming its formation. The registration number of the company is included. The formal certificate of incorporation in Singapore is considered a soft copy. ACRA imposes a fee of S$50 for each certificate of incorporation.
If you are confused when the COI application process has too many steps, you can choose the right corporate service provider to help you. At BBCIncorp, we pride ourselves on providing Singapore incorporation services and supporting our clients every step of the way.
Wrap-up
If you're looking to set up a business in Singapore, it's important that you have a certificate of incorporation. This document proves that your company is legitimate and registered with the government. We can help you get everything sorted out so that your business can thrive in this vibrant economy.
Don't hesitate to get in touch with us via service@bbcincorp.com or simply chat with one of our friendly consultants for advice on setting up your business in Singapore.
Disclaimer: While BBCIncorp strives to make the information on this website as timely and accurate as possible, the information itself is for reference purposes only. You should not substitute the information provided in this article for competent legal advice. Feel free to contact BBCIncorp's customer services for advice on your specific cases.
Share this article
Get helpful tips and info from our newsletter!
Stay in the know and be empowered with our strategic how-tos, resources, and guidelines.