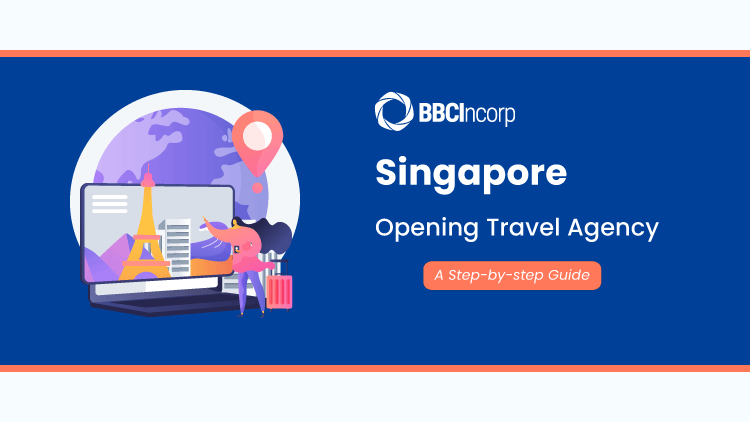 Travel agencies, a fundamental element of the tourism sector, provide essential services that streamline travel logistics for many travelers. However, the establishment of such an agency requires strict adherence to specific rules and processes. Within the context of Singapore, one of these key requirements is obtaining a travel agency license.
Recognizing these complexities to set up and manage your travel agency, we have summarized a comprehensive guide that provides you with essential understanding to navigate the process with ease.
Definition of a travel agency
A travel agency is a business that offers travel-related services, such as booking flights, accommodations, transportation, and tours.
Acting as intermediaries, travel agencies assist individuals, groups, and organizations in planning and organizing holidays, vacations, or trips. Their knowledge and access to travel resources enable them to provide travel advice and ensure that customers have a pleasant travel experience.
While a majority of travel agencies in Singapore offer a diverse range of tours and options for their customers, certain agencies simply focus on specific areas, destinations, or activities.
For instance, a travel agency may exclusively organize tours to popular attractions like Sentosa Island, Gardens by the Bay, or Chinatown.
The Singapore government requires travel agencies to register under relevant Standard Industrial Classification (SSIC) codes. The relevant SSIC codes for travel agencies in Singapore are as follows:
Travel agencies and tour operators (mainly inbound): register under the SSIC code 79101
Travel agencies and tour operators (mainly outbound): register under the SSIC code 79102
Reasons why Singapore is ideal for your travel agency
Singapore offers several reasons why it is an ideal location for your travel agency.
Continual rise in tourism demand
Singapore's tourism sector is a promising market for travel agencies. Despite the challenges posed by the pandemic, Singapore has maintained a destination for strong visitors' spending power.
The estimated tourism receipts reached S$14.3 billion in 2022, reflecting sustained interest in Singapore as a post-COVID-19 travel destination. With rising tourism demands, Singapore provides a favorable environment for travel agencies to thrive and meet the diverse needs of travelers.
Simple business setup process
Singapore has an easy and straightforward business setup process, making it an ideal choice for many travel agencies.
Businesses can complete the incorporation process without lengthy paperwork or multiple in-person visits. The online registration system allows for the electronic submission of applications, documents, and payments, which eliminates the need for physical submissions and shortens processing time.
This high level of flexibility and efficiency in the company formation process helps travel agencies save a lot of time, effort, and business costs.
Tax advantages and incentives
The Singapore government provides a favorable tax environment for businesses, setting a competitive corporate tax rate of 17%. This allows travel agencies to retain more earnings for reinvestment and expansion strategies.
Additionally, travel agencies in Singapore can enjoy various tax incentives, such as exemptions, rebates, and grants, which are specifically designed for long-term support. These incentives enhance the financial viability and growth potential of travel agencies in Singapore.
Establish your travel agency
The process of establishing a successful travel agency requires thoughtful planning and consideration of various components.
In this section, let's break down these vital components, providing you with valuable insights and practical guidance.
Choose the right business structure
When starting your travel agency, it is crucial to choose a business structure that best aligns with your specific needs and goals, as well as the specific requirements of the traveling industry.
In Singapore, the Private Limited Company is a preferred option due to its advantageous features. Not only does it offer liability protection for business and personal assets, but it is also subject to favorable tax rates and government incentives.
Decide types of services and offerings
Determine the type of travel agency that aligns with your goals and expertise. Consider the following options:
If you have a passion for creating unique travel experiences, specializing in organizing and selling tours could be a good option. Determine the types of tours you will offer, such as guided sightseeing tours, adventure tours, or themed tours.
Alternatively, you may focus on providing ticketing services, which involve booking flights, accommodations, car rentals, and other travel arrangements for your customers. Decide whether you will specialize in a specific type of ticketing service or offer a comprehensive range of options.
Prepare a business plan
Developing a business plan for your travel agency is a crucial step that requires careful consideration and attention to detail. Here are key steps to consider when drafting your business plan:
Provide an overview of your travel agency, including your mission statement, target market, and unique selling proposition.
Conduct thorough research on the travel industry, including market trends, target customers, and competitors. Identify gaps or opportunities that your agency can capitalize on.
Marketing and sales strategy
Develop a marketing plan to promote your agency and attract customers. Outline your pricing strategy, distribution channels, and promotional activities.
Detail the day-to-day operations of your agency, including staffing, technology requirements, and supplier relationships.
Prepare a financial forecast that includes projected revenues, expenses, and cash flow. Consider factors like start-up costs, overhead expenses, and profit margins.
Register your travel agency
To establish your travel agency in Singapore, you must complete the registration process with the Accounting and Corporate Regulatory Authority (ACRA).
Your business needs to gather the following documents:
Proof of identification for directors and shareholders;
The proposed name of the travel agency;
Business activities of the travel agency; and
Registered office address for the travel agency.
Once you have compiled all the required documents, complete the registration and submit it to ACRA. Ensure that all supporting documents are included to facilitate the review process. It is important to accurately provide all the necessary information to avoid any delays or complications.
After submitting your application, ACRA will review and approve it, granting your travel agency the Certificate of Incorporation. This document confirms your agency's legal registration in Singapore, providing the necessary legitimacy to operate and conduct business activities.
Open a business bank account
Opening a corporate bank account is vital for the financial management and budget allocation of a travel agency. It allows you to receive customer booking fees, pay employee salaries, and handle business expenses efficiently, ensuring transparency and effectiveness of your company.
To set up a bank account for your travel agency, begin by carefully choosing a bank that suits your business requirements, taking into account factors such as reputation, services, fees, online banking capabilities, and customer support. Conduct thorough research and comparisons to make an informed decision that best suits your needs.
Many business owners and entrepreneurs find that the account opening process can be complex and time-consuming. That's why you should engage professionals to open bank account for Singapore travel company.
Apply for a travel agency license
Obtaining a travel agency license is a requirement to open a travel agency in Singapore. It allows you to conduct specific activities related to the travel industry, such as selling travel tickets, arranging transportation, facilitating travel arrangements, organizing tours, and advertising related services.
Type of travel agency license
To apply for a niche license, you're required to have a capital investment of approximately $50,000 which allows you to sell or organize tours within Singapore that involve transportation. However, it does not cover accommodation services.
The general license requires a higher capital investment of around $100,000 and enables you to provide a wider range of travel agent services, including selling travel packages, booking air tickets, arranging hotel accommodations, and offering comprehensive travel services.
Whether applying for a niche or general license, your business needs to prepare the equivalent capital investment. This ensures compliance with the financial requirements set by the Singapore Tourism Board and enables the smooth operation of your travel agency.
For more detailed information on the specific activities typically associated with a licensed travel agency, please visit the Singapore Tourism Board's website.
License application process
To apply for your travel agency license, you will need to log in to the TRUST portal using your SingPass and fill out the application form.
We recommend double-checking all information before submission to ensure accuracy and completeness. There is also an application fee required for the license application process, so make sure you prepare beforehand.
Once you have submitted your application, the Singapore Tourism Board (STB) will review it within 1-2 weeks and respond with an In-Principle letter (IPA). The IPA letter may outline additional requirements that need to be fulfilled for the final approval, such as submitting permits, certificates, or proof of insurance.
After getting the final approval letter, you need to pick up your Singapore travel agency license in person and complete any payment required.
To ensure a quick and smooth application process, you should maintain open communication with the STB and promptly address any queries or requests for additional requirements.
Renew the travel agency license
The travel agency license issued in Singapore is typically valid for a period of 2 years, commencing from the date of issuance and expiring on December 31st of the following year.
The deadline for license renewal is October 31st annually
If your travel agency license is not renewed by this date, you will not be permitted to continue operating as a travel agent from January 1st of the following year.
Before proceeding with the renewal process, log into the TRUST portal using your CorpPass to verify if you meet all applicable licensing requirements by reviewing the "Licence Renewal Checklist"
Once confirmed, proceed with the renewal process by submitting the Audited Statement of Accounts for the past 2 years, carefully reviewing and confirming your business particulars, settling any outstanding fines or penalties, and submitting the renewal application along with the required capital amount.
Complete the process by paying the license fee, allowing you to maintain your license and continue providing travel services to your valued customers.
Annual compliance for travel agencies
To ensure regulatory compliance and maintain the integrity of your travel agency in Singapore, it is important to fulfill the annual filing requirements.
These requirements help keep your business in good standing and demonstrate your commitment to transparency and accountability.
Annual return filing
As part of the annual filing requirements, you must submit the annual return to the ACRA. The annual return is a digital form lodged with ACRA that contains important particulars of the company, including:
Depending on your company's size and eligibility, you may be required to prepare an audited financial statement in accordance with the Financial Reporting Standards of Singapore (SFRS). However, small companies meeting certain criteria may be exempted from the audit requirement.
Corporate tax compliance
Alongside annual return filing, your travel agency must address corporate tax obligations.
As a registered business entity, your travel agency is subject to corporate income tax on its chargeable income, which is currently at 17%.
When it comes to tax filing in Singapore, there are two types of returns:
Estimated Chargeable Income (ECI)
This assessment reflects your company's income for a specific Year of Assessment. Within three months from the end of your fiscal year, you are required to submit the ECI to the Inland Revenue Authority of Singapore (IRAS). Exemptions apply if your estimated chargeable income is nil and your annual revenue is below S$5 million.
This report details your company's actual income. The deadline for filing Form C, Form C-S, and Form C-S Lite for corporate tax returns is November 30th. After reviewing your tax returns, the IRAS will issue Notices of Assessment by 31 May of the following year. You will have one month to remit the payment as indicated in the Notices.
Establish an online presence for your travel agency
In today's digital world, having a strong online presence is critical for the success of any travel business. It enables you to reach a larger audience, promote your services, and interact with potential consumers.
Website development
A well-developed and user-friendly website is essential for travel agencies to remain competitive in the digital market.
Therefore, it is crucial to ensure that your website is compatible with desktop and mobile devices, providing easy navigation and convenient booking processes. In addition to that, the design should be visually appealing and informative, serving as a one-stop shop for travelers.
By investing in professional website development, travel agencies can provide a customer-centric platform that meets the diverse needs of travelers.
SEO optimization
SEO Optimization is vital for improving your website's visibility in search engine rankings.
By conducting keyword research, you can gain insights into the words and phrases used by your target audience in travel searches, and incorporate these keywords into your website's content and attract relevant traffic.
Another crucial aspect of SEO is creating high-quality content, such as travel guides, destination reviews, and travel tips, which establishes your agency as an industry authority and boosts your website's ranking.
Website analytics
To gain valuable insights into your website's performance and track its progress, equipping your website with a reliable analytics tool like Google Analytics is vital. With this tool in place, you can track key metrics and define key performance indicators (KPIs) that align with your goals.
Dive deeper into user behavior by examining metrics such as average page duration, popular pages, and conversion rates for valuable insights to enhance the user experience and improve satisfaction.
Conclusion
We hope our comprehensive guide on opening a travel agency in Singapore has provided valuable insights. Please note that this guide serves as a general reference and not personalized or legal advice.
For inquiries or personalized assistance, feel free to contact us through our chatbox or via email at service@bbcincorp.com. Rest assured, we are committed to providing Singapore company formation service to help you establish a solid foundation for your travel agency.
Disclaimer: While BBCIncorp strives to make the information on this website as timely and accurate as possible, the information itself is for reference purposes only. You should not substitute the information provided in this article for competent legal advice. Feel free to contact BBCIncorp's customer services for advice on your specific cases.
Share this article
Get helpful tips and info from our newsletter!
Stay in the know and be empowered with our strategic how-tos, resources, and guidelines.