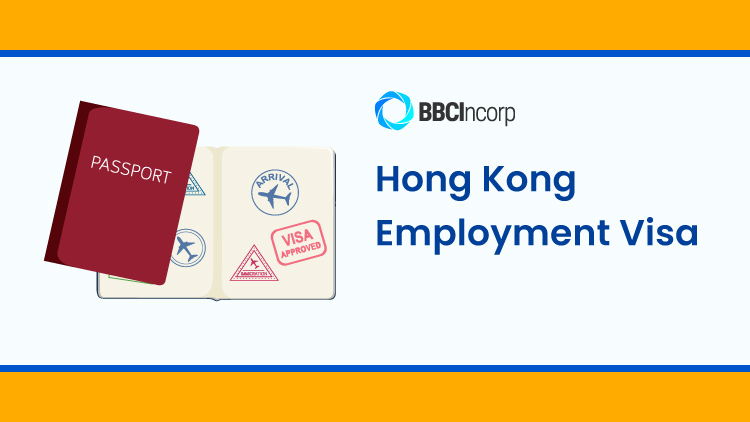 In Hong Kong, an employment visa is a work visa designed for any foreign professional who has taken up a job offer in this country.
Aside from the permission to work and earn money, a holder of the employment pass is also given the right to bring along their family members, or even to acquire permanent residency status when deemed appropriate.
This article will walk you through every step you need to obtain this type of visa.
An overview of Hong Kong Employment Visa
An employment visa is to recognize its holder's right to reside in Hong Kong for an employment opportunity under the Quality Migrant Admission Scheme.
In light of this, you can apply for only one when you have earned a job offer in Hong Kong. That being said, you are also required to do so before moving into the country. This requirement is out of the question since most would have to visit Hong Kong time and time again to find a job.
Fortunately, the Immigration Service of Hong Kong knows this all too well. So in most cases, even if you have landed a position while you stay in Hong Kong, you will find no trouble applying for the Employment Visa.
In addition, no quota is imposed on the number of employment visa holders, in part because Hong Kong has to deal with the aging population and declining workforce. One of the qualifications is that the applicant must have a competent background that is relevant to the job their job.
His or her expertise should also be sought for – i.e. not currently available in this country. In addition, the merit of the employing company would also be put on the table for evaluation.
An Employment Visa is renewable in due course, which is typically two years for first-timers. So you can stay in Hong Kong to live and work for as long as you please provided that you have it renewed on time. Also, you can bring some eligible dependents (your family members) under certain conditions.
One more stipulation of this type of visa is that its holder's employment status is directly tied to an employer or an employing company. Therefore, if the holder were to jump ship to another company, he/ she would be subject to plenty of formalities.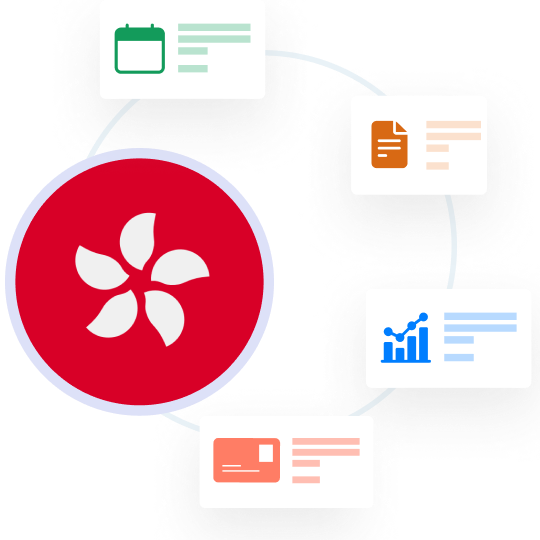 HONG KONG
COST PLANNING TOOL

Manage your business finances by working out all estimated cost for company setup, licenses, and so much more.

At-a-glance overview of business cost

Accessible and responsive consulting
Eligibility criteria to apply for the Hong Kong Employment Visa
To ensure that the foreign workforce immigrating into the country is well capable and would positively contribute to their growth, the Hong Kong Immigration Service laid out somewhat strict criteria, which are as follows:
A clean criminal record – i.e. his record lacks criminal, offensive conduct.
A good background in either education or profession; or both. So instead of evidencing the applicant's qualifications by way of a graduate degree, it would fill the bill if the candidate can show proof of his/ her considerable, relevant experience of past employment.
Relevant expertise and experience in the field he/ she is going to work in.
Proof that the position he/ she is filling is vacant.
The offered job requires extensive expertise and experience that is yet to be sufficiently assumed by the local workforce.
The applicant is offered compensation that meets the current standards, that is to say, the compensation is not lower than the prevailing market rate in Hong Kong for a professional.
Documentary requirements for the Hong Kong Employment Visa
Once you are sure of your eligibility for this visa, you should proceed to prepare the required documents. Both you – the employee, and your employing company would be subject to these documentary requirements. However, those of yours differ greatly from those of your employer.
The documents that are required of you as an employee are as follows:
A duly-filled application form that is meant for the Employment Visa
A copy of the personal particulars page found in your passport. In addition, if you are present in Hong Kong at the time of application, a copy of your passport page showing the latest arrival stamp or extension of stay is also required.
A copy of your Hong Kong identity card if you have previously been allowed to stay in Hong Kong for more than 180 days and, as a result, were required to register for one.
A copy of the documents acknowledging your status as a resident in your home country if you are Macao SAR or Taiwan resident, or overseas Chinese holding a PRC passport.
A copy of the documents acknowledging your academic and/or professional background
Your employing company would be required to submit the following documents:
A duly-filled application for employing professionals in Hong Kong
A copy of the employment contract or letter of appointment detailing all of your – the employee's post, salary, benefits, and employment duration.
A copy of the valid Business Registration Certificate of the company
A copy of certain documents recording the company's financial information

Documents describing the background of the company. 

Company business plan if it was registered within 12 months.
Do note that the last four mentioned requirements of the employing company are not necessary if the company has successfully applied for employment or training visas in the past 18 months right before the submission of the application took place.
Related reading: Hong Kong Investment Visa
The Investment Visa allows foreigners to establish new businesses or invest in Hong Kong as entrepreneurs while establishing the right to stay for that purpose.
A quota system is not in place to limit the number of people who can hold an investment visa at any given time, so your eligibility is determined entirely by your qualifications. Applicants must, therefore, convince the authorities that they or their business plans will add value, in the long run, to qualify for this visa scheme.
Read more on the Investment Visa in Hong Kong
The application process
After you and your employer/ employing company have prepared all the above-listed documents, you are in a good position to register for the visa. Under the Hong Kong Immigration Department, the application must be submitted using post. Upon sending it, you should expect them to get back to you in about 4 weeks.
Assuming that your application is approved, you would then be required to get down to the Immigration office to collect the visa in person.
As we mentioned at the outset, once you get hold of the Employment Visa, it would typically remain valid for whichever is the shorter of (1) the period of two years and (2) the duration of your employment contract for the first issuance.
But suppose you are given the thumbs down for some reason. In that case, you should contact the Immigration Department to check if there is any misunderstanding as a result rests on the absolute discretion of the authority.
As of 28 December 2021, you can make arrangements for any Visa application on the Immigration Department's official e-Visa section.
Renewing Employment Pass
In case you have a long-term plan for your employment in Hong Kong, you should have the visa renewed well before the deadline for doing so, which is typically 4 weeks before the expiration of the visa takes place.
The renewal application, in all likelihood, would be approved as long as you do not fall short of any criteria at the time of assessment. Once the pass is successfully renewed, its period of validity would vary from 2 to 3 years depending on many factors, namely, your employment contract.
Your employment pass is non-transferable as it is linked to a specific employer. So if you make up your mind to switch to another job, you might as well go get the approval of the Immigration Department by submitting the "Application for Change of Employment".
Once the application is formally granted, you are allowed to collect the new visa and discard the current one.
If you have acquired the approval for an employment visa for a period of no less than 2 years and have an assessable income of at least $2 million in the previous year, you are eligible to extend your stay in Hong Kong to up to 6 years. Moreover, you are only required to notify the Immigration Department for changing your employment.
Applying for the Dependant Visa for family members
As a legitimate sponsor that's been admitted to Hong Kong under this visa or any other, you are allowed to bring your family members to Hong Kong by applying for the dependant visa.
Depending on the status of the sponsor, this visa is only available to certain categories of dependants. For the reason being that you hold the employment visa and therefore are considered as merely a temporary Hong Kong resident, in your case, such dependants could either be your spouse or unmarried dependent children who are under 18 years old.
Remember that your Visa is tied to your employer, and the visa of your dependant is tied to that of yours, so as long as you stay in Hong Kong and your visa remains valid, the authorized dependant can freely do their part as a temporary resident: traveling in and out of the country, and seeking jobs as well.
Applying for Permanent Residency Status
In Hong Kong, having this working visa is one step toward becoming a permanent resident. Another thing you need to concern about is the length of your stay in the country up until the time you intend to apply, which must be at least 7 years in a row. If the condition for a minimum length of stay in Hong Kong is fulfilled, you could go seek approval for permanent residency status (better known as "Right of Abode" in Hong Kong).
Complying with the legal requirements is crucial to obtaining your Hong Kong Employment Visa, so make sure to consult with local experts in advance. Contact the BBCIncorp team via service@bbcincorp.com or our chatbox and receive advice on your situation now.
Frequently Asked Questions
How long does it take to get a Hong Kong work visa?
Typical processing time for an application can fall anywhere between 4 to 6 weeks. Expect to receive a two-year work visa upon successful verification. Next is the application for a Hong Kong Identity Card.
How much does a Hong Kong work visa cost?
The average price is 30 USD, subject to change depending on the country of the applicant.
Disclaimer: While BBCIncorp strives to make the information on this website as timely and accurate as possible, the information itself is for reference purposes only. You should not substitute the information provided in this article for competent legal advice. Feel free to contact BBCIncorp's customer services for advice on your specific cases.
Share this article
Get helpful tips and info from our newsletter!
Stay in the know and be empowered with our strategic how-tos, resources, and guidelines.