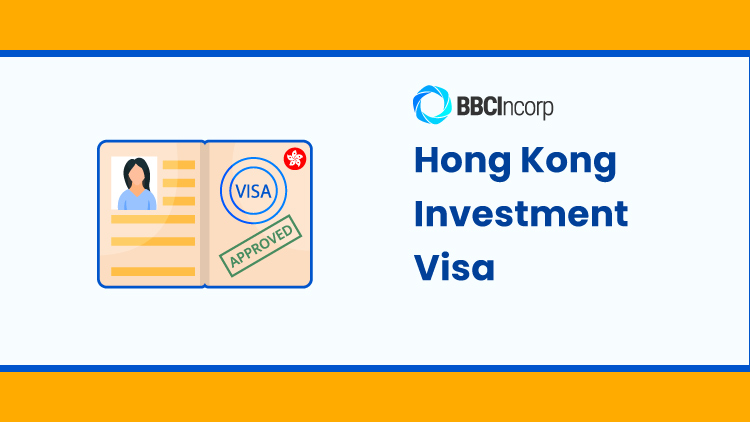 In Hong Kong, Investment Visa is known as an "Entry for Investment as Entrepreneur".
This visa lets people come and invest in Hong Kong or set up a new business here. Against the backdrop of over-the-top protests as of late, having a company in Hong Kong could still bring about certain benefits and an investment visa is a key to that.
Overview of Hong Kong Investment Visa
It is commonplace that a foreigner setting out to invest in a country needs some sort of entry permit that allows him/her to come and manage the business. This visa, in Hong Kong, is denominated as 'Entry for Investment as Entrepreneurs'. Hereinafter, we would refer to it as 'investment visa' as a shorthand.
Simply put, the Hong Kong Investment Visa is purposed to establish a foreigner's right to stay in Hong Kong to set up his/her new business or to invest as an entrepreneur. You might need to distinguish this type and the employment visa in Hong Kong.
There is no quota system limiting the number of holders of the investment visa at any given point in time, so whether or not you are eligible rests solely on your qualifications. Because the rationale behind this visa scheme is to strengthen Hong Kong's economy, it is straightforward that the applicants must convince the authorities that they or their business plans could add immense value in some ways.
Your academic and/or professional backgrounds would also be assessed. Therefore, instead of having a graduate degree from a reputable university, showcasing your proven expertise and experience in a relevant field would help.
In addition, you also must designate a local sponsor to act as your guarantor. Your sponsor could either be an individual or a company whose duty is to shoulder your responsibility if you repatriate, that is, you leave Hong Kong.
Once an HK investment visa is granted, it would typically remain valid for 2 years for the initial period. And as long as you have it renewed appropriately, you are allowed to stay in the country to keep operating your business. You could also apply for permanent residency status when you have stayed long enough.
And just like the holders of other types of work visas, you can bring along your family members under certain conditions.
Free ebook
Everything you need to start doing business in Hong Kong
Company registration process
Compliance & tax requirements
Employment & hiring issues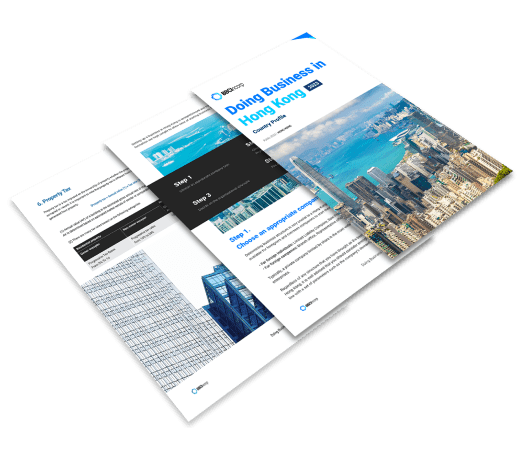 Some criteria to be eligible for the Hong Kong investment visa
As we mentioned a moment ago, to be considered a suitable candidate for this scheme, you need to fulfill somewhat strict criteria, which are:
You have a clean criminal record, that is to say, you thus far have not committed any wrongdoings or misconduct.
You have an outstanding record of academic performance or professional achievements, or both. So if you think your graduate degrees are inferior, you could show proof of your past technical or professional experience as a substitute.
You manage to convincingly demonstrate that you or your business could actively promote Hong Kong's growth in terms of not only revenues. It could be that your company creates new, rewarding jobs for the local workforce, or that you can facilitate the operation of other local businesses that are not necessarily in the same industry as you.
You are not from the following countries (to be not eligible to apply for Investment or Entrepreneur Visa in Hong Kong):
Chinese residents of Mainland China, Afghanistan, Cuba, Laos, North Korea (i.e. Democratic People's Republic of), Nepal, and Vietnam
It should be well-noted that you must set up your Hong Kong company well before you apply for the visa.
What are the documents to prepare?
As an applicant, you would be required to submit the following documents:
A duly-filled application form
A copy of the personal particulars page of your passport as well as your recent photograph
A copy of your travel document that remains valid if you are currently staying in Hong Kong
A copy of your Hong Kong identity card (if any)
A copy of proof of your academic and/ or professional credentials such as graduate degree, investment portfolio, and so forth
Copies of documentary evidence supporting your financial standing as well as that of your company
A copy of the company's employment contract or letter of appointment recognizing your position. These documents must also include your post, fringe benefits, and employment period.
A comprehensive 2-year business plan encompassing all details on your proposed company such as business activities, amount of investment, creation of local job posts, setting up of an office, showroom, warehouse, and so forth.
A copy of your company's valid Business Registration Certificate issued by the Inland Revenue Department
A copy of proof of your overseas residence if you are residents of Macao SAR or Taiwan, or overseas Chinese holding a PRC passport.
Documents required of the sponsor
In case that your sponsor is a company, the following documents are required:
A duly-filled application form that is specifically devised for the sponsor
A copy of the company's Business Registration Certificate
But given that your sponsor is an individual, he/ she needs to prepare:
A duly-filled application form that is specifically devised for the sponsor
A copy of his/ her Hong Kong identity card
A copy of his/ her personal particulars page of the valid travel document
The above-mentioned documents are for your reference purposes only. To further support your qualification, you would likely be asked to submit additional documents at the discretion of the relevant authorities.
What to include in your business plan?
The following is the checklist of some elements you need to include in your business plan
Business plan: a sound and feasible instrumental plan in the application for your investment visa.
To demonstrate the viability of your proposed company and how it could contribute to the growth of Hong Kong, this agenda should incorporate the nature of your business, market analysis, market positioning, business direction, sales target, product marketing strategy, and many others as required.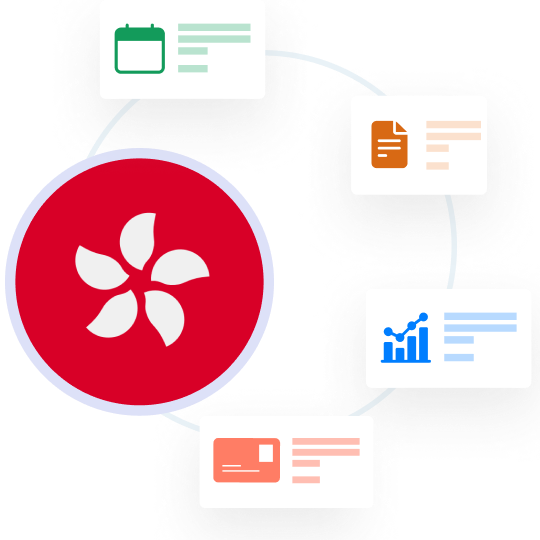 HONG KONG
COST PLANNING TOOL

Manage your business finances by working out all estimated cost for company setup, licenses, and so much more.

At-a-glance overview of business cost

Accessible and responsive consulting
Business Turnover: You would be required to prepare the profit-and-loss account statement and balance sheet given that you are in charge of running a business in a foreign country other than Hong Kong, or that you have been employed by one in Hong Kong.
But if you own no company at the time you register, you should produce a forecast for the following 2 years, detailing the projection of the profit-and-loss account statement and balance sheet of your awaited company.
Financial resources: You must demonstrate that you have sufficient resources to finance your proposed business. These proofs could come in the form of statements of your personal and company bank accounts in the preceding accounting period, letters of credit, the latest audited financial report, and so forth.
Capital investment: in the same vein as financial resources, you must expose the amount of capital investment you have at hand for approval.
Jobs Provided Locally: You are required to propose the extent of employment that you would stimulate for the local workforce.
To reinforce your qualification, you should also include the following:
Proposed business form: In general, some forms of business would bespeak a higher degree of credibility than others. For example, a private limited company in comparison with a sole proprietorship.
Introduction of new technologies or skills: A business that introduces an unprecedented technology or new skill set would be more welcomed.
How to apply for Investment Visa?
Submit the application
Once you are certain that all the eligibility criteria are met and that you and your sponsor have managed to prepare all the required documents as we specified above, you are well-placed to submit the application to the Hong Kong Immigration Department. And the submission must be done utilizing the post.
Following receipt of all required documents, the visa or entry permit application for investment as an entrepreneur typically takes 4 weeks to process. The Department of Immigration is the authority to process, assess your eligibility criteria and make decisions for all applications.
Pick up your visa in-person
Assuming that your application is approved, the Visa/Entry Permit will be issued. You would then need to collect it in person at the Immigration Department. If you could not make it here, you can have your sponsor or an authorized representative do so on your behalf.
Because the Visa/Entry Permit acts as a license permitting you to travel into Hong Kong, you need to affix it on a blank visa page of your travel document so that you could present it when prompted.
In the worst-case scenario that your application gets rejected, you are allowed to lodge an appeal for their reconsideration.
That being said, rest assured that as long as no criterion is violated and your business is promising, the odds would be in your favor.
Important Note
Other considerations for applying for Hong Kong Investment Visa
Applying for the Dependant Visa
Anyone holding the investment pass is allowed to reunite with their family members in Hong Kong under certain conditions.
Only some specific categories of dependants are eligible for the Dependant Visa. These individuals are typically your spouse and/or your unmarried children who must be under 18 years old.
You would also be subject to some formalities to qualify for the visa. Some of the proofs that you need to show are that your relationship with the dependant(s) is genuine, that you can sufficiently provide them with at least the bare essentials, and that they have not committed any wrongdoings at the time of registration.
The length of stay of your dependants is tied to that of yours. Therefore, as long as your pass remains valid, the dependants are allowed to stay and work as legitimate citizens.
Renewing the Investment Visa
You can renew the visa and, thus, extend your stay provided that you could manage to meet the same criteria concerning the application process. You are advised to have the visa renewed at least 4 weeks before its expiration date takes place, which is the deadline for renewals.
Once you get approval, the extension of your stay would typically follow the 3-3 years pattern.
Applying for permanent residency status
Holding an Investment Visa is among the criteria to seek permanent residence. If you have owned it and stayed in Hong Kong for 7 consecutive years, you are in a good position to apply for this status.
Should you have any questions regarding Hong Kong Investment Visa, talk to our consultants by dropping a chat message or sending us an email via service@bbcincorp.com for detailed advice.
Disclaimer: While BBCIncorp strives to make the information on this website as timely and accurate as possible, the information itself is for reference purposes only. You should not substitute the information provided in this article for competent legal advice. Feel free to contact BBCIncorp's customer services for advice on your specific cases.
Share this article
Get helpful tips and info from our newsletter!
Stay in the know and be empowered with our strategic how-tos, resources, and guidelines.