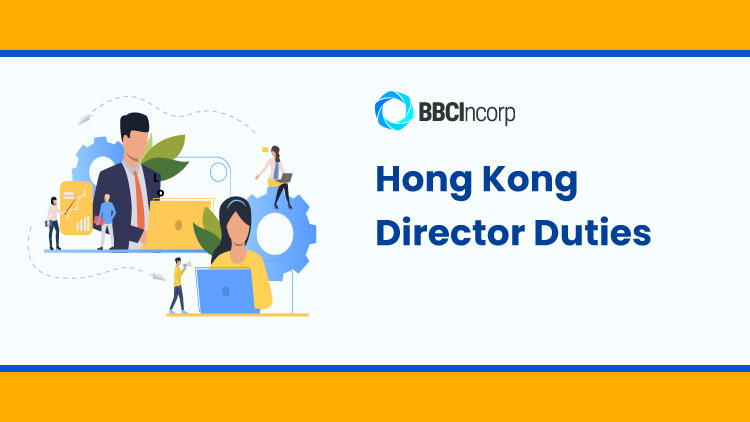 As a director in Hong Kong, it is important to be aware of your key duties and responsibilities to ensure that your company is run effectively and in accordance with the law.
In this article, we will take a look at directors' duties in Hong Kong companies, as well as the eligibility requirements for being a director.
Importance of director's duties in Hong Kong
The director is one of the most important positions in a company.
Simply put, directors are the ones responsible for ensuring that a company is run lawfully and efficiently. They make sure that all legal and regulatory requirements are met, and that the company's finances are in order. Furthermore, the company director is responsible for protecting the company's interests and preparing and overseeing the company. Not to mention they must act in the best interests of the company at all times.
In Hong Kong, there are some specific duties that directors must uphold.
Protect the company's interest, including all of the company's shareholders
Properly exercise powers in controlling the Hong Kong company (as clearly prescribed in the entity's articles of association) and following the company's purposes
Exercise reasonable care, skill, and diligence when performing directorial duties, ensuring that the company is operating in a legal and ethical manner and that all financial records are accurate
Properly use the organizational information and other assets of the company
Responsible for the constitution and resolutions, filing regular financial reports and other required documents
Further responsibilities of a company director in Hong Kong
The duties and responsibilities of Hong Kong's company directors are vital to the company itself and its shareholders.
Directors must act honestly and in good faith with a view to the best interests of the company. They must also maintain good relationships with shareholders, employees, and creditors.
Furthermore, directors must avoid conflicts of interest, and must not make improper use of their position. This means making decisions that will benefit the company, not themselves or other individuals. Also, he/she must well manage the relationship between the director's personal gains and the organizational interests, by not joining into transactions related to the company's interest unless complying with laws.
Directors have a responsibility to keep proper accounting records and prepare director's reports. This information is important for shareholders and other interested parties to be able to make informed decisions about the company. Directors must ensure that all financial records are accurate and up-to-date and that any relevant information is included in the director's reports.
Requirements for being a Hong Kong company director
There are a few specific requirements that should be noted to become a director in a Hong Kong company. A business entity in Hong Kong that is registered as a company must appoint a director. This director is responsible for the management of the company and must act in accordance with the company's constitution. If the director fails to perform their duties, they may be held liable by the courts.
For foreign investors, Hong Kong companies limited by shares and by guarantee are widely selected to incorporate.
There is no maximum number of directors restricted in a Hong Kong company. You must appoint a least 1 director for a company limited by shares, while the company limited by guarantee must have two directors.
Can be any natural person who is over the age of 18 and has not been declared bankrupt or disqualified from being a director
Can be of any nationality, either Hong Kong citizens or foreigners
Must be of good character and have a clean criminal record
Must also be competent and qualified to perform their directorial duties, meaning having the necessary skills and experience to understand and manage the company's operations.
Like company secretary in Hong Kong companies, information of directors shall be publicly unveiled, as regulated by Hong Kong company laws.
How to remove a company director in Hong Kong
As a director of a company in Hong Kong, you have certain statutory duties to fulfill. If you fail to meet your duties or are unable to continue performing your role, you may be removed from your position.
Grounds on which a director can be removed from their post
Failure to comply with their duties as director
Misconduct
Being unable to discharge their duties due to illness or incapacity
Resigning from their position
Being convicted of an offense involving dishonesty
Basic removal procedures
If the director of a company is removed from their position, they will no longer be able to act as director of that company. The process for removing a director from their position is relatively straightforward. Shareholders may pass an ordinary resolution at the general meeting of the company to remove the director, according to Cap. 622 Companies Ordinance.
Conclusion
So what is the takeaway from all of this? Simply put, directors in Hong Kong have a lot of important duties and responsibilities to uphold. This is why it's so important for them to be well-informed about the law and how it applies to their company. By ensuring that they are fulfilling their obligations, directors can help protect their business and its shareholders.
Disclaimer: While BBCIncorp strives to make the information on this website as timely and accurate as possible, the information itself is for reference purposes only. You should not substitute the information provided in this article for competent legal advice. Feel free to contact BBCIncorp's customer services for advice on your specific cases.
Share this article
Get helpful tips and info from our newsletter!
Stay in the know and be empowered with our strategic how-tos, resources, and guidelines.