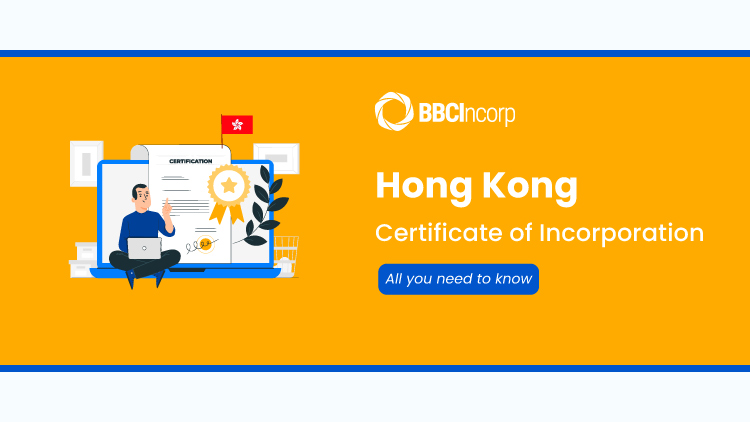 To legally operate in Hong Kong, your company must be registered with the Companies Registry and obtain essential certificates. Among these documents, the Certificate of Incorporation holds a pivotal role.
What does this certificate represent, and what steps should you follow to obtain one for your Hong Kong business? Throughout today's article, we will examine these aspects, from the information provided in the document to the entire attainment process.
What is a Certificate of Incorporation in Hong Kong?
The Hong Kong Certificate of Incorporation (CI) is a legal document that confirms the existence of a company within the jurisdiction, issued by the Companies Registry upon successful incorporation under the Companies Ordinance.
Notably, this certificate adheres to a standard design, and the text displayed is written in both English and traditional Chinese.
Why do you need your CI?
This certificate provides solid evidence of your business identity and serves as the foundation for all your legal operations and the company's overall well-being.
For instance, when you're looking to open a bank account for your Hong Kong company, financial institutions typically require a Certificate of Incorporation as a fundamental criterion.
Additionally, in various scenarios such as entering into agreements, forming partnerships, or establishing contractual relationships, your business will be expected to furnish this certificate as proof of its legitimacy and legal status.
Now, what kinds of information should such an important document contain? Let's move on to our next section.
Is the CI similar to the Business Registration Certificate?
While both are mentioned in the process of establishing and running a business in Hong Kong, they serve distinct functions.
To help you navigate their differences more easily, we have listed out some key features below:
Purpose
The Certificate of Incorporation serves as official proof of a company's registration and legal standing. It is a crucial document used to represent a business in legal papers and government records.
On the other hand, the Business Registration Certificate is a required document for any person or entity that intends to carry out profit-generating activities within the territory of Hong Kong. Notably, this document typically has an annual expiration date and needs to be renewed yearly.
Issuing authority
As previously noted, the CI is issued by the Companies Registry once your incorporation process is completed. Meanwhile, the BRC is issued by the Hong Kong Inland Revenue Department (IRD).
You can, in fact, apply for both processes at once through the IRD's one-stop company and business registration services to save time.
Details of the document
The Certificate of Incorporation comprises information about the company's initial identity, such as its name, the company registration number, date of incorporation, etc.
The business registration document, however, primarily focuses on details related to the payment of business registration fees: the business registration number, business nature, date of commencement, expiry date, and so on.
Identification number
The CI comes with a Company Registration Number (CRN), which functions like a social security number for the business.
In the case of the BRC, this document is associated with a distinct Business Registration Number (BRN), serving as a tax identification number.
In summary, while both documents are crucial for businesses, they have different purposes and are associated with different identification numbers.
What details are included in the CI?
The Certificate of Incorporation typically contains the following key information:
Company Registration Number (CRN)
Your unique 7-digit company identifier, similar to a social security number, is prominently displayed in the top left corner of the certificate.
Certificate name
The title "Certificate of Incorporation" is prominently positioned at the top, just below the Companies Registry logo, making it clear and distinct from other certificates with a similar design.
Company name
Your Hong Kong company's legal name, which can be in either English or Chinese. If you have both a Chinese and an English name for your company, both will be displayed on the certificate and serve as the formal name of the company.
Type of company
This piece of information specifies whether the company is structured as a limited company or an unlimited company. This distinction is essential in defining the company's legal and financial responsibilities, particularly in terms of liability.
Date of incorporation
Located just above the Registrar's signature, this detail refers to the specific date on which your company is officially registered and recognized as a legal entity by the relevant government authorities.
In summary, these elements constitute the essential information within the certificate as evidence of the company's legal status.
Take a look at the sample below to get a better idea of what the CI looks like.
How to get a Hong Kong Certificate of Incorporation
Let's explore several key steps in the process of obtaining your Certificate of Incorporation below!
Step 1: Decide on the essential company particulars
To begin with, you'll need to make a few important decisions.
First, choose a suitable and unique company name that meets the requirements of a Hong Kong company name.
Next, determine the type of entity you want to establish. Options include a private company limited by shares, a private company limited by guarantee, or any other legally acceptable structure that aligns with your specific needs.
After that, move on to consider other crucial aspects such as:
The business structure
The appointment of directors, shareholders, a company secretary
Share capital
Registered address
And so forth.
Once you've made these critical decisions, it's time to proceed with the application submission.
Step 2: Submit the documents and related fees
During this step, you must complete the prescribed Incorporation Form as mandated by the Companies Registry.
Afterwards, you should submit this form to the Companies Registry along with the required supporting documents, which typically include:
A Notice of incorporation (IRBR1) to the Business Registration Office
A copy of your Articles of Association
And other essential documents for setting up a Hong Kong company
Upon submission of the application to the Companies Registry, you will need to remit the relevant government fee.
Step 3: Obtain the CI
Following the application approval, the Companies Registry will issue your company's CI:
For electronic forms, the certificates will normally be issued within 1 hour after delivery of documents at the e-Registry.
For applications submitted in hardcopy form, the document will be available within four working days and must be collected in person at the Companies Registry.
Incorporate your Hong Kong company seamlessly with BBCIncorp
Why struggle through the complicated process of company formation when you can depend on our simplified solutions? We help you start a company in Hong Kong and obtain a Certificate of Incorporation effortlessly. Explore our services today!
To wrap up
The Certificate of Incorporation is a fundamental document that every business entity in Hong Kong must possess for official and legal purposes. This article has provided a detailed explanation of this certificate and how to obtain it when incorporating a business in Hong Kong.
If you seek further information regarding this certificate or plan to set up a Hong Kong business, feel free to leave a message at service@bbcincorp.com. Our team is here to provide dedicated guidance and support!
Disclaimer: While BBCIncorp strives to make the information on this website as timely and accurate as possible, the information itself is for reference purposes only. You should not substitute the information provided in this article for competent legal advice. Feel free to contact BBCIncorp's customer services for advice on your specific cases.
Share this article
Get helpful tips and info from our newsletter!
Stay in the know and be empowered with our strategic how-tos, resources, and guidelines.