Economic substance legislation has been introduced in many offshore jurisdictions worldwide as a signal for responding to EU and OECD initiatives in curbing harmful tax approaches. A prestigious financial offshore center like BVI does not lie outside such implementation.
In this article, BBCIncorp offers you a comprehensive guide to BVI Economic Substance Requirements that you should know.
Reminder of BVI Economic Substance filing deadline 2023
In-scope companies and partnerships in BVI must submit an annual economic substance report within 6 months from the financial year-end (FYE).
The table below outlines the upcoming deadlines for a selection of FYE: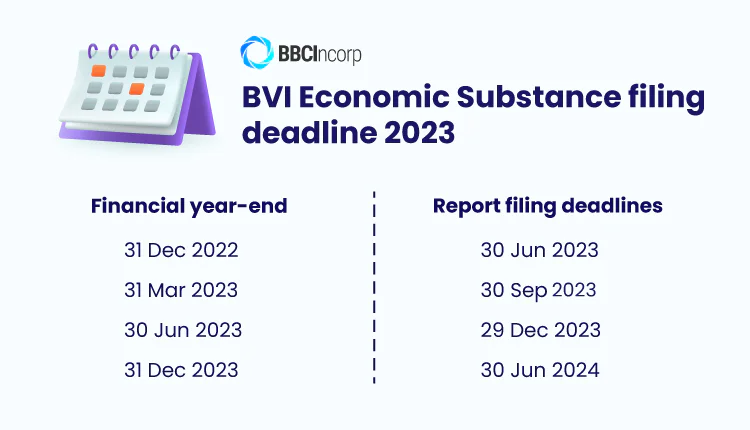 Overview of BVI Economic Substance Act (BVI ESA)
Economic Substance is the center of attention to any "no or only nominal tax" offshore jurisdiction, including the British Virgin Islands.
In reaction to commitment to adherence to the EU listing process and OECD BEPS Inclusive Framework, BVI has issued the Economic Substance (Companies and Limited Partnerships) Act, 2018. The regime officially came into force on 1st January 2019.
The final Code on BVI economic substance as the renamed Rules (and Explanatory Notes) on Economic Substance (the Rules) was released by the International Tax Authority (the ITA) on 9 October 2019. The updated version of the final rule was then published in February 2020.
It specified some adjustments set out by the Code of Conduct Group, as well as clarified further details regarding the reporting requirement and submission period under the BVI ESA.
You can find the original version of the final rules here.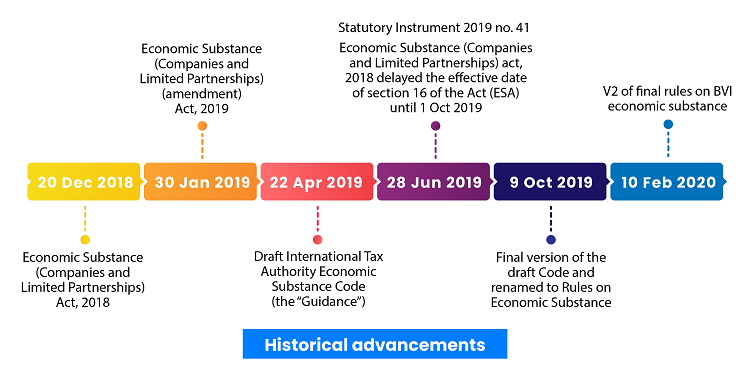 Updates on amendments to BVI ESA
On 30 January 2019, some amendments were ratified to the Act (the "Economic Substance Act").
On 22 April 2019, the draft International Tax Authority Economic Substance Code (the "Guidance") was introduced with several supplements to the previous version of the Economic Substance Act.
On 29 June 2021, the Economic Substance (Companies and Limited Partnerships) (Amendment) Act 2021 has officially come into force. This is after some amendments were made to the Economic Substance (Companies and Limited Partnerships) Act, 2018 (ESA).
The key points are related to the limited partnerships without legal personality and clarification that "investment fund business" is not considered a relevant activity.
The update ensures that all BVI limited partnerships (with or without legal personality) are now considered a "legal entity". Therefore, they now fall within the scope of the Economic Substance Regulations.
All registered BVI limited partnerships are subject to the compliance requirements and reporting obligations of the BVI Economic Substance.
The BVI Economic Substance Amendment Act 2021 adds definitions of "investment fund" and expressly excludes Investment Fund Business from being a relevant activity within the scope of BVI ES Regulations.