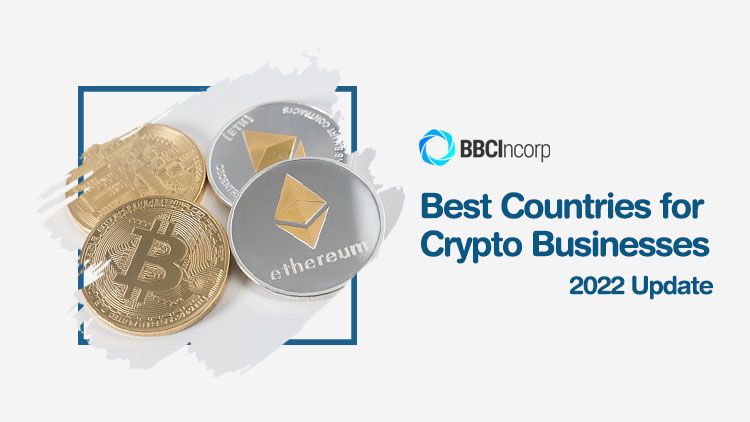 Digital assets have taken the world by storm, with their values soaring and crashing at unprecedented rates. This has led to a surge in the number of people turning to cryptocurrencies as an avenue to explore sustainable wealth.
While cryptocurrency investments may be profitable, they also come with a high amount of risk. This is especially true if you are not familiar with the crypto world and the risks associated with it. If you are looking to invest in cryptocurrencies, it is important that you do so in a safe and secure manner.
But as crypto regulations are still disparate in some areas of the world, one way to ensure that your crypto investments are safe is by setting up your business in a country that is known for being crypto-friendly.
In this article, we will discuss the best countries to start a crypto business in 2022. We will also look at the pros and cons of setting up a crypto business offshore.
Before you go, there's one thing to be aware of!
Tax rules on crypto are subject to rapid change, which might make it difficult for businesses to keep track of everything. Make sure that you are well informed about the latest tax laws in your chosen country before starting up your crypto business.
Cryptocurrency companies are subject to different types of taxation depending on the country in which they do business.
The U.S has by far been the murkiest legal ground for crypto businesses to traverse, but the mist began to clear with the IRS's official designation of cryptocurrency as convertible virtual property, with emphasis on "property".
As such, crypto-related transactions abide by the same principle as traditional property transactions. To illustrate, if you only buy and hold Bitcoin then that does not count as a taxable event. Things change, however, when you generate profit from the act of selling your Bitcoin or using it to buy another cryptocurrency like Ethereum – the ambit also extends to when you make payments for other goods and services with crypto.
In Germany, the taxes that crypto companies are subject to depend on how they use Bitcoin. If you use Bitcoin as a means of payment, you will be subject to VAT (value-added tax) on the value of the Bitcoin. However, if you hold Bitcoin as an investment, you will not be subject to VAT.
Australia, in recognition of its rise in crypto assets usage, recently proposed the Crypto Asset Secondary Providers (CASSPrs) licensing regime. With the focus shifting toward stakeholders involved in the transaction process rather than the product itself.
This is considered the first in a long line of initiatives within the country's campaign to bring order into its disparate crypto scene. As for now, it is unclear whether crypto companies will be subject to income or capital gains taxes. However, it is likely that they will be taxed in some way or another.
As you can see, the tax rules on cryptocurrency businesses vary from country to country. It is important to be aware of the tax laws in your chosen country before starting up your crypto business. Otherwise, you may end up paying more taxes than you expected!
In addition, in some cases, you even are not required to obtain a license to engage in crypto business. For instance, you can set up an International Business Company (IBC) in an offshore jurisdiction for personal fund-based crypto trading without a need for a license application. Not to mention that offshore paradises also provide low or no taxes and greater privacy for company owners' personal information.
So, what are the best countries to start a crypto business in 2022?
Best countries to start a crypto business in 2022
There are many countries that are considered to be good for starting a crypto business. However, not all of these countries are created equal. Some countries are better suited for those who are looking to start a crypto business than others.
Here are some offshore countries that are crypto-friendly and have favorable tax laws for businesses:
The British Virgin Islands
The British Virgin Islands (BVI) is a well-known crypto-friendly offshore jurisdiction. BVI is a well-established offshore jurisdiction with a long history of providing offshore services. This means that you can be confident that the BVI has the necessary infrastructure in place to support a crypto business.
Couple this with its well-developed legal system. This is to help your crypto business be well-protected under the law. The BVI also has a good reputation for being tax-friendly as it does not levy any income taxes or capital gains taxes on crypto businesses.
Seychelles
Another favorable offshore jurisdiction for crypto businesses is Seychelles. Seychelles is a well-regulated jurisdiction with a good reputation for being tax-friendly. It also has a well-developed legal system and offers a high level of privacy for company owners and their personal information.
Binance, with its headquarters in the Cayman Islands, also incorporated Binance Investments in Seychelles. BitMEX is also a Seychelles-based cryptocurrency exchange.
Switzerland
Switzerland is a well-known and well-respected jurisdiction for blockchain-related businesses, with plenty of crypto projects on its borders like Polkadot, Solana, Tezos, and Dfinity – just to name a few.
It's considered a crypto-friendly jurisdiction with a regulatory framework that aligns with blockchain developers' core values: decentralization, inclusivity, and non-profit technological advancement.
Switzerland does not levy any income taxes or capital gains taxes on crypto businesses. For example, if you hold cryptocurrency as an investment in your account and are eligible as an individual trader, you will not be subject to capital gains tax.
In terms of banking, the country is home to some of the most crypto-friendly banking institutions; Maerki Baumann and SEBA being renowned names in the crypto investment community.
Saint Vincent and Grenadines (SVG)
SVG is widely chosen for international trade and investment, intellectual property, or licensing and franchising ownership. The country is also becoming a popular destination for crypto businesses.
No legislation concerning cryptocurrency has been passed by the government of Saint Vincent and the Grenadines. The benefits of being a tax-free haven, confidential, as well as low accounting standards, are all there.
The islands have expressed support for the technology and its underlying blockchain technology. SVG is taking part in the Eastern Caribbean Central Bank (ECCB) pilot program, whose purpose is to test the implementation of cryptocurrency as a fiat currency.
Singapore
Singapore has always been a top destination for businesses because of its stable economy and friendly business environment. In addition, Singapore has been very welcoming to cryptocurrencies and blockchain technology, with the government investing in several blockchain projects.
Another reason to consider Singapore is its well-developed infrastructure. The city-state has a high internet penetration rate, and it is one of the most connected countries in the world. This makes it easy for companies to access global markets.
Singapore is a global financial hub, which makes it a great place to do business. In Singapore, there is no capital gains tax.
Personal and corporate cryptocurrency funds will not be liable to taxation – meaning individuals and businesses who buy cryptocurrencies in Singapore and profit from the appreciation of their assets don't have to pay sales tax (for investment for capital gains purposes).
Still, if you trade bitcoin for a profit, you will be taxed at 17% (for trading purposes).
Malta
Malta is among the crypto-friendly countries in the world. The island nation offers a number of advantages to crypto businesses, including tax breaks and easy licensing. It was one of the first countries to adopt regulations for blockchain and cryptocurrencies. Malta is quickly becoming a global center for blockchain and crypto innovation, making it one of the best countries to start your crypto business.
The jurisdiction has approved Malta Digital Innovation Authority Act, Virtual Financial Asset Act, etc., to encourage the island to become a global leader in cryptocurrency.
The country is also an offshore jurisdiction and offers tax benefits for businesses operating there. Malta has a number of English-speaking professionals, making it easy to do business in the country.
Conclusion
Each of these countries has its own unique set of advantages and disadvantages when it comes to starting a crypto business. Crypto capital source and your fund's movement are important factors that may affect your business's tax and other benefits. You should pay attention to currency regulations in your selected choice, as well as anti-money laundering (AML) and terrorist financing (CFT) obligations (if applicable to your business).
If you have any questions or concerns regarding cryptocurrency and offshore companies, feel free to drop us a message via service@bbcincorp.com or chat with one of our friendly consultants for practical advice.
Disclaimer: While BBCIncorp strives to make the information on this website as timely and accurate as possible, the information itself is for reference purposes only. You should not substitute the information provided in this article for competent legal advice. Feel free to contact BBCIncorp's customer services for advice on your specific cases.
Share this article
Get helpful tips and info from our newsletter!
Stay in the know and be empowered with our strategic how-tos, resources, and guidelines.