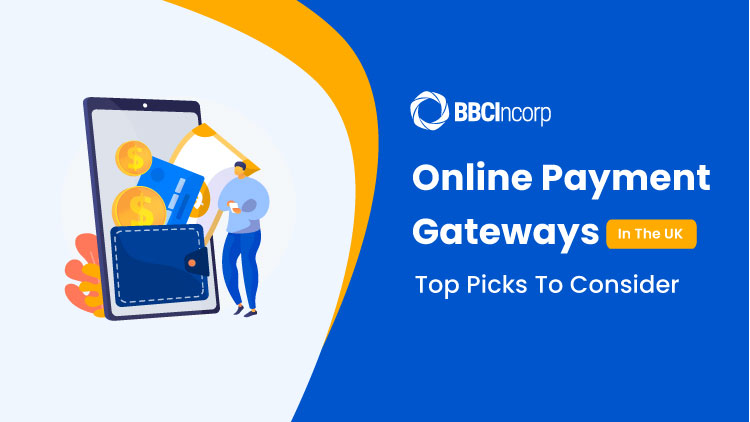 Whether you are a beginner online entrepreneur or an experienced merchant wishing to switch to a different payment processor, we provide you with a comprehensive list of the best payment gateways in the UK.
Things to consider while selecting a new payment gateway
Making a payment is the final and determining step throughout a customer's shopping experience on your e-Commerce channel. As such, you should never compromise this process with a cheap or unreliable payment processing service.
There are 5 principal factors that small businesses in the UK should always take into consideration while choosing the best online payment gateways:
Data protection and security
As it handles sensitive information from customers, the security of your payment gateway should be your first consideration when receiving online payments.
Different payment gateways have distinct security requirements. You must guarantee that the payment gateway you employ is compatible with PCI DSS level 1.
Some of the devices are even outfitted with anti-fraud technologies.
By offering numerous e-Commerce payment alternatives, you broaden your consumer base, and each potential buyer will be able to pick a service that meets their preferences.
If a customer is hesitant to use a credit card online, offering debit and bank transfers will boost their likelihood of placing an order.
Be reminded to check what is included in your payment processor's monthly or annual pricing plan. This includes transaction fees, monthly fees, chargeback fees, as well as less apparent costs such as membership fees, setup costs, PCI compliance fees, and cancellation fees.
When evaluating services, the overall monthly cost, not a single fee, must be considered.
A payment gateway's check-out procedure must be straightforward and quick. It should not be so complicated that it is difficult for customers to complete the process.
Customers must be able to complete a purchase without difficulty or they will abandon their shopping cart.
Typically, payments are authorized instantly, but it takes a few days for the funds to deposit in your account. It is permitted to process refunds and chargebacks.
Depending on the type of service provider, bank settlement times range from 1 to 7 days. Depending on your cash flow, you may decide to pay now or wait.
Benefits and shortcomings of using payment process providers
Payment gateway services can provide e-Commerce merchants with plenty of handy and inclusive transaction processing functions.
Yet, there are also certain drawbacks that your business should keep in mind prior to partnering with a third-party service provider.
Benefits
You can create an account with a few taps. Then, your store can take online payments and allow the payment processor to complete the transaction.
Some third-party payment processors provide additional technologies that allow you to accept both online payments and physical payments.
Third-party payment processors do not demand long-term contracts because they provide consumers with account flexibility.
Shortcomings
Increasing fee per transaction
The usage of payment processing services provided by a third party may cause additional expenses such as transaction fees.
Before the funds are deposited into your account, payment processing providers may hold funds for 30 to 60 days.
Your account can be canceled if suspicious activities are detected. It would be unfrozen after a thorough inquiry, but it would take too long, which is horrible for the business.
Most popular payment gateways for small businesses in the UK
Let's analyze some of the top payment processors on the UK market, focusing on price, pros, cons, and the types of payments that each system is most suited for.
Paypal
PayPal is regarded as the most well-known, reliable, and preferred payment gateway in the world. It was established in December 1998 and produces a variety of security applications.
PayPal is present in more than two hundred markets worldwide. Additionally, it has 360 million active consumers and can process payments in 100 different currencies without difficulty.
PayPal's online payment system is adaptable and user-friendly enough to benefit even novice small enterprises and startups. It is ideal for time-sensitive enterprises that must accept payments rapidly.
Pros
Excellent for mobile user
Credible brand name
Great seller's protection program
Allow direct payment
Accept worldwide payments
Regular recurrent payments supported
Cons
Some hidden costs for refunds or chargebacks
High charges for low-volume retailers
Customization is only available on the expensive version
Stripe
Because of its straightforward pricing structure, Stripe payment solutions have become increasingly popular in the United Kingdom. Also, Stripe can be used to establish direct debit and recurring billing services.
Stripe can accommodate businesses of all sizes, and it offers flexible payment page hosting and complete website integration. This payment gateway stands out from the crowd thanks to its unique design and wide selection of application programming interfaces (APIs).
The payment gateway can be styled to match your store's aesthetic, enhancing customers' browsing and purchasing experiences. More than a hundred different currencies and most foreign debit and credit cards are accepted.
Pros
Accepts a variety of payment methods and currencies
Direct payments functions are available
Create a one-of-a-kind purchase order form for extra style points
Straightforward and reasonable pricing
Adaptable to any company's needs
Cons
Settlement holdup of up to seven days
Conversion fee is levied on top of the normal
Transaction fee for foreign currencies
Merchants need to have technical expertise
Not suited for the ones having a physical store
Worldpay
Worldpay is the most widely used payment processor in the United Kingdom. It presently handles almost half of all payments made in the UK and offers some of the most adaptable packages for small businesses.
It has functions including managing risks and payments, making automatic payments, converting currencies, and more. The virtual terminal offered by this UK payment gateway makes it possible to track transactions made by customers using merchants' mobile devices or personal computers. By employing real-time reporting, you may also preserve a record of all the money that has been transferred.
But Worldpay is no different from interacting with any other major service provider. There have been rumblings from certain customers that the company's assistance resources are hit or miss.
Pros
Simple setup of recurring payments for subscriptions
WorldPay's Risk Management Mechanism enables ultra-safe transactions (RMM)
Having a live dashboard display that enables real-time order monitoring
Providing payment options to small and large businesses
Offering automated clearing house (ACH) transaction processing
Cons
The costs for pay-as-you-go transactions are relatively high
Can be a bit problematic for non-tech business
Opayo
Opayo is a merchant account and payment service provider rolled into one. In addition, it provides a comprehensive array of processing options for both online and offline enterprises. It is regarded as one of the world's top international payment gateways. It accepts debit and credit card payments from all firms and can handle transactions in 25 different currencies.
Opayo, previously Sage Pay, has expanded throughout the years, yet it remains popular among small businesses. The payment gateway provider has not forgotten its beginnings, since its small company packages are suitable for people who are just launching an internet business.
Pros
Maximum level of safety
Transparent price schemes
Supports recurring billing
Integrates with Sage accounting software
Cons
You need some technical expertise to use this software
Calls to the Opayo support line cost 2 pence per minute
Extra £10 is charged for more than 350 sales every month
Amazon pay
Amazon Pay was introduced in 2007 as a reliable alternative to customers' credit cards, prepaid debit cards, and other payment methods. It integrates with Amazon.com, allowing users to purchase things on the website and pay for them using their Amazon account. This provides a more streamlined payment process and simplifies the website's checkout procedure.
Amazon, unlike other payment processing platforms, has the added benefit of inline payment processing. This implies that once Amazon Pay is integrated with your website, your consumers will not need to leave the site to make a transaction.
Pros
The ability to shop across Amazon's many merchants with a unified checkout process
Amazon makes payments simple and secure for both shoppers and merchants
It is accessible in numerous nations
Compatible with more than 200 e-Commerce platforms, including Shopify and Wix
Customer information is already entered, thus the checkout process is swift
Voice transaction support offered for increased accessibility
Cons
Customers must have an Amazon account in order to pay
Not supporting PayPal purchases
To sign up, users must complete a registration form
It takes between 3 and 5 days to settle
High charges for meager volume
Shopify payments
In addition to providing a payment gateway, Shopify is a popular, all-inclusive e-Commerce platform in the United Kingdom that provides everything you need to begin selling online.
Shopify Payments is the greatest option for Shopify users for obvious reasons. It maintains your payment gateway and website tools under one roof. Additionally, there are no transaction fees, which will considerably increase SME revenues, especially if you're selling high-priced items over £100.
You can rapidly integrate the Shopify Payments tool into the backend if you already have a Shopify account. Simply visit Settings > Payments and select 'Activate Shopify Payments' to complete the necessary fields.
Pro
If you currently have a Shopify account, transaction fees are completely waived
Shop Pay, an e-Commerce add-on for Shopify, enables consumers to securely save their payment information for future purchases
A built-in tool for fraud analysis performs in-depth checks, such as if a registered card address matches a billing address
Cons
£10 in chargeback costs are incurred if a consumer successfully requests a refund
Shopify Payments frequently suspends transactions for any questionable conduct
Cardstream
Cardstream is a payment gateway that enables retailers to accept online payments in a cost-effective, user-friendly, and fast manner. This platform also accepts all major credit and debit cards.
The Cardstream network spans more than 27 nations and 96 percent of the world's population.
Additionally, the organization offers a configurable checkout procedure to make the purchasing process more user-friendly for international customers.
Because it is not affiliated with an acquiring bank and its solution is white-label, setting it up requires significantly more effort. Those seeking ease may therefore prefer an integrated solution.
Pros
Provides hassle-free recurring billing
Offers a variety of transactional alternatives
Accepts payments in multiple currencies
Customization to enhance brand's visibility
Effortless online registration
Cons
Only a one-year contract is available
Delayed customer service
Hidden charges may occur
So there you have it – our list of best online payment gateways in the UK. We hope this article helps you make decisions a little bit easier.
If you have any queries about this matter, feel free to mail us via service@bbcincorp.com.
Frequently Asked Questions
How does a payment gateway work?
A payment gateway works as a middleman who safeguards the payment information of your customers.
For online retailers, a payment gateway transmits information from you to the buyer and issuing bank utilizing data encryption to protect sensitive card data from unauthorized access.
A payment gateway protects retailers from expired cards, insufficient cash, canceled accounts, and exceeding credit limits in addition to fraud monitoring.
What are the most affordable payment process services in the UK?
If you are a small business in the UK looking for a reliable payment processor at a reasonable cost, below are the top 3 most trusted and affordable partners you should check out:
Worldpay
PayPal
Stripe
Shopify Payment
Disclaimer: While BBCIncorp strives to make the information on this website as timely and accurate as possible, the information itself is for reference purposes only. You should not substitute the information provided in this article for competent legal advice. Feel free to contact BBCIncorp's customer services for advice on your specific cases.
Share this article
Get helpful tips and info from our newsletter!
Stay in the know and be empowered with our strategic how-tos, resources, and guidelines.