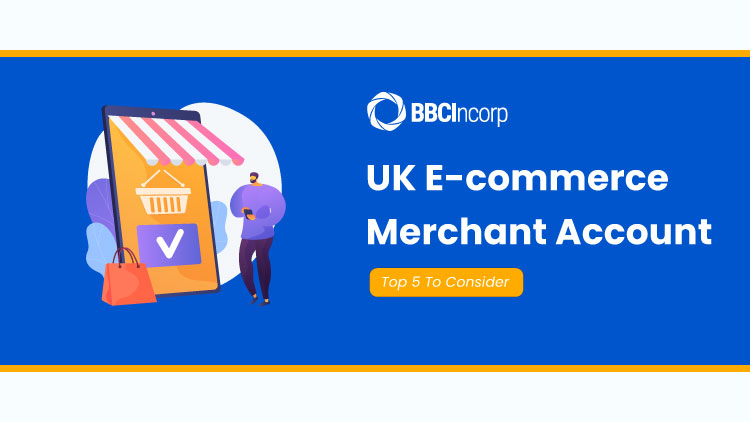 In this article, let's examine the top five e-Commerce merchant accounts for online businesses in the United Kingdom.
What is a merchant account for e-Commerce?
Defining a means of payment for your customers is the first thing you need to take care of before starting an e-Commerce venture.
Generally, online payments are processed through what is called a merchant account, which allows businesses to accept multiple payment types including debit and credit cards, contactless payment, eCommerce transactions, and more.
This type of account is established under an agreement between a business and a merchant acquiring bank or other financial institution. The bank agrees to process the transactions of the business, and in turn, the business agrees to follow the rules and regulations set by the e-Commerce merchant account provider.
What benefits of an e-Commerce merchant account?
An eCommerce merchant account can offer many benefits to businesses, including:
Nothing could be more inconvenient for customers than sending checks or wire transfers to make an online purchase.
A merchant account provides customers with more payment options for goods and services, making it more convenient for them to purchase from you, ultimately increasing your sales and revenue.
When you use a merchant account, the customer's information is transmitted through what is called an encrypted gateway, meaning the information is turned into a code that is very difficult to break. This protects customers from scammers and lowers risk across all of your sales channels.
With a merchant account, you can get paid faster because the funds are transferred directly into your account. This is especially helpful if you are selling products or services that are time-sensitive, such as event tickets.
What to consider for an e-Commerce merchant account?
There are a few things you should consider when looking for an eCommerce merchant account, including:
Contract terms
You need to read the contract thoroughly before signing up for an account. Pay close attention to the length of the contract, any early termination fees, and what type of equipment is required.
Based on industry standards, a contract for a merchant account normally lasts for three years, followed by an automatic renewal clause for a one-year extension. If you break the contract by closing the account earlier than the agreed date, you will be charged an early termination fee (ETF) from the processor.
There has been a rising number of providers that offers a month-to-month contract as well, so make sure you choose the right pick for your business.
Processing fees
There are several fees associated with merchant accounts that you should be aware of from the beginning, such as:
Application/membership fee
Setup/programming fee
Monthly statement fee
Monthly minimum processing
Be assured that you know exactly how much it costs to process a transaction or to maintain your merchant account, as it directly impacts your cash flow and may potentially hurt your bottom line.
Compatibility and integrations
Make sure that the merchant account you choose is compatible with the type of eCommerce platform you are using for your business. The last thing you want is to sign up for an account, only to find out that it doesn't work with your website.
You should check with the provider in advance to see if they offer integrations with popular eCommerce platforms, such as Shopify, Magento, and WooCommerce.
Best merchant account for e-Commerce in the UK
Square – Best overall merchant service
Square is one of the most popular merchant account providers, and for good reason: it provides a wide range of features and benefits suitable for businesses of all sizes, from brick-and-mortar to startups and small retailers.
One of the biggest advantages of using Square is that they don't have any monthly or annual fees, so you only pay when you make a sale. Another great feature is that they offer next-day deposits, which help you get your money quickly.
Pros
Easy-to-use features
Transparent pricing
No monthly fee
Free online store
No long-term contract
Cons
System operation can be unstable
Not suitable for high-transaction business
Limited international sales support
Pricing
Square uses a flat-rate pricing model for eCommerce transactions and invoices, below are the rates for transaction fees:
In-person: 1.75%
Online payments: 1.9% or 2.9%
Manually keyed-in: 2.5%
Stripe – Best for online credit card processing
If you're looking for an eCommerce merchant account that specializes in online credit card processing, then Stripe is a great option. It offers a simple, pay-as-you-go pricing structure with no hidden fees and is compatible with major e-Commerce website builders such as Squarespace and Shopify.
Pros
No monthly or annual fees
No setup fees or hidden fees
Free trial with 24/7 customer service
Integrates with multiple platforms
Customized pricing plan available
Cons
No POS system
Up to 14-day wait for the first payout
Pricing
For UK cards: 1.4% + 20p (+1.1% for European Economic Area)
For international cards: 2.9% + 20p
If your e-Commerce business has a large volume of payments and transactions, you can opt for a customized package.
PayPal – Best option for large business
PayPal is one of the most popular payment processors in the world and offers a comprehensive set of features for businesses of all sizes. One of the biggest advantages of using PayPal is that they have a very low barrier to entry, with no monthly or annual fees.
Pros
Trusted by millions of businesses globally
24/7 customer support is available
Integrations with major e-commerce and invoicing platforms
Cons
High transactions fee
Slow payment processing up to 21 days
Slightly higher fees for international cards
Pricing
PayPal fees are a bit higher than other traditional merchant account providers. You'll need to pay a percentage plus a fixed fee per transaction that varies by regional currency.
The standard rate for receiving domestic transactions:
Card-funded payment from a user without a PayPal account: 1.2% + fixed fee
QR code transactions – GBP 10.01 and above: 1.5% + fixed fee
QR code transactions – GBP 10.00 and below: 2% + fixed fee
All other commercial transactions: 2.9% + fixed fee
PayPal's pricing scheme offers a cheaper fee for the more transactions you make, which is beneficial for large businesses with a high volume of transactions.
PaymentCloud – Best for high-risk merchants
If your e-Commerce involves selling or providing sensitive products such as gaming, cigarette, alcohol, and so on, you'll likely need a high-risk merchant account.
PaymentCloud offers a suite of features that are designed for high-risk businesses, such as chargeback protection and fraud prevention tools. They also have a dedicated team of account managers that will help you get set up and run your account.
Pros
No setup fees and monthly fees
Fraud prevention tools
Reasonable transfer rate
Dedicated customer support
Compatible with payment gateways
Cons
Higher transaction fees
No free trial period
Long account approval process
Pricing
Since PaymentCloud is typically used for high-risk payment services, pricing information is not provided upfront. Pricing schemes are typically divided into tiered pricing, monthly minimums, and contracts.
Payment Depot – Best for high-volume processing
Payment Depot requires you to pay a monthly membership, which makes it the best merchant account provider for businesses that have a high volume of transactions
The company also offers a flat-rate pricing structure with no hidden fees, which can help you save money on processing costs.
Pros
Transparent pricing
No cancellation fees
No contracts required
Free credit card reader
Monthly membership available
Cons
Not service provided for high-risk merchants
Might be inconvenient for small retailers
Pricing
Payment Depot's pricing plans are listed below:
Starter: $59 per month for processing up to $125,000 per year
Starter Plus: $79 per month for processing up to $250,000 per year
Growth: $99 per month for processing up to $500,000 per year
Additional features to look for in a merchant account
When you're looking for the best e-Commerce merchant account for your business, there are a few key features that you should keep in mind.
Shopping cart integration
One of the most important features of an e-Commerce merchant account is shopping cart integration, which allows customers to add items to their cart and checkout without having to leave your website.
An online payment gateway is a secure way for customers to enter their payment information on your website. A good payment gateway will encrypt customer data and prevent fraud.
If you offer subscription-based products or services, you'll need a merchant account that supports recurring billing. This helps to automatically bill customers on a monthly or yearly basis.
Most merchant account providers will offer some sort of analytics and reporting tools that allow you to track your sales, keep an eye on fraud, and see which products are selling the most.
Conclusion
The five providers we've listed above are all great options for businesses of all sizes. If you're looking for the most affordable option, PayPal is a great choice. For businesses that need a high-risk merchant account, make sure you consider PaymentCloud, or if you have a high volume of transactions, Payment Depot might be the best option.
No matter which provider you choose, make sure to compare features and pricing before making your final decision.
If you feel like choosing the most suitable e-Commerce merchant account for your business is a complicated journey that you don't feel like embracing alone, BBCIncorp can help you open a UK merchant account and consult you with the best possible option. Feel free to drop us an email or chat directly with one of our friendly consultants for support.
Disclaimer: While BBCIncorp strives to make the information on this website as timely and accurate as possible, the information itself is for reference purposes only. You should not substitute the information provided in this article for competent legal advice. Feel free to contact BBCIncorp's customer services for advice on your specific cases.
Share this article
Get helpful tips and info from our newsletter!
Stay in the know and be empowered with our strategic how-tos, resources, and guidelines.