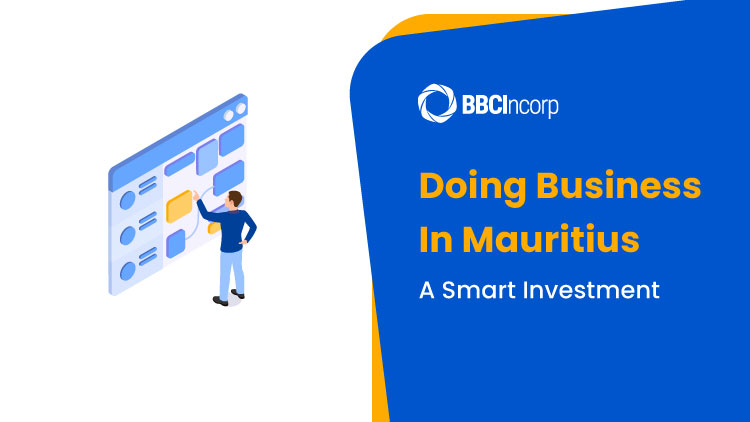 In the following part of this article, we will go into detail on how doing business in Mauritius enables your enterprise to expand and thrive. Let's discover the key factors with BBCIncorp!
Political and economic environment
Mauritius is a small island nation located in the Indian Ocean with a population of approximately 1.27 million people, considered one of Africa's most politically and economically stable countries.
Understanding the environment is essential for individuals and organizations that operate within a jurisdiction or seek to do business with it. To give you some points of reference, here are a few helpful analyses:
Stable political environment
Mauritius is a parliamentary democracy, with a president as the head of state and a prime minister as the head of government. The country has a long tradition of political stability, respect for human rights, and a multi-party system, so you can expect consistent policies and predictable economic conditions.
The jurisdiction typically projects lower levels of risk. For example, there is less risk of sudden policy changes or regulatory shifts that could negatively impact a business. This allows them to plan for the long term, make informed investment decisions, along with avoiding conflicts that could affect cooperation with foreign partners.
A growing economy with consistent GDP growth
Mauritius has a diverse and thriving economy with a 7.4% GDP Annual Growth Rate (2022). The GDP in Mauritius was worth 11.53 billion US dollars in 2021, according to official data from the World Bank.
As the country's economy grows, people's incomes generally rise, leading to an improved standard of living, including better access to healthcare, education, and other essential services. The reputation of Mauritius eventually attracts foreign investors, attracting more funds flowing into the country.
Finance, investment capital, and other financial services are available in the country through a well-developed financial and banking sector. Mauritius' banking sector has received several international awards and accolades in recent years, which comes as no surprise.
Access to many double taxation treaties with other countries
Mauritius has signed over 45 tax treaties with other countries, including India, China, and South Africa. These treaties provide reduced withholding tax rates on dividends, interest, and royalties, and offer protection for enterprises against double taxation.
With its location at the crossroads of maritime trajectories, and proximity to influential markets. Mauritius has bilateral and regional trade agreements such as:
With the US through the United States-African Growth and Opportunity (AGOA)
With Africa as a member of the COMESA, SADC, Indian Ocean Commission (IOC), IORA, African Continental Free Trade Area (AfCFTA)
With the European Union (EU) under the EU-East Africa Interim Economic Partnership Agreement
Mauritius-China Free Trade Agreement
A beneficiary of the Generalized System of Preferences (GSP) Schemes
Network of Investment Promotion Protection Agreements (IPPAs) with over 29 countries
Duty-Free Access to the UK market under the Economic Partnership Agreement
Agreement for preferential market access with India (Comprehensive Economic Cooperation and Partnership Agreement)
Often, international trade agreements include provisions that are intended to improve the business environment, such as intellectual property protections, better labor standards, and more access to dispute resolution mechanisms.
These agreements allow Mauritian businesses to access new markets with reduced tariffs and trade barriers. This can help your company increase sales while being able to import raw materials, goods, and services for production at a much lower cost.
Favorable taxation for doing business in Mauritius
Ideal taxation rates
The standard corporate tax rate for most companies is 15%, one of the world's lowest, and can be reduced to 3% if the company's primary business is related to export.
What's great is that the effective tax rate for a company can be lower due to various exemptions and incentives. There is no inheritance tax, tax-free dividends, and no property tax or capital gains tax for offshore entities.
Moreover, offshore companies centrally managed and controlled outside Mauritius (e.g. no business bank account or physical office in Mauritius) are not considered tax residents. Therefore, they will only be taxed on income derived from Mauritius.
Various tax incentives
The government of Mauritius has implemented many incentives for investors, including tax holidays, duty-free access to imports, and reduced corporate taxes. These can help to offset the costs of doing business in Mauritius, including labor costs.
Eligible new businesses can benefit from a tax holiday of four years if they:
Are holders of a registration certificate issued by SME Mauritius
Have an annual turnover of fewer than 30 million rupees
Are not involved in providing Information and communication technology services under the Information and Communication Technologies Act; or Financial services under the Financial Services Act
In short, the tax incentives for offshore companies in Mauritius are designed to attract foreign investment and promote economic growth, so it would be a smart decision to consider setting up an offshore Mauritius company to enjoy various advantages from the jurisdiction.
Strategic location
Gateway to Africa and Asia
Mauritius is an island nation located in the Indian Ocean, approximately 2,000 kilometers off the southeast coast of Africa. Despite its small size, Mauritius is a vibrant and diverse country with a rich cultural heritage and a thriving economy. This has helped position Mauritius as a hub for trade and investment between the continent and the rest of the world.
Ideal location for businesses looking to expand globally
Mauritius has also played an important role in regional diplomacy. The country has a history of engagement with other African countries and has sought to promote regional integration and economic cooperation through various initiatives.
Owing to the trade agreements and tax treaties mentioned above, your enterprise is facilitated with the best conditions to grow and collab with worldwide empires to strive for success when doing business in Mauritius.
Excellent port facilities, access to major shipping lanes
Mauritius is located on important shipping routes in the Indian Ocean. Its deep-water port is a hub for trade and commerce in the region, especially for cargo and food. The country has a well-developed international airport, and modern telecommunications facilities, which facilitate the movement of goods and people.
Services such as ship repair, bunkering, cargo handling, container terminal services, etc. are present at all times to accommodate even large cruise ships, so rest assured that efficient cargo and passenger support are ensured for your operations.
Skilled workforce
Well-educated and multilingual workforce
The country has a well-educated and multi-lingual workforce, and its proximity to major emerging markets such as India and China has helped to facilitate trade and investment flows. The government has placed a strong emphasis on education and implemented several policies to promote human capital development.
This is a valuable asset for businesses looking to expand their operations into other countries or regions. Thus, workers in Mauritius are often committed to delivering high-quality work that meets international standards.
Availability of skilled professionals in different fields
Mauritius focuses on technical and vocational education and training, with a range of programs designed to equip people with the practical skills they need to succeed in the workplace. The government has also established several training centers and institutes to provide specialized training in areas such as hospitality, tourism, and the maritime sector.
Competitive labor costs compared to other countries
The cost of labor in Mauritius is generally lower than in developed countries, while still maintaining a high level of quality and productivity. However, it is important to note that wages in Mauritius have been rising in recent years due to the country's economic growth and low unemployment rate.
Mauritius's workforce can provide businesses with a competitive advantage by helping to drive innovation, improve productivity, and provide access to specialized expertise. The knowledge gained can be applied to other regions and industries as well, providing long-term benefits for the company.
Infrastructure
Modern telecommunications networks and reliable internet services
Mauritius has a modern telecommunications network, with high-speed internet access and mobile phone coverage available throughout the country. The government has encouraged the growth of the ICT sector and has implemented policies to attract technology companies.
The growth of e-commerce in recent years has been driven by factors such as increasing internet penetration, consumer demand for online shopping, and the emergence of new technologies and platforms, resulting in new opportunities for businesses and consumers alike.
Availability of high-quality office spaces
The jurisdiction offers high-quality office spaces for doing business in Mauritius, including modern buildings and business parks that are equipped with the latest technology and amenities. These spaces are designed to meet the needs of both local and international companies, and many of these office spaces are equipped with leading-edge security systems.
If you are looking to establish a physical office here, the high-quality spaces shall provide a professional and efficient environment to work in, enabling your team's productivity, creativity, and collaboration enhancement.
Efficient transportation system
Mauritius has a well-developed transportation system, which includes a network of highways, modern airports, and a deep-water port. The country has also invested in public transportation, including buses and taxis, to provide affordable and efficient transportation for its citizens.
Car rental services are available throughout Mauritius, and they offer an excellent option for both locals and foreigners to travel.
How about sustainability in Mauritius?
Mauritius has a reliable supply of electricity and clean water. The government has invested in renewable energy sources, including solar and wind power, to reduce reliance on fossil fuels and promote sustainability.
A few restrictions
Mauritius is generally a very welcoming country open to people from around the world. However, like all countries, there are certain restrictions that foreign entrepreneurs and residents must abide by. Below are some setbacks worth noticing:
Aging population
Even though the population of Mauritius has a relatively young age profile, with a median age of around 35 years old, it is showing signs of shifting steadily into a high aging trend with people over 65 accounting for 13% of the population.
Not only is the local market size rather small, but there will be increasing demand for products and services for the provision of healthcare, and caretaking along with social support.
Small domestic market
Mauritius has a small domestic market, which means that businesses may need to look to export markets to achieve growth. This can be challenging for some businesses, particularly those in niche markets.
Limited natural resources
Mauritius has limited natural resources, which means that the country is heavily dependent on imports to meet its energy and resource needs. Some industries, such as mining and oil exploration, can not be well-developed. Even freshwater and mineral resources are insufficient.
Despite these limitations, Mauritius has developed a diversified economy that includes many industries such as tourism, financial services, and technology. The government has implemented policies to motivate business operations while promoting sustainability, including investments in solar power and wind energy.
How to set up a company in Mauritius
Once you have decided on operating business activities in this prosperous jurisdiction, it's time to go into the incorporation process.
In Mauritius, forming a company entails several steps, such as registering the business, obtaining necessary licensing and permits, and complying with regulations. A brief overview of the process follows:
Choose a business structure: Mauritius's most common type of structure is the Authorized Company (AC) for operating offshore only, or the Global Business Company (GBC) if you want to conduct business both inside and outside Mauritius.
Reserve a name (optional): This can be done by submitting an "Application for Reservation of a Company Name" to the Registrar of Companies.
Register the business: The next step is to register the business with the Registrar of Companies. This involves submitting the necessary documents, such as the company's memorandum and articles of association.
Receive the Certificate of Incorporation: After paying fees and upon compliance with the related regulations, the Registrar will issue you an Electronic Certificate of Incorporation and other necessary identifications. Your business can start operating now!
Based on the structure and the actual scale of your company, the incorporation could take from 5 working days to a few weeks if additional documents or statements are required, but the process is straightforward, so it will not be too difficult for your enterprise.
It is recommended to consult with a local lawyer or business advisor who can guide the specific requirements and regulations for setting up a business in Mauritius.
Other information about doing business in Mauritius
Overall, Mauritius is a relatively easy place to do business. However, it is important for businesses to understand the local business culture and etiquette and to be aware of the potential challenges and limitations of the market. Several notes you might need:
Permits and Licenses: If you are conducting business in or from within Mauritius, you may need permits and licenses from various government agencies. For example, if you are starting a restaurant, you may need to obtain a food handling permit accordingly.
Employment laws: Mauritius has strict employment laws that govern the hiring and firing of employees. You might want to note the regulations down if you plan to hire more local human resources. Mauritius won't tolerate any offenses against the Workers' Rights Act, and you could risk being imprisoned if violating the rules.
Business culture: Mauritians prefer formal business relations and are more concerned about the details than becoming friends with partners. Business cards, brochures, and price lists should be used, and be punctual in meetings.
Wide range of potential investments to consider: Mauritius has some beneficial business niches where you may set up a business, including financial services, e-commerce, life sciences, research and development, construction, real estate, tourism, agriculture, etc.
The point is that conducting business in Mauritius requires careful planning, a deep understanding of local laws, and an appreciation for the culture and customs. By keeping these factors in mind, you shall establish a successful Mauritian enterprise.
Key points
Mauritius offers many advantages for businesses looking to establish a presence or operate within the region, including its strategic location, favorable tax regime, political stability, skilled workforce, business-friendly environment, and quality of life.
Doing business in Mauritius requires compliance with several legal requirements, including registration with the relevant authorities, obtaining necessary permits and licenses, and more. Professional advice can ensure that these requirements are met correctly and efficiently and that the business fully complies with all relevant laws and regulations.
Contact our team via the chat box or send a message to service@bbcincorp.com for practical advice on incorporation or any questions regarding doing business in Mauritius. We are glad to lend you a hand.
Frequently Asked Questions
Can a foreigner start a business in Mauritius?
Yes, foreigners are allowed to start a business in Mauritius. The government of Mauritius actively encourages foreign investment and has put in place policies and regulations to facilitate and attract foreign entrepreneurs to invest in the country.
It is advisable to seek the assistance of a local attorney or business consultant who can guide you through the legal and regulatory requirements for starting a business in Mauritius.
Is it easy to incorporate a Mauritius business?
Incorporating a business in Mauritius will be a straightforward process if you have all the necessary information and document, and if you follow the proper procedures.
Here are some steps of incorporating a Mauritius business: choose a business structure, decide on a name, register the business with the Registrar of Companies, pay necessary fees, receive your Certificate of Incorporation, and start operating while complying with legal regulations.
What key factors make Mauritius a good business place?
Mauritius is a popular jurisdiction due to its strategic location, stable political and economic environment, skilled workforce, business-friendly policies, modern infrastructure, and high quality of life. These factors make it an attractive location for companies looking to expand into Africa, Asia, and beyond.
Disclaimer: While BBCIncorp strives to make the information on this website as timely and accurate as possible, the information itself is for reference purposes only. You should not substitute the information provided in this article for competent legal advice. Feel free to contact BBCIncorp's customer services for advice on your specific cases.
Share this article
Get helpful tips and info from our newsletter!
Stay in the know and be empowered with our strategic how-tos, resources, and guidelines.