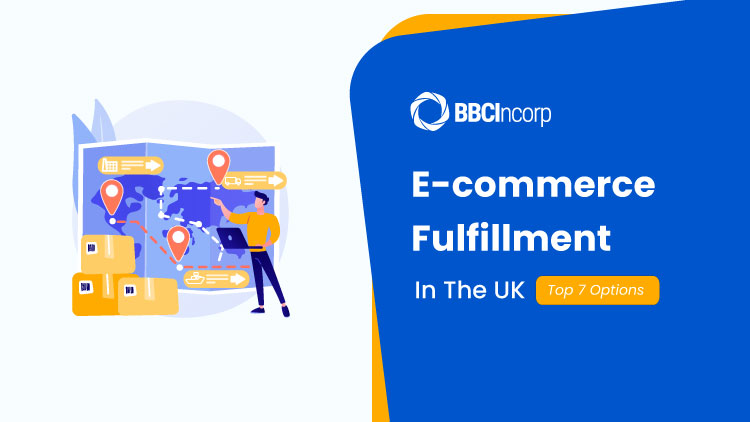 Yet, online retailers sometimes lack the capacity to manage the inventory and carry out the shipping themselves. Flip through our guide below to find out what are fulfillment options available for your e-Commerce business.
E-commerce fulfillment explained
After a customer places an online order, the fulfillment stage – the process of delivering the product to the customer takes place. This includes receiving and storing goods, processing orders, choosing and packing things, and delivering them to the customer's shipping destination.
You should avoid any mistakes that may occur during this stage at all costs because they will influence the customers' decision to return or not. Whoever handles the fulfillment for your company has to fully grasp the importance of this stage to ensure that packages do not go missing and that items are correctly packed and delivered.
Types of e-Commerce fulfillment in the UK
Depending on your business model and scale, you can choose from 3 main order fulfillment methods below:
In-house fulfillment
In-house fulfillment means customer orders are processed, picked, packed, and shipped all on your own.
If you think that you have all the materials, assets, and capacity needed to fulfill all the orders at your property, then you can opt for this option of direct fulfillment.
This practice can lower the cost you will need to spend on a professional service. However, manually handling the fulfillment process can be time-consuming, especially if you also have other responsibilities with higher priority to attend to.
Third-party service
Third-party fulfillment refers to the process of outsourcing your entire supply chain to a specialized fulfillment company.
These vendors have extensive knowledge and expertise in inventory management as well as shipping services, which can significantly streamline the entire process for your company.
In contrast, this service may incur additional costs to your bottom line, making it unsuitable for newly established businesses.
Dropshipping
Dropshipping fulfillment is when a business does not stock the products it sells. This allows you to run an online business without having to worry about inventory because a dropshipping supplier will handle everything.
Dropshipping is an excellent option if you are not yet ready to invest in product and inventory stockpiling. This way, you'll only have to worry about business development rather than logistics.
Best e-Commerce fulfillment service in the UK
Amazon FBA – The fastest fulfillment service for businesses
Fulfillment by Amazon (FBA) is a service that allows you to outsource order fulfillment from Amazon.
By utilizing the infrastructure and workforce of the FBA network, your order can be shipped quickly, even on the same day.
Simply send your products to the fulfillment centers, and when a customer makes a purchase, the e-commerce giant will sort, pack, and ship the order on your behalf, as well as handle customer service and refunds.
When you use Amazon FBA, you must follow strict guidelines, such as product restrictions and inventory requirements. Before sending your products to fulfillment centers, make sure they meet all of the criteria.
Pros
Customers support is available 24/7
No monthly order minimums are required
Shipping to any country in the world
Multi-platform sales supported
Overnight delivery available for businesses
Handling of exchange, returns, and refund process
Cons
Hidden costs may occur
Strict criteria from fulfillment centers
No personalized packaging option
Pricing
FBA service has two different pricing tiers, including
You can choose this plan if your business ship fewer than 35 products a month. You will be charged £0.75 per product sold, plus an additional fee.
You'll have to pay a monthly subscription fee of £25/month, regardless of whether you list or sell anything. This is suitable if your business has a large number of orders.
BOXstation – Best fulfillment service for small retailers
BOXstation has 25 years of experience in fulfillment and warehousing, offering a variety of fulfillment options.
Whether you have an established e-Commerce business that you want to expand into the UK market or you are starting a new e-Commerce venture, Boxstation can help you achieve your goals.
The brand works with companies of all sizes, from e-commerce companies, fashion retailers, and importers, to non-profits, micro-vendors, and many more.
Pros
Kitting and return services are available
No setup costs required
On-demand pricing with pinpoint precision
Cons
Difficult to scale your business
Limited options for shopping cart integration
No transparent pricing plan
Pricing
The Boxstastion plan's price is not available online; you must contact customer service for a quote. Nonetheless, many businesses confirmed that Boxstation charges extremely low fees and provides a flexible, pay-as-you-go service.
Huboo – The most trustworthy fulfillment service
Located in the United Kingdom, Huboo provides shipping and fulfillment services to customers all over Europe and the rest of the world. The company guarantees a 99.9% accuracy rate on all orders, making it a reliable service for UK businesses.
It's also a good option for e-commerce companies that want to start in the UK but eventually expand globally. Your orders will be shipped from the closest warehouse to the customer,
whether it is in the United Kingdom, Spain, or the Netherlands.
Pros
Easy communication with stock management
Excellent feedback from customers globally
Restricted products storage is available
Ease of signing up to get going right away
No cost is required for API integration
Affordable, transparent pricing
Cons
Mainly supported B2C, no dedicated B2B service
No support for large, heavy items (e.g., chilled or frozen goods)
Pricing
Individual item fees will cost you between £1.10 to £7.77, while subscription price starts at £25, up to £150 per month. If your order volume is greater than £5,000 each month, you need to pay for a tailored package.
Green Fulfillment – The most eco-friendly fulfillment service
Green Fulfillment caters to those who prioritize environmental concerns above all else.
This vendor is the best option for a cutting-edge, future-focused company because they exclusively use eco-friendly paper and recycle all plastics and cardboard.
The company specializes in providing medium-sized goods and services to both B2B and B2C clients. Account managers are stationed in each warehouse to provide immediate assistance to businesses.
Pros
Support is accessible through telephone, email, and WhatsApp
Notable clients include Facebook and the National Health Service (NHS)
Risk-free trial for businesses for assurance
Environment-friendly practices for modern businesses
Offer excellent customer service function
Cons
Not ideal for businesses with order volume under 300 units
Not transparent in terms of pricing
Pricing
No pricing, rates, or listing is available online, so you have to contact customer support for a specific quote.
Minatus – The best choice for multichannel retailers
Minatus is a business-to-business firm that serves both large and small businesses, offering low-cost e-commerce order fulfillment services.
The company's warehousing software integrates with popular e-commerce platforms such as Amazon, eBay, and Shopify. You can be confident that purchases made through any of their supported channels will be processed quickly and accurately, regardless of how you choose to reach your clients.
Pros
Quick shipping with well-distributed hubs
Helpful, friendly 24/7 customer support
Live dashboard for stock management
Cons
Additional charge for monthly storage
Outdated technology may slow things down
Pricing
Minatus provides competitive pricing, with inventory starting at £2.48 per cubic meter per week and order picking rates for 100+ items per month beginning at £1.48.
myWarehouse – Top pick for low-volume online retailers
MyWarehouse is a UK-based service that provides customized fulfillment solutions for businesses with fewer than 2,000 orders per month.
The company charges no upfront or hidden fees; you must still pay fulfillment costs, but they are minimal.
The cloud-based fulfillment system supports both manual and automated order entry, as well as the ability to update the source sales channel, manage stock levels, and so on via API.
Pros
Transparent pricing plan available online
No setup fees or exit fees
No long-term contracts are required
Accurate pick-and-pack service
Suitable for heavy items up to 25 kg
Supportive for low-volume retailers
Cons
No account management support
Certain items are restricted (e.g., food, alcohol, or lithium batteries)
May be inconvenient for large businesses
Pricing
The pricing is transparent, and it includes:
Packing and picking: £2.61 + £0.42 per item for multiple-item orders
Money Received per Item: £0.10
Packaging: costs as little as £0.75, including order fill, packaging, and shipping
Storage: £0.48 per cubic foot, regardless of the volume of the box
Red Stag Fulfillment – Best option for customized packaging
With a globally distributed network of fulfillment centers, Red Stag Fulfillment allows you to easily manage the entire operation.
The company is well-known for its personalized, bespoke approach to order fulfillment, particularly in the areas of package design and customization.
If your company specializes in selling large or heavy items, Red Stag can provide the most effective option among e-Commerce fulfillment providers, ensuring a 93% decrease in damaged or lost stock.
Pros
No long-term commitment or hidden fees
Automated refund handling is available
Free, no-obligation trial for 30 days
Cons
The intricate pricing system may be confusing to some
US-based, so UK businesses may find it inconvenient
Pricing
Prices are not displayed on the website, you must contact the company directly to obtain a quote.
Are e-Commerce fulfillment services right for your business?
This is an important question to consider before deciding on the best fulfillment method for your company. To answer it, you must first estimate or collect data on your business's monthly order volume and determine which channels are currently featuring your products.
You also have to know the scalability potential of your business to know whether you should upscale your fulfillment method.
By being fully aware of the number of orders, distribution channels, and growth opportunities of your business, you will be able to decide which fulfillment approach should you take to best serve your need.
Seeking advice for your e-Commerce venture in the UK? Drop us a message via service@bbcincorp.com and we'll get in touch the soonest with practical support for your case.
Disclaimer: While BBCIncorp strives to make the information on this website as timely and accurate as possible, the information itself is for reference purposes only. You should not substitute the information provided in this article for competent legal advice. Feel free to contact BBCIncorp's customer services for advice on your specific cases.
Share this article
Get helpful tips and info from our newsletter!
Stay in the know and be empowered with our strategic how-tos, resources, and guidelines.