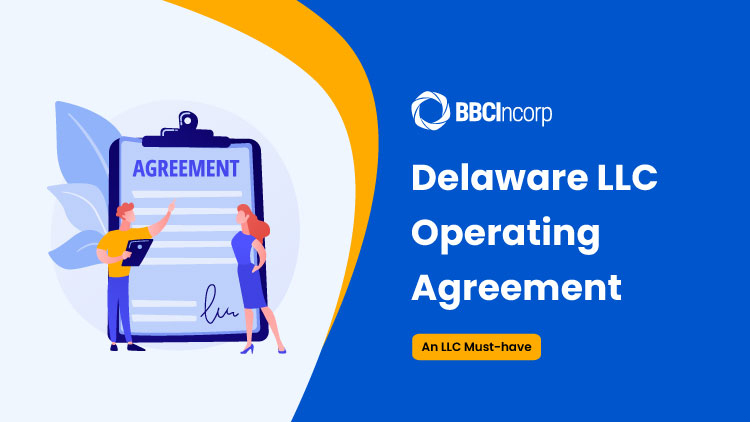 Delaware LLC's operating agreement overview
What is an operating agreement?
An operating agreement is defined as:
A non-mandatory document is drafted when LLC is first formed.
A detailed description of the financial and operating choices made by the company such as rules, laws, and regulations.
The purpose of the agreement operating is to regulate internal company processes in a way that meets the unique requirements of the business owners.
An official contract binding all the LLC members to its conditions after they have signed it.
Though Delaware does not require LLCs to draft an operating agreement, it is risky to operate without one. Think twice before opting out of this clause, regardless of your state's law.
Content of LLC OA
The Operating Agreement will typically cover topics such as:
Percentage of members' ownership
Voting rights and responsibilities
Powers and duties of members and managers
Distribution of profits and loses
Holding meetings
Buyout and buy-sell rules (procedures for transferring interest or in the event of a death)
Note
Note that your operating agreement is not set in stone and can be changed based on the members' mutual consent. Unless the old version of the operating agreement proposed other guidelines for this, a typical amendment process usually follows a linear course of actions:
Member in the LLC will propose the amendments;
These changes will be informed to the other members of the LLC for discussion, and
If all members agree to the changes at the end of the discourse then a new Operating Agreement will go into the drafting phase;
The new Operating Agreement, after being signed by all the LLC members, will become the new governing bylaws of the company.
Types of LLC Operating Agreements
Although not required by The Delaware Division of Corporations, the operating agreement should be created when the LLC is first formed and should be updated as needed. However, to tailor it to your LLC, you need to understand that there are many types of operating agreements depending on your LLC type.
Single-Member LLC Operating Agreement
A single-member LLC is owned by one person, while a multi-member LLC is owned by two or more people. Single-member LLCs may not need an operating agreement, but creating one is still a good idea.
Multi-Member LLC Operating Agreement
Manager-managed and member-managed LLCs are both subject to multi-member operating agreements. The multi-member Operating Agreement for member-managed LLCs normally places the members in control of running the LLC, with decisions being decided by a vote either per person or based on percentage interests.
This agreement may be modified by the LLC owner (or owners) to specify individual duties that each member shall bear or impose obligations on members. Any clauses not found invalid for being unlawful or against public policy may be included.
Multi-Member Delaware LLC Operating Agreement with Classes of Members
The multi-class structure is one of the most complex arrangements for an LLC in Delaware.
You can provide distinct groups of members with differential rights and obligations by classifying the members into various groupings. Each class may have different economic, reporting, voting, and other rights arrangements.
The names of the particular members in each class and their assigned privileges can be added to a multi-class operating agreement. According to the Delaware LLC freedom of contract precept, the LLC's founder(s) may create the exact clauses that specify boundaries on authority, accountability, and governance as well as any other relevant LLC specifics.
When crafting for this particular structure, you must outline each class you desire to keep distinct in the LLC Operating Agreement and identify each class' unique rights and privileges, including any denied rights and privileges.
Protected series
A protected series is a type of LLC series that offers enhanced asset protection for its members. It is structured so that each member only owns the assets of their series and not the assets of the company as a whole. This means that if one member is sued, the creditors can only go after the assets of that particular series, and not the assets of the entire company.
Benefits of Delaware LLC operating agreement
The agreement can help prevent misunderstandings and disagreements among members by establishing clear lines of communication and authority within the company.
While not required in all states, the agreement can give your entity more credibility with banks and other businesses. Some banks may require an Operating Agreement before they will open a business bank account for the LLC. And if your LLC is ever sued, having an operating agreement may help prove that your LLC is a separate legal entity from you as its owner.
Furthermore, this type of agreement can also be a foundation for protection if the LLC is sued or dissolved. Without this formality, your LLC may put your liabilities at risk.
The process to get an LLC operating agreement in Delaware
The process of creating an LLC operating agreement in Delaware is relatively simple. After you have done with the registration of the Delaware LLC, which can be done in 3 simple steps, you can start crafting one for your entity. You can start from scratch or use the online template like the sample mentioned above. But whatever your choice is, the content of the operating agreement should include the mentioned content.
You can consult an attorney for assistance if you are unfamiliar with the process of creating agreements. They will be aware of what to include in the document because they have written several. They can help you avoid several mistakes, able to forecast future disputes, and give some advice on tricky matters as well.
Overall
An LLC operating agreement is essential to put your LLC run smoothly. This document serves as evidence that your business is unified and highly agreed to the operating process of the entire LLC.
And if you need help registering your company or getting started in Delaware, our team at BBCIncorp can assist you every step of the way. Don't hesitate to get in touch with us by simply chatting with one of our friendly consultants or sending us a message via service@bbcincorp.com.
Frequently Asked Questions
Does Delaware require an operating agreement for an LLC?
The state of Delaware does not require LLCs to have an operating agreement in place, but it is highly recommended. An LLC operating agreement outlines the rules and regulations for running the LLC and can help prevent disagreements or misunderstandings among members. Having this document also makes it easier to file taxes and open bank accounts.
How do I get an LLC operating agreement in Delaware?
There are a few different ways to get an LLC operating agreement in Delaware. Many LLC formation services offer customizable templates that can be filled out and downloaded online. Alternatively, you can hire an attorney to draft specifically for your LLC. Finally, some banks and financial institutions may have their own operating agreement forms that they require LLCs to use.
Do you file an operating agreement with Delaware?
No, you do not need to file your LLC's operating agreement with the state of Delaware. However, we recommend keeping a copy of the agreement on file with your other important LLC documents.
Disclaimer: While BBCIncorp strives to make the information on this website as timely and accurate as possible, the information itself is for reference purposes only. You should not substitute the information provided in this article for competent legal advice. Feel free to contact BBCIncorp's customer services for advice on your specific cases.
Share this article
Get helpful tips and info from our newsletter!
Stay in the know and be empowered with our strategic how-tos, resources, and guidelines.