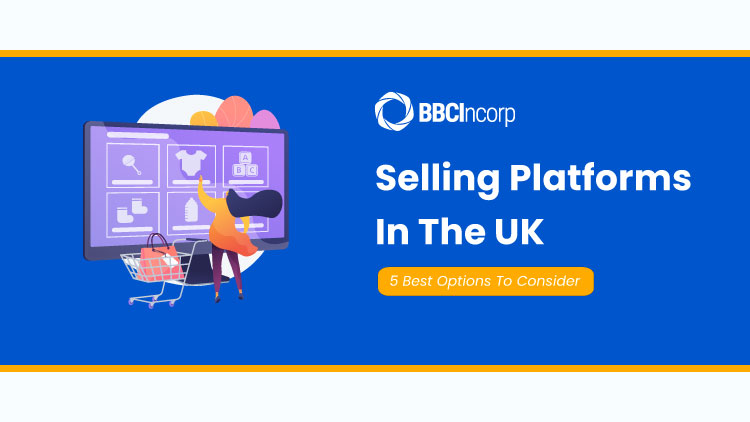 This article will provide you with an insightful look into the vast world of UK e-Commerce and assist you in determining which platform will be the best fit for your business model.
What is an e-Commerce selling platform?
The term e-Commerce describes the act of exchanging goods online through a well-established platform. A standard e-Commerce channel, according to a consumer, should comprise product details, seller's contacts, an "Add to cart" button, a chatbot, and a swift online check-out process.
However, for the sellers who are often involved in the building and management of the platform, the website should also have an inventory management system, a strong bandwidth to withstand a large volume of visitors during sales, and an up-to-date design as well as infrastructure.
In fact, an e-Commerce platform works as a lifeboat for retail owners who are struggling to afford a physical store and wish to start from scratch online.
Following the development of online-based retail services, business owners will be exposed to multiple different types of e-Commerce platforms. Their differences mostly lie in the level of customizability available to the merchants.
Let's delve into some of the most common types as well as analyze the advantages and challenges each of them brings:
Common types of e-Commerce selling platforms
Infrastructure-as-a-Service (IaaS)
This service allows you to outsource the platform's main framework and infrastructure to a third party, meaning you will have more control over the development of the functionalities.
Your IaaS provider will handle networking, storage, servers, and virtualization, while you will be responsible for developing or purchasing, deploying, and managing e-commerce software and apps.
Platform-as-a-Service (PaaS)
When compared to IaaS, Platform-as-a-Service (PaaS) allows you to increase the number of functions that are contracted out to the vendor.
It gives you more freedom while offloading operational maintenance duties to a service provider. This method is preferred by companies that create software or applications for their brands.
Software-as-a-Service (SaaS)
Choosing SaaS means choosing an e-commerce solution that is ready to use right away. Customization is possible, but only within the parameters of the predefined setup. SaaS allows you to use software to launch an e-Commerce site without having to install and run it locally.
On-premise e-commerce systems are managed directly by the retailer and maintained by their IT personnel, as opposed to being established by another provider and accessed via the cloud.
Pros and Cons of selling platforms in the UK
There are always two sides to every coin; e-Commerce platforms can be a powerful tool if you know how to use and manage them; however, poor oversight of such channels can result in poor customer experience and brand damage.
Explore the advantages and disadvantages of using an e-Commerce platform with us below:
Pros
Customers can browse products anywhere, easing buying process
Reducing costs of maintaining physical stores for startups
Allowing multiple payment methods for easy transactions
Easily incorporate advertising and marketing campaigns on-site
Gaining access to your buyers' data for further engagement
Having control over all aspects of the site's design, operation, and navigation
Less restriction in terms of promotion and scalability
Cons
Time-consuming to set up and launch
Extremely competitive environment
Weaker customer experience compared to physical stores
Scalability can be expensive
Consideration for selling platforms in the UK
Whether you are planning an online launch for a brand-new business or simply looking for better selling platforms, there are several factors to consider before making a decision.
With thorough research and consideration, you will be able to opt for the most suitable e-Commerce method in the UK for your business model.
Scalability
You should always consider the degree of development and scaling opportunities provided by various e-Commerce platforms. This way you can easily plan out and execute any new services and offerings swiftly, allowing you to implement any vision for business growth in a timely manner.
Operation costs
It is critical to be aware of the operating expenses that your company will incur on such platforms in order to create a feasible and appropriate budget plan. Make sure that you gather the operation prices of different platforms to compare and contrast.
Customer engagement tool
Always looks for ways to interact with your customers and visitors to your e-Commerce platform. That being said, determine which channel provides a high-impact customer engagement tool that produces tangible results that your company can use to connect with your target audience.
Services
A robust e-Commerce platform will ensure that the site has the most up-to-date services. These services will help with lead conversion, customer retention, and loyalty.
SEO-friendliness
If your e-Commerce site is built on a platform with extensive SEO capabilities, it will rank highly in search engine results. When your customers are looking for a vendor for a specific product, your company will gain more exposure and visibility.
Best selling platforms in the UK
The United Kingdom now has a vast e-Commerce market, with a wide range of platforms available to assist merchants.
Depending on the size and demands of your business, the following well-known UK selling platforms will meet your needs and facilitate the launch of your online store:
Shopify – Best choice for small retailers
Shopify has been used by over 1 million businesses to boost their online presence, so it's no surprise that any business, big or small, will find a lot to like here.
Depending on how much scalability you require, the platform offers a plethora of site-building tools at affordable prices. If you'd rather test the waters before committing to a subscription, a 14-day free trial is also available.
Pricing
You can choose between three main Shopify pricing plans, which start at £19 per month for Basic Shopify, go up to £49 per month for the Shopify package, and cost £259 per month for Advanced Shopify.
WooCommerce – The most cost-saving option
WooCommerce is an excellent open-source plug-in option for WordPress users. As a free tool, it's ideal for startups and small businesses looking to expand quickly. WooCommerce has a wide range of extensions and add-ons, some of which are chargeable, but you get the majority of its features for free, which is a big plus.
Pricing
The price for WooCommerce will depend on your specific needs and requirements. You can start with the free version or purchase a premium plan for more advanced features, ranging from £49 to £199 per year.
Wix – The most innovative platform
Wix is the most innovative e-Commerce platform in the UK right now because it uses cloud storage rather than hard server storage.
This e-commerce website builder with drag-and-drop functionality allows users to create online stores with a variety of templates and designs.
Pricing
A basic website can cost as little as £17 per month or as much as £500 per month for large-scale enterprises.
Despite its low cost, Wix provides a wide range of site-building options, including the ability to display digital products or create a page dedicated to product image galleries.
Zyro – The most design-led platform
You can create a professionally designed website in minutes with Zyro due to its simplicity and availability of hundreds of design templates.
However, there is a catch: the simple and easy method of creating a website comes at the expense of customization, which is limited to 12 parts that can be used to make changes to your website. You will need to know how to code for anything else.
Pricing
Zyro offers affordable prices for startup and budget-conscious retailers, you only have to pay from £1.98 to £5.70 to use the platform. Additionally, you can get a free domain and 3 months for free with any annual plan.
BigCommerce – Best for large e-Commerce
An e-Commerce platform primarily aimed at large organizations or those with significant investment funds. It is an online retail platform capable of processing hundreds or thousands of transactions per day.
Custom domains, multi-currency support, rating and review systems, and even digital gift cards are just a few of the features worth your time and money.
Pricing
You can use certain themes for free, but you must pay to use any of the additional features.
The price starts at £22 per month for the Standard plan, £59 per month for the Plus plan, and up to £223 per month if you use the Pro plan.
Interested in growing your e-Commerce venture in the UK? Get in touch with us via service@bbcincorp.com to get practical support from our team of expert consultants.
Frequently Asked Questions
Is an e-Commerce platform similar to an online marketplace?
Consumers frequently confuse the terms e-Commerce and Online Marketplace. Despite the fact that both facilitate the act of selling and buying online, an online marketplace refers to a site with a large number of sellers on one platform, whereas e-Commerce channels will be used differently for each brand.
In a nutshell, an online marketplace is a condensed site where various sellers congregate and compete for the attention of the audience, while e-Commerce platforms are frequently built and launched with the intention of driving sales for a specific brand.
How to set up an e-Commerce selling platform in the UK?
After you've established the production cycle, you can begin researching which e-Commerce selling platforms are best suited to your business model and can help you reach the largest audience in the UK.
Following the selection of a suitable website layout, your company can begin to upload product details, primary contacts, company introductions, promotions, and other pertinent information to the site.
Then, to elicit specific actions from your customers, brush up on the platforms with another engagement tool, such as a chatbot or contact us form.
However, keep in mind that you should thoroughly test the site before going live, as there may be glitches or bugs that affect the customer's experience while shopping with you.
Disclaimer: While BBCIncorp strives to make the information on this website as timely and accurate as possible, the information itself is for reference purposes only. You should not substitute the information provided in this article for competent legal advice. Feel free to contact BBCIncorp's customer services for advice on your specific cases.
Share this article
Get helpful tips and info from our newsletter!
Stay in the know and be empowered with our strategic how-tos, resources, and guidelines.