What is the SIC code in the UK?
The UK Standard Industrial Classification (SIC) code is a classification containing 5 digits. This is the classification that indicates to Companies House the economic activities that the company does.
First introduced in the UK in 1948, the SIC code is used as a method of classifying the establishment of companies and their type of economic activities. Since 1948, the classification has been revised several times as new industries and products emerged to the market and there were shifts and changes in the existing sections. The latest update was in 2007 and the full list of the SIC code and its classification hierarchy is available on the Companies House website. Since October 2011, companies in the UK are required to change their SIC code according to the UK SIC 2007 classification upon filing their annual return.
From a SIC code, you can learn the section, division, group, class, and subclass that one company operates in. In particular, here is an example of information you can take out from one's SIC code:
Section C: Manufacturing
Division 10: Manufacture of Food Products
Group 10.1: Manufacture of Dairy Products
Class 10.51: Operation of Dairy and Cheese Making
Subclass 10.51/2: Butter and Cheese Production
Additionally, the SIC code can be used for purposes that are more to the administrative side and can also be used as a convenient way of identifying and classifying activities into common structures by non-government entities.
The UK SIC is a hierarchical five-digit system and is divided into 21 sections, which are denoted by a single letter from A to U. These sections will then be broken down into divisions. The division is identified and denoted by two digits. Under division, there are three more layers including group, class, and subclass.
Currently, there are 21 sections, 88 divisions, 272 groups, 615 classes, and 191 subclasses. When a company is incorporated in the UK, there must be at least one SIC code that is chosen and business owners can choose as many as four codes.
Why is the SIC code compulsory when forming a company in the UK?
SIC code is mandatory because:
It is used to identify the company's business line that it operates in and the trade activities
It is necessary when you file for the company's annual return
It helps Companies House to keep track of the number of companies operating in a specific sector. This will be later translated into insights into the current economic strength of the UK and the developing tendencies
It is used to register a company name in the UK. This code is used by the government to identify the type of company you're registering and to ensure that it's operating within the law.
In a way, SIC code is like the shortened, numerical version of your company's description. As such, try to choose the code that describes your company and its activities as closely and precisely as possible since it is extremely important.
Where to find the SIC code for your company?
So where to find the suitable SIC code for your company? Feel free to search for the category that suits your company and its economic activities the most and then get the code. You may enter your business product or service to get the SIC code, or you can enter the code to identify the section and business activities.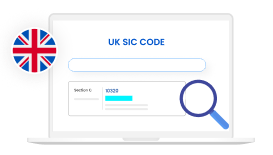 Find your SIC code
Simply type your business activity and hit the Search button. Your Standard Industrial Classification (SIC) code is ready to use.
What is the SIC code limit?
Depending on your company and its economic activities, you can choose up to 4 SIC codes to describe your business in the UK if your business is relatively complex or difficult to categorize. Sometimes a combination of codes is the best way to describe a company's area of activity.
On the other hand, the required minimum SIC code will be one per company. Note that even companies that are dormant or non-trading still need a SIC code. The code for dormant businesses is 99999 while 74990 is for the non-trading ones.
In what circumstances can you change your SIC code?
There are some cases where you wish to change your SIC code, which include:
During the company setup, you provide the wrong SIC code
Your main business activities have changed since the company's formation
You have not reached the limit of 4 codes before and now your business is expanding and growing, you want to add new SIC code(s) indicating the new activity in your company.
In these cases, you can change your SIC code when you file your next confirmation statement. If you need to update your SIC code immediately, the confirmation statement can be filed early before the deadline.
How to avoid choosing the wrong SIC code?
If the wrong SIC code is not updated properly and on time, issues might arise when you have business activities with stakeholders such as lenders, banks, etc. There might be a case that the wrong SIC code will affect the legitimacy and correctness of your documents. As such, make sure to change your SIC code immediately if there is any change to your company's activity.
Although you can still change it if you chose wrong in the first place. However, still, it requires your time and effort and of course, paperwork to get things updated and changed. As such, try to avoid choosing the wrong code to make your life much easier! If you form a company in the UK with BBCIncorp, we will help and advise you on choosing the right SIC code to prevent incorrect information. In case there are changes to your company and you want to update the SIC code? Don't worry! We can also help you adjust the SIC code if there are any changes needed.
Conclusion
Understanding what SIC codes in the UK is vital to any business. Since it helps Companies House and other parties to identify your business nature and classify its activities, it is substantially important for you to keep it relevant. Make sure you choose the right SIC code, keep it up to date with your current business model and update changes if any immediately to avoid any issues.
Curious about SIC codes and company formation in the UK?
If you have any further questions or need assistance, feel free to drop us a message at service@bbcincorp.com.
Disclaimer: While BBCIncorp strives to make the information on this website as timely and accurate as possible, the information itself is for reference purposes only. You should not substitute the information provided in this article for competent legal advice. Feel free to contact BBCIncorp's customer services for advice on your specific cases.
Share this article
Get helpful tips and info from our newsletter!
Stay in the know and be empowered with our strategic how-tos, resources, and guidelines.