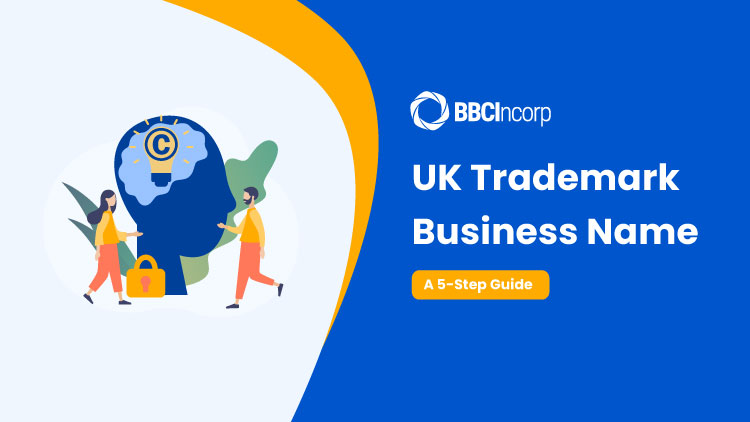 Overview of getting trademarked in the UK
What is a trademark?
Trademarks are origin indicators that can take many forms, such as phrases, slogans, logos, shapes, colors, and sounds, to distinguish one vendor's goods or services from those of another.
It also serves as legal protection against anyone misrepresenting your brand or using it without your permission, as well as preventing competitors from using a name that is identical or similar to yours.
You can get some trademark protection simply by including a logo and slogan in your business name, but the best protection comes from registering your mark with the UK Intellectual Property Office (IPO).
What are the perks of getting trademarked?
Registering a trademark for your business name can give you an edge over competitors in the current business landscape:
You will have exclusive rights to use and capitalize the trademarked name. You can also use it for any goods that fall into the applicable category (es).
When you successfully register a trademark, the ® symbol will appear after your company's name and logo.
This way consumers will acknowledge your brand credibility and are more likely to purchase your products.
Create a stronger brand identity
Getting your brand trademarked will also increase your brand's visibility and solidify your company's reputation as qualified and credible.
Once your trademark has been registered, you can take legal action against anyone who uses it illegally.
Consumers will easily distinguish your brand name and logo from other providers of the same products if your identity is curated and trademarked.
With a trademarked brand, you can establish a strong identity and credibility, which will help your marketing campaigns and drive sales.
How do I trademark my business name in the UK?
Trademarking your business name can be complicated and may take more time than you imagine. Before applying, you should take your time and do your research.
In the section below, we've summarized a 5-step guide to help you get through the process smoothly.
Step 1: Register your company name
Make sure you register company name with Companies House before applying for a trademark.
Many people confuse the trademark application process with the name registration process, but they are not the same.
Step 2: Identify your trademark
The first step is to determine how you want your mark to be protected.
You'll want to make sure your company name is eligible for trademark protection, which means it hasn't already been trademarked on the Companies House database.
Check not only for the name you want but also for names that sound similar. If the name is too similar to one already registered in the same class, your registration may be denied.
You can trademark your company name in a variety of formats, such as a standard character mark, a design mark, or a sound mark.
Step 3: Specify your trademark classes
When registering a trademark, you must specify the classes of your product and/or service.
If you own a spirits brewing company called "Sunshine" but also make beer, you must trademark your business name under both the alcohols and beer classes.
A trademark registration only protects your name in the class in which it has been registered. Other businesses can still use it for different types of goods or services.
Your application cannot be changed once it has been submitted, so include all classes relevant to your business activities. If you want to add more classes in the future, you will have to pay for an additional application.
Step 4: Submit trademark application
You can file an application with the IPO directly through an online form, or if you are unable to apply online, you can always apply by post.
Step 5: Wait for approval
After your trademark application is filed, you can expect approval within 12 weeks.
If problems are flagged, you'll receive detailed objections, in which case, you will have two months to resolve those objections.
If no objections are issued, your trademark application will be accepted and subsequently published in the UK Trade Marks Journal.
A UK trademark is valid for an initial period of 10 years and may be renewed every 10 years, for an indefinite period of time.
Trademark your business with ease
With our company formation service, you can get your business trademarked in no time.
Don't miss out on this incredible opportunity to elevate your brand and secure your success. Get in touch with us now!
Can my trademark registration get rejected? And why?
Within 2 weeks after filing, you will receive an "examiner's report" from the IPO, which inform you of any issues with your application to trademark a business name in the UK.
You'll have 2 months to respond to the IPO and resolve these issues, or your application will be denied.
There can be many issues that prevent you from registering a trademark, some common ones are listed below:
Your business name is overly descriptive or lacks distinctiveness
The name is too similar to an existing trademark or a mark in a co-pending application.
Your trademark is registered for non-business purposes
You have several options for dealing with objections to your application:
File a hearing request if you believe your application was not fairly evaluated
Provide additional proof of the legitimacy of your trademark request
Your application may be eligible in some classes but not others, you can request that the registration be divided so that the process can continue in accepted divisions
Seek assistants from professional advisors
Speak with the person making the opposition
Conclusion
In conclusion, securing a trademark for your business name is a critical step in enhancing the protection and distinctiveness of your brand. While the process may require a significant investment of time and effort, it ultimately serves as a valuable long-term asset for setting your business apart from competitors and establishing a strong brand identity. By prioritizing trademark registration, you are making a strategic investment in the future success and recognition of your business.
Ready to start your business?
BBCIncorp can help you hit the ground running quickly and effortlessly.
If you have any questions about registering your company, please contact us at service@bbcincorp.com service@bbcincorp.com.
Frequently Asked Questions
Should I trademark my business name in the UK?
Whether or not you should register a trademark is determined by a number of factors. For example, your business sector, the type of name you have, and whether you have the time and money to file a trademark application.
A trademarked name grants you the exclusive right to use and enforce your company's name, allowing you to monitor unauthorized use and file lawsuits against those who use your mark.
However, if you are unable or unwilling to trademark your business name, there are still other ways to protect it. For instance, if you register a Private Limited Company in the UK, it is illegal for another company to use your business name.
How much does it cost to register a trademark in the UK?
The Standard application costs £170, while the Right Start application costs £200. There is a £50 surcharge for each additional class of goods and/or services for both applications.
When filing a series application, the first two trademark variations are filed at no additional cost. Additional trademark registrations, up to a maximum of 6, cost £50 each.
Does a UK trademark application cover Europe?
A UK Trademark registration only protects your rights in England, Wales, Scotland, and Northern Ireland.
If you wish to conduct business in Europe, consider applying for an EU trademark.
Disclaimer: While BBCIncorp strives to make the information on this website as timely and accurate as possible, the information itself is for reference purposes only. You should not substitute the information provided in this article for competent legal advice. Feel free to contact BBCIncorp's customer services for advice on your specific cases.
Share this article
Get helpful tips and info from our newsletter!
Stay in the know and be empowered with our strategic how-tos, resources, and guidelines.