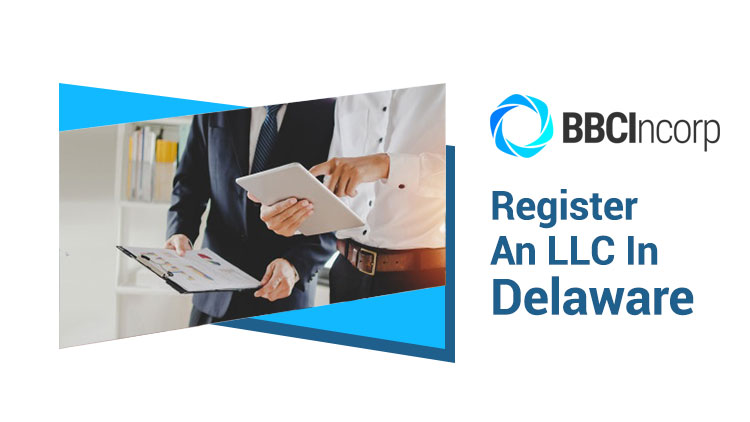 LLC (shortened for limited liability company) stands on top as the most preferred type of business in Delaware. An LLC has the utmost flexible structure. The maintenance is easy. There are very few compliance requirements. It is not taxed at the entity level. Hence, double taxation is avoided. We highly recommend you form an LLC in Delaware to start your business in the U.S.
"But how to register an LLC in Delaware?" is the question you may ask. The process is super simple. In fact, you can do this in only 3 steps. This blog will show you exactly just that and subsequently instruct you on what to do after the LLC registration.
1. Preparation for a Delaware LLC Registration
You can create a Delaware LLC even though you live in another country. You only need to submit one registration form to the government. No other documentation is required for an LLC registration.
There is just one requirement. You have to get and maintain a registered representative/agent in Delaware for your LLC.
The agent can be an individual or entity but must be resident in Delaware. You can think of a registered agent as a point of contact for your LLC. The agent will receive tax notices and other legal documents on the behalf of your LLC.
If you aim for an incorporation service for your Delaware registration, then you don't need to worry. Almost all service providers can easily help you fulfill this requirement.
If your LLC has a business office in Delaware, it can act as its own registered agent.
Delaware LLC's corporate structure
Different from a Delaware corporation, a Delaware LLC is not managed by directors and shareholders, but managers and members. Delawre LLC needs to have at least one member to register the company. The number of members is not limited.
The Operating Agreement of a Delaware LLC is another highlight. It sets out the corporate structure, most formalities, and operating procedures of the LLC. Delaware LLC owners have the flexibility to structure the Operating Agreement to best suit the needs of their company.
Personal assets of Delaware LLCs' members are well protected in the event the company falls into debts and other legal or financial insecurity. And a limited liability company in Delaware is a pass-through entity for tax purposes. It means it would not be taxed at the corporate level.
Moreover, Delaware LLCs are given better privacy as compared to corporations – a high level of privacy. Names and addresses relating to the LLC members would not be publicly disclosed both on the formation documents and in their filings.
Delaware LLC costs and requirements
To embark on a business venture in Delaware as an LLC, determining associated fees and conditions before establishing is relatively crucial. Below are keynotes of Delaware LLC requirements and costs you should consider:
Costs included: Two must-pay types of Delaware LLC costs are the filing fee of the Certificate of Formation, and the fee of reserving your company name with the Delaware Division of Corporations.
Some businesses may wish to save time and have things done efficiently, seeking trusted incorporation service firms is a wise choice. But, keep in mind you should prepare an amount known as service fees for such fast-and-convenient use of service. (Normally, incorporation firms will involve all related fees in their packages).
Naming requirement: Eligible names when registering an LLC in Delaware must meet certain criteria as prescribed by the law.
Registered office and registered agent: Any LLC registered in Delaware must have a registered office (not mandated to be a place of business in Delaware) and a registered agent within the state. As a compliant duty, all LLCs need to maintain their registered agent annually.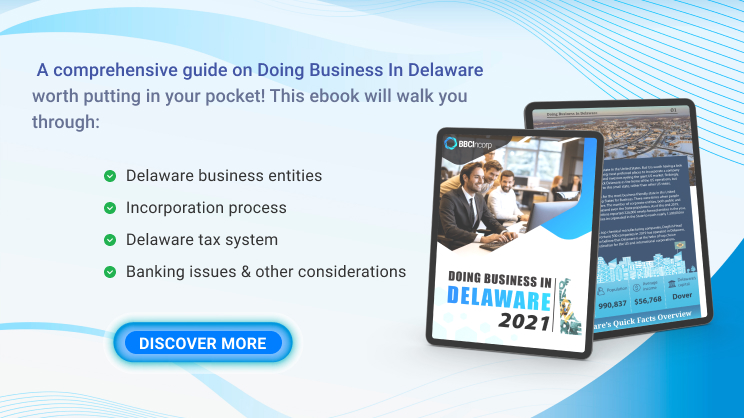 2. How to Register an LLC in Delaware
You can set up a Delaware LLC by yourself or engage in a Delaware company registration service. The latter option is highly suitable, especially for foreigners). An excellent service provider helps you submit the correct form to the government. They can also later assist you in designing your LLC's internal document (e.g. the Operating Agreement, which will be discussed later in this blog). A good service will make sure that the process stays on the right track.
Generally, it is pretty easy to form an LLC in Delaware. You can follow the following 3 steps for Delaware LLC formation.
Step 1. Choose the Name for Your Delaware LLC
Based on the Delaware Code (local law), here are some guidelines for you to name the LLC:
The name must include the suffix "limited liability company", "LLC", or "L.L.C".
The name can include your name or another member's name.
The name must be distinguishable. It should not be the same as other businesses. Also, it should not be confused with the name of any government agency.
It is always a good practice to check the availability of your LLC name in advance (via the government's name check service). You should also check the availability of the domain for your company's website (if you tend to build one).
Once the name is approved by the Secretary of State, you can reserve it for 120 days. You can further extend the reservation for another 120 days (subject to an additional fee).
Step 2. Submit a Delaware Certificate of Formation for LLC
To register an LLC in Delaware, you have to fill in and submit a Certificate of Formation to the Division of Corporations. If you use an incorporation service, they will fill in the form for you and submit it to the government on your behalf.
That said, here is the standard template for a Delaware Certificate of Formation for a traditional LLC: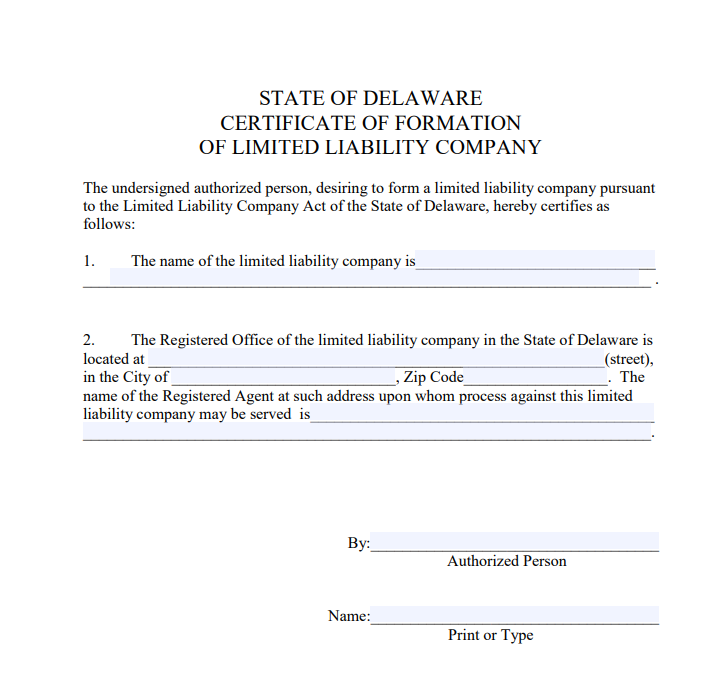 For your information, a Certificate of Formation for an LLC in Delaware must include 2 pieces of information:
The name of your limited liability company in Delaware.
The name and address of the registered agent of your Delaware LLC.
You can add additional information to the Certificate as you wish.
If you wish to apply on your own, you can use the template above to prepare your Certificate of Formation (for a traditional LLC). You can submit this form by uploading the PDF file on the government website, by mail, or by post.
Note
If you aim for a foreign LLC or LLC series (other than a traditional LLC), you need to fill in the respective forms. You can find the templates on the government website.
If you send the application by post, it is a good practice for you to include a cover memo along with the Certificate of Formation, for contact purposes. It may contain your name, address, email, and phone number.
Step 3. Receive the Result
After the submission of the Certificate of Formation, you can expect to receive the incorporation result in a couple of weeks. In most cases, the processing time is from 3 to 4 days. If you wish to receive the result faster, you will need to pay an additional fee. The faster you need, the higher the fee is.
If the application is approved, you will receive back a stamped Certificate of Formation. The Delaware LLC registration is done. Your company is officially formed in Delaware!
3. Post LLC Registration in Delaware
A Delaware registration is simply not enough to start your business right away. Here are the things you need to do after you register an LLC in Delaware.
Get a Delaware EIN for Your LLC
EIN stands for Employer Identification Number, also known as FTIN (Federal Tax Identification Number). You can think of this number as the identification for your LLC in Delaware, for both entity and tax purposes. An EIN will allow your business to apply for a corporate bank account and employ staff in the U.S.
You can entrust your LLC's agent to take care of the EIN registration. You can register online via the IRS website or via the submission of form SS-4. You can also do it by yourself, but it would cost you a lot of time.
Apply for Additional Licenses and Permits
Certain industries in the U.S require additional licenses and permits. There are 3 tiers of authority that manage different licenses and permits: federal, state, and local.
At the federal level, you can read this SBA guide to find out what activities need licenses from what agencies. At the state level, you can check out the Delaware index of business licenses. At the local level, contact and check with the local authority.
One more thing: if you establish your LLC in Delaware but want to conduct business in another state, you may need certification in that other state to do so. This certification is known as Foreign Qualification. You should do a little research to find out whether you need to obtain this certification in the state where you are about to do business. The process for application varies from state to state.
Design your LLC's Delaware Operating Agreement
A Delaware Operating Agreement sets forth all matters of an LLC, including business structure, general rules, management, and operation. The agreement can come in a written or oral form. Your LLC does not need to file this document with any department of Delaware.
However, in order to keep everything in order and under control, there has to be a written Operating Agreement, which is kept internally in the company. Every member must sign the agreement before joining the business.
As the initial owner, you can create your own Delaware Operating Agreement. You may consult professionals or go over some online templates to get the outline. Generally, a Delaware Operating Agreement should include the following sections:
Organization establishment and ownership
Management
Duties and rights
Capital matters
Distribution of profits and losses
Membership change
Company dissolution
Open a Bank Account for Your Delaware LLC
Getting a corporate bank account is the best way to separate your personal assets from the company's assets. However, if you are a non-US resident, it can be really difficult to get a corporate account with US banks.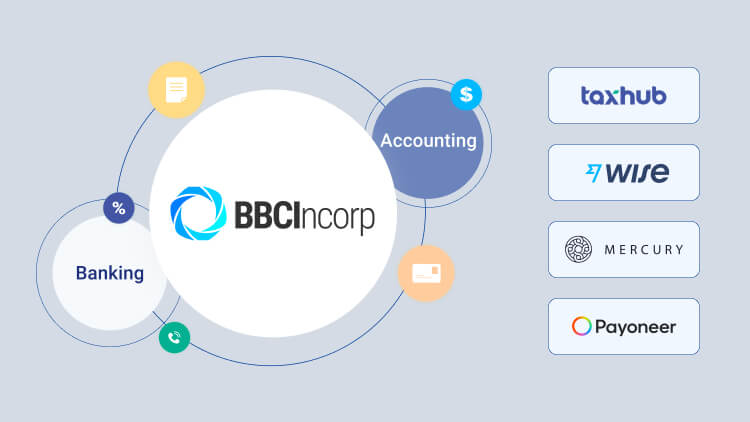 BBCIncorp has closely partnered with Wise, Payoneer, and Mercury to offer effective banking solutions for Delaware LLCs.
Tax filing is also a matter of concern for most Delaware LLCs incorporated by non-US residents, and the good news is that TaxHub, our partner, can help with your tax situations in an efficient manner. Privileges from TaxHub for BBCIncorp's clients are a 10% discount code and a free 30-minute CPA consultation with specialists.
Stay Compliant with the Local Laws
To maintain good standing at the state level, you need to comply with two main Delaware LLC requirements. They are:
Maintaining a registered agent in Delaware, and
Paying an annual fixed tax in Delaware.
Furthermore, if you register a multiple-member LLC in Delaware and earn an income within the state, then the company needs to file a return with the Division of Revenue in Delaware. Individual members will then need to file personal income tax returns to the Division on the income attributable from the LLC.
At the federal level, your LLC in Delaware and its members also need to file respective forms to the IRS.
4. Conclusion
You may now get the idea of how to register an LLC in Delaware, you only need to submit a Certificate of Formation to the Delaware Division of Corporations. This form must include the name of your LLC and the details of your LLC's registered agent.
The processing time is around 2 – 6 weeks. Please engage an incorporation service to make sure everything flows on the right track.
After the Delaware LLC registration, a few more steps need to be completed. You need to get an EIN, additional licenses (need to check carefully if any), a corporate bank account, and maintain good standing by complying with local laws.
As a business owner, you tend to believe you can do everything on your own – from registering your Delaware LLC, to filing returns and managing business compliance; yet, these back-office tasks may actually waste your time and effort. By engaging a professional digital incorporator for your LLC incorporation, you can focus on your bottom-line growth. Feel free to drop us a message at service@bbcincorp.com
————————
Frequently Asked Questions about Delaware LLCs
1. Do Delaware LLCs pay taxes?
Delaware LLCs are subject to an annual tax of US$300 before 1st June each year.
Depending on the company's selected tax status, LLCs shall pay the corporate income tax at the state and federal levels accordingly.
In addition, limited liability companies in the State will need to pay gross receipts tax, payroll tax, etc., if the companies are selling goods or hiring employees in the State.
2. Do I need an EIN for my LLC?
Probably yes. Multi-member LLCs must have an EIN.
As a single member LLC, you must obtain an EIN only when your entity gets involved in one of the following activities:
Having employees (one or more)
Paying excise taxes (that are taxes levied on certain goods or services relating to coal, fuel, oil, heavy highway vehicles, etc.)
3. What is the fastest way to set up an LLC?
Consider connecting with a trusted digital incorporator like BBCIncorp to walk you through all the steps that might be confusing for new business players to incorporate in Delaware. Our friendly and dedicated consultants are always ready to help you.